In January 1999, Paris Fashion Week saw a front row dominated by make-believe, artificiality, supernatural features and nonsensical bodies. It was a front row filled with Walter Van Beirendonck's favourite toys — miniature clowns, figures with gigantic heads and crazy-coloured animals. A collection of otherworldly creatures was watching his collection of otherworldly garments while the usual press and buyers, robbed of their hierarchical prime-position, were relegated to the seats behind the fun. As the first collection after his W.&L.T. collaboration with German jeans brand Mustang, which he designed instead of his namesake line from 1993 until 1999, Walter Van Beirendonck's AW 99 offering 'No References' was a prominently flipped middle finger to the fashion system — and a love letter to quirks and inventiveness.
Toys aside, the now 61-year-old designer has always been unconventional in nature. In the 35 years after he first founded his eponymous label in 1983, he remained an advocate for creativity, for parting ways with rationality while staying rooted in reality; he was refreshingly vocal about addressing industry issues, highlighting how it could become a merchandise marathon or pointing out its obsession with making designs fit screens and squares. In fact, the way he constructs not only his garments but also his world turned tight industry parametres on their heads right from the start. In 1988, he wrote and produced a comic to accompany his SS 89 offering. Entitled "King Kong Kooks", it starred the designer as "The Warrior", dressed in his newest designs, featuring his fellow Antwerp Six members throughout the pages. Just two seasons later, he handed out "Walter Worldwide News" at his SS 90 show, a fake newspaper containing articles like "Is Walter an Alien?" and an exclusive interview with his dog Sado. Underscoring this tongue-in-cheek approach are collections that challenge the norm, tirelessly questioning themes of sex, fetish, humour and gender, with 95 percent of the runway looks delivered to stores — a rate much higher than at seemingly more "commercial" brands.
An impressive number of designers — Raf Simons, Kris Van Assche and Craig Green among them — has since graduated from this "school of Walter", having been either his interns or his students at the Royal Academy of Fine Arts in Antwerp where he has been the head of the fashion department since 2007. While passing on his knowledge to the next generation of fearless fashion mavericks, Walter Van Beirendonck is equally determined to continuously enrich his own name with the attributes that have become so intertwined with every letter of it. INDIE talked to the Antwerp-based designer about precisely this uncompromising creativity and his eye for the unique, accompanied by an exclusive set of images from photographer Ronald Stoops who has long documented the breadth of Walter Van Beirendonck's ground-breaking collections.
For the 2003 book Bad Boys by Augustín Pérez Rubio you put together a list of 100 questions confronting the reader with topics of art, integrity and beauty. In the context of your slogan- heavy and boundary pushing work I'd like to pose one of these questions back to you: what is the meaning of making a(ny) statement?
Boundaries have to be pushed. This is what artists are obliged to do, this kind of thinking is what's changing the world. Everything I design I do very spontaneously and, to me, it feels totally normal — I feel completely comfortable making these statements. But I do realise that the viewer can feel uncomfortable and can judge it to be "something strange". This says a lot about the freedom I'm working with and my freedom of mind. I don't have to adapt myself to the viewer.
Pushing boundaries implies some sort of counter-oriented and out-of-the-box thinking — does it bother you if people don't understand or, rather, don't try to understand the statements you want to make?
I like to tell stories in my collections. Every collection has a clear subject which develops from my interests and experiences in the world. A lot of these subjects are very personal and closely related to my own life. I don't care that it is some- times difficult to understand everything — I am happy to explain these stories to the buyers that are interested or in interviews to the press. But with the final customer, I really don't mind that he or she is buying a fresh, bright, colourful T-shirt with funny slogans and characters on it without understanding the complete message. At the moment there is so much pressure on fashion houses to sell that they think the immediately understandable collections are the quickest to fly off the racks. But I know that there's a lot of appreciation for strong and loud garments that look and feel different to the mass-produced products we see everywhere — from a certain audience at least.
Is this certain audience necessarily the fashion audience? In a recent interview you mentioned you often get the impression that "a lot of serious fashion people don't take my work seriously".
For a long time I was mostly considered the "crazy designer", making colourful, experimental garments intended to provoke. Still now, last fashion week, several so-called "serious journalists" from so-called "serious newspapers" left me out of their reviews of fashion week. They can't see the value in the research and experiment behind the first impression you get from an explicit show look. Luckily, I now have a big group of loyal followers, press and buyers who show respect for my work and collections.
In the beginning, it must have been quite hard to achieve this kind of appreciation. Did you ever feel pressured to change your aesthetic or make sacrifices in your creativity to have a more mainstream appeal?
No. I work completely independently, ever since I stepped out of my W.&L.T. contract. Ending my collaboration with Mustang was completely down to the fact that I was told to add more commercial items. In general, I don't mind selling garments but I can't stand behind items that don't even reflect my aesthetic or ideas. Since then, I've been rebuilding my Walter Van Beirendonck label with total freedom. I am designing and deciding everything myself, 100 percent. Creating collections in a spontaneous way, trying to surprise myself, the press and buyers with every collection, and pushing my own boundaries from season to season.
Having this mind-set and following through on it feels quite unusual in today's increasingly marketing-driven fashion industry. It all comes back to this need for something to be instantly understandable.
Marketing was and is the killer of creativity! From the moment in the late nineties when marketers suddenly started to take decisions adjacent to, or even instead of, designers, fashion went in the wrong direction. Suddenly, spontaneous design decisions were undermined by rational decisions, influenced by sales results from the previous seasons. New ideas didn't have proper ground to grow anymore, as they were labelled "unsellable". Now, almost 20 years have gone by and marketing is still poisonous. But the funny thing is that the successful fashion houses, designers or shop-concepts that recently rose to fame are again based on radical creativity, not on marketing.
You're right at the centre of nurturing this next generation of talent with your role as the head of the fashion department at the Royal Academy of Fine Arts in Antwerp. Should art school be the place to explore this radical creativity and embrace your vision?
Yes, that is my opinion and the idea behind the Antwerp school. It is absolutely OK that other schools have different ideas and values, they are also needed, but I try to protect our "Antwerp bubble". Students have complete creative freedom here, they are encouraged to push their boundaries and to go as deep and as far as possible to express their own style and ideas without compromising or being restricted.
The students are guided and trained in an extremely direct, personal and individual way. I care about their inner-world and ideas, about how they can express and use their own "language" in the best way possible. Besides that, I teach and tell them to be patient, to not be disappointed because fashion can be extremely cruel, to keep on believing in their creative power and to work ethically with respect for the world. All creative ideas are valued, discussed, fitted and, if necessary, changed in a very intense way to get a high quality result and to avoid ridiculous craziness without substance.
Was the Antwerp Academy a similarly liberating place for you when you were studying there in the late 1970s?
Studying at the Antwerp Academy was like arriving in paradise. I was suddenly surrounded by other creative people — dressing up and looking different was not an issue anymore. Being sexually "different" was not a problem! I could express myself through drawing, fabrics and clothes… What more could I have wished for?
I definitely was adventurous and colourful from day one — different to the other students. I was in the same class as Martin [Margiela]; the year after that Dirk [Van Saene], Dirk [Bikkembergs], Dries [Van Noten], Ann [Demeulemeester] and Marina [Yee] arrived. The dynamic and energy we created during those years was amazing. The synergy between the group — the Antwerp Six and Martin — was fantastic. It is a time I have amazing memories of!
You once described your adolescence as a period when you created a sort of "fantasy world" — how much of your creativity do you still source from that place?
When growing up I was and felt really "different" to the people around me. During my teenage years I had completely different interests and created my own world by writing in my diary, making drawings and dressing up. It was me and my small room, filled with my music, a lot of Bowie, posters, and my own drawings and paintings. I loved to be there, reading and searching for new things to discover. I think I trained my fantasy like that and I'm sure that period had an enormous impact on me, my character and creativity. But I also always stayed in touch with real- ity. I'm extremely interested in our world and I think it's very important that my collections are contemporary and reflect the time and world we are living in.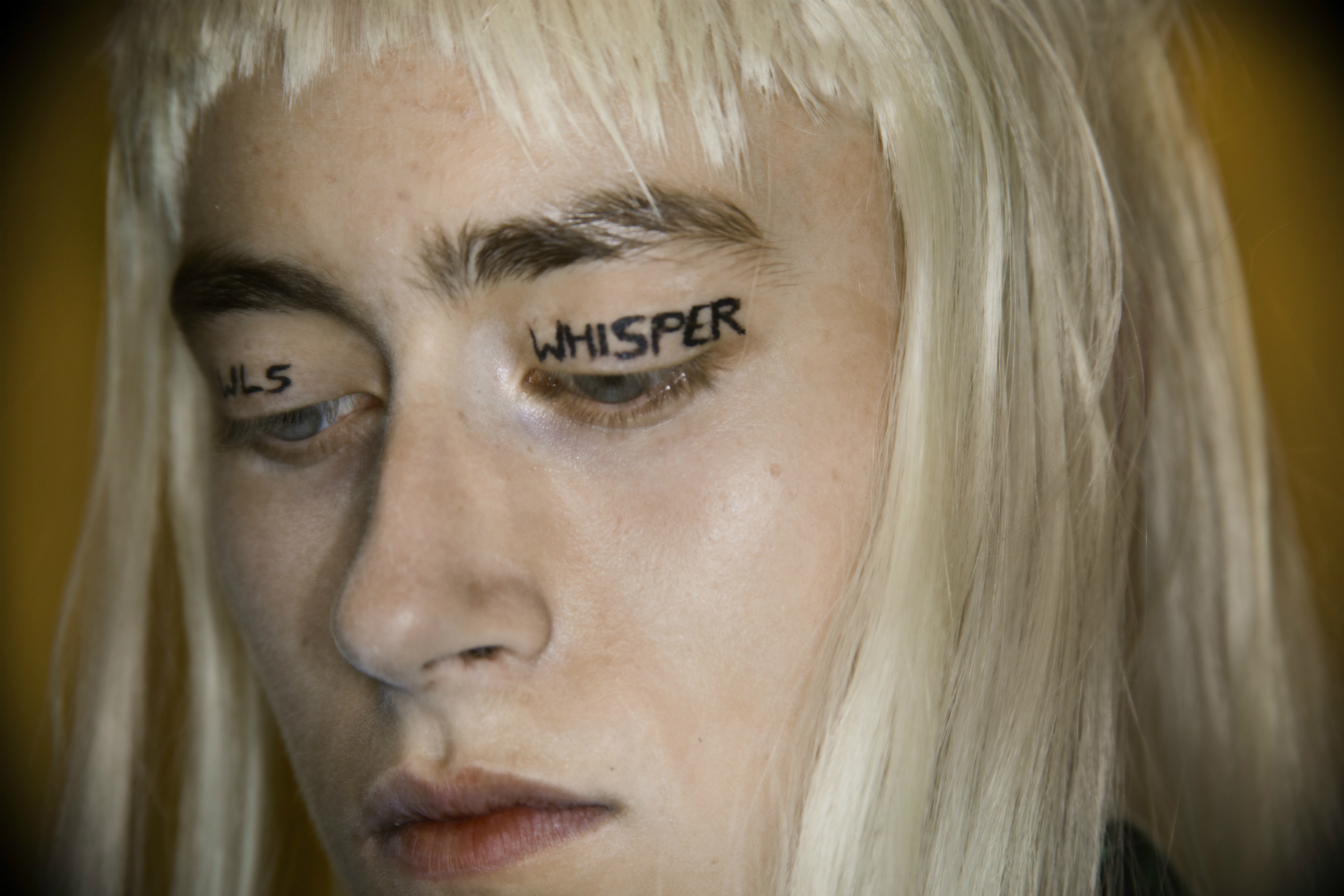 Has this tongue-in-cheek and humorous approach ultimately become a tool for you to address the more serious topics that are so close to your heart, like safe-sex or fighting terrorism?
Despite the fact that a lot of the topics I include in my collections are refer- ring to real, problematic situations or world-issues, I remain a hopeful designer who believes in the future. That's why I try to "wrap" these topics and subjects up in a hopeful and uplifting "surrounding". I don't want a dark or doom-like atmosphere. I think that there's always a solution to problems and I stay hopeful. Working with colours, irony and even humour, combined with heavy and severe topics feels very natural to me.
Especially integral parts of these surroundings seem to be the titles of your collections: "Lust Never Sleeps" (AW 12/13), "Sexclown" (SS 08), or "Stop Terrorizing Our World" (AW 06/07) — these are another distinct way to make a statement.
The titles are indeed extremely important because of the storytelling. A story needs a title. The newest collection, AW 18, first had the working title "P!G" but in the middle of making the collection, I changed it into "Worlds of Sun & Moon" since I thought this title reflected the story and collection better. It's about fetishism, tops and bottoms, sex, slaves and masters, but also about love, romance, and freedom for complete expression — indeed, again, a statement, this time on these stupid puritan times where a nipple or even being "different" can cause extreme reactions.
Photography RONALD STOOPS
Taken from INDIE NO 58, THE NONSENSE ISSUE – get your copy here.
MerkenMerken