Broke Boutique is not your typical sexwear. 2018 is bringing in its wake a need for change, as we see worldwide glitter bans and new regulations on disposable drinking straws. Green Party and other political movements pushing for environmental change are being given more credibility than ever before. The internet is a-buzz with more optimism than the doom and gloom we're used to hearing. It feels like less thinking, more doing. But how do we bring about these advantageous changes in more unexpected ways? A re-useable cup for your morning coffee house is a start, but what about bringing upcycling to the bedroom? How is sustainable sexwear saving the world?
Bondage-wear designer G Martin runs Broke Boutique – the buckle and chain filled brand you need to know about. The designer saves rubber from an otherwise gloomy landfill death, to reincarnate it into raw and hand-crafted bespoke bondage creations. Though these pieces are sexy as hell, they are also something you can wear in a hazy basement on a night out when you want to shed the inhibitions of boring society. Broke Boutique designs mean you can get laid while you do your part for the planet. Win win.
How did you first become involved in designing sustainable sexwear?
The first time I dipped into making lingerie was about 4/5 years ago when I had a large amount of disused rubber. I was at a loose end on what to do with it so I started creating masks styled around comic book characters. It soon evolved into me making harnesses and larger pieces which required more skill and a bigger creative outlet.
What is your creative process? What materials do you use?
Most of my creative inspiration comes from 70s Punk, Sci-Fi and post-apocalyptic fantasy. I like the idea of re-using and recycling materials into something completely unrecognisable to its former state, as well as trying to be low impact on the environment which is something I feel really strongly about. My harnesses are made from reclaimed rubber which I save from going into landfill, it looks very much like leather but it's quite different to work with because it's more stretchy and pliable.
How does Instagram influence your business – and have you had any troubles in terms of censorship violations?
I find that Instagram has been really good for my business because it is totally visual. I also think fans and customers enjoy seeing the "behind the scenes" feeling you get when following business pages, I quite often put up sneak peeks or selfies of latest designs before they go to any shoots and that builds hype for a new product coming out. In regards to censorship I have had a couple of my posts deleted but I haven't been banned (yet!) and I just have to be careful what I promote, there's rules on what is deemed "too sexy".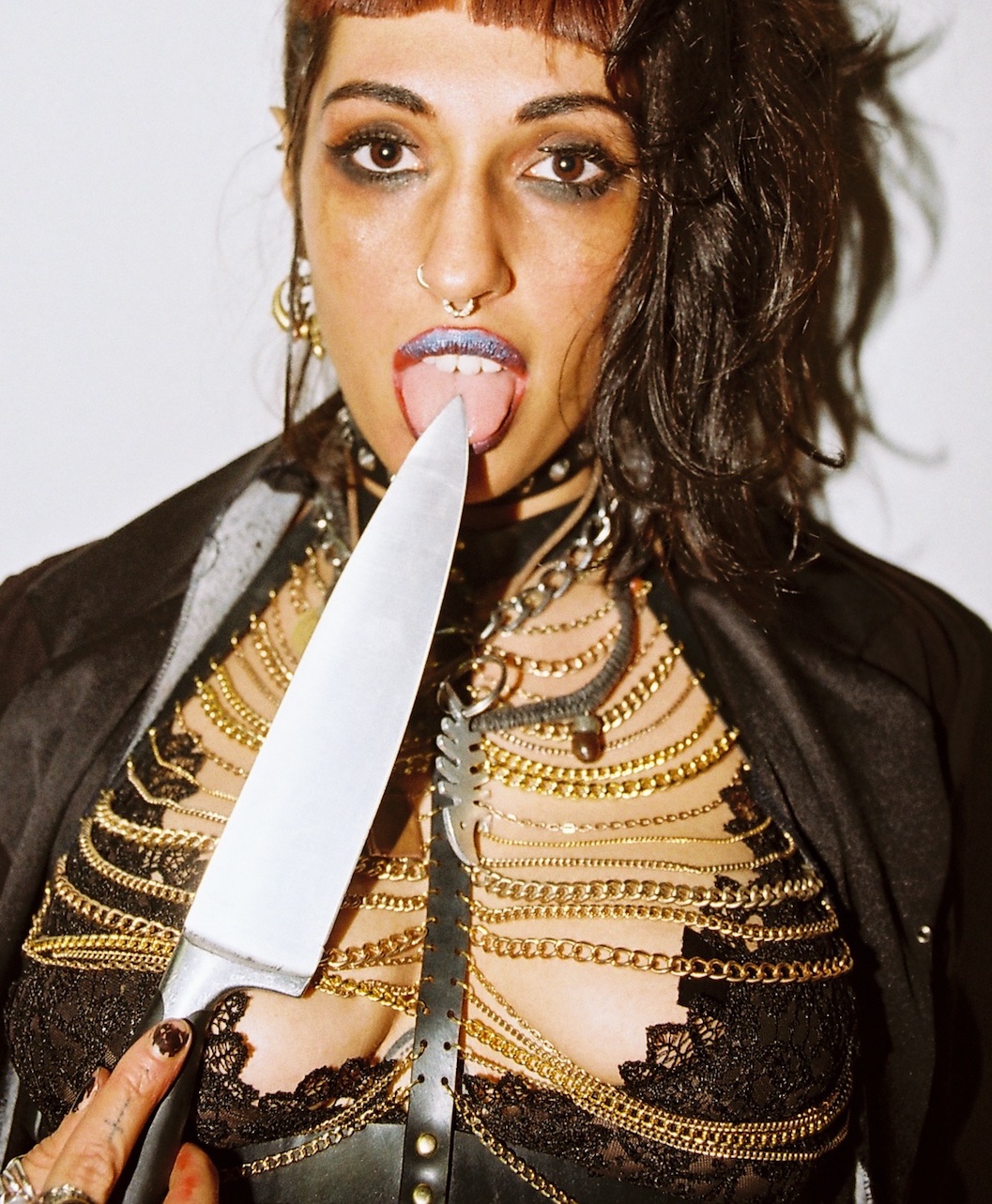 It's good for not only the environment but the body, and the skin to wear sustainable materials. Why do so many designers still not participate in that?
I guess it might have to do with lack of knowledge on what's out there or difficulty in obtaining it. I think that with my business and the materials I use it was partly to do with luck with having the rubber and knowing then what to do with it. I've also spent around 15 years designing décor, props and costumes from reclaimed materials, it's about all I know to do. If it's not something you've ever done then it's a question of where do you start.
What do you think needs to change in the leather and latex focused side of fashion?
I'm not really sure to be honest. I think that awareness of the impact we have on nature, the environment and other cultures is a good start. Little things like recycling waste materials instead of throwing the scraps away, it's amazing what you can do when you get creative. Obviously leather is an animal by-product so that has all sorts of environmental as well as moral issues. Veganism has grown in popularity ten fold and I think that's something to think about.
Do you think things are evolving for the better, or if not, do you think they will?
Awareness of our impact on this earth and things like plastic waste has had huge press lately, so I feel like things are headed in the right direction. There's still a very long way to go and I think there has to be a radical turn around for us to really make a difference in terms of sustainability. I do have friends making steps toward zero waste lives who now make their own bath products as well as lots of people I know turning vegan. I also have friends who go to the beaches and pick up litter just in their spare time. I live on a boat and run my lights and electrics on solar and my harnesses are all made using hand tools. I feel pretty positive about things evolving in a positive direction, but then again I do worry that I'm just living in an echo chamber!
For you personally, do you design with your own body in mind, or do you create for different shapes, sizes, genders?
Half and half. To start with I modelled my designs on myself but that was mainly to do with the fact that I had a very sparse amount of tools and no models or even a business to speak of so I really only had myself to work on. Now I have the tools and freedom to be much more creative with my designs so I like to think that I'm catering for anyone and everyone.
What is sexwear about for the wearer of your creations?
I'd say that probably varies from person to person depending on what or how they feel while wearing my designs. For some it might be about how it makes them feel when wearing it, for others it might be the feel of the rubber itself. I know that there are a few customers who enjoy having it on underneath their clothes and just knowing that and being the only one is sexy in itself. For me personally I like to just rock it out and about as part of my outfit because it goes well over or under most things and it's really comfy.
Header Image Broke Boutique 
Body Image Julia Hovve