The Amsterdam label Reconstruct proves that friendship and career can go hand in hand. For their third collection, the five women went to Copenhagen together with Converse to present their youth culture influenced line, using an indoor skatepark as their set. INDIE accompanied them.
With plastic glasses half-full of prosecco from the nearby 7-Eleven, they toast tomorrow. Somewhere in Copenhagen's city centre, in a secluded backyard in an even more secluded workshop. In the small room, which they came by through friends of friends and happy coincidences, the model fittings for their show just took place. This will be their first presentation outside of their home country. Their extensive collection fills nearly the entire studio; the rest of the space is occupied by the five designers who form Reconstruct. Alyssa, Kim, Sanne, Laura and Michelle joined forces in 2016 as one entity – an entity brought to life by their individual characters, their different talents and collective ambitions. Launching your own label can be daunting but if you tackle it together with your girlfriends, it seems more doable. And more fun.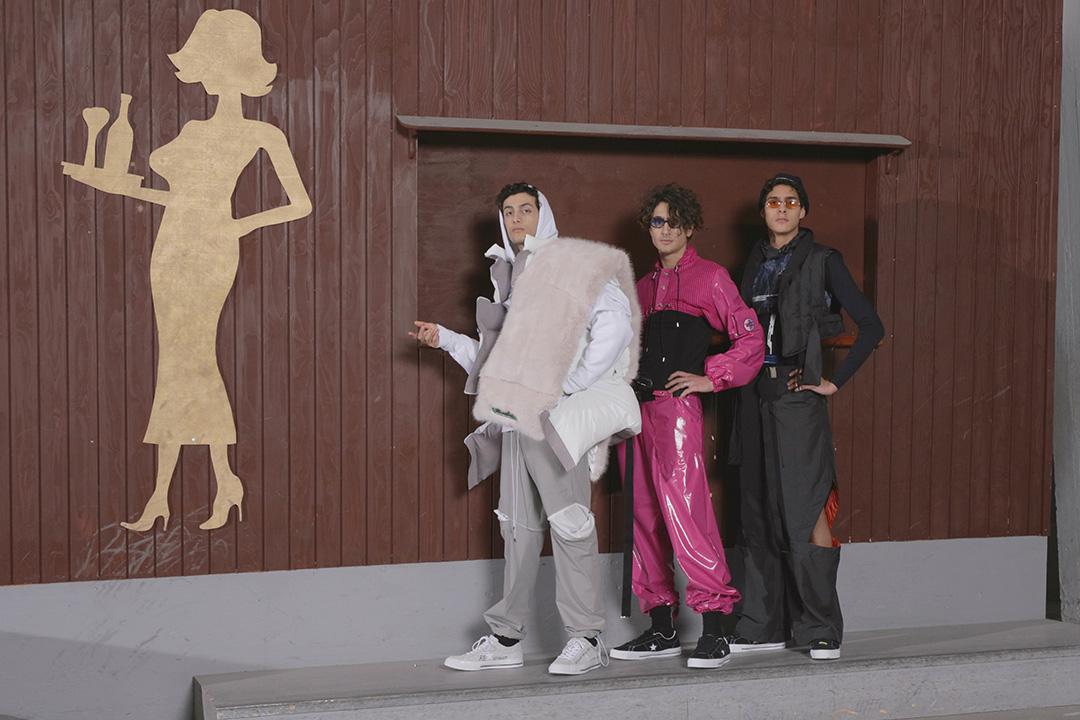 The fact that the five formed a collective following their studies together at the Willem De Koonig Academy in Amsterdam can't be put down to any kind of plan or the ubiquitous trend movement. It was coincidence. Plain and simple. When it became clear that the annual graduation show wouldn't be happening that year, the five and their classmates took over the event and set up their own independent show. The whole thing was called Reconstruct. The name was kept, the other students left and the foundations for their brand were laid. "Our first collection as a collective was, like, all over the place – a mess. But something happened and it just worked out. We didn't have a studio back then so everyone was creating from their own bedroom or studio. We met once a week but then at the end when everything came together, we were looking at it like 'oh shit, what just happened, this is crazy'. Luckily we had a stylist who was like, 'okay, how are we gonna make this a coherent collection?' and we only had one week. We made so many pieces in one night before the show, we didn't sleep at all." Already, their first collection was presented at Fashion Week in Amsterdam – a big but evidently possible step for a label supposedly still in the midst of discovering themselves.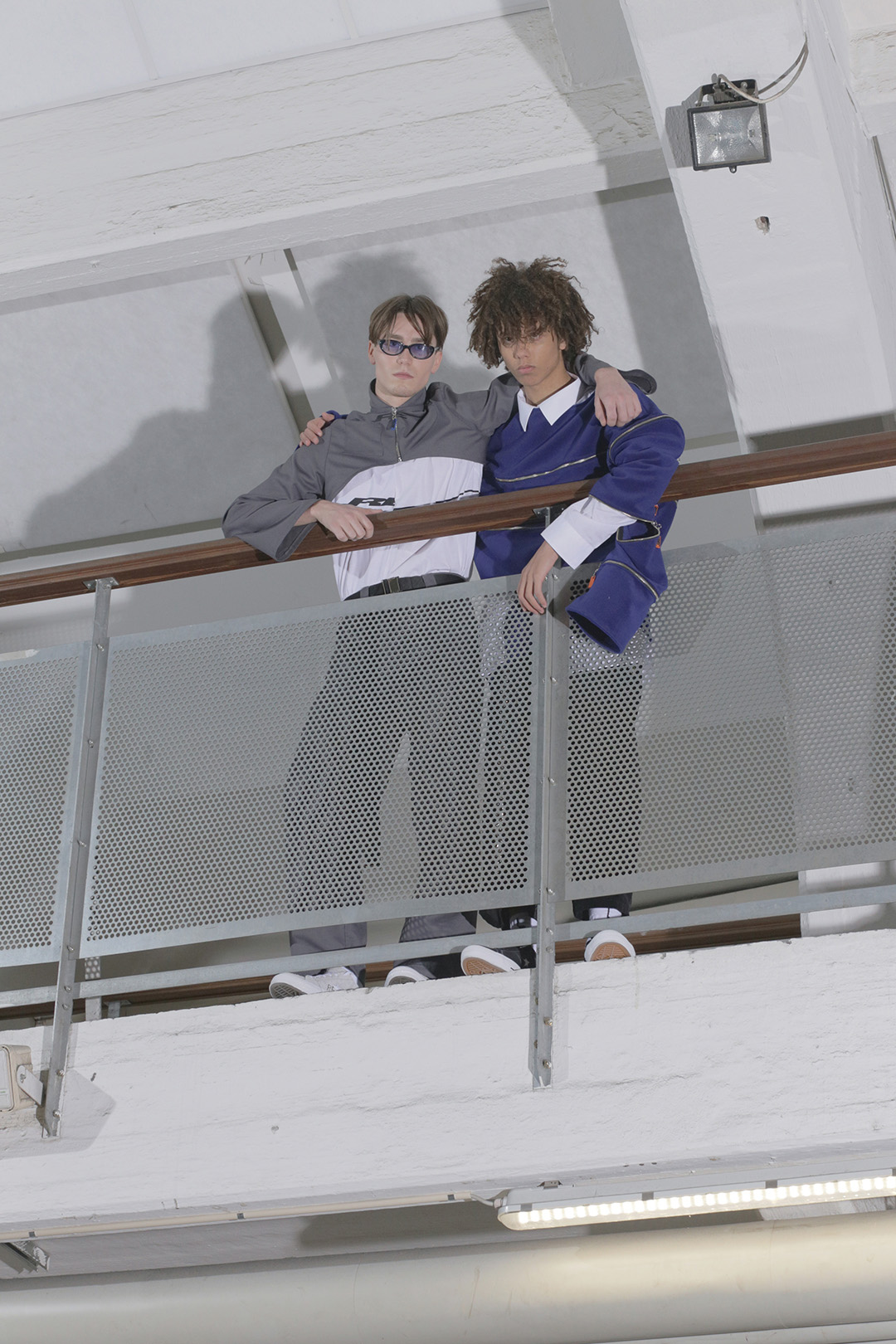 However, their concept was clear right from the start: to take the fashion world apart and reconstruct it in line with their vision. The collective plays with trends and hype, with social and personal themes, all interpreted in their own way. Through their designs, the collective seeks to communicate with their audience, with fashion avant-gardists as well as casual observers. Reconstruct is approachable, down to earth. It's needless to say that the founders would avoid casting models for the catwalk who conform to boring, standardised and, above all, outdated beauty ideals. Instead, they favour personality and individuality. "We actually don't like the champagne vibe that's everywhere in the fashion world. Everyone is welcome at our shows. We're looking for ways to present that are different, that break with the catwalk system – to make it more open for everyone and also show other people that anyone can do this. Also, working with artists from other disciplines makes your work more interesting, to see other outcomes. We're trying to find different paths every time," explains Michelle.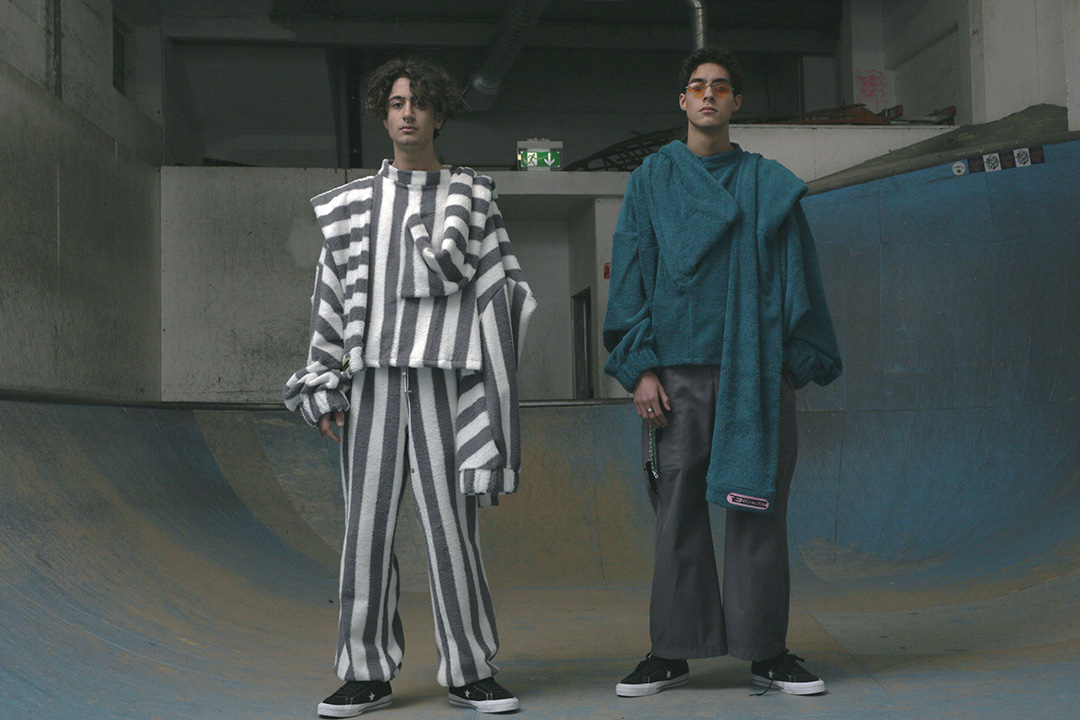 They've also challenged this "champagne vibe" in their third collection. Cans of beer rather than the pretension of Fashion Week; an indoor skatepark instead of stuffy prestigious building. Corresponding the brand's inspiration for their AW 18 line: the scenesters of high school. Five different subcultures take to the runway, all wearing Converse One Star sneakers. The bro, the outcast, the overachiever, the arty kid and the troublemaker: one scene for every designer. One scene that shaped their transitions into adulthood and made them the people they are today. As special entertainment, local skater kids showed off their skills on their boards.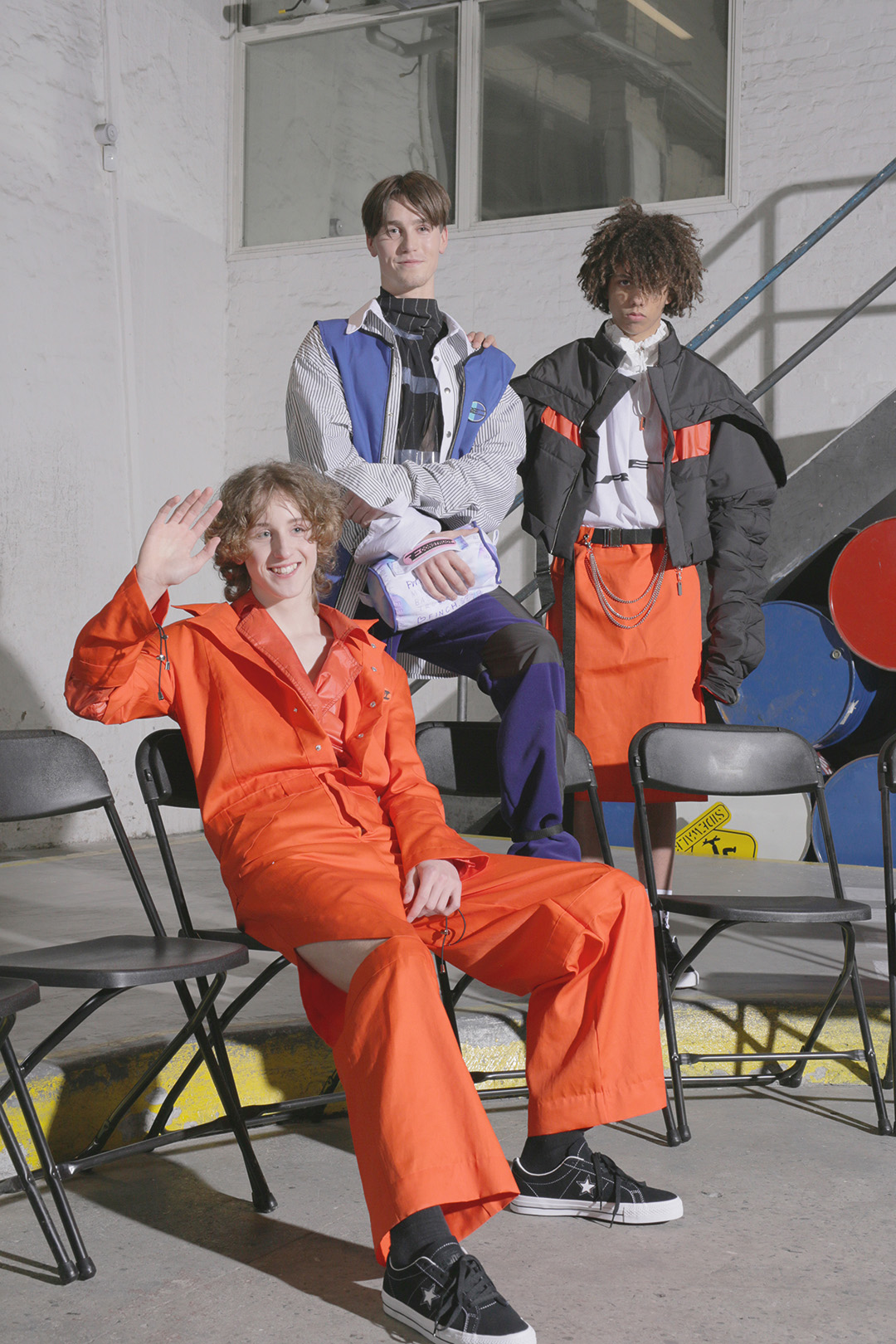 "You can put all these characters in the One Star and all these characters go together with the skate scene as well." Inclusion and team spirit, at all levels. Catchwords that go along with this history-charged sneaker. Catch phrases that complement these historic sneakers. Originally born on the basketball court in the early 70s, the Converse One Star quickly made its way into the counter-culture of Seattle's grunge scene. With its laid-back character and unique versatility, the sneaker not only matched the scene's style but also reflected a state of mind: wearing the One Star was a reaction against the excessive consumption that was deeply grounded in the American way of life. Then, following a brief makeover, the sneakers were discovered by the skate scene and made an iconic appearance in the video for Guy Mariano's "Mouse" in 1996, cementing their legendary status. Other cultural tastemakers who were fans of the sneaker included director Spike Jonze and The Beastie Boys. The Converse One Star was always a sneaker for underdogs, outlaws and creative minds whose thinking broke with the established – just like the five subcultures portrayed in Reconstruct's collection: "The One Star fits everyone. We want to honour this sneaker in our collection."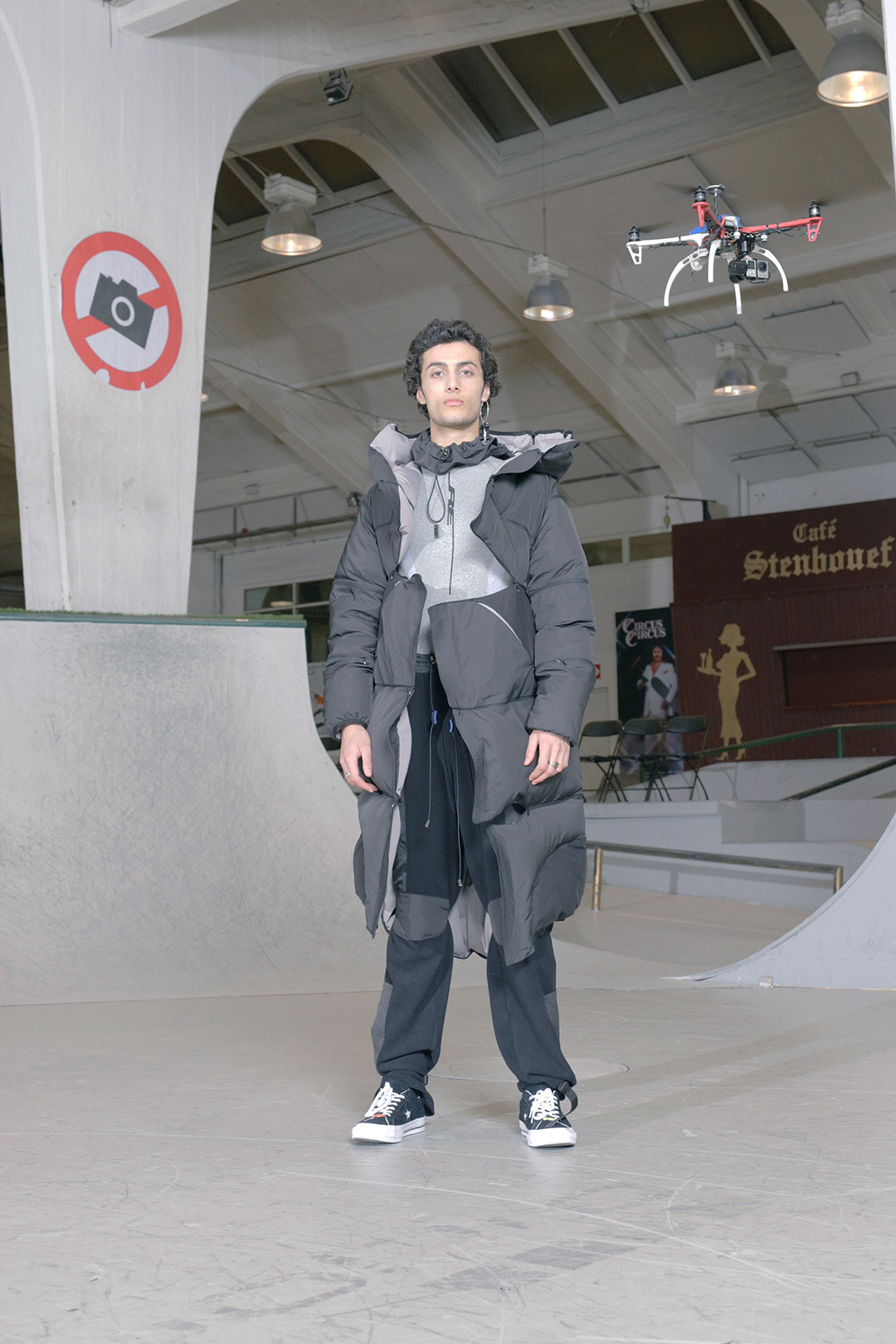 For Reconstruct, the presentation in Copenhagen is their next big step. Although they don't want to turn their backs on their creative hometown of Amsterdam and their newly opened studio, there are still some things that bother them about the Dutch capital as an up-and-coming label: "Amsterdam Fashion Week can be quite conservative. They present more classical fashion shows with established designers. In Holland there aren't as many platforms that support young creators as you might have in London or New York. So we hope that we can show everyone that it's still possible to just do it and start with no clue what you're doing, with no experience in the fashion world. We are also just doing it, learning from our mistakes and growing like that." And it's precisely this fearless "do it" attitude that will take Reconstruct wherever they want to go.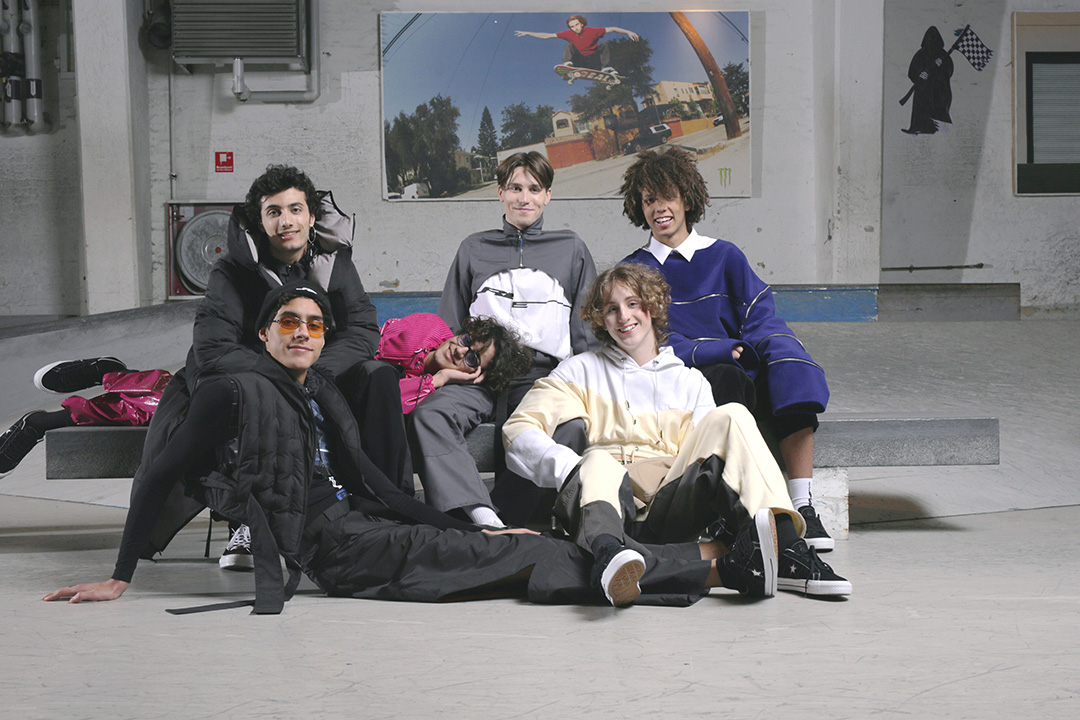 All models wear Reconstruct and Converse One Star
Photography LUCY ALEX MAC
Styling GIULIANO BOLIVAR
Words and Production MARIEKE FISCHER
Models Ilias, Lucas, Niclas, Carl, Kristian & Victor
GET YOUR BRAND NEW INDIE "THE NONSENSE ISSUE" HERE!
MerkenMerken