When talking to Amandla Stenberg, all you want to ask is: "How is it possible that you are so wise?" The night before our interview, she spoke at the TIFF Next Wave festival about colourism and recognising her privilege as a biracial actor — and walking away from "Black Panther" because she didn't want to take the space from a dark-skinned actor. The 19-year-old credits her mother, "a very intelligent, articulate, critical and smart lady" with raising her "through the lens of always looking with introspection at the world, being conscious of the systems and biases that construct it."
By 2015, she had already been named "Feminist of The Year" by the Ms. Foundation for Women, the same year that she made a video called "Don't Cash Crop On My Cornrows" in which she wondered, "what would America be like if we loved black people as much as we love black culture?" and called out white celebrities for appropriating black culture but failing to use their position of power to address issues like police brutality. Amandla, who identifies as non-binary, belongs to a community that pushes boundaries and transforms culture with fluid expressions of gender and sexuality and she supports initiatives like Art Hoe, a collective that aims to create space for queer POC artists.
This may cover her roles as actor and activist but Amandla also hints at plans to direct; she has also collaborated with Dev Hynes on music and has co-authored a series of graphic novels centring around Niobe, a badass black female superhero. INDIE spoke to her about how she weaves the political and the personal into her film roles, about why representation matters and the #timesup movement.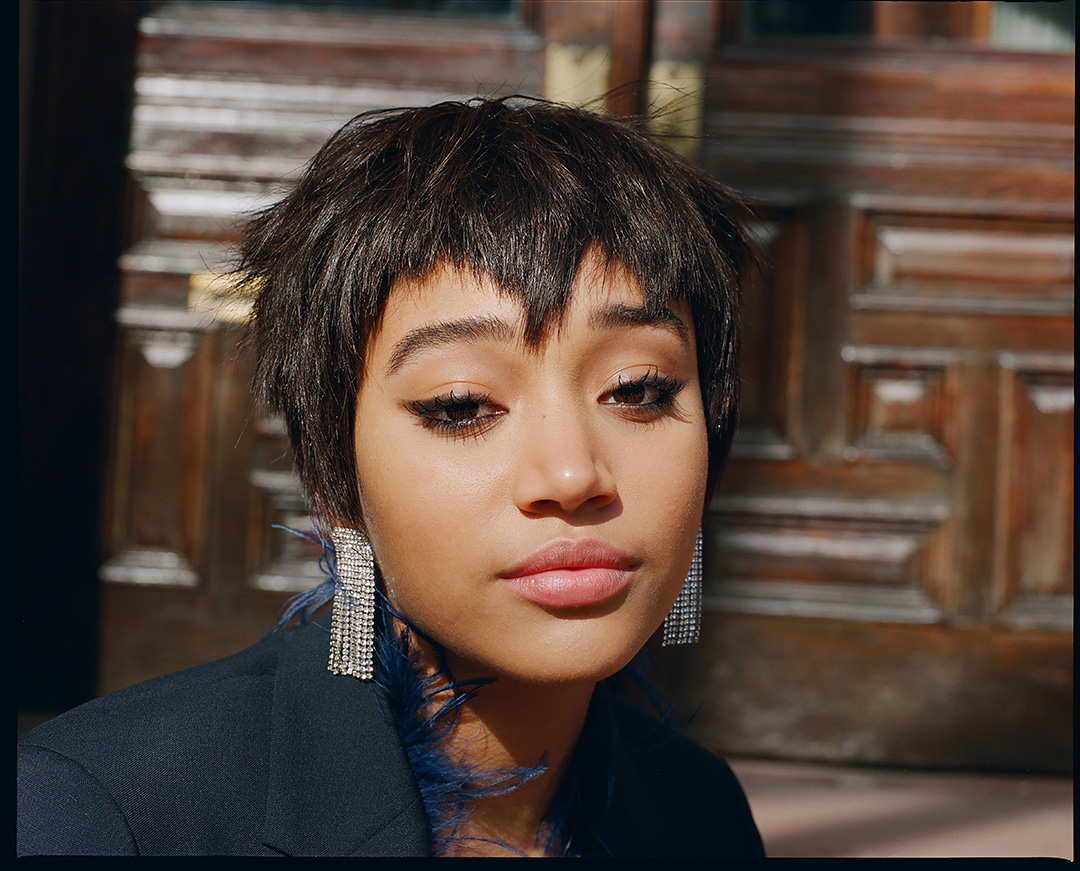 Blazer JIL SANDER, Earrings stylist's own, Feather boa WILLIAM FAN
You're starring in the upcoming adaptation of The Hate U Give, a story by Angela Thomas, where the protagonist is drawn to activism after she witnesses a police officer shoot her unarmed friend. Does your activism have an influence on your work as an actor and vice versa?
Definitely. I feel like activism is a lens through which you navigate your life. It's also the choices that you make and so I think I'm always looking through that lens when choosing roles. It becomes activism inherently to work on these films just because we are receiving these three-dimensional newer portrayals of black women on the screen for the first time, especially for younger black actresses. And so I think that becomes revolutionary, just because we haven't really been able to see that before. Not to say that I'm responsible for it but it is amazing to be a part of it.
Besides the Black Lives Matter-inspired The Hate U Give, there is also Where Hands Touch, a movie about an interracial love story in Nazi Germany, coming out. Being an activist alone can already be quite exhausting — it's hard to imagine how emotionally straining it must be to also work on these roles. How do you not go crazy?
I think just as much as they might be emotionally challenging, they're also emotionally fulfilling and rewarding, and it's what I love to do. I definitely am aware of when I have to give myself personal time to maybe take a break and rejuvenate from a project. But I was also creatively stimulated and my heart was really filled by the projects that I get to work on, so I feel like that kind of takes precedence over anything else.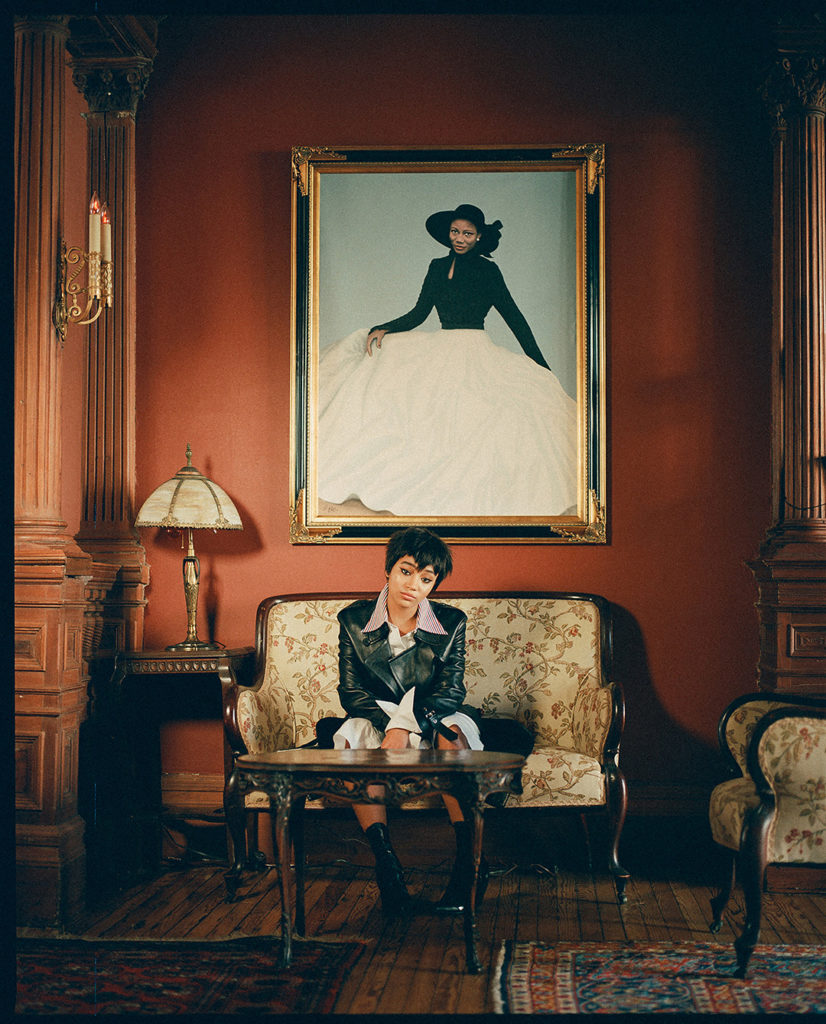 Full look LOUIS VUITTON
Can I ask why you walked away from "Black Panther"?
auditioned for one of the roles, which I believe was the sister of the main character in Black Panther, and got really close in the audition process but eventually I decided not to pursue it further, just because I didn't think it would be appropriate for me to be in the movie as a lighter skinned biracial actress. I noticed the casting choices were all actors who were either actually African or darker skinned and I think there would be something wrong about me as a lighter, more privileged actor, taking a role from a darker actor with a Nigerian accent. It just felt inappropriate to me, so I decided not to go further in the audition process.
Not many people would walk away from a project like this in order to give the opportunity to someone else.
I think it's important for every single actor to recognise the privilege that they hold and whether or not it's appro- priate for them to occupy certain spaces. Whenever I take a role, I think very critically about if it's appropriate for me to take that role. And I put a lot of critical thought into it, and if it's not right, then you shouldn't force it.
Why do we need both black heroes in movies like "Black Panther" but also characters like in Issa Rae's Insecure that show black people as "just humans" with both their strengths and their flaws?
It becomes easier for people to humanise them and to see them as real, as important, as breathing and alive. Especially for people of colour, it is so important that we get representation in mainstream media because it normalises our differences and it almost adds value and weight to our lives to the perspective of non people of colour.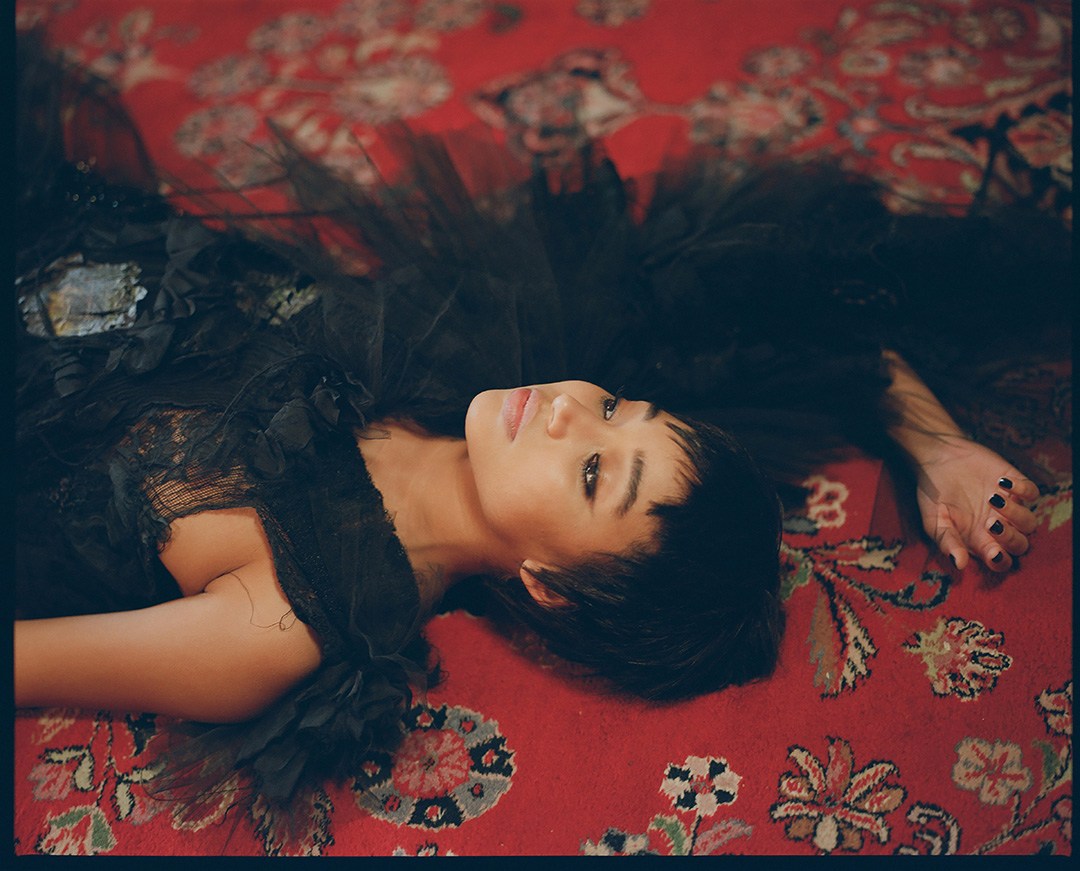 Dress CAROLINE HU
Only now, for the first time, Kehinde Wiley and Amy Sher- ald, two black artists painted the official portraits of a President and First Lady. And it took a black President and First Lady to break the mould and say it's time to catch up. You have been involved with the Art Hoe movement, which aims to bring attention to artists of colour, especially women and non-conforming artists. What can movements like Art Hoe accomplish?
Spaces like Art Hoe Collective give us room to express our artistry because traditional institutions don't allow us that space and so it's kind of a statement that we can carve out our own space in the world and we don't need white institutions in order to thrive, and also a proclamation of self-love at the same time.
You support the #timesup movement. What makes this initiative different from others where celebrities and artists show support — which sometimes seems like an empty gesture lacking meaningful action. Do you think the movement will be more effective and more inclusive than others have been?
Definitely. There are concrete steps being taken to change the fabric of the industry forever, hopefully, through all different kinds of steps and strategies. There have been several meetings that have happened between us actors and the corporations that we work with in which we demand that we have gender parity and diversity in our industry, and that if we don't get to that level of representation and we don't create those safe spaces, that we refuse to work. I don't know if that's ever happened before that we have collectively put our foot down when it comes to how violent and how unsafe these work environments can be.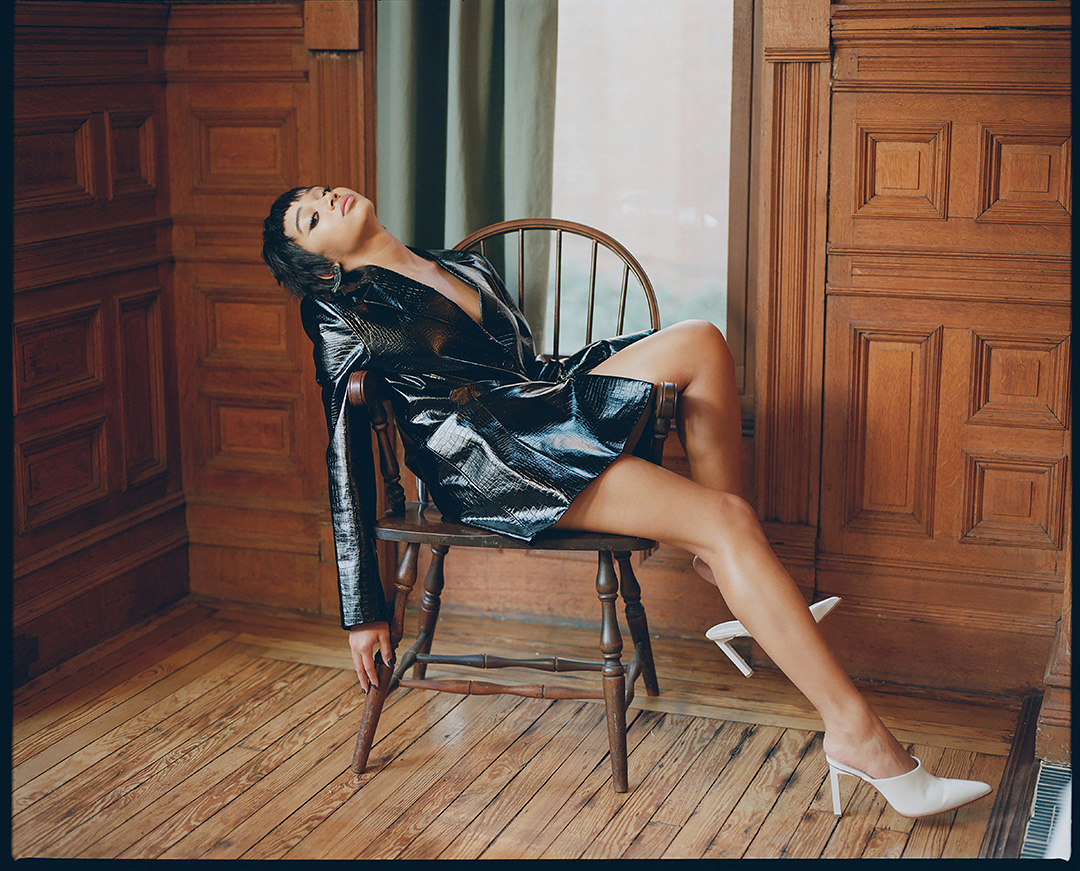 Coat HELMUT LANG, Shoes DION LEE, Earrings stylist's own
Are there any specific actions that you have been involved in?
I went into my agency with a group of women and we spoke to our representatives about changing how their workplace functions and about incorporating more people of colour and more women into their staff and into the talent that they represent. We asked them to advocate for certain boundaries and parameters of gender parity and diversity in the environments that they are sending us to, the sets. And we demanded that they reach a certain level of diversity within the workplace through something called 50/50 by 2020, which is the idea that by 2020, 50 percent of their staff will be female and 50 percent of their staff will be non-white, and that's only a starting point to jump off.
They haven't agreed to it yet though?
They have agreed to it!
Wow, congratulations! Two of the movies you have coming out were directed by women, The Darkest Minds directed by Jennifer Yuh Nelson and Where Hands Touch written and directed by Amma Asante. Is working with female directors different?
I actually have not specifically chosen to work on projects because women are directing them, it just has kind of been a coincidence. Amma is an artist that I've really wanted to work with. She is someone who I reached out to years and years ago and I actually interviewed her for a school project because I looked up to her a lot. Amma is a black woman who makes work that I could relate to because she often focuses on the experience of biracial people or people who are kind of stuck in intersections of identity. So I think that kind of arose naturally because I already wanted to work with her. In that way it's inten- tional but it's also a very lucky coincidence that I get to work with women very often. I would say it's different in that there's a sisterhood that is inherent when women work together on set and create stories. With Amma in particular there was a feeling of learning a lot about womanhood through her, through the character and that was one of the most powerful experiences I've ever had.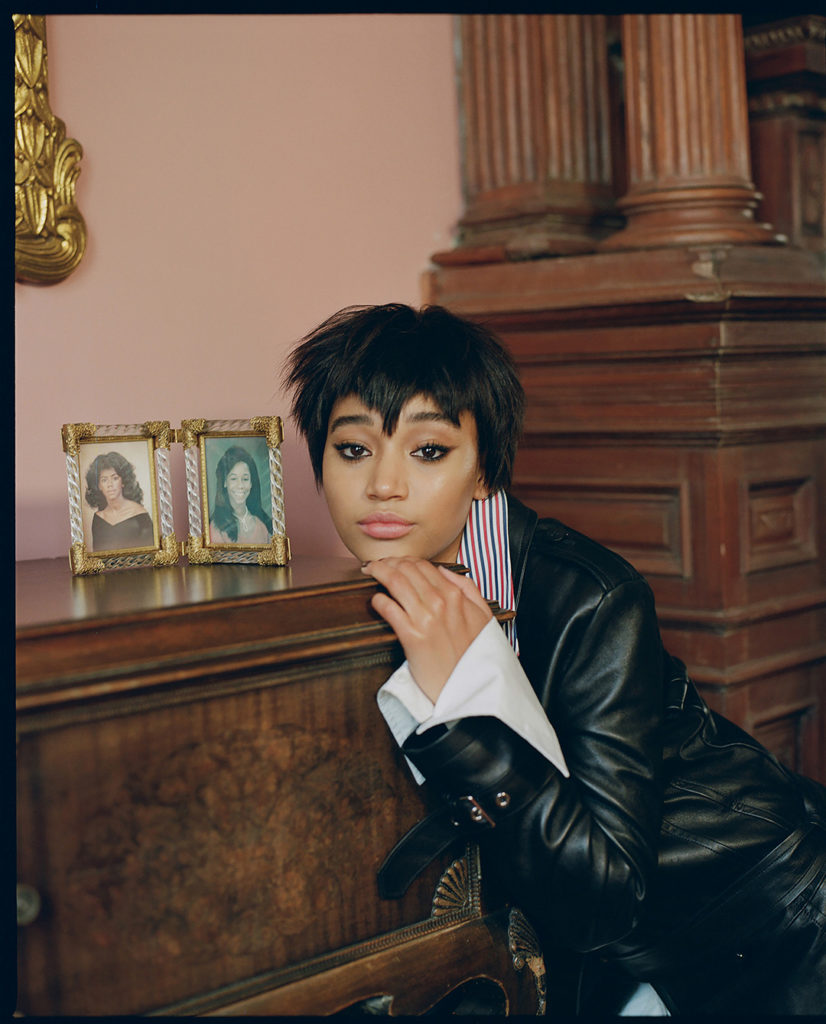 Full look LOUIS VUITTON
How do you make sense of the progress that we are making while also enduring these very difficult times?
I think we're living in very polarised times and I don't know if that's because that's how it always is or because our views are being further polarised by our ability to speak so freely to each other over the internet. But I think that great periods of strife always give way to growth. So at least I try to think about this period as a blessing in disguise. It's sort of a very illuminating and shocking period. I think it's going to give rise to a really huge shift in our society.
The Darkest Minds, directed by Jennifer Yuh Nelson, will be released in August. The Hate U Give, directed by George Tillman Jr., is currently in post-production, to be released in 2018. Where Hands Touch, directed by Amma Asante, is also currently in post- production, to be released in 2018.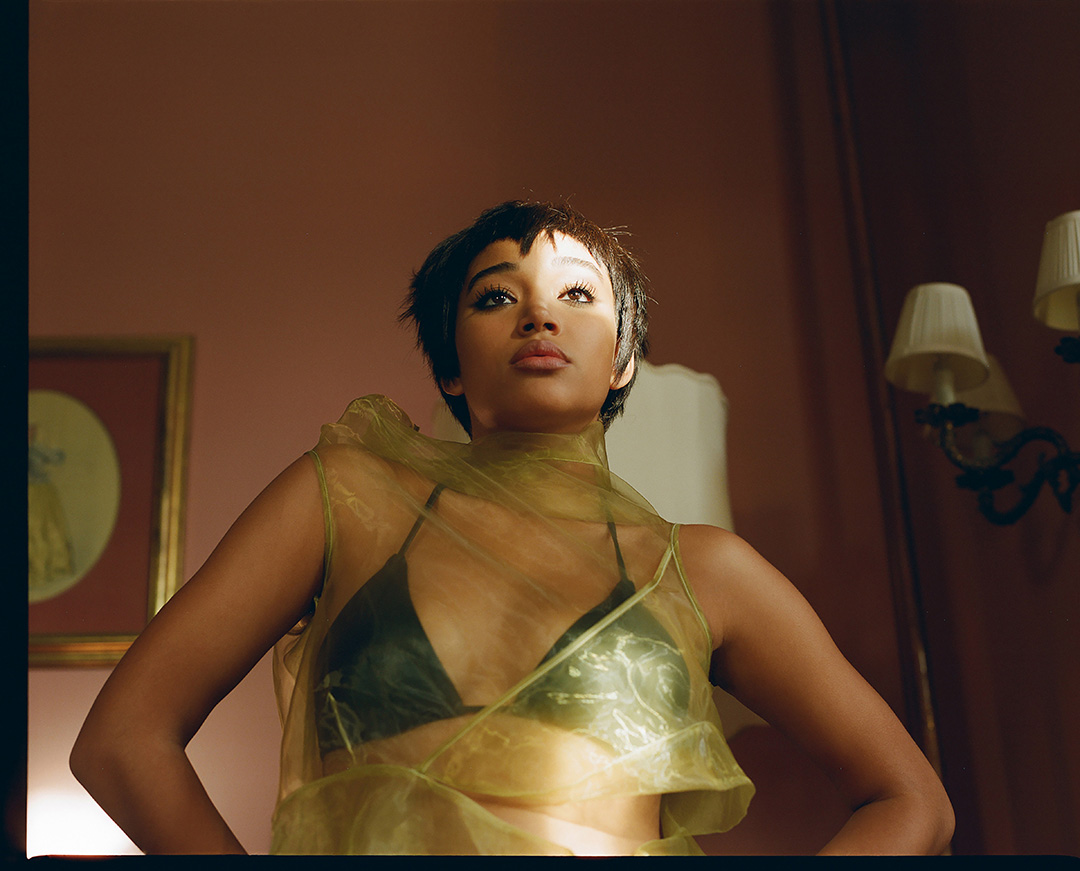 Top ECKHAUS LATTA, Bra LES BOYS LES GIRLS
Photography LUKE GILFORD
Styling DOGUKAN NESANIR
Hair LEONARDO MANETTI for IONSTUDIONYC
Make-up DEANNA MELLUSO at SEE MANAGEMENT using FENTY BEAUTY
Production SERIE YOON
Photo Assistants LEONARDO VENTURA, FRANEY MILLER
Styling Assistants DENISE ROTTMANN, HELENA KUHNEN, TABBYTHA JANEEN
Production Assistants MILO BEN-AMOTZ, SARAH MALLIS
Taken from INDIE NO 58, THE NONSENSE ISSUE – get your copy here.
MerkenMerkenMerkenMerkenMerkenMerkenMerkenMerken
MerkenMerken
MerkenMerken