A little over two years ago, Garrett Clark Borns was living in a small treehouse outside of Los Angeles. However, with the release of "Dopamine" — the musician's debut LP in 2015 — came a dramatic twist of fate. As the artist's name and music found fast trajectory, BØRNS amassed an obsessive fan base, and a slew of Instagram followers — 211k at our last count.
Today, with his self-penned lyrics that are at once frank and raw, his music experiments with and merges genres from indie-pop to rock, all the while spinning unsolicited stories of love, sex and social realism. Following the release of "Faded Heart" his latest single, and in anticipation of his second album set for release next year, BØRNS meets INDIE and is photographed by his friend, and Lana Del Rey's sister, Chuck Grant.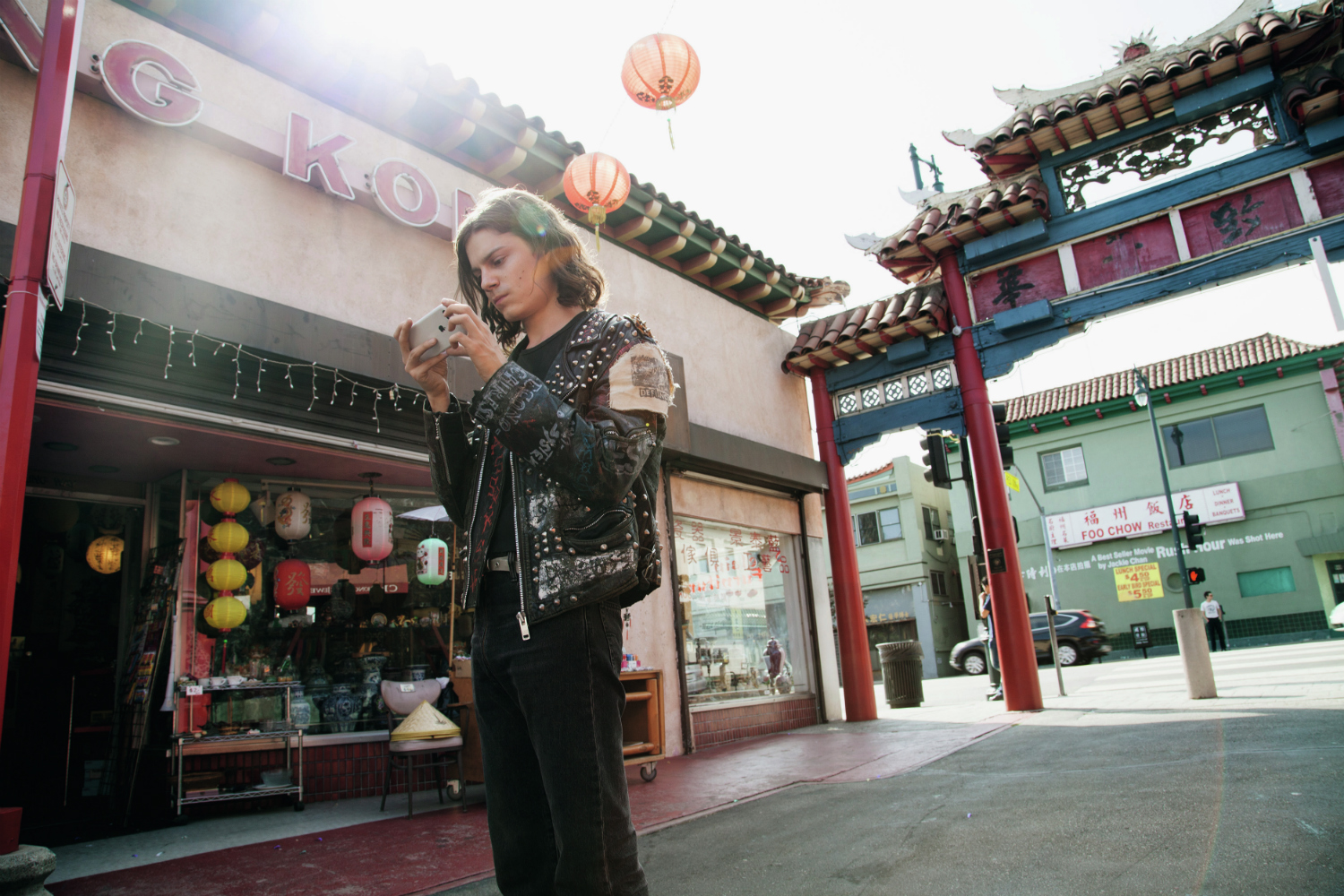 "Dopamine" was named after a sexual neurotransmitter, a pretty controversial undertone for a debut LP. How will your new work be similar or different?
On the first record, I was definitely figuring out my own thing. A lot of that was about me, discovering my voice and recognising how I sing. After touring for a while, I realised my voice had taken on a new tone and that I was singing in a totally different way. After playing so many shows, I found a different way of projecting myself, my tonality, all with a fresh dynamic. I think this comes across on the new album. I listened to "Dopamine" recently, it was like listening to a totally different person. So much of the first album was produced when I arrived in L.A. I was shy, and I was figuring out what I wanted to do. There's an evolution in my music, for sure.
Shy isn't a word I would have used to describe you actually. Is this confidence a result of being comfortable with yourself?
Yes, for sure. Being on the road enabled me to find this powerful feeling, I felt at ease working with the microphone and the audience as I felt their emotional connection with the music. Coming back and then recording a record after this experience, was like a complete switch. I went from being around people all the time to being alone. From feeling like a "God" up on stage to just being me. It was one extreme to the other. That theme comes into play throughout the album, feelings of immortality and power versus vulnerability.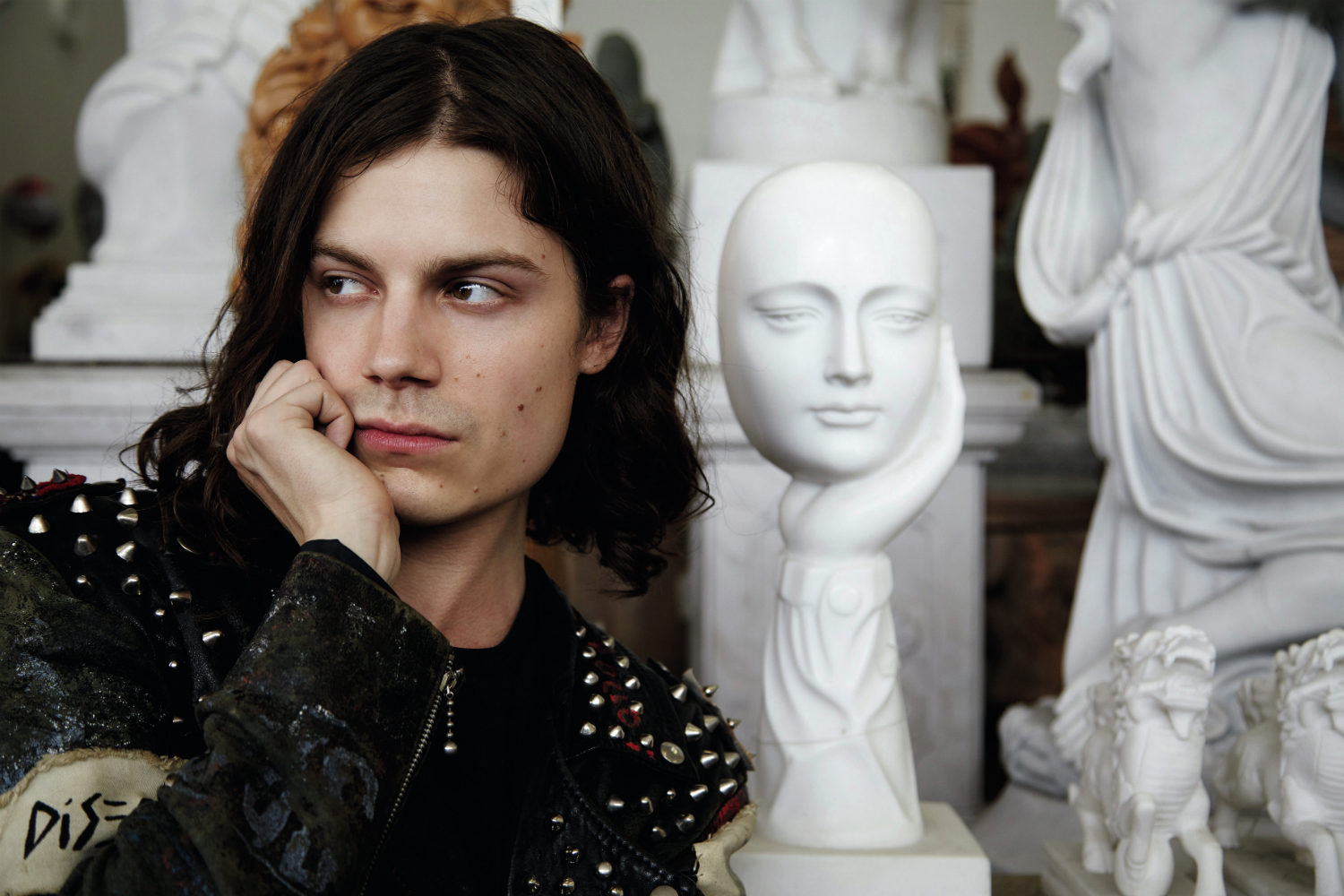 The new sounds are pretty surreal, trippy almost. How would you describe them?
Kinda psychedelic. Most of my songs have a dreamlike state to them. I wanted to create a sub-universe, a universe within a universe, and trip the listeners' brains out — with music.
Your first album was inspired by vintage Playboy magazines. Did you ever meet Hugh Hefner?
I did. In my eyes, he was an important part of the evolution of men's mags. I actually had the opportunity to do a shoot for Playboy this summer to promote my new record. It was very Playboy-esque. I was chilling by the pool in this massive sixties-inspired house — exactly how you picture it to look. It was cool to collaborate with Playboy while Hugh was still alive. I have also been to one of his infamous parties at the Playboy Mansion, it was the "Midsummer Night's Dream" party. That place is such a magical spot, there are monkeys and peacocks running around everywhere. Yet it also has that old-school, L.A. spookiness to it — in a cool way.
Talking of otherworldly places, the new song "God Save Our Young Blood" makes reference to the Garden of Eden, right?
That song speaks to a few different things. It is definitely metaphorical. The idea started out as a religious connotation exploring the concept of Adam and Eve, innocence and experience, good and evil. But, I found it really fascinating to think about the first creation of man and how this figure is often described as a hermaphrodite. You know, an androgynous being, a merger of "man" and "woman". It feels pretty relevant right now, and throws up a few topical questions like: what creates gender differentiation? Gender fluidity is at the centre of a lot of conversations right now.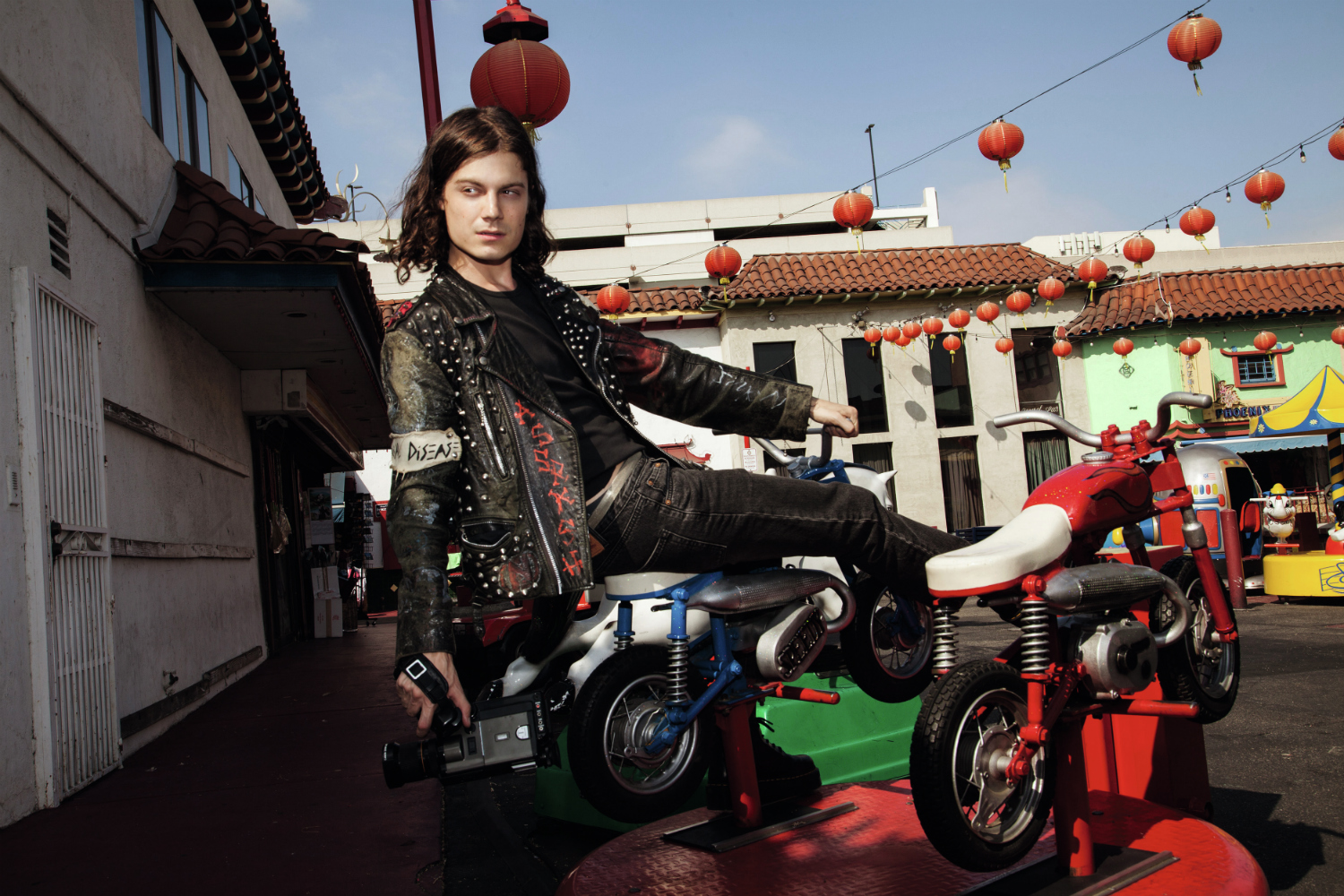 Sure, how do you approach this concept of gender?
I don't take things seriously, especially when it comes to what I wear. I like creating a portrait, a character and seeing how people respond to it — I have done since I was a young child. I've always done whatever the hell I want to and felt fascinated by that. Also, this liberation makes you create differently, the things you wear, the persona you adopt etc, and I like doing things that help my creativity.
The forthcoming album feels nostalgic. Do you look to the past often?
I think I am a nostalgic person. I still have a record player and an old Wurlitzer keyboard. My space is in an industrial building, and it naturally evokes a sense of nostalgia. When I grew up in Michigan, I had this secret studio spot, it was in an abandoned leather factory — a huge old brick building that I visited along with other artists. There was this little loft in there, where I kept my instruments, and I would sleep in there sometimes. The living conditions weren't great, but I appreciated having my own creative space.
There is also a focus on destruction and death. How do these ideas affect you?
Well, I'm not panicked by death, but it sure drives me. Death creates a deadline, you know? It's better to finish your shit before the lights turn out. The album also deals with creation and destruction within the world. I really hope we can survive.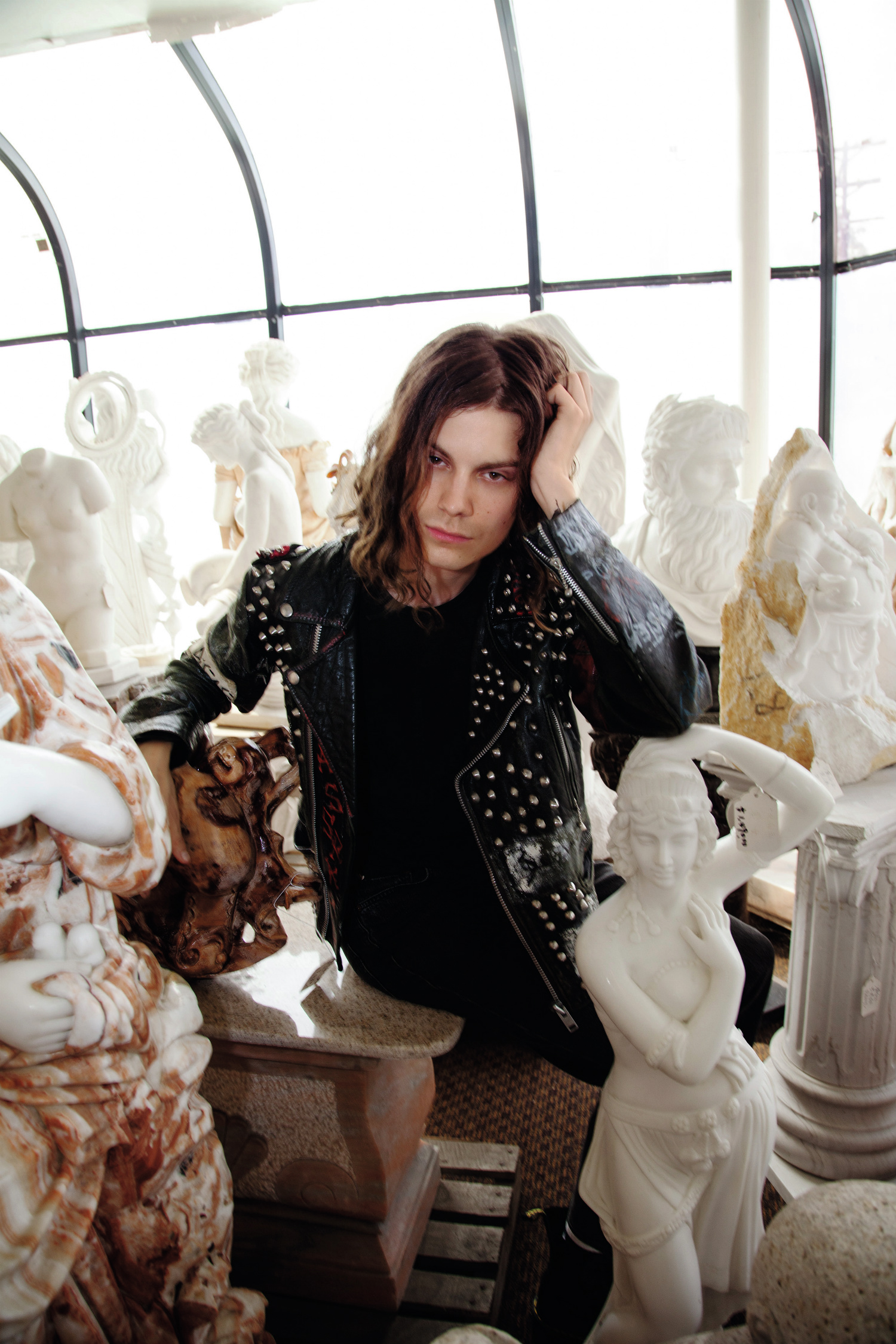 Recently you teamed up with Gucci, and have been listed as an official ambassador by the CFDA at New York Fashion Week: Men's earlier this year. What is it like to be a part of the fashion world?
I'm still new to the fashion world. It is a very interesting introduction. I work really closely with my stylist, Kat Typaldos, we share a lot of the same influences and she is a mastermind when it comes to forecasting trends. Her intuition is amazing. Sitting in the front row can be pretty nerve-wracking, because I am often sat next to all these people I really admire.
Could you ever see yourself on the runway?
It would be interesting. I don't know how the models manage to do it though. It calls for a certain frame of mind, being focused and not missing a step. That feels like a lot of pressure. I was talking to some of my friends recently and they are models, a lot of them do fifteen shows a week. 5.30am calls and make-up changes all day long…
What was your craziest experience within the weird and wonderful world of fashion so far?
There's a designer named Thom Browne who has a wild, wild imagination. He did a pretty extravagant show of crazy, colourful costumes. The things he incorporated were so fantastic. They had some astronaut-kind helmets which were really beautiful and kind of angelic. A little bit like a halo. That was really cool.
Photography CHUCK GRANT
Taken from INDIE No 57 – get your copy here.
MerkenMerkenMerkenMerkenMerkenMerkenMerkenMerken
MerkenMerkenMerkenMerken