Gender should be questioned, re-evaluated, and "un-labelled". With this in mind, young designers are starting to make their mark in graduate shows, and when fresh on the scene. One of these boundary-pushers is Hedwig Vervoort, a young Amsterdam designer already making waves with her graduate collection "Indifferent Nude". Using the new faces of genderless modelling everywhere, and working with up and coming stylists in a new Amsterdam scene, it seems the clothes make a running commentary on the boundaries to be broken now. In a new editorial collaboration between Hedwig Vervoort and photographer Julia Hovve, INDIE finds out the values behind the collection, how Berlin influenced the designer's vision, and how she hopes it will change people's perceptions in a world so intent on labels.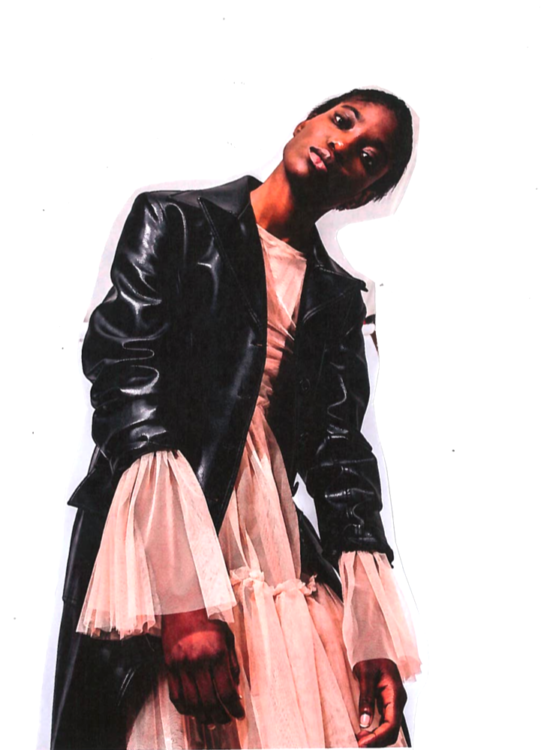 Coat INTERVAL
As a designer, your collection is a lot about a social commentary. Do you think designers have a social responsibility in challenging the rules?
I think every designer has their own subject. Fashion is an important way of displaying a message and personally I like to use this to spread ideas about social responsibility and a changing world. For me it's important because I think it shows you can really use the designs to show a message without pushing it in someone's face – I try to keep it quiet but also to really show the vibe. For example, with "Indifferent Nude", no one is really telling you that it feels free to be one of the characters of the collection, it's just a suggestion of what it could look like to be in this space with no labels. I'm not really thinking about situations on gender, but more that you can look at something and subvert the feeling – by using romantic music, or putting a sweet atmosphere with something some may find shocking, in a very "beautiful", poetic aesthetic. It makes people accept a message that maybe otherwise they might think was radical.
How did you come to choose clothes as a medium for your vision?
When I was younger, I wanted to become a dancer, and then I was more interested in the way I could imagine the performances than the actual dance classes. I went to study dance, but I found myself more drawn towards the fashion of the performances. I liked to dress in this kind of world that I had experienced on stage – you have the dancers and the surroundings together. I started making films about my clothes, inspired by that. Also with fashion, I don't imagine a piece, but more of a world. That's what it's about – all the elements are as important as each other; the music, the surroundings, the fabric. I don't totally see the label "designer" as essential – I feel free, to work in different mediums.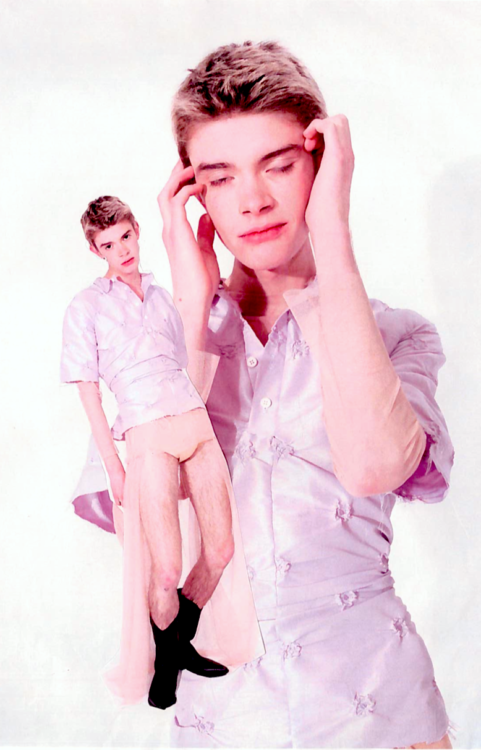 Top CAMIEL FORTGENS, Underwear MODEL'S OWN
Who were your biggest influences for "Indifferent Nude"?
I got inspired by actor Yorgos Lanthimos (Dogtooth, The Lobster) – especially for the film. He portrays these weird stories in such a normal way. This was also what I tried to project, combining the idea of very strange, strong scenes happening with this dramatically beautiful feeling. These oppositions are very interesting.
What's your artistic process in bringing together a collection? Do you see the end point in your mind?
Never. I always found the different freedoms of different societies fascinating. I want to create things that speak on issues, but that everyone can relate to. I sometimes start with just a word. My grandfather is a philosopher, and he is really important for me in building an idea – I always go to him with a topic, and we discuss it. He just asks me questions, questions, questions. It gets me deeper into the story.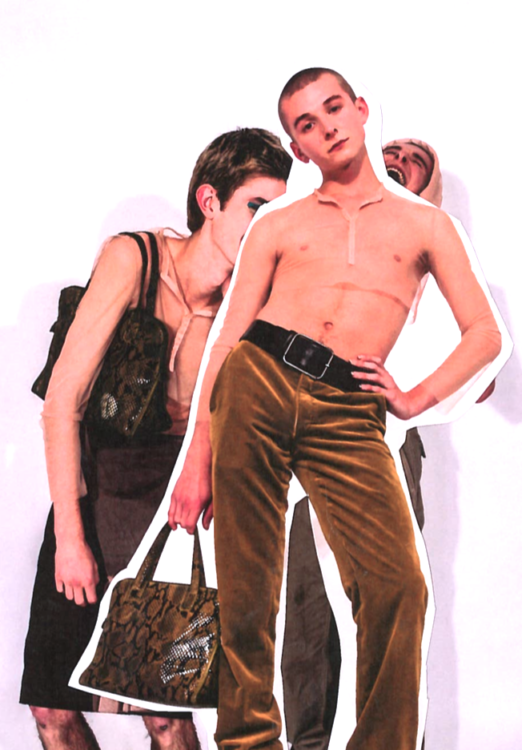 Pants KENZO (archive), Bag, Shoes and Belt STYLIST'S OWN
Your clothes are getting a lot of attention – why do you think that is happening now?
Everyone has different levels of being open minded about topics like gender issues, religious issues, race and sexuality – but there's a certain group that does studies on it: artists. For a lot of people, however, it's not their job to be so exposed to the forefront of these issues. It's easy to assume that if in your group these things are openly discussed, you can forget that it still causes controversy between others. With the collection concept, you just see a relaxed group of people, for example in the film – and you just accept it, because the mood of the atmosphere takes the politicisation out of the clothes and the people. It was surprising how many people commented to me that it was one of the first times they saw nudity in this way, and didn't associate it with sex or pornography.
That's interesting. Because people will go into galleries and see so much nudity – but it's revered, it's special, it's art. When it comes to pixelated images or contemporary mediums, it can become pornographic. 
Yes, for example, we are faced with adverts of young women shaving their legs and it's made to look sexy, and the texture is smooth and sensual. So in one scene of the film, I used an older woman in a scene, shaving her legs, a boy also, and you never see that in mainstream media, so people don't think about it.
Progressing from that, what is your new collection "Renaissance Boys" trying to say, in the simplest form? 
For this collection I started to listen to a lot of opera, so I got into this classical vibe. It made me think of Baroque and Rococo. "Renaissance Boys" focuses on that time in history, full of colour and elegance after a period of darkness. This is what I envision in any Renaissance of course, so the collection is also about a new kind of man to keep up with the values of a modern world. When it comes to the question of feminism today, there's so much more to experience for boys – the same rules of liberation that used to apply to women now can also apply to men. For men now, there's also much to discover and fight for. There's no question that what's happening for women is amazing, but there's also sometimes a negative reaction on men with that. They get judged as a collective group. Whereas with the last collection, it was so focused on the gendering and the classing of people that happens in society, which are more topics in the foreground. I was always designing for girls, but loved to see the result on boys. And I think things now are changing a lot, we are getting to be closer to periods in history where men would dress up as much as women – this is interesting in terms of all the gender discussion, and new feminism. My "Renaissance Boys" are more of an homage to this forgotten group – we are fighting for things as women, but we should also be fighting for everyone.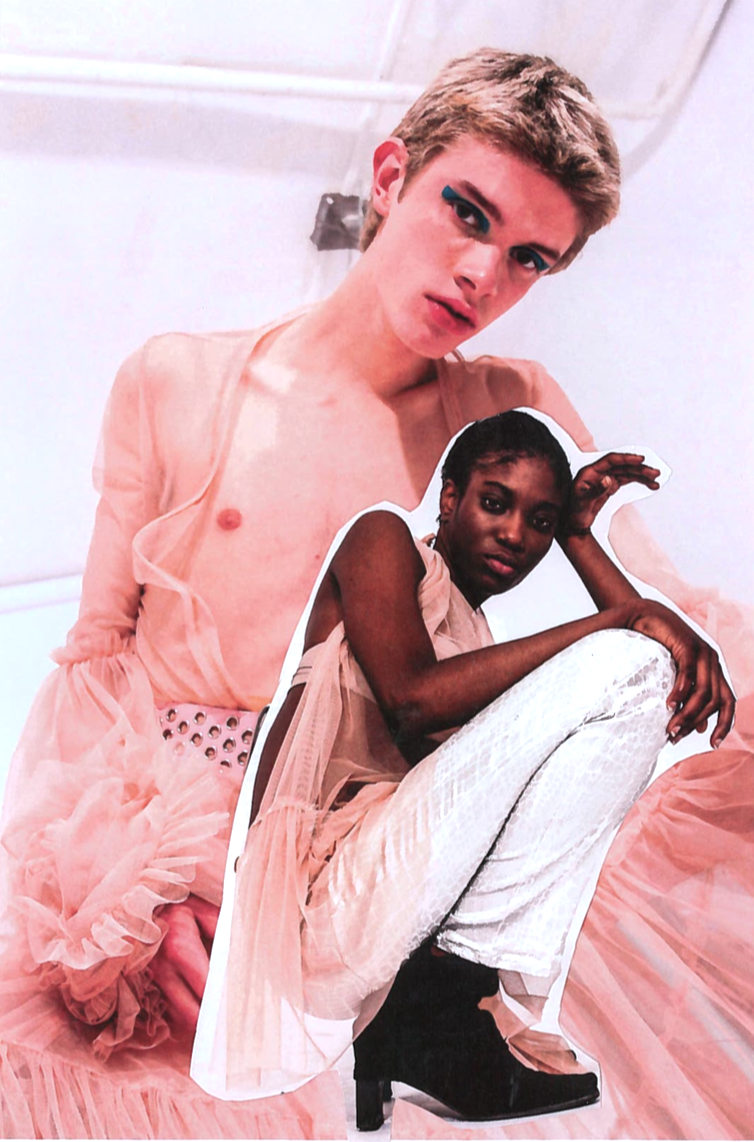 Pants VINTAGE, Ankle Boots VINTAGE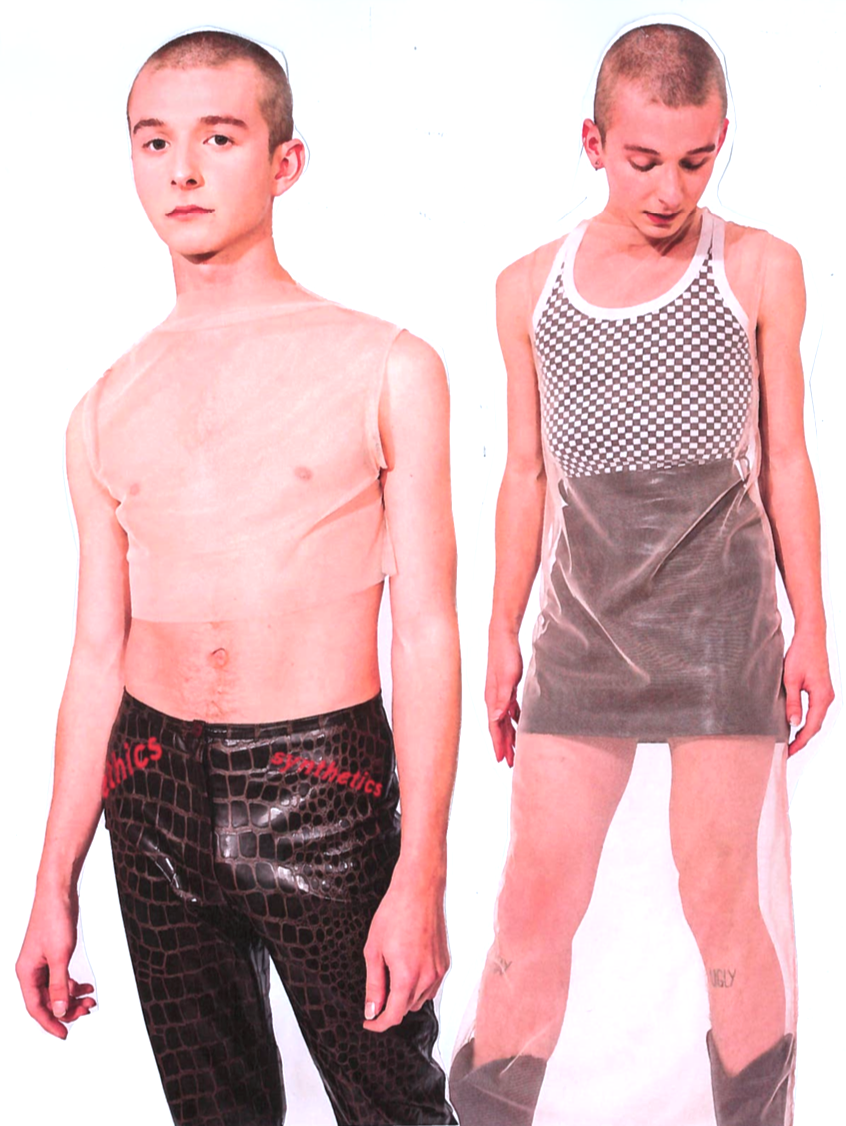 Pants AVOID STREET, Skirt &OTHERSTORIES, Boots VINTAGE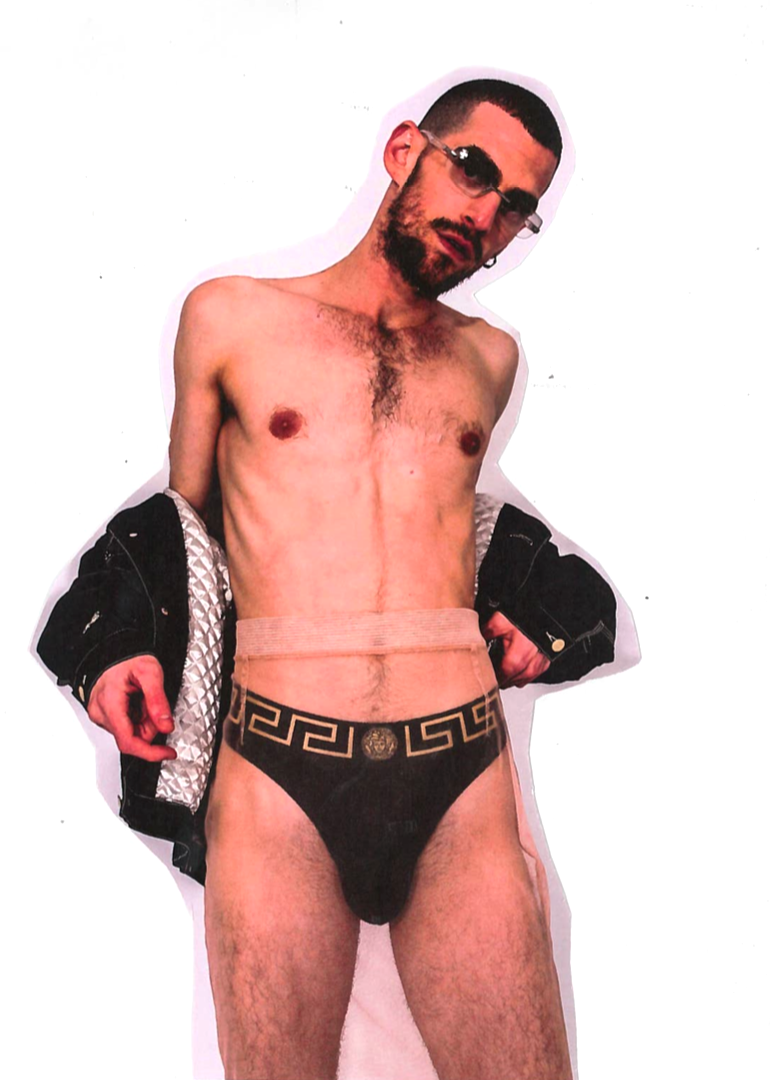 Jacket LONSDALE, Underwear VERSACE, Sunglasses VINTAGE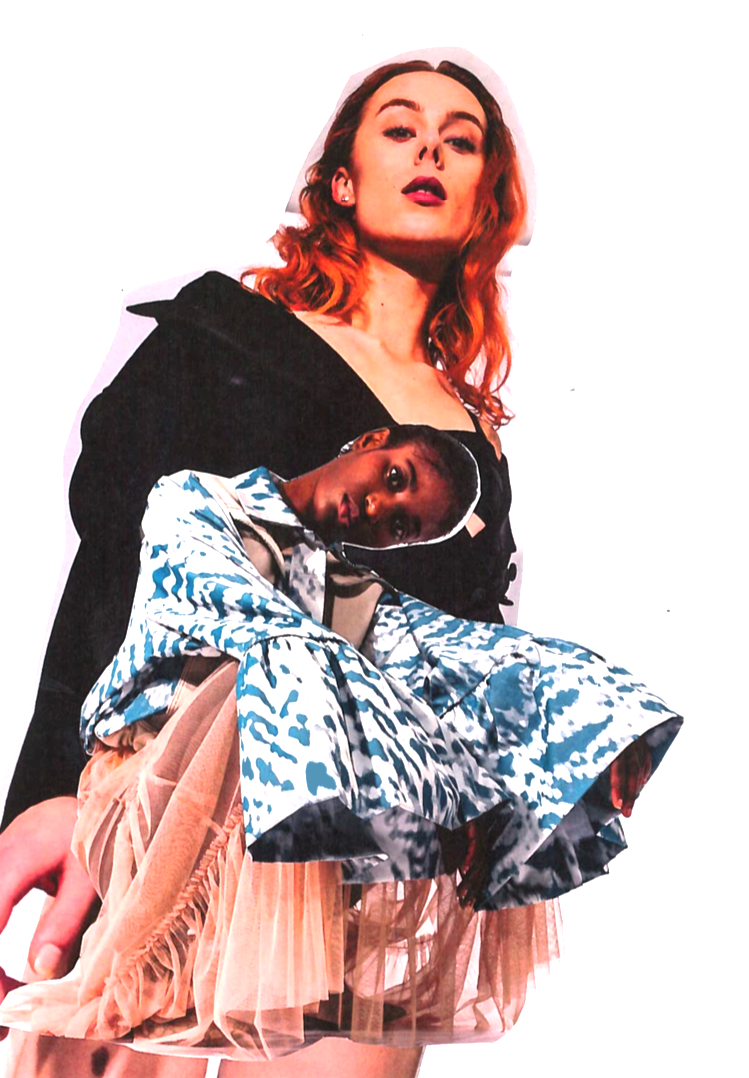 Blazer HUGO BOSS, Jacket SCHUELLER DE WAAL, Shoes GUCCI
Huub wears Pants and Shoes VINTAGE. Kishana wears Skirt PRADA, Shoes VERSACE, Belt VINTAGE Pim wears Pants AVOID STREET. Arad wears Belt and Pants VINTAGE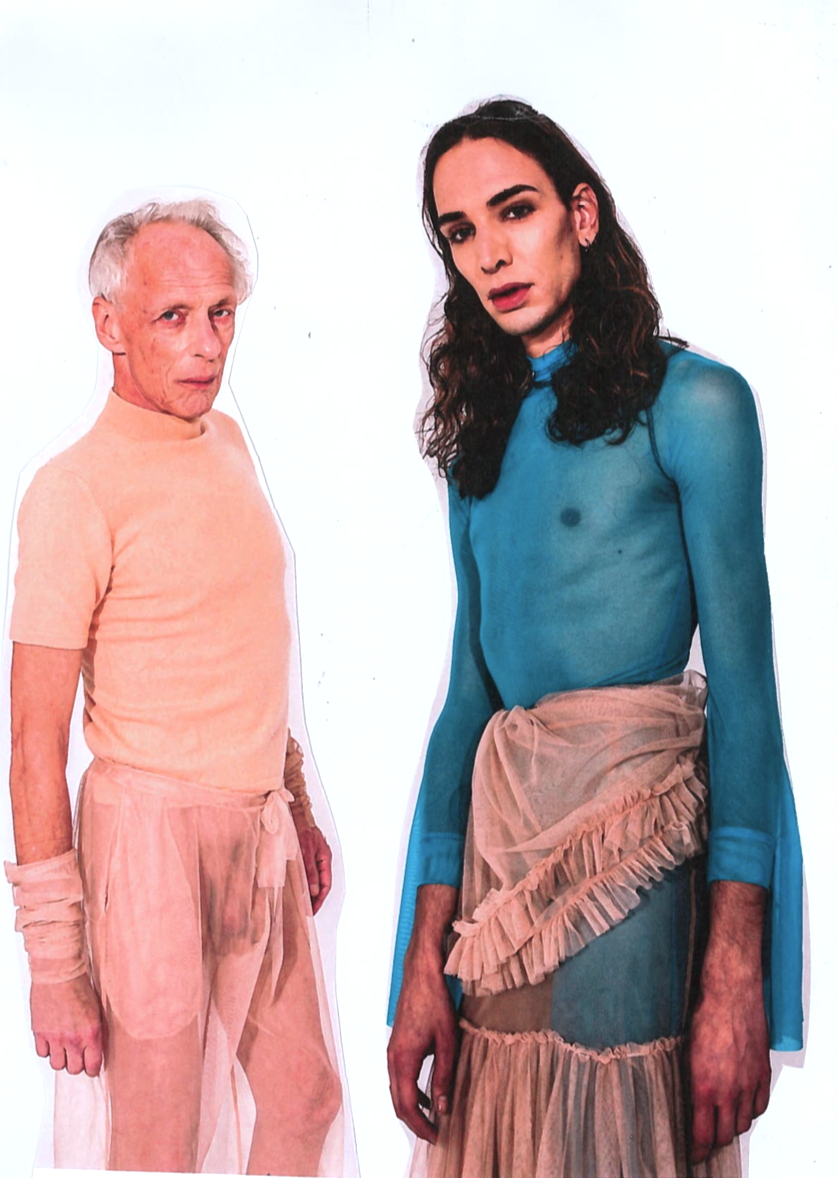 Pullover STYLIST'S OWN, Dress SCHUELLER DE WAAL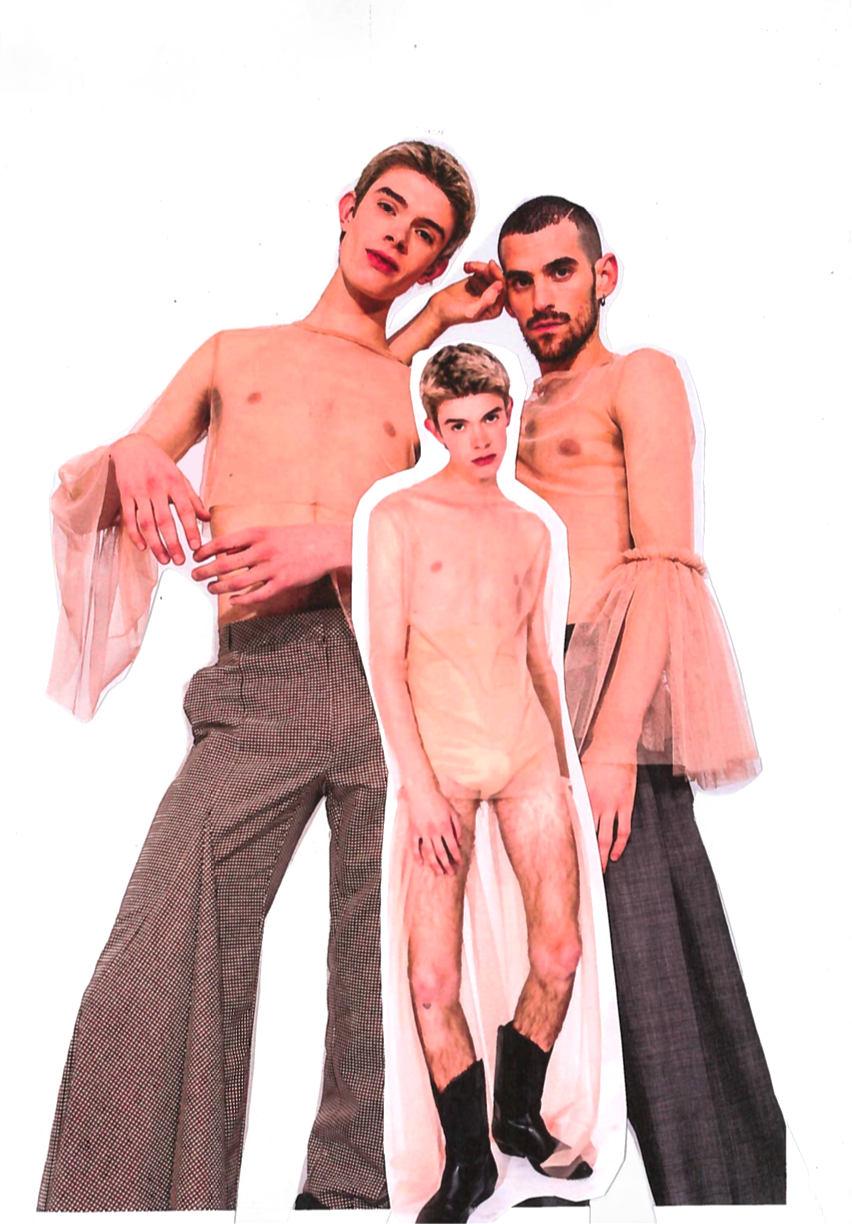 Huub wears Pants SCHUELLER DE WAAL. Arad wears Pants HACKED by VAN SLOBBE AND VAN BENTHUM
All other pieces in all images HEDWIG VERVOORT
Photography JULIA HOVVE
Styling JOA HITPASS and CHIARA FRENZEL
Make Up ELVIRA HILGEVOORD
Models: Huub at Tomorrow Is Another Day, Kishana at Elite, Pim Sem Benjamin, Jodi Rouwenhorst, Arad Inbar, Dennis, Kris van der Waag, Mattanja Ewida
MerkenMerken
MerkenMerkenMerkenMerkenMerkenMerken
MerkenMerken