In the midst of references that make up current pop-culture, we decided to take a closer look at the icons still truly shaping fashion, music, and culture today – and what exactly is making them so significant. It is time to Know Your Icons.
When people try to summarize the significance of Jean-Michel Basquiat, they often tend to use words with a certain power – one could describe them as strong words, implying action, determination, and a sense of rebellion that was so integral to Basquiat's spirit. The 2010 documentary about the artist described him as "the radiant child", while a just opened exhibition at Schirn Kunsthalle in Frankfurt am Main introduces Basquiat with the words "Boom for real", depicting the artist's oeuvre in over 100 exhibits.
There is indeed a sense of tireless honesty accompanying Basquiat's career. Starting as a Graffiti artist in New York, his distinct Neo-Expressionist drawings and strokes in the 1970s quickly found their way from the street into the city's most prestigious galleries and on the walls of numerous high-profile collectors and celebrities – still today, he is widely celebrated as one of the most influential and boundary-pushing artists, often touching on his own heritage and experiences within his works. Having dated Madonna and collaborated with Andy Warhol, Basquiat certainly knew how to make himself known – during his lifetime and equally after his death, in art and beyond. One industry especially captivated by the presence so embedded in Basquiat's work and whole being is fashion – in line with the opening of "BASQUIAT. BOOM FOR REAL", we're taking a look at the artist's most significant fashion moments.
A runaway runway success
Although never officially working as a model, Basquiat did more than one magazine cover and runway during his life. Most notably, he appeared in a show of Comme des Garçons for Rei Kawakubo's SS 87 collection – sporting a grey suite and a white shirt similar to his personal signature style. Just a few years earlier, Basquiat appeared on the cover of The New York Times Magazine, with the headline "New Art, New Money: The Marketing of an American Artist". Although featured as an artist, not a model, Basquiat still showed his unmistakable posing talent, making the cover as much based on his appearance – most notably his bare feet – and clothes – a Giorgio Armani suit – as on his art.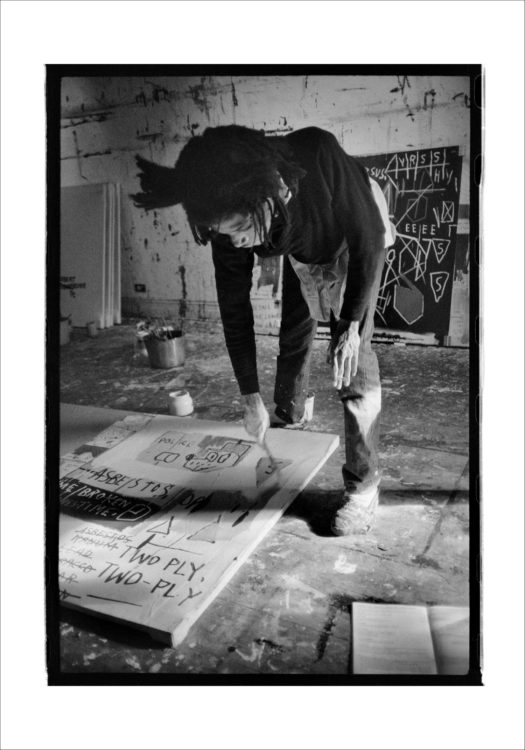 Clothing as a canvas
Fashion not only often found its way on Basquiat, but also the other way around: His paintings were featured on clothing and products numerous times, from Uniqlo and Urban Outfitters to Givadaun Fragrances which put his art on a candle or Urban Decay, which released a Basquiat-dedicated Make-Up range in 2017. While Basquiat is known for having painted on everything and anything – fridges, walls, doors – he never branched out into fashion design himself. But with his works as vibrant and colourful as they are, his instinct might have just done it for him.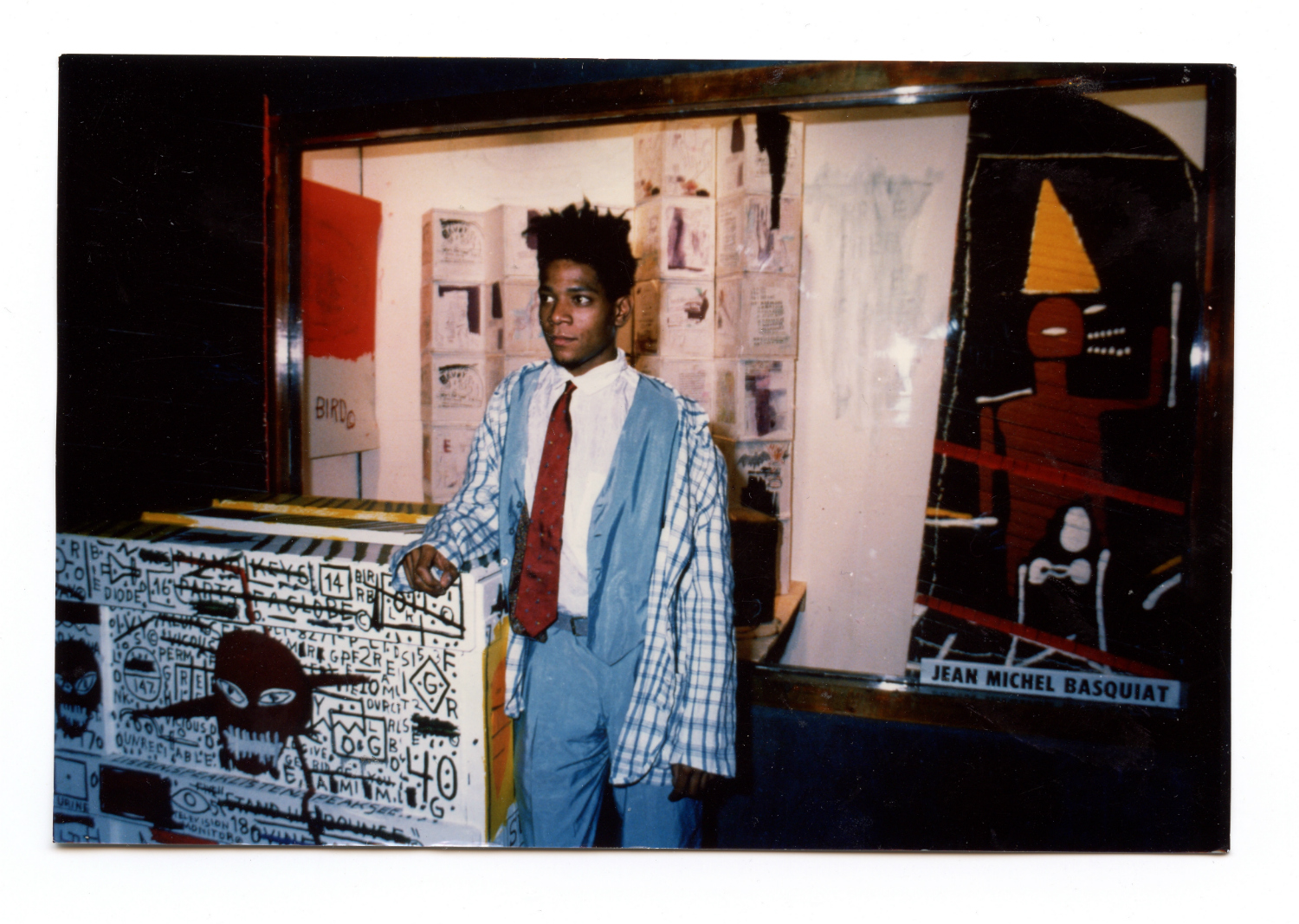 Signature suits
Every style icon has a uniform – for Basquiat, this uniform consisted of Armani suits. He wore them for photo shoots, on the streets, even for painting, covering them in paint splash and strokes. "I loved the fact that he chose to wear Armani. And loved even more that he painted in my suits," Giorgio Armani himself said, "I design clothes to be worn, for people to live in, and he certainly did!" With a day-to-day life that was as much dominated by Basquiat's painting sessions as it was by his love for nightlife, suits quickly became a staple for whatever the artist had on the agenda.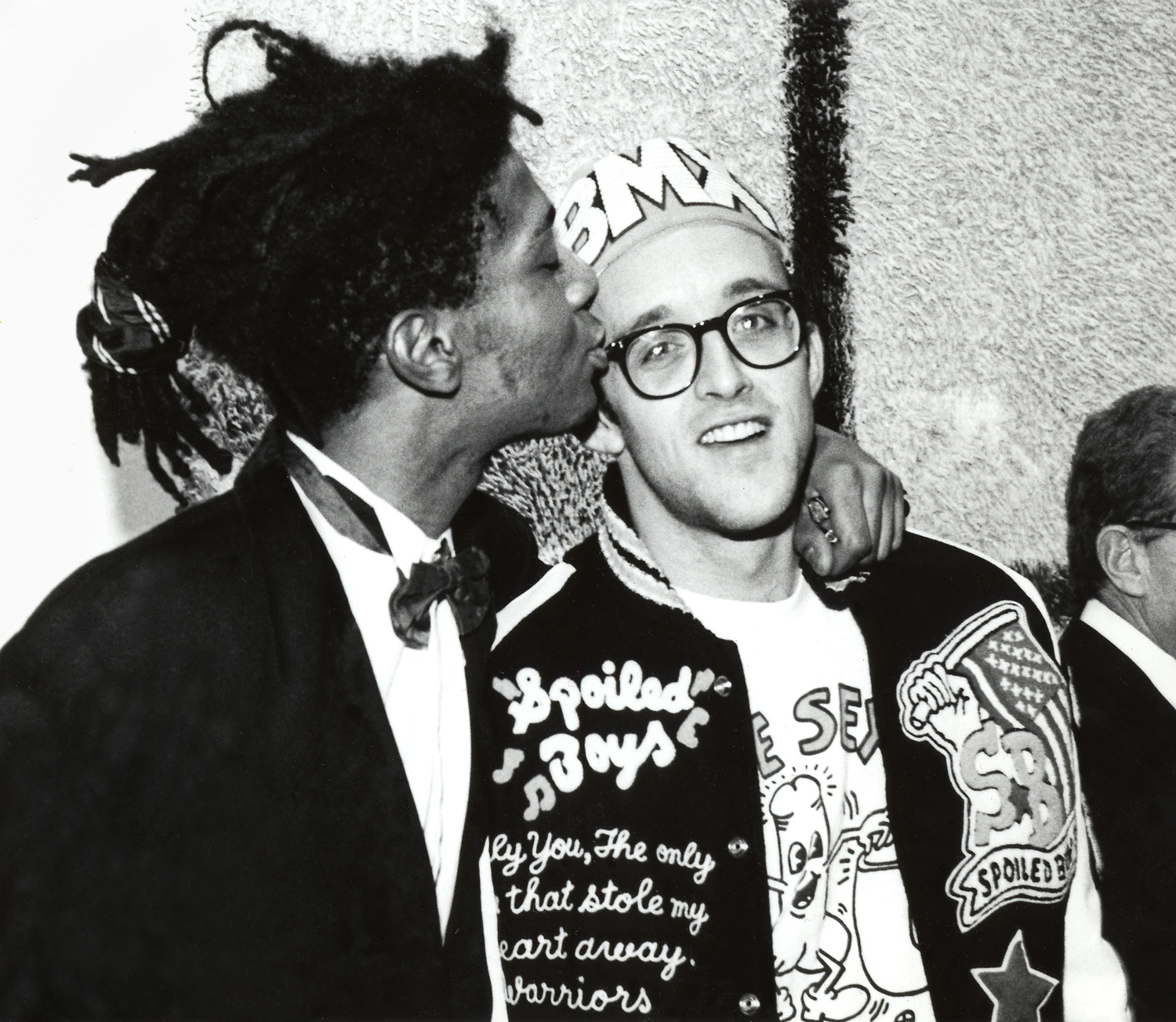 The artist as celebrity
Hanging out with Keith Haring or Andy Warhol, Basquiat quickly understood the importance of not just being an artist, but being an artist that people associated with a certain lifestyle, or coolness. He rose to fame during a time that more than ever embraced the notion of "the artist as celebrity" – and his signature style only underlined this idea. Apart from the Armani suits, Basquiat also often sported Wayfarer sunglasses, creating a distinct look people associate him with to this day, just like you would your actors or musicians, that carved out a persona for themselves.
"Basquiat: Boom For Real" is on at Schirn Kunsthalle Frankfurt until the 27th of Mai
Header Image: Jean-Michel Basquiat wearing an American football helmet, 1981, Photo: © Edo Bertoglio, courtesy of Maripol, Artwork: © VG Bild-Kunst Bonn, 2018 & The Estate of Jean-Michel Basquiat, Licensed by Artestar, New York
MerkenMerken
MerkenMerken