Going to Paris Fashion Week Men's doesn't mean to just attend the shows – the most interesting things happen at the side events, in the showrooms, on the streets. They happen when you meet the people that represent the foundation of the scene. When you get the chance to break through their one-of-a-kind appearance to experience their unique character. INDIE went to the French capital to capture the most authentic and style-defining people around.
MOUNIR, LILLE
What will you never forget about the SADAK show?
I really appreciate that I was given the opportunity to walk for SADAK – it was my first show at Paris Fashion Week ever, I'm not a model. The brand breaks boundaries, it breaks rules. Even the setting and presentation was a crazy concept in itself. I really appreciate the diversity SADAK brought to the world with the show. It's been – and still is – a hard fight for designers, stylists, makeup artists, but this brand managed it perfectly! I had great conversations, I met wonderful people and grew so much because of this experience.
In which situations are you the most creative?
I see everything that surrounds me in an inspiring way – a painting, a song, a photo, an encounter, a story, a place, a movie, a book… life inspires me. Inspiration causes the creation, so when someone is inspired like me he can create infinitely – especially in company of a good sandwich from Konbini.
The most beautiful compliment you ever received:
When I was younger, one of my old friends told me that one day I'm going to find my place on this earth, in this society, but I laughed in her face when she told me that because I didn't believe her. When I think about it today, that definitely was one of the most beautiful compliments I ever got – just because she saw in me as a grateful person who would have the chance to see himself confronted with some beautiful opportunities.
When was the last time you doubted yourself?
When I was 15 or 16 years old I struggled with my self-confidence because of my hearing impairment. I considered it as a weakness, which directly translated to my mental well-being. Today I see it as a strength though, because I understood that nobody's perfect and I realized that it was one of my only flaws… But for me doubt also means fear of truth – however I would never forget that self-fulfilment and happiness comes from truth. Each action is done without doubt.
What's your dream for the future?
I don't really have dreams, I don't trust it… For me it's like stay blocked on our goals way, what's a dream when it's possible to make it? I'd rather have desires, I want to accomplish my goals, show to the world that I succeeded in life, me, the Arab without a diploma that they didn't want anywhere and who's coming to take over the world now.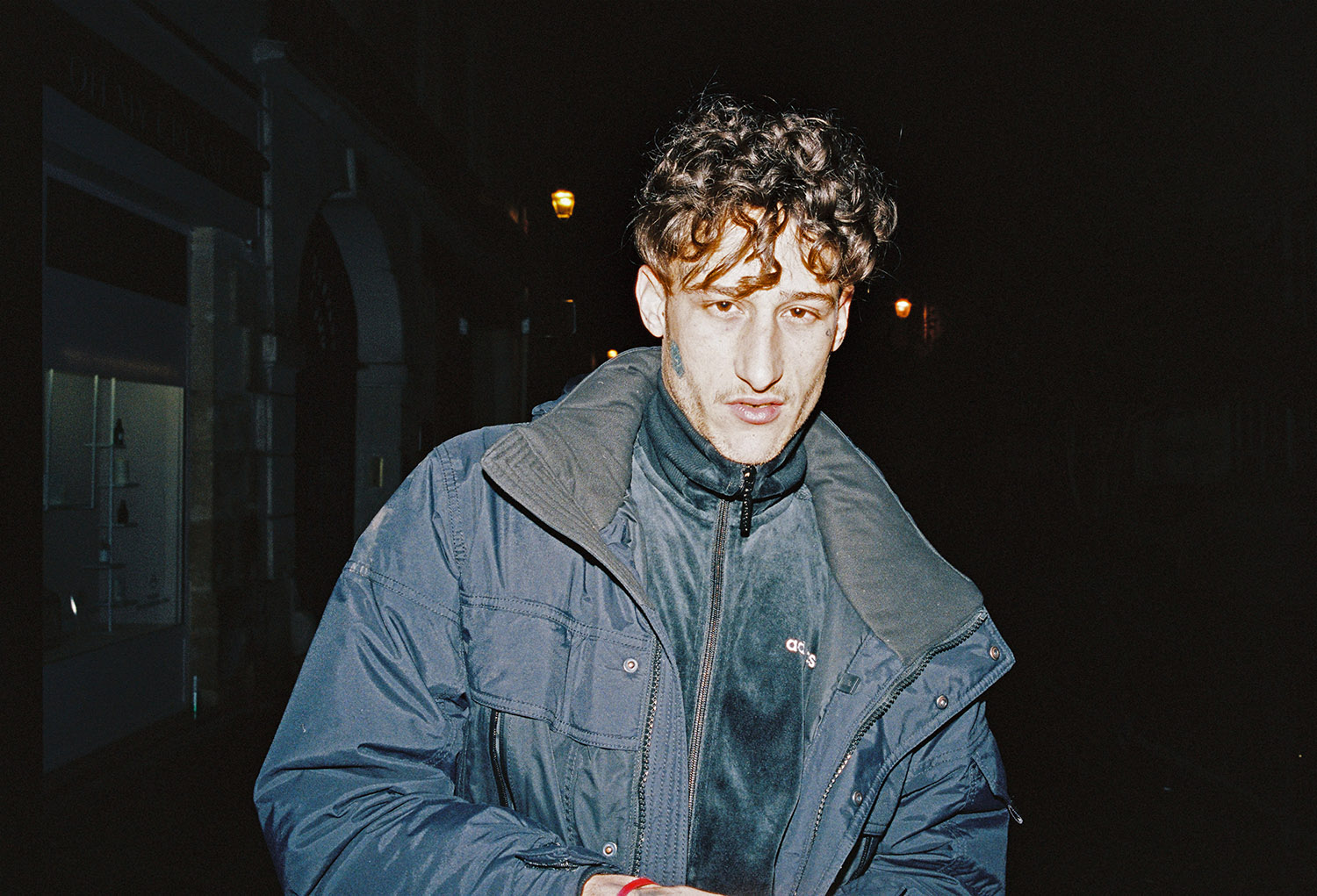 YUNG BEEF, MADRID
Which musician do you hype at the moment?
One I'm rocking hard is Yung Bans. So fucking cool.
When did you have your last life crisis?
Every day. I'm in a mid-life crisis. I'm at my mid-life now I start to feel old and shit. But you got to learn. I have responsibilities now. I have my son, my little son, you know I start to have somebody watching me. I cannot do everything I want but it's cool. It's different. The next step.
What's your favourite meal?
I love pasta but you know Japanese food is always a good idea. Ramen.
When was the last time you got in trouble with the police?
Every night. I don't like the police you know. Every day they try and fuck us. In Madrid they knock on my door every day. Trapping and shit. Normal. C'est bien.
What's your favourite word?
Love or sex. Weed. I don't know. Pussy, money, weed.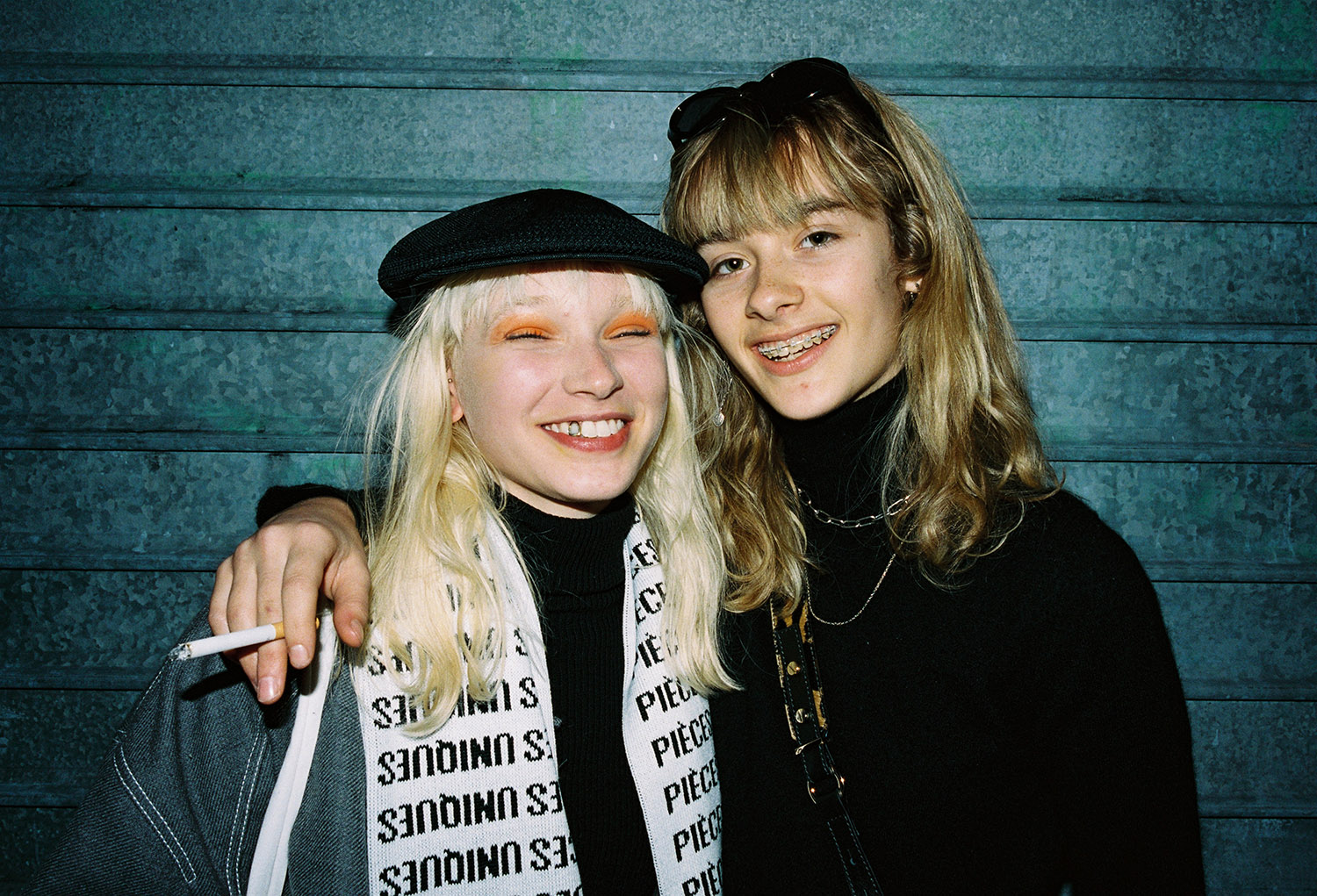 Your favourite up and coming brand?
Celia: I'm working with Pièces Uniques. My whole outfit is Pièces Uniques. It's an all white collection, they have a puffer coat made of white feathers. It's crazy.
Camille: The collection is insane. I don't work with it but I know everyone in it. It's insane it's not that well known. It's starting out and it's doing pretty well.
Who did you send your last WhatsApp to?
Camille: To my best friend who's actually inside right now. I sent him my location like 3 hours ago.
Celia: My manager. Because they put the wrong name on my model card.
Camille: Her name is Celia and they put Quindila. I was like what the fuck are they doing. They were like oops they got the name wrong.
What's your favourite video to watch on YouTube?
Camille: I watch random shit on YouTube. The 'Colors' show on YouTube they have like upcoming musicians who are really good. I discover a lot of people on that.
Celia: The one in my head is 'Space in Space' by Tiger Love. The clip is really aesthetic.
One thing you wouldn't want to miss in your life?
Celia: Getting rich. I just want to be rich. I don't want to fuck up.
Camille: It sounds cheesy and cliché but happiness. I want to die being satisfied with my life and just happy as fuck. As long as I've got good friends and my family is supportive. If you don't have that much money but you're happy you're good. If you have done stuff like the fashion industry which is kind of fucked up, if you don't let that affect you… I want to die happy.
Celia: Die happy and rich.
What was the last movie you cried at?
Camille: The Notebook. Everyone was talking about it for so long and I finally watched it two months ago. I was in my bed and I was crying, balling my eyes out. And I watched it again and was crying again.
Celia: It would be 'No tears for the dead'. It's a Korean movie. It's like action but it's kind of sad at the end so I was just crying like a baby. So dumb but I cried. It was too emotional.
When did you have your last life crisis?
Camille: Probably last week. I turned 18 and I was like this sucks. I had the most depressing 18th. I was in my bed all day and no one came to see me and I was like oh my god I need to get my shit together.
Celia: To be honest I'm like depressed every single day of my life. I'm happy but depressed. I'm having a hard time but a good time. It's just mixed in my head.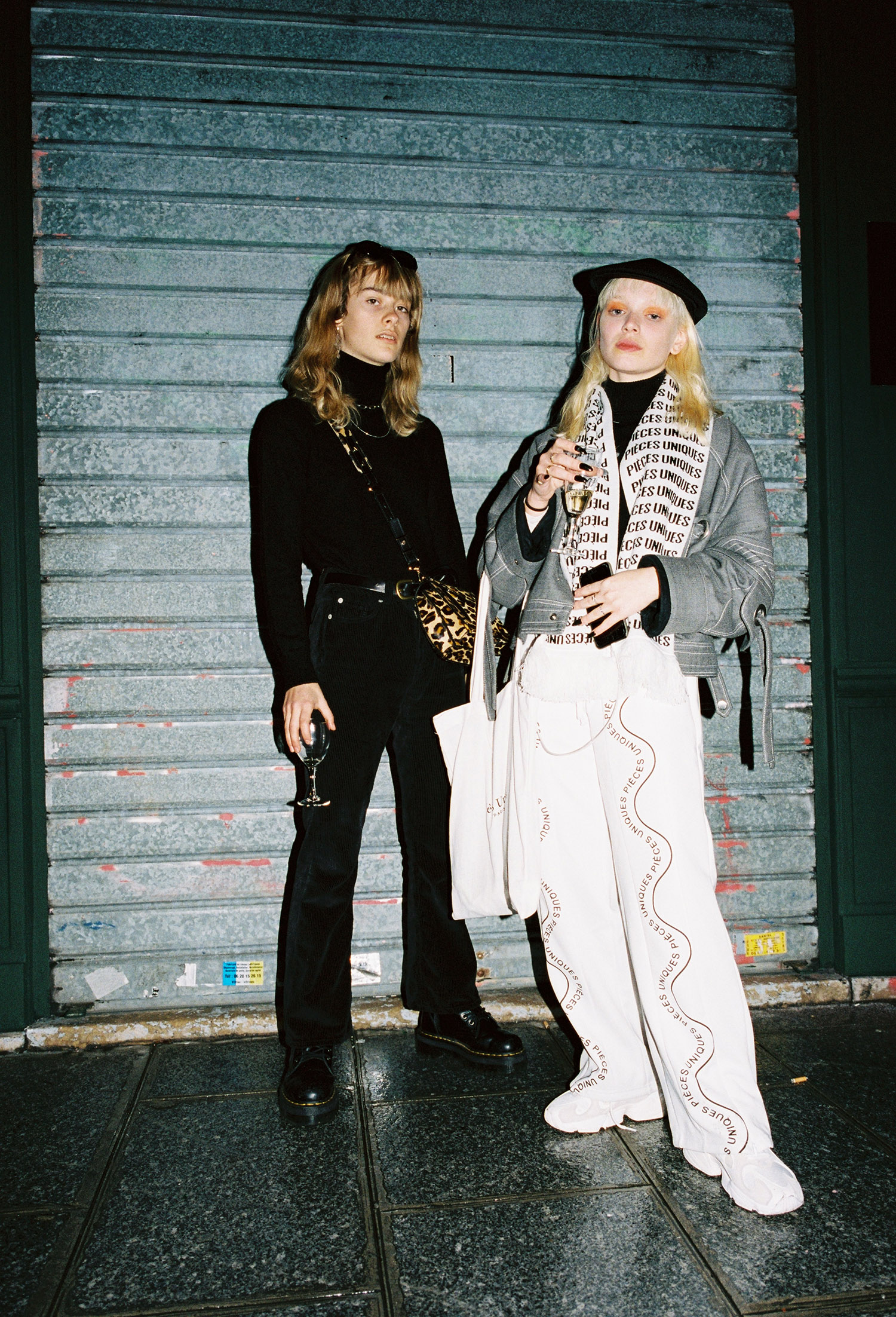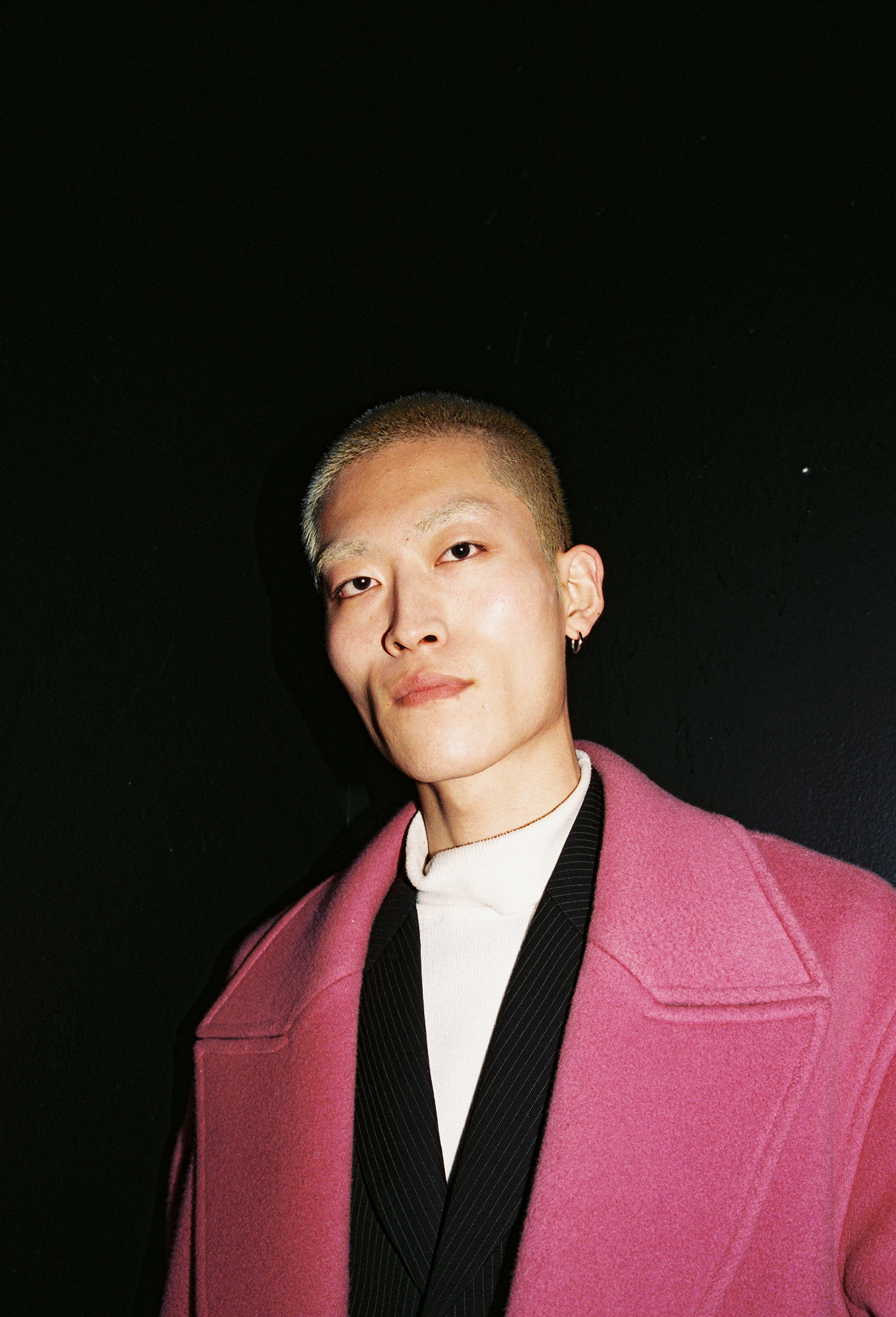 DONGHEE LEE, SEOUL
What was your highlight of this year's Paris Fashion Week Men?
Rick Owens! It was my first show this Fashion Week.
One thing that needs to be changed in the model industry:
The model industry needs to change their beauty standards in general. Models don't only have to be super handsome.
The hottest person alive:
Björk. She did a collaboration with Gucci!
When did you have your last life crisis?
When I was in Seoul for modeling, I was so depressed. But my visual director and coworker consulted my mind and my work. She inspires everything I like – fashion, art and film. Thanks to her I'm really doing well now.
A thing that reminds you of your childhood:
Pumpkin pancake. My grandmother and mother often make it in my grandmother's house.
What's your favourite meme?
My favourite meme is 호박고구마.
OTHMAR, AMSTERDAM
When did you have your last life crisis?
I think a month ago. Photos of me got printed in a skate magazine and I didn't land any of the tricks so that got me really fucked up in the head. Cos it's a thing in skateboarding – the pictures you use for an article in a mag they need to be landed! You have to do them. You can't just "try" them. And I didn't do them and all three got printed. I felt ashamed…
Does Instagram sometimes fuck your life?
No. No I don't care about that shit.
What was the last thing you spent money on?
A cocktail.
What's the best thing about being drunk?
There's not that much good about it. You smoke a lot, you spend a lot, you don't remember much the next day. You always have ridiculous pictures of you the next day. When you see the pictures the next day and you laugh about it – that's the best.
What do you like the least about you?
The least? Oh Shit. Me being shy all the fucking time. That's what I really hate about myself.
What makes you laugh so hard that you would like to cry?
Willem. He's got my crying from laughing all the time
What language would you like to learn?
French. I really love that.
Do you actually give a shit about Fashion Week?
No, I have no clue what's going on.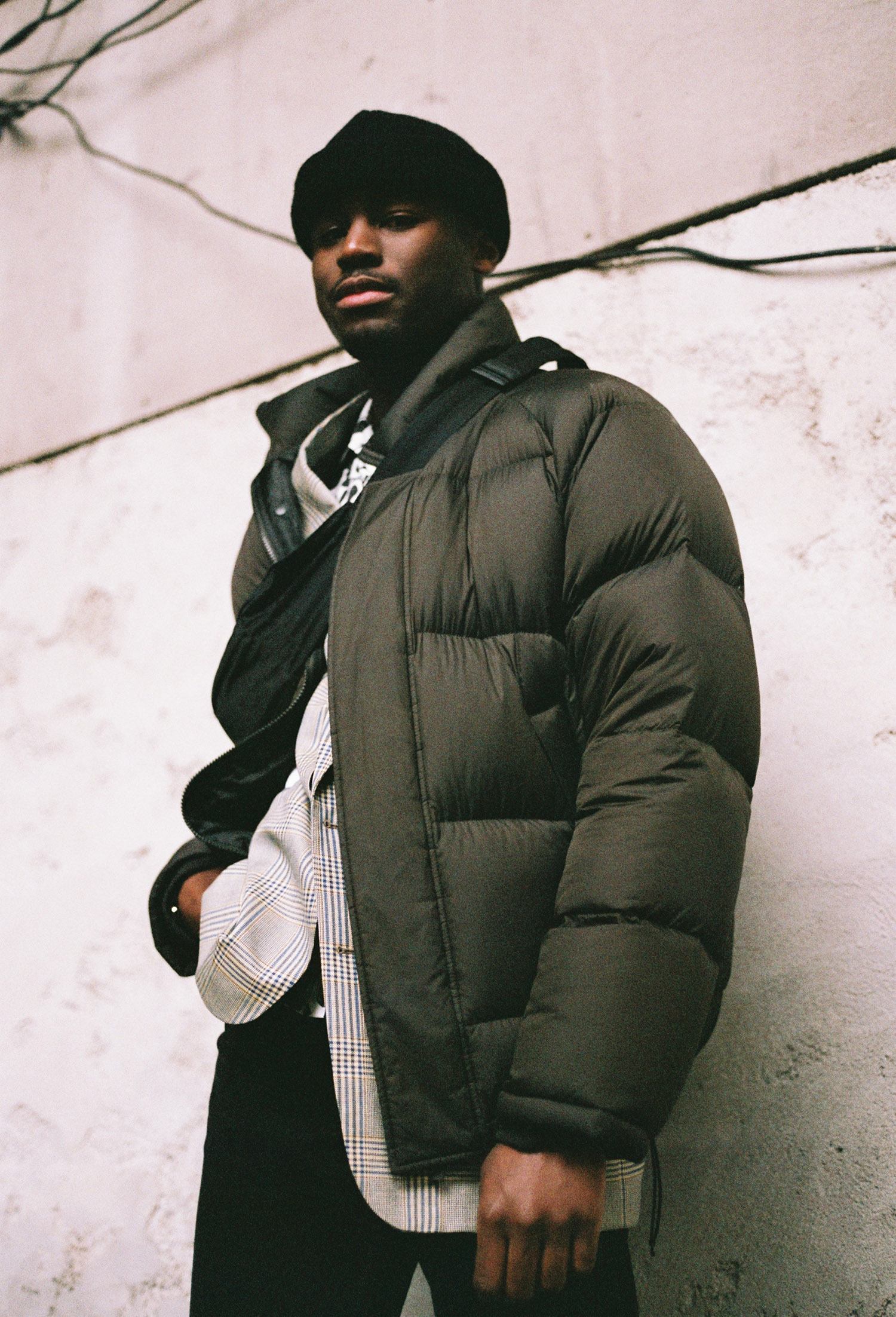 LATIF, PARIS
Your first thought when you saw the Junya Watanabe x Comme Des Garçons show?
I was amazed by the jackets and the fact that you can transform the bags into the jackets. It's very cool. And very Junya, I like it.
What was the last thing you were looking forward to?
Things I can afford easily and things I can reproduce. Things I can do by not spending much money because I am still a student. I like very simple things with very imposing pieces, standout pieces.
When did you have your last life crisis?
I think I'm having it now because I have started questioning my life and what job I am going to do. I just moved this week and I'm almost 25 (in one month).
What's important to you?
Being happy. Smiling always, having a good time with my friends and my family.
ENYO, BERLIN
A thing the world needs to know about the brand Sadak?
Its outstanding value of individuality, ethnicity, and celebration of diversity.
The most underrated place in Berlin?
Not sure yet. I'm still fairly new in Berlin and still discovering
The best hangover cure?
HAMYS chicken soup!!! My monday post-club lunch fix.
A documentary that has changed your life:
Tied between ' Saving Silverman'  and 'DIG!'
Your favourite swear word:
Verdammte Scheiße! – only because my pronunciation of this is truly proper, unlike the rest of my German…
A song that should be played in every club:
I don't think there should be such a thing. Each club should have a distinct individual identity… There are way too many good underrated tracks that I would rather discover by going out. I would never go clubbing if I knew I would hear the same song every time, no matter how much I love the song. 
Photography DAAN DAM