London is the mental health hotspot of the United Kingdom, over two million Londoners experience poor mental health every year and report lower levels of self-appreciation and life satisfaction than the British average – with over half of London's population experiencing anxiety. One in every four Londoners will suffer from mental health challenges, meaning that in every household there will be someone suffering from poor mental health. The topic has lost the debilitating stigma that was once so firmly attached to the psychological rhetoric, a troubled psyche is now championed as a unique perspective. Movements are appearing all over the city prompting uninhibited conversations surrounding mental health.
Founded by Ellen Fagan and Deana Kotiga in October 2017, the Myriad Collective is a creative platform dedicated to using different forms of artistic expression to encourage social and political engagement in galleries, cultural institutions, and other public spaces throughout the city. The collective seeks to use different art mediums to decipher the current political, social, and economic situations of the system we are bound to.
The Myriad collective recently launched their first exhibition in London titled "Swings and Roundabouts", a show curated by Kotiga and Fagan exploring the influence of the physical, cultural, and social surroundings of London and how they affect mental and emotional wellbeing. The Myriad Collective derived inspiration from the rise of common mental health disorders in the UK such as anxiety and depression, which have soared in the past ten years. "Swings and Roundabouts" urges us to reconsider the surroundings we observe on a daily basis and question how our environment makes us feel. The contributing artists prompt you to confront the condition of your own mental health and how you deal with it. The carefully curated selection of art plays with themes of the public, the private, the city, and the mind to explore the easily obscured yet glaringly obvious connections between personal mental wellbeing and wider public spaces. "Swings and Roundabouts" showcased artists from different creative fields and academic backgrounds to remould the way art is produced, conceived, and consumed.
Movements like the Myriad Collective are revolutionising the way we talk about mental health and creativity, creating a safe space to explore emotions and embolden personal identity within the rich cultural tapestry of London.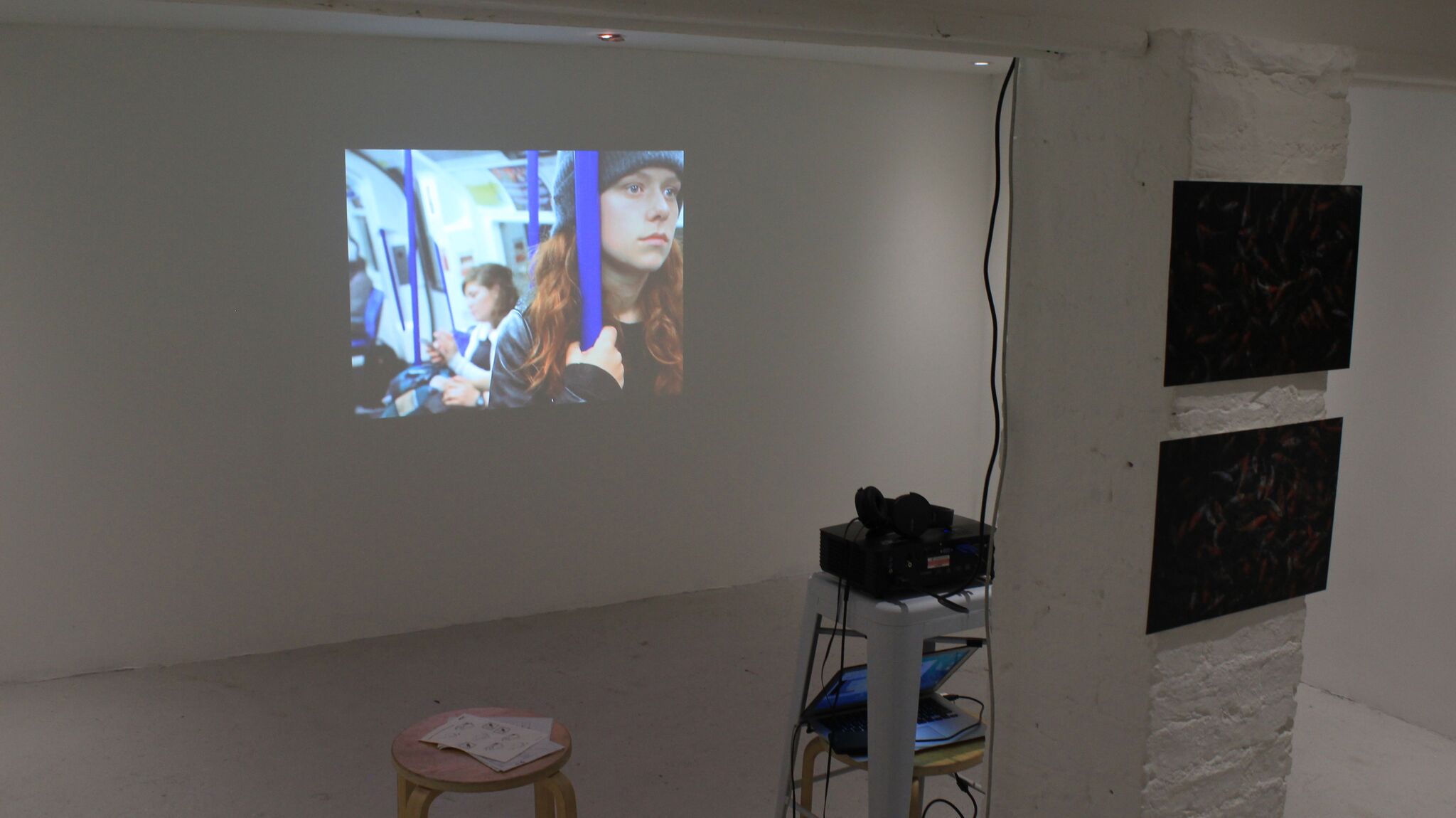 ELLA O'NEILL
As an anthropology graduate, Ella O'Neill is comfortable with the act of questioning. Questioning what it means to be a social being, and specifically what it feels like to be attached to any given culture or place. In her final year she took a course in ethnographic film and documentary making, which inspired her to explore filmmaking further.
What does London mean to you?
London, to me, is an environment of everything. It has extremes; it has extreme wealth, it has extreme poverty, it has diversity, diaspora enclaves, enterprise, excitement, suburbia, family, young entrepreneurs, creatives, freelancers, bankers… It gives you the confidence and the opportunity to feel as though anything is possible because there is so much going on here and so many connections to be made to different types of people. This is not only so interesting and diverse, but it's such a wonderfully creative hubbub to feel a part of. Yet this intensity can too be isolating and intimidating. It's a very intense environment and a very difficult environment to be truly happy in. It's fairly easy to function here, work hard and get on with it, but I think people unfortunately very often mistake that for happiness and fulfilment.
How would you describe the connection between creativity and mental health?
As a general thought on mental health and creativity, in theory, some of the best art can come from some extremely dark and anxious places. I don't know if this is the romantic in me, perhaps romanticising the beauty in pain and suffering when it's articulated creatively, but the expression of this kind of deep feeling and emotion surely can only mean that the art speaks bounteously to its audience? This kind of art exudes meaning and can be incredibly powerful and impactful. In reality, as someone who has suffered from both depression and anxiety quite badly before, I know that being creative was nowhere near the top of my list of priorities and should not be romanticised in that sense.
Tell us more about the film you made for this exhibition…
With my video installation, I filmed during rush hour on the tube and tried to really capture the discontent of the everyday London work commute. I edited the film in a jolted style and stuttering manner. The whole thing runs to a Yann Tiersen song, "Rue des Cascades", in a sort of semi-satirical way, but the music is so intense. I tried to really induce anxiety with this whole piece and make the audience really feel immersed in the claustrophobic morning rush.
What does the exhibition title "Swings and Roundabouts" mean to you?
It is a really positive phrase that helps me to enforce in my mind that life is full of ups and downs and it's OK to not be doing great all the time. I used to really give myself a hard time about feeling depressed or anxious and that would make me feel worse, but this attitude makes me much more accepting of what happens in life. I think this is one of the most important things to learn if you want to be happy, accepting what is happening and what you can't change about a situation and then working hard to change what you can.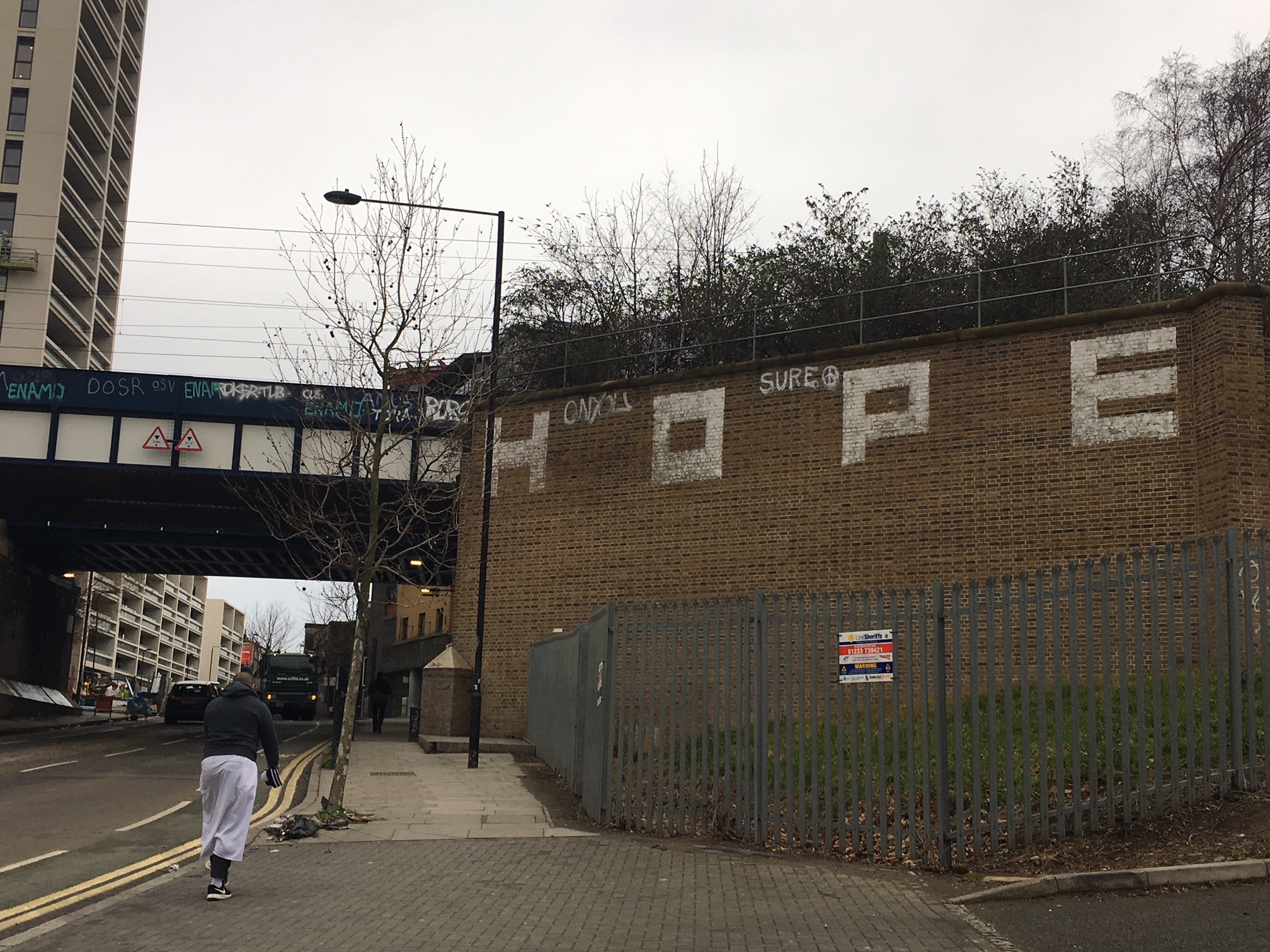 ELLEN FAGAN
Ireland-born Ellen Fagan seeks out objects that reveal something about human nature – naivety, mischievousness, absurdity and fragility. Her practice started with street photography, stumbling upon scenes of peculiarity and unexpected hilarity that are situated in our environment and often overlooked. She then takes back some of her found objects or disregarded materials to the studio and gives them a new significance.
How does living in a vast metropolitan city like London influence your art?
London is my work. A way of tracking the essence of the people who live here. It is a very poetic place, you only have to look at the street signs to figure that out. There are layers and layers of ideas, heritage and culture, imbedded into the buildings and streets as they build up like strata fossilizing each other as they compress to make way for the next "big thing". So somewhere between the frantic building and construction the people fit in. The magnanimity of the sound and manic toing and froing, you find this moment of complete silence, a moment of absolute clarification. And that is the work.
Do you want your art to be a form of escapism from the difficulties that come with living in London?
I chase the elusive, ethereal emotions. They are very subtle, so much so, that they may be overlooked. I try and make work that is accessible, that does not require prior knowledge in order to relate to it. However, people are always free to bring their own perspective, what they think or feel about the work allows the work to grow.
Have you ever experienced this notion of "swings and roundabouts" in your life?
I think if you live in London you are signed in a social contract to live in a state of constant pandemonium. You live in a city of endless opportunity where you can meet people in a day and get a business up and running the next. The flip side of that is you live in a highly competitive place that can be incredibly exclusive and isolating. You live a year in a day. If you can balance out the good with the bad you realise that we exist in circulation. It can seem relentless but I think of it more of a motion to propel oneself forward. I feel that everything in life can be related back to playground politics.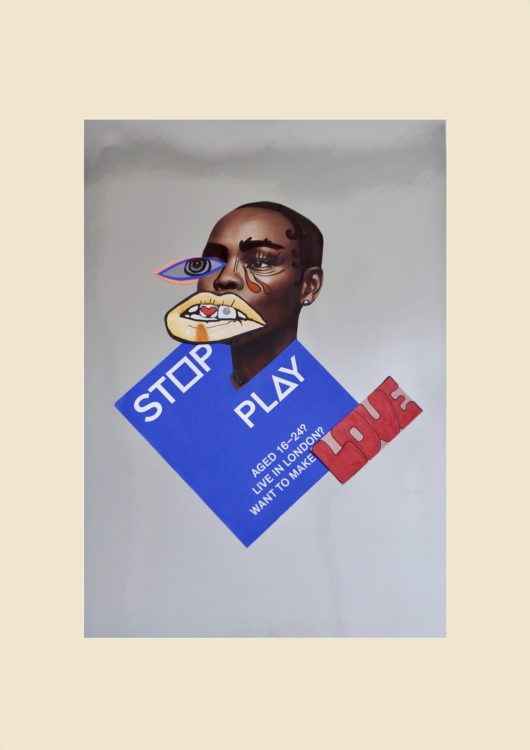 JULIETTE COTTU
The multi-media artist Juliette Cottu experiments with many mediums. Last year she focused on illustration and digital colouring, now she combines collaging, illustration and photography. The half-French and half-British 22-year-old, grew up in London and just recently moved to Paris to start her art foundation at L'Atelier de Sèvres.
What was it like to grow up in London?
London is a very special city. I moved to London as a child. I went to a French school – I am a mixed breed, both French and English yet neither one or the other. In this sense, London is both positive and negative. Its cosmopolitan and culturally diverse aspect makes you feel at home in a city filled with people from mixed backgrounds. However it can sometimes be a bit difficult to find your place, especially when outside of London. My relationship with London is one of love and hate. I love London parks, the liveliness of the city, the fact that there always is something to do or see. However it can sometimes become stressful, leaving you with a feeling of restlessness.
How did London impact your creativity and career?
London is a nest for inspiration and creativity. Everything is inspiring about London, both in everyday life and in the artistic milieu. London's avant-gardism, also, is great for giving you a sense of what contemporary art is, whether you like it or dislike it. London's fashion and youth culture, especially, is something that really inspires me and often translates in my work. For the collages I made for "Swings and Roundabouts" I only used bits of magazines and newspapers found in London streets and on tubes.
How do you feel about the link between mental health and creativity?
The myth of the suffering artist is a bit outdated and not necessarily true. Creativity is a healthy form of therapy and has a very positive effect on mental wellbeing. Personally, being creative always soothes me whenever I feel a bit sad or overwhelmed. Creating is a form of mediation, and taking some mind space really does help to deal with negative emotions, stress or insecurity. Also, making something, anything, not necessarily art, always makes you feel more "alive" in the sense that you have produced a new "creature" in a way.
Taken from INDIE No 57 – get your copy here.