ISLA Berlin, founded by Charissa Chioccarelli is one of the only nail art salons that combines sophisticated nail art with street-wear designs. The forward-thinking and savy salon not only creates a relaxed space for women to catch up but also provides street-wear clothing and DJs that add to the laid back vibe. Read all about how ISLA came about from Charissa herself below:
Was opening your own store something you've always wanted?
I have always wanted to work for myself, but I never really knew in what shape or form until I found my passion in nails. I eventually became so frustrated by the fact I couldn't get proper nail art in Berlin that I thought, fuck it I'm just going to open my own salon.
What were you doing before you opened ISLA?
I moved from Amsterdam to Berlin over two years ago to set up the Influencer Marketing department for Zalando. I very much enjoyed my job, met amazing people and built a great network in Berlin.
Between being a badass shop owner and Djing how do you find the right balance?
I love being busy and I perform best under pressure but I have to say at the moment my life is a bit too busy. After the shop closes I usually meet up with friends or go to events but every now and then I cancel my plans to just go home, eat a home cooked meal prepared by my boyfriend, and by discussing everything with him I try to get an overview again. I also love to cycle to and from work, those 20 minutes on my bike are almost like mini meditation.
Tell us a bit about the name ISLA Berlin?
The shop is located at Inselstrasse, which means Islandstreet in German, so I wanted to do something with that. When a friend brought up ISLA, I immediately liked it. It's short, catchy and feminine. Because it's a Spanish word you don't immediately have an association with it. When I did some research on the name it turned out Isla is a Scottish name that used to be a name for boys but is now used as a name for girls, which also really fits to our brand DNA.
What is the main idea behind ISLA?
The whole idea started with the nail salon but because getting your nails done is not as popular in Berlin as in other cities – yet – I decided to combine it with other elements such as retail and the event space. We offer streetwear in a female friendly environment and organise various events from DJ workshops, network dinners to exhibitions. With ISLA, I want to create a hangout space for women to come and chill out, practice on the CDJ's, get their nails done or meet up with other likeminded women.
How long have you been getting your nails done?
It started 7 or 8 years ago when I discovered shellac, not having to paint my nails every other day was such a relief. Then two years ago I started with long acrylics and have been addicted ever since..
How did you find the nail artists who work in your shop? What kind of relationship did you have with them?
Maddy is currently our main nail technician and she's amazing! I found her via IG, and I'm so honoured that she moved from London to work with us. I have so much respect for our nail techs, I truly think nail art is pure art. I'm very grateful to work with these talented women.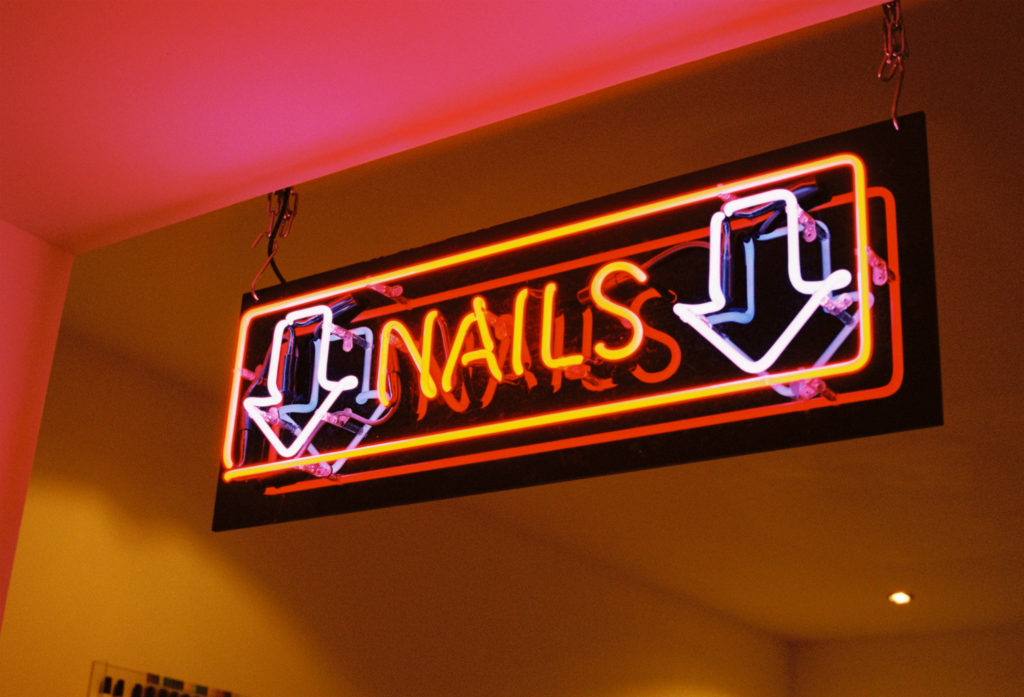 How do you select the brands that you stock?
The brands so far are brands that I came across coincidentally or brands that had approached me. I've selected the brands on personal affinity and I wanted to make sure the brands we sell are a mix of bigger known brands and upcoming brands. In terms of price range we try to keep it accessible. For next season, we will definitely expand our brand portfolio.
What are some brands we can expect to see on the rails at ISLA in 2018?
I'm currently talking to a couple of very exciting brands I can't name yet BUT one brand I can reveal is Meme Gold a very popular brand from the U.K. that you might have seen IAMDDB wearing in her videos "leaned out" and "shade".
What advice can you give to younger girls who have the same aspirations as what you've achieved?
Just go for it! Even if you fail, like what is the worst that can happen to you? Another piece of advice I have for everyone, not just young girls, use Instagram wisely. I have met so many amazing women via the platform!
Who would you love to see walk into your store one day?
Cardi B, she always has the sickest nails so it would be an honour to bling her up plus I love how extra she is!
Photography DAAN DAM