You have probably seen it all over Instagram – Eytys just collabed with Buffalo Zine to launch a 5-pocket collection of jeans. Eighties' founders Jonathan Hirschfeld and Max Schiller borrowed from their youth spent devouring MTV, paired it with a very current twist, and came up with a new take on vintage denim. Merging inspiration from a host of subcultures, they go back to the roots of what it meant to grow up in the '90s – cheeky slogans and strong silhouettes are the stand out features of the new Eytys collection. The jeans were conceptualised to exude contemporary style and the feel of luxury workwear, celebrating the fluidity of modern personal style, lending to the current culture of breaking down labels. Paired with a captivating campaign equally jumping through time, Eytys' new campaign certainly stirred up some air – reason enough to ask Jonathan and Max all about how their more than memorable campaign come about.
There is no escaping the new Eytys campaign – how did the idea come about?
We wanted the campaign to show the spirit of the collection and show that the same pair can be worn by any gender. We also wanted to celebrate the idea of denim that is rooted in our subconscious now: sexy, cheeky, desirable, by referencing vintage 70s and 80s advertisements. We collaborated with the Buffalo Zine art direction collective in London, who understand this point of view.
Showing the spirit of the collection – how would you describe that spirit?
Everything that we do stems from a desire to make something that doesn't exist yet. We started with one shoe – The Mother – and from there we are building a wardrobe piece by piece, each time aiming to create another innovative piece. This past year, we've been ramping up to launch jeans – the three styles are very much singular in design and fit quite naturally with the shoes we've already created.
How did that desire come about?
Six years ago we sat in front of our computers at our very different offices realising we needed to create a platform through which we could express ourselves. We were obsessed with sneakers and classic staple-wear and wanted to allow ourselves to create products that we felt were missing. We started with one sneaker style and since then we've launched very few products and dared to really focus, not trying to do everything at once. The 5-pocket collection felt like a very natural next step after four years of focussing on shoes.
How did MTV and '90s aesthetics influence your sense of fashion, and integrate into these designs?
We grew up gleaning our style from IQ and MTV, during the '90s. Watching music videos was the portal into a West Coast hip hop fantasy world, far from Sweden. The Eytys 5-Pocket collection was influenced by the shapes and volumes of those classic videos, but are unique in their craftsmanship, textiles, and are more of a contemporary fit than just a vintage remake. The pieces are always innovative, with distinct silhouettes.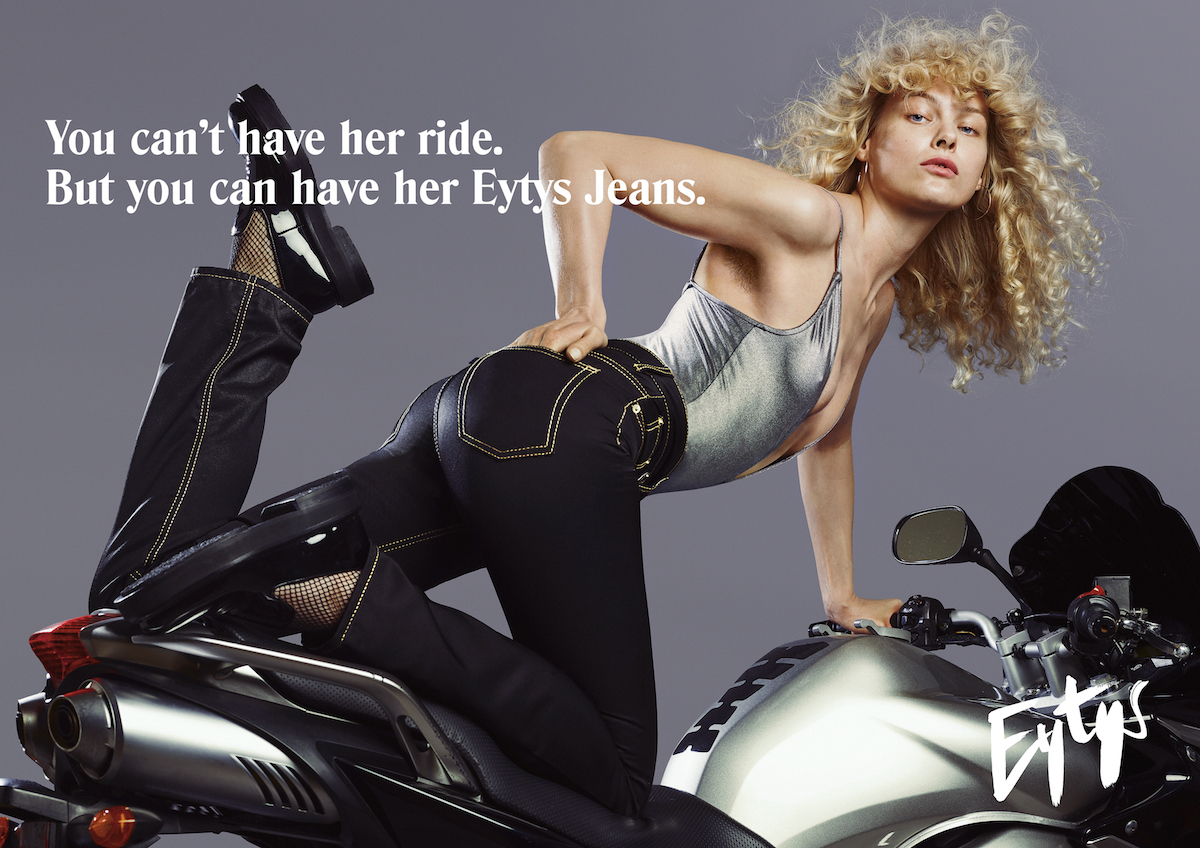 What do you think about fast-fashion and the idea of throw-away denim, or clothes in general?
Ideally we can start moving away from that system of disposable clothing. This is why we are very careful at Eytys with what we launch. We have made a vow within our company to think through each piece that we launch and stay true to our identity. You can't get every type of product at Eytys, but you can get very well-made and thoughtful items.

Who are your jeans created for? Who do you imagine wearing them?
I want to say that the jeans are meant to be worn by anyone – but the silhouette is quite distinct so I would say that it really is for people that appreciate design and want a pair of jeans that will age beautifully.
How do you think your designs also echo the post-internet, post-hype era?
I think that people need real clothes. These are real every day clothes for beyond Instagram, for people who genuinely appreciate the feel and craftsmanship of workwear with a design focus.