Mafalda Silva talks us through her world as a London based photographer who reveals the subtle quirks and characteristics of femininity and the female gaze through her lens. Her intimate style doesn't differentiate between her personal and professional work and draws the viewer in to her private experience of soft silhouettes and languid bodies draped across beds, floors and each other.
When did you realise photography was what you wanted to do with your life?
It's difficult to pinpoint where it all started. When I was 15 my mum gave me my first camera and I started taking photos of my friends and my life, which I guess I'm still doing today. I did a photography course and after that, I started assisting a fashion photographer and that is where it all started.
Why did you decide to move to London?
I'm originally from Portugal, I visited London for the first time when I was about 13 and I fell in love with the city buzz, the museums, the music scene and the parks. Since visiting for the first time, I always had the dream of one day living in London and it felt like the right thing to do when I decided to study photography. Nine years have passed since I've moved here and I still love the city.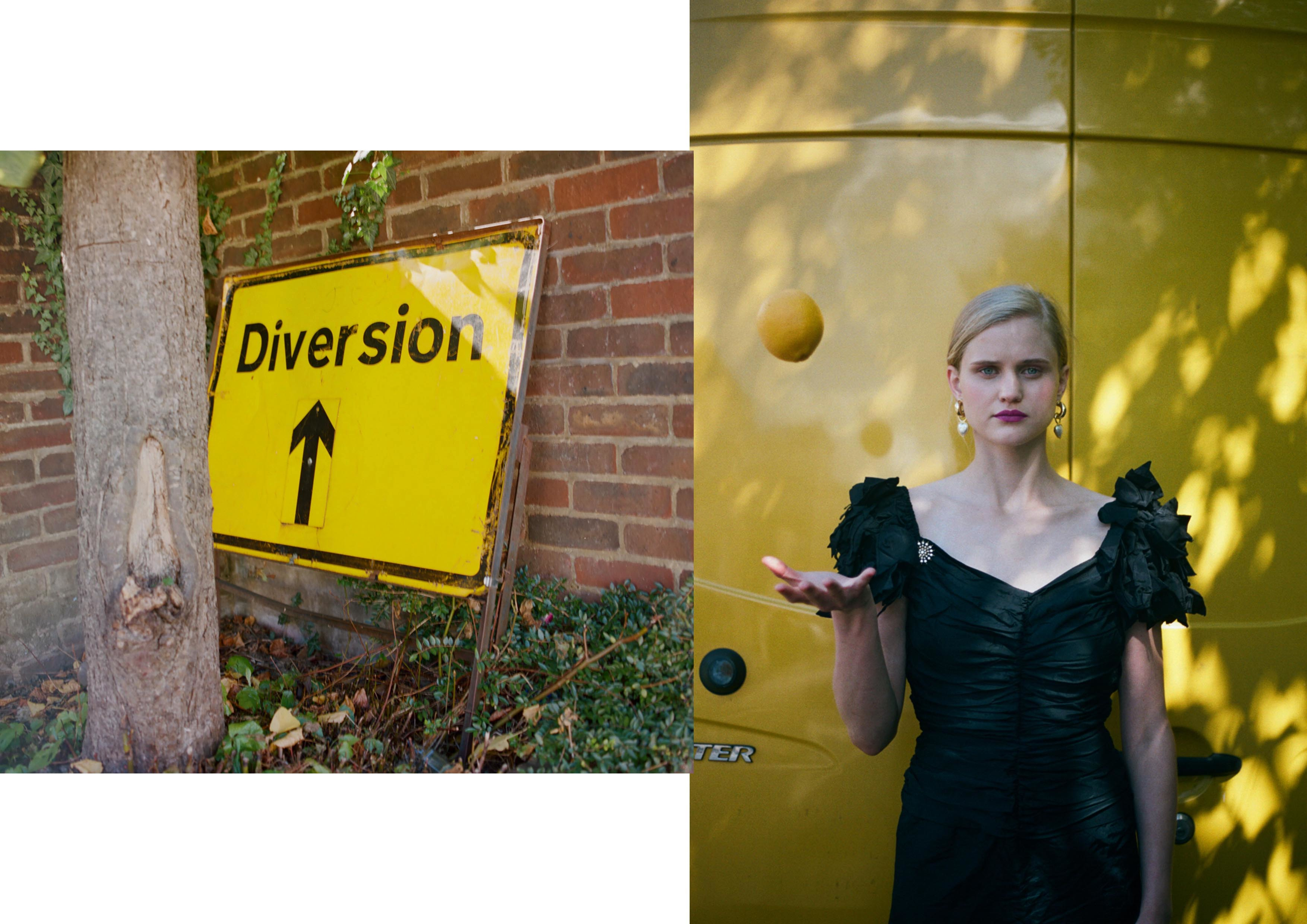 Dress BEYOND RETRO
You mostly work in analog, is there a reason for this?
Firstly I love the quality of analog. I also feel like shooting in film makes me be more selective of the images I take. As opposed to digital, where you can immediately see the image you are taking and try to get it right a million times, analog forces you to make that one frame perfect. I prefer the surprise factor of analog to the immediacy of digital.
I shoot mostly in film unless it's for commercial jobs that demands shooting with digital. Every day I carry a small analog camera in my bag which I use to produce most of my diary series. Sometimes I will have the same film in the camera for about a month and forget what I photographed. When I see the processed film, I often feel happily surprised seeing moments of my life I had already forgotten. Nothing beats that feeling!
Your work seems to be very sensitive and intimate, especially your personal work – why do you think this direction inspires you?
I think it's mostly due to the degree of closeness I establish with my subjects. Getting to really know my subjects and putting them at ease is one of the most important things for me when shooting, it's the only way that people will reveal themselves. I try to make people forget I have a camera in my hand.
I also tend to prefer the in-between moments when I'm shooting, when things happen more naturally and I'm not directing the subject or telling them what to do. Also, in my diary series, a lot of the subjects are people I have known for a long time or boyfriends with whom I share a natural unique intimacy.
The focus of your images is primarily on women. What do you think brought you to this?
It's strange to think that most of the images of women we see are taken by or for men. I think women photograph women differently from the way men do and we see far more than just a female body.
I tend to focus on individual females as I am extremely inspired by the amazing women I meet and I feel it's also a way of exploring the female identity and what it is to be a woman. Not only because I am one, but also because I want to know what is the experience of others.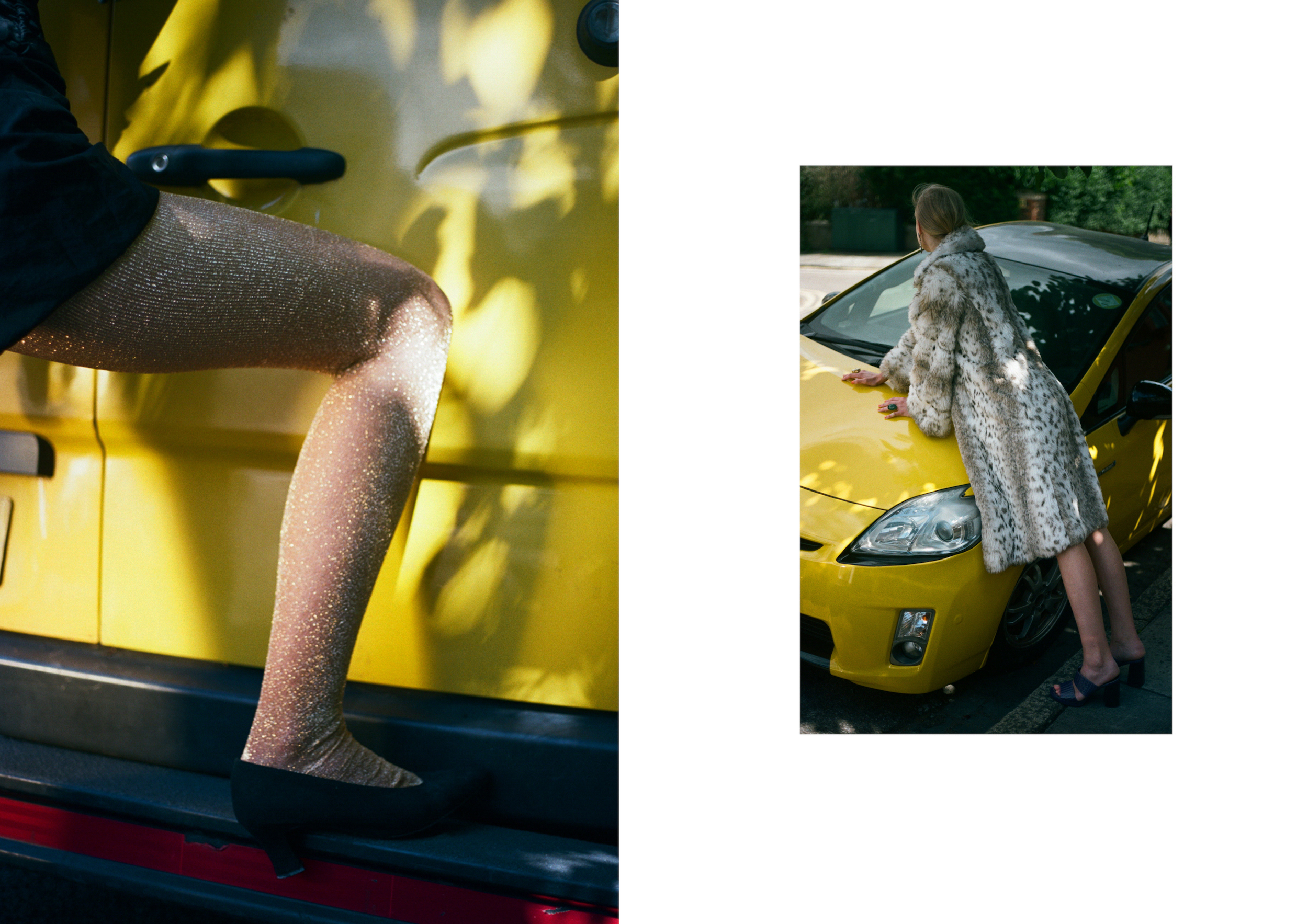 Tights VINTAGE MARY QUANT, Shoes STYLIST'S OWN, Coat STYLIST'S OWN
Do you prefer to work in documentary style as in your work entitled 'Diaries', or to work on staged shoots?
I like working on both and I think my professional and personal work is very much connected. I see my work as a whole. My personal series is connected to my professional series due to the degree of closeness I establish with the subject. For me, it's really important to be able to establish a relationship with my subjects, to create some intimacy; no matter the situation I'm shooting.
What, to you, are the elements of a perfect photograph?
To me, it's all about the feeling and emotional reaction you get from an image and not so much about technical aspects.
Do you plan a lot beforehand for a shoot, or do you work more in the moment?
Each shoot requires a different degree of planning. Ultimately, I really like to let things happen and just capture a unique moment, but this isn't always possible. If I'm shooting a fashion story it always requires some degree of planning and control of the situation. Even so, I try to create a relationship with the model as if I am photographing a casual situation, just like I would if I was photographing a friend.
No matter what work I'm doing, I always try to let things happen in a very casual way.
Do you have a dream project in mind?
I would love to travel more and develop my personal series. Meeting new people and seeing new places is always inspiring to my work.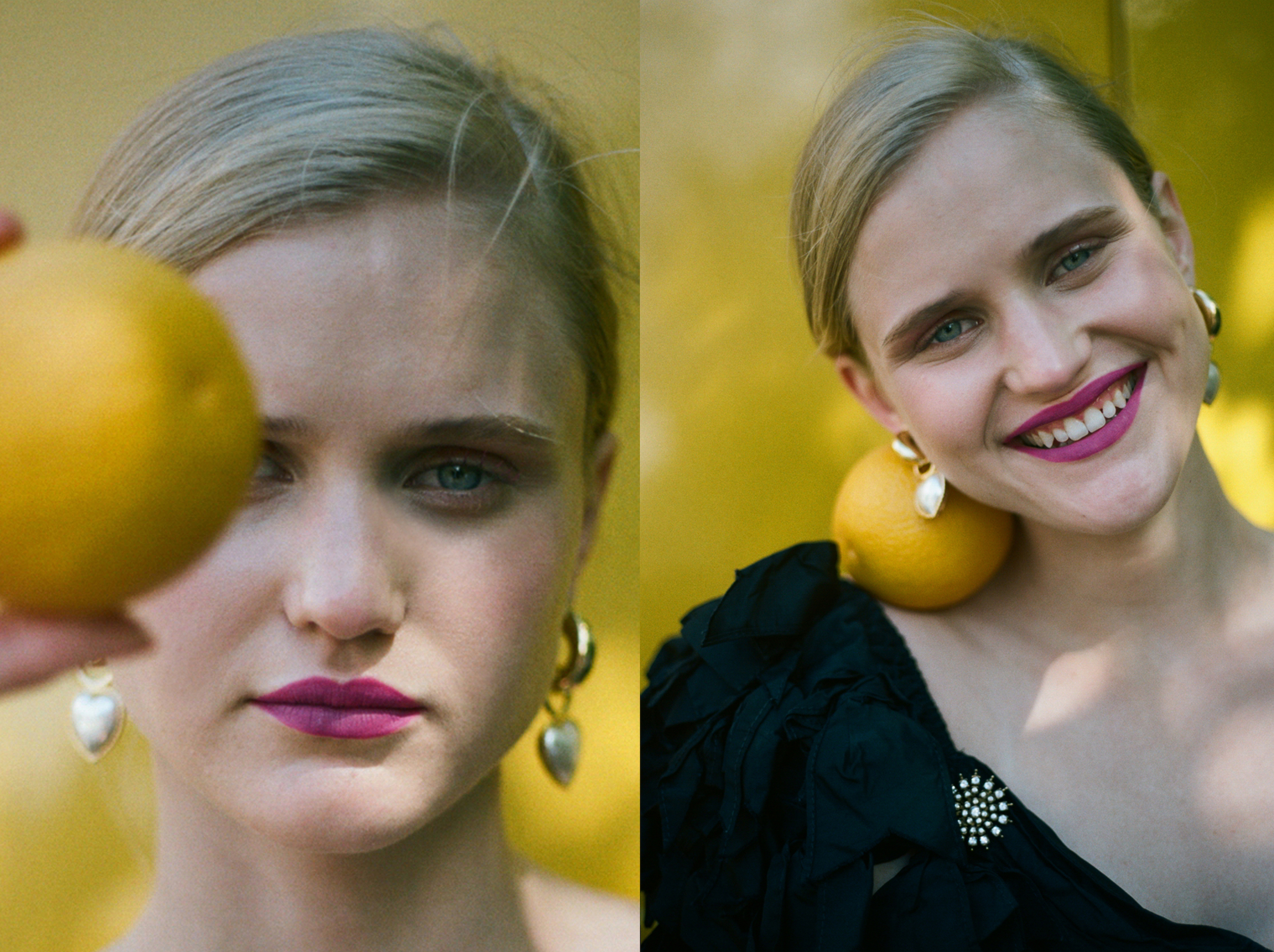 Dress BEYOND RETRO, Earrings and Brooch STYLIST'S OWN
How do you choose the subjects of your photographs?
I don't always get to choose the subjects of my photographs. For commissions, the client will very often choose the subjects. If it's for my diary series, you will most likely see my friends, family and the people around me.
What are you doing when you are not photographing?
I feel like I'm always shooting something, my personal work is mostly done during my downtime. I love photographing my life and my friends. After living in London for 8 years and loving the city buzz, I have started cherishing more and more being in the great outdoors. Whenever I can, I love going for long walks in a forest or being by the seaside. Getting lost in a new place is another of my favourite things to do on my downtime. I also love going to exhibitions, reading, watching films and listening to music.
How do you decide that a project is finished?
It's quite hard to say when a project is finished. I feel like a photo project is an ongoing thing, often I will 'finish' a project and a while after go back to it and change it. If it's a commission I think it's easier and I will be more decisive as most of the time I have guidelines from other people and also usually a deadline.
It's funny how the way I perceive/like my photos changes with time. I will look at a photo one day and think it's terrible, then a few months later will return to it and think it's wonderful.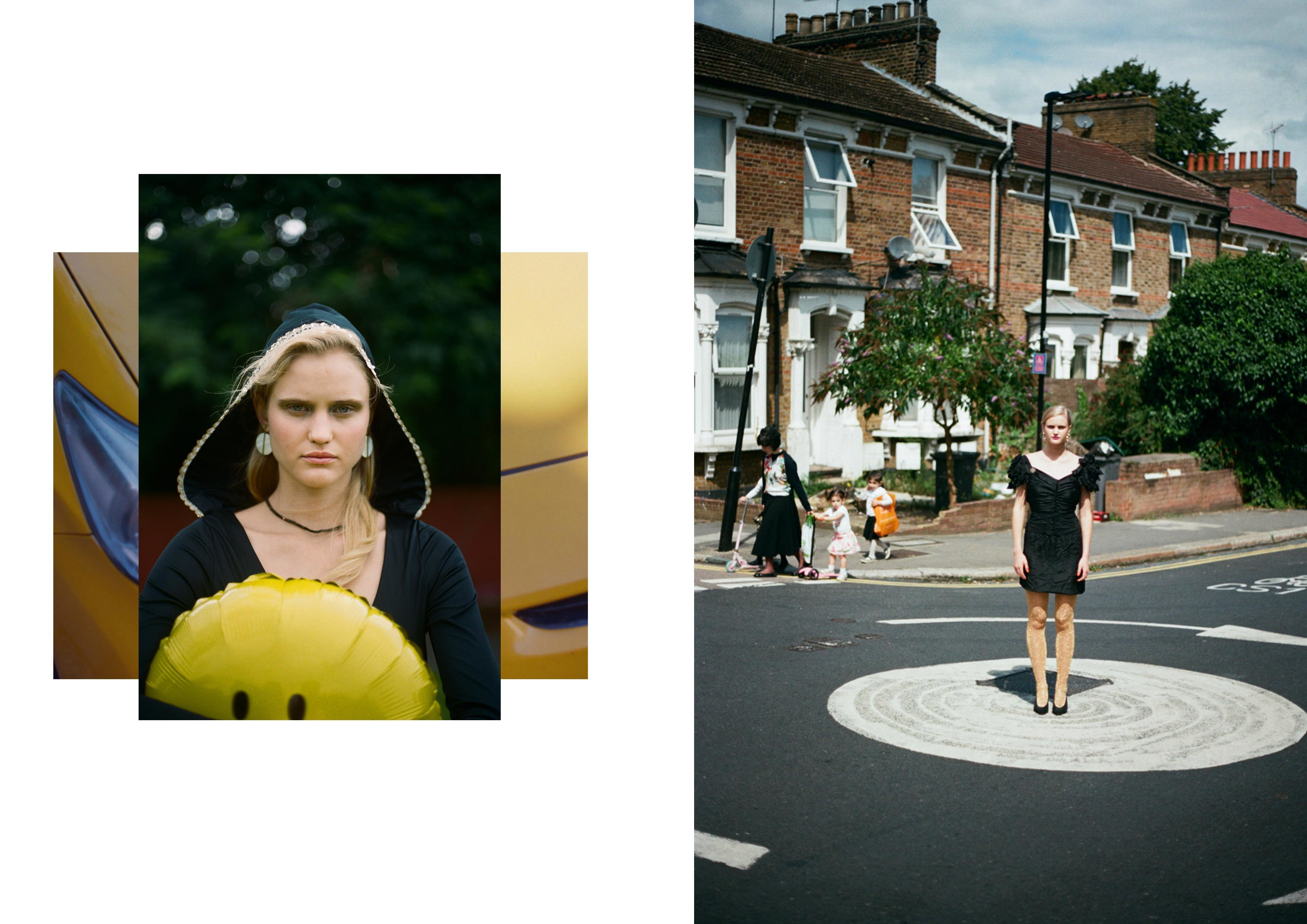 Hooded Dress BEYOND RETRO, Earrings DYRBERG KERN
Who are your biggest influences/inspirations?
I can be inspired by my friends, a film, a book, light, anything really. Then there's also so many artists/photographers that I admire it's hard to name just a few. I'm always super inspired by the work of Sophie Calle for example. Sometimes in certain situations, I think – what would Sophie Calle do?
I will forever love Egon Schiele's work and his contorted body depictions. In terms of photography Corinne Day, Mark Borthwick, Alec Soth and Hart+Leshkina to name just a few as the list is never-ending.
Is there anything you are working on at the moment?
I'm currently trying very hard to find the time to put together a self-published book which is something I've been wanting to do for a long time.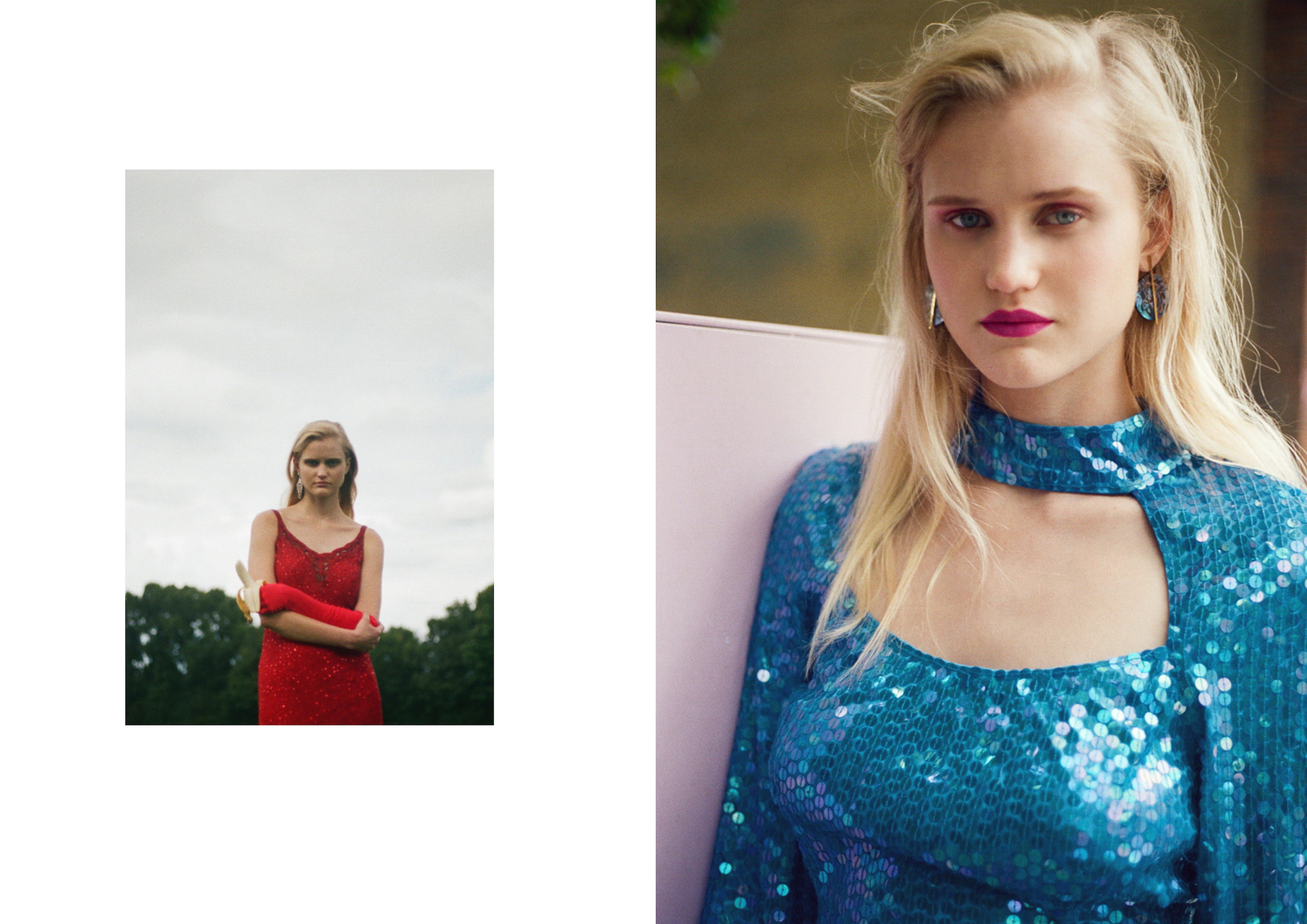 Dress and Gloves BEYOND RETRO
Header Image: Top BEYOND RETRO, Skirt STYLIST'S OWN, Belt ROKIT 
Photographer MAFALDA SILVA 
Model KATE @MandP Models
Assistant GABI LEE