Grow Heathrow represents an ardent force of community resilience after seven years in opposition to the perils of the budding third runway at Heathrow Airport. This modern embodiment of a commune is an inspiring unit of resistance driven by political awareness, environmental consciousness and community spirit: a compelling alternative to convention.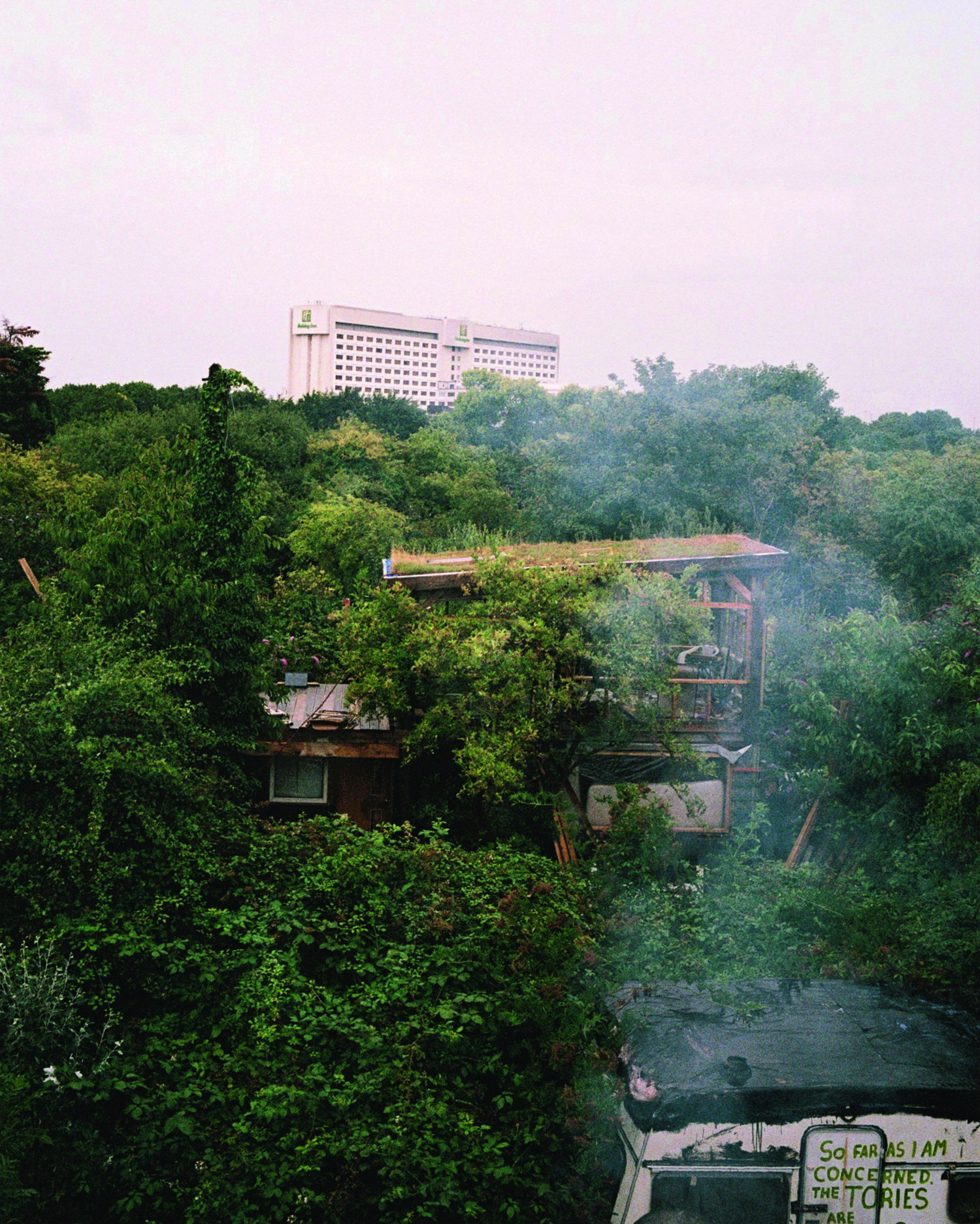 Buried feelings of disenchantment with neoliberalist capitalism bubbled to the surface after exploring Grow Heathrow, a community whole-heartedly committed to exploring alternative means of living. Just an hour outside of central London lies a feverish protest against the proposal of a third runway at Heathrow Airport, an environmental disaster that threatens to rocket noise and air pollution, and demolish 900 homes wiping an entire village off of the map. From afar the vibrancy of the commune spills onto the drab cul-de-sac that is lined with pebble-dashed semis. The meticulously mowed lawns and family cars that are parked uniformly along the street, provide a stark juxtaposition to the organised chaos that is bursting from the gates of Grow Heathrow. The community is an act of defiance against environmental dilapidation, economic injustice and democratic crisis. A beacon of hope in an increasingly neglected world where global leaders reject climate change and the rat race is leaving whole swathes of people behind. This intentional community is re-sculpting the boundaries of convention and attracting city dwellers from all corners of the globe as part of the solution to the ailments of the world.
The individuals that make up the community are all united by a common desire to resist expansion of the nearby Heathrow Airport, representing a symbol of community resilience in the face of corporate power. The site was reclaimed by a group of environmental activists back in 2010; prior to this, three decaying greenhouses occupied the land which was frequently used as an illegal dumping site. Since then, the squatters at Grow have been defending their right to remain on the turf they call home. The community lives off-grid, generating energy from solar panels and wind turbines and using wood fires to keep warm in the crisp winter months. Their manifest ingenuity is worthy of admiration: powering blenders and washing machines with manpower, reviving the forgotten method of cooking on rocket stoves, and using treated human 'waste' to catalyse the growth of their towering sunflowers. The community resembles a retreat back to how we once lived before the dominance of capitalism.
The everyday struggle to obtain wealth has distanced humans from their natural surroundings; we no longer depend on the earth's offerings but rather we are dependent on the state in a hierarchical system that deems the rich the most powerful.
This intentional community symbolises the reclaiming of personal autonomy that has been slowly been taken from us since the tender stage of childhood. Ru, who has played an active role in the community for over two years, voiced her concerns, "at school, we lacked the bodily autonomy to go to the toilet without asking permission, and this has followed us into adulthood as we find ourselves either asking fellow adults whether we can empty our bladder, or notifying everyone in the room that we are leaving to go to the bathroom."
A number of residents attribute their decision to join the community to the rising costs of living in London, forcing you to spend the best part of your week working a job that you detest, in order to pay the extortionately high rent for the glorified shoebox you sleep in. The social system that we live in makes adulthood daunting; many people feel lonely in their cramped apartments because they can't afford to pay five pounds for a pint at the pub to socialise with mates, or the national rail fare to visit their families is too expensive. People inevitably feel isolated in their cold and damp apartments, exhausted from working a nine to five job that greedily devours creative energy. An overzealous commitment to neoliberal capitalism has somehow constructed a large polluted cloud over the historical purpose of humanity which was to make things and look after each other. In modern society the purpose of humans, has morphed into buying factory-made mass-produced 'stuff' and looking after yourself.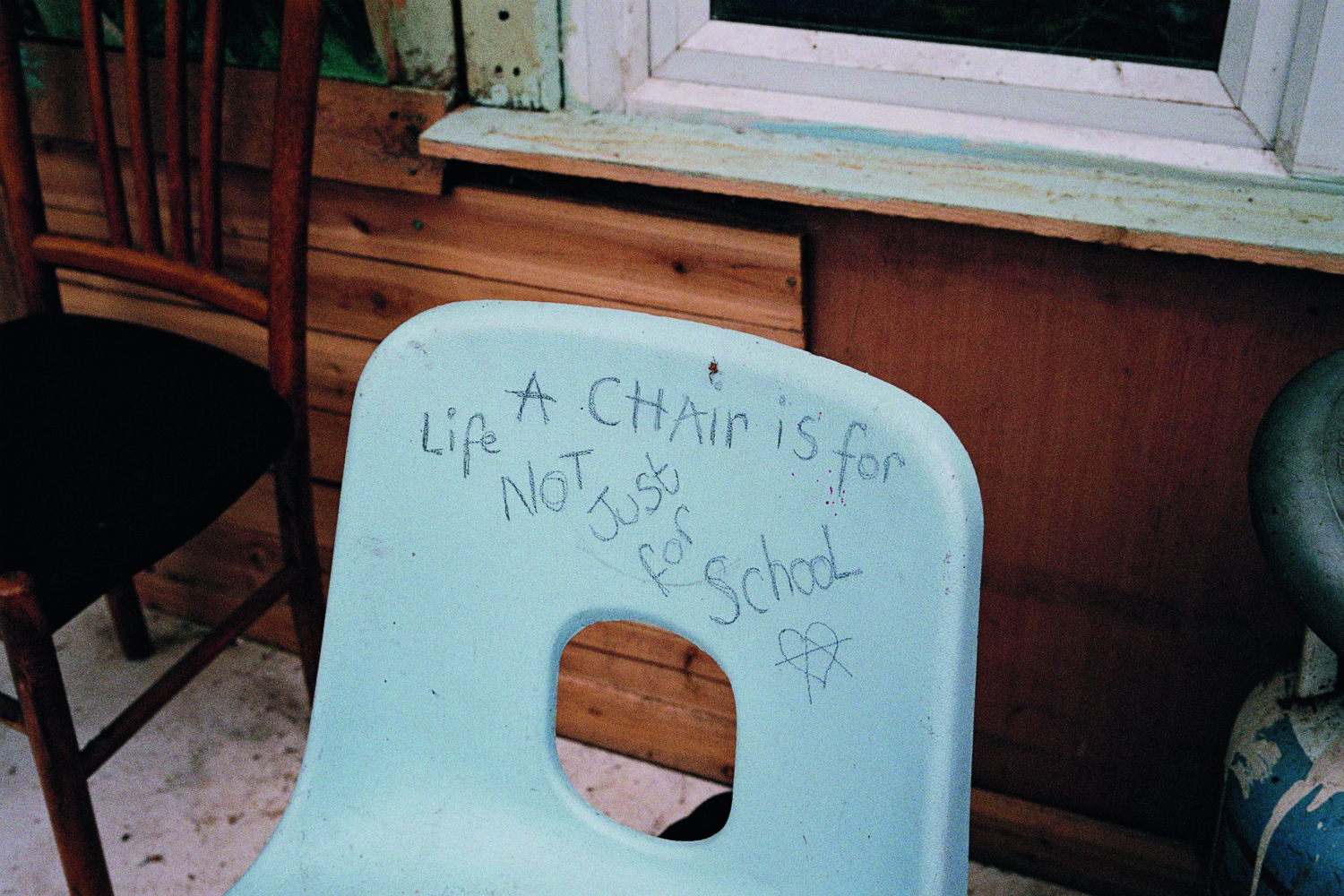 Whilst sitting down for lunch on a long wooden table, enjoying a bowl of home cooked curry, it seemed that Grow Heathrow have recaptured the community spirit that has largely been lost in the contemporary world, by reconnecting with what it means to be a human. During another conversation with Ru she noted, "If you're cooking your own food you are healing yourself, if you're making your own houses you're making spaces that work best for your lifestyle, and if you're making your own clothes you make them to suit you". The curry we ate was made with food foraged from the garden and slightly dented tins that were salvaged from supermarket rubbish bins, served with a loaf of bread that was a day too old for the shop shelves, enjoyed together. The sense of familial community stretches beyond the Grow members, everyone spoke fondly of the local residents in nearby villages who regularly attend their workshops, donate clothes, books and bike parts, and pass through for their monthly open mic night. This harmonious relationship between Grow and the surrounding residents grinds down the stigma attached to squatting, and illuminates how environmental degradation affects us all, regardless of whether you choose to live in a cob house or a deeply suburban one-up-one-down. As house prices continue to swell and people can no longer afford to live, squatting becomes an increasingly appealing alternative, and more acceptable in conventional society.
The inability to control our own destiny in society is symptomatic of a political system that favours the opinion of the majority at the expense of the voice of the minority. The dystopian prediction termed as 'the tyranny of the majority' by J.S. de Tocqueville back in the 19th century has come into fruition with recent political developments such as BREXIT. Grow Heathrow rejects this phenomenon, using consensus to mediate diverse opinions and come to a decision that works for all. This seemingly idealistic, but effective, method takes into consideration the opinion of everyone involved, and poses a serious challenge to our readily accepted democratic process that discounts minority views. Democratic politics exclude the minority voice and lead us deeper down a flawed decision, disjointing us from each other and the world around us. The inability to identify with recent political developments that are smeared with outdated, exclusionary principles is widespread.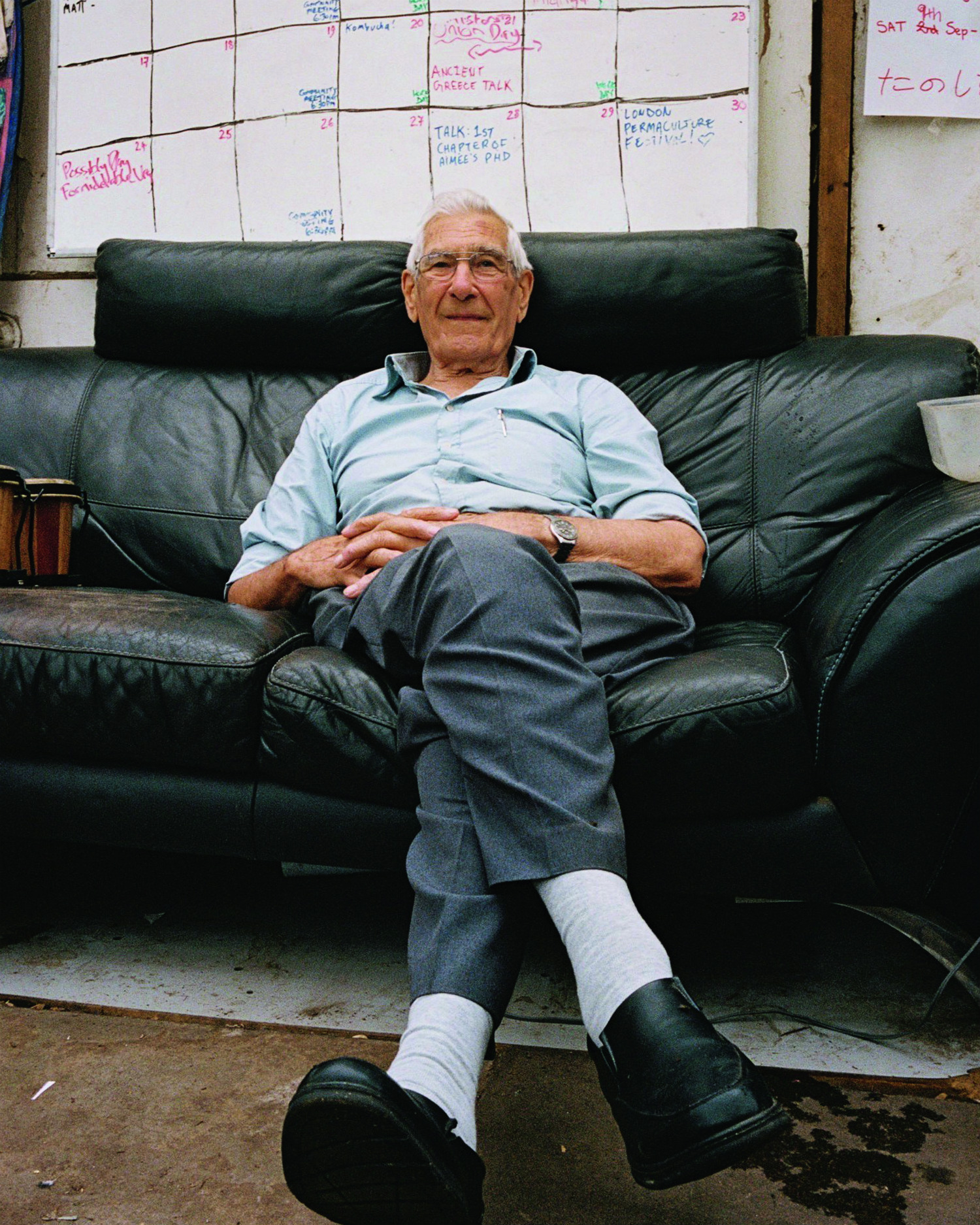 Sitting on a sofa with members of the Grow community discussing the most effective means of protest and how to make large corporates accept their environmental responsibilities illuminated the presence of a rising generation of youth who are dissatisfied with the systems we are bound to. During a compelling conversation about eco-anarchism with Andy, another permanent resident at Grow, he implied that living ecologically is unachievable without the abolition of the government as we know it. Notably, any action taken by the government is applied on such a large scale that it cannot be sustainable; commitment to local, small-scale food production and local-scale living will create local-scale communities and abolish systems of imposed hierarchy that miserably fail to represent the people effectively.
The terms 'squatting' and 'commune' evoke romanticized images of Uschi Obermaier and the chaotic student revolutions of the Sixties, but Grow represents something even more beautiful. The lack of ideological binding makes this a free space that breeds new ideas for positive change with the environment in mind. This community was challenges conceptions of hyper-patriarchal communes that are united by polyamory, making it much more accessible to people transitioning from conventional lives. Grow Heathrow feels like an alternative lifestyle that was driven by pragmatism rather than ideology, unwilling to discriminate against people who pour cows' milk over their cereal rather than pulverised organic hemp seeds. A conversation with Andy dispelled any myths of escapism, he described that the membership structures deter people who are seeking to escape the problems of the world. It became clear that the people at Grow very much feel connected to global environmental issues and recognise their role in alleviating them. Too often people distance themselves from becoming involved in the environmental movement due to false links made between the intrinsic relationship between environmentalism and spirituality, excluding a whole range of people. This community represents the non-discriminatory nature of many intentional communities that are bound by the sheer necessity to tame the destructive capitalist beast before it destroys us. Taking a leaf out of the Grow Heathrow book could serve to benefit us all.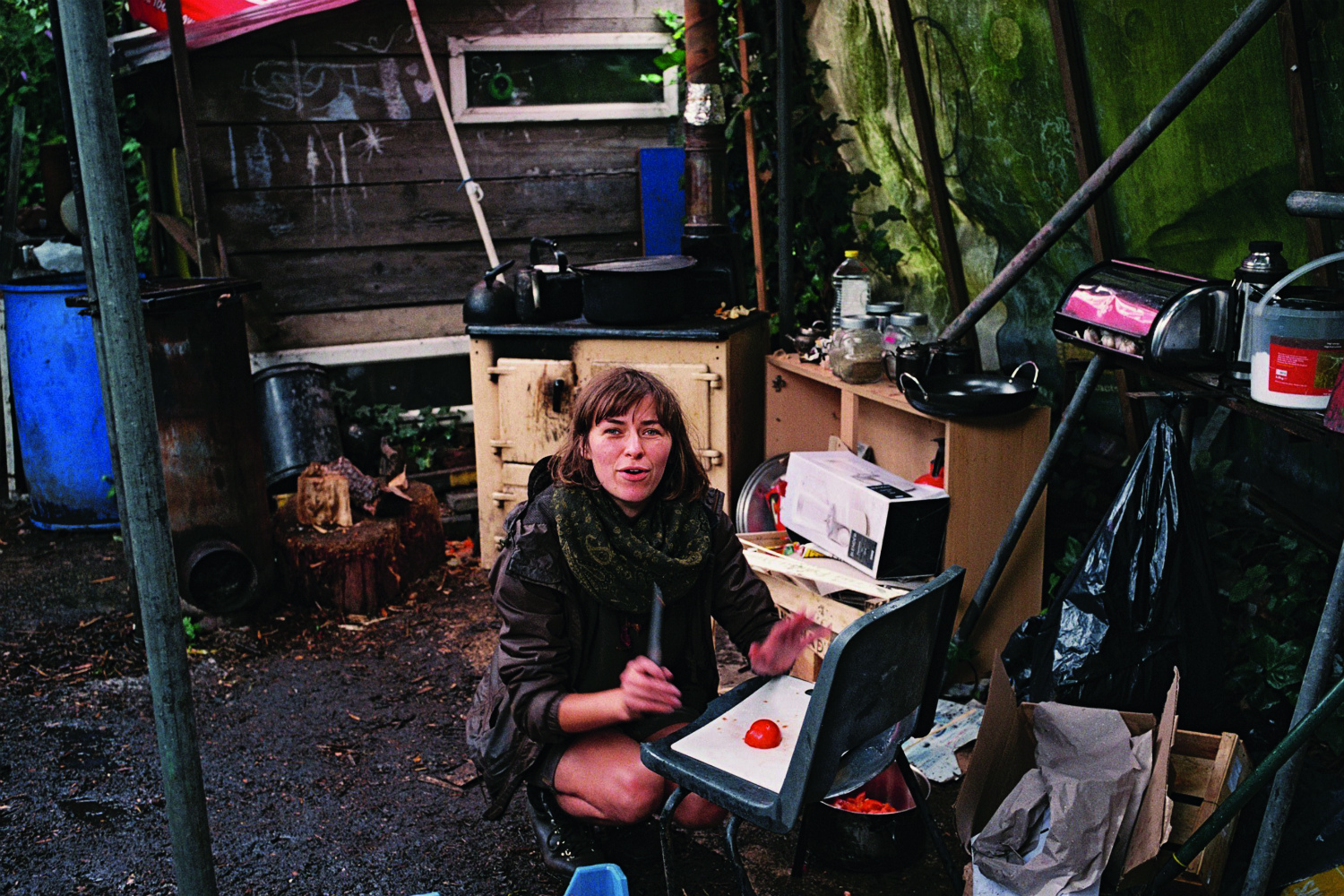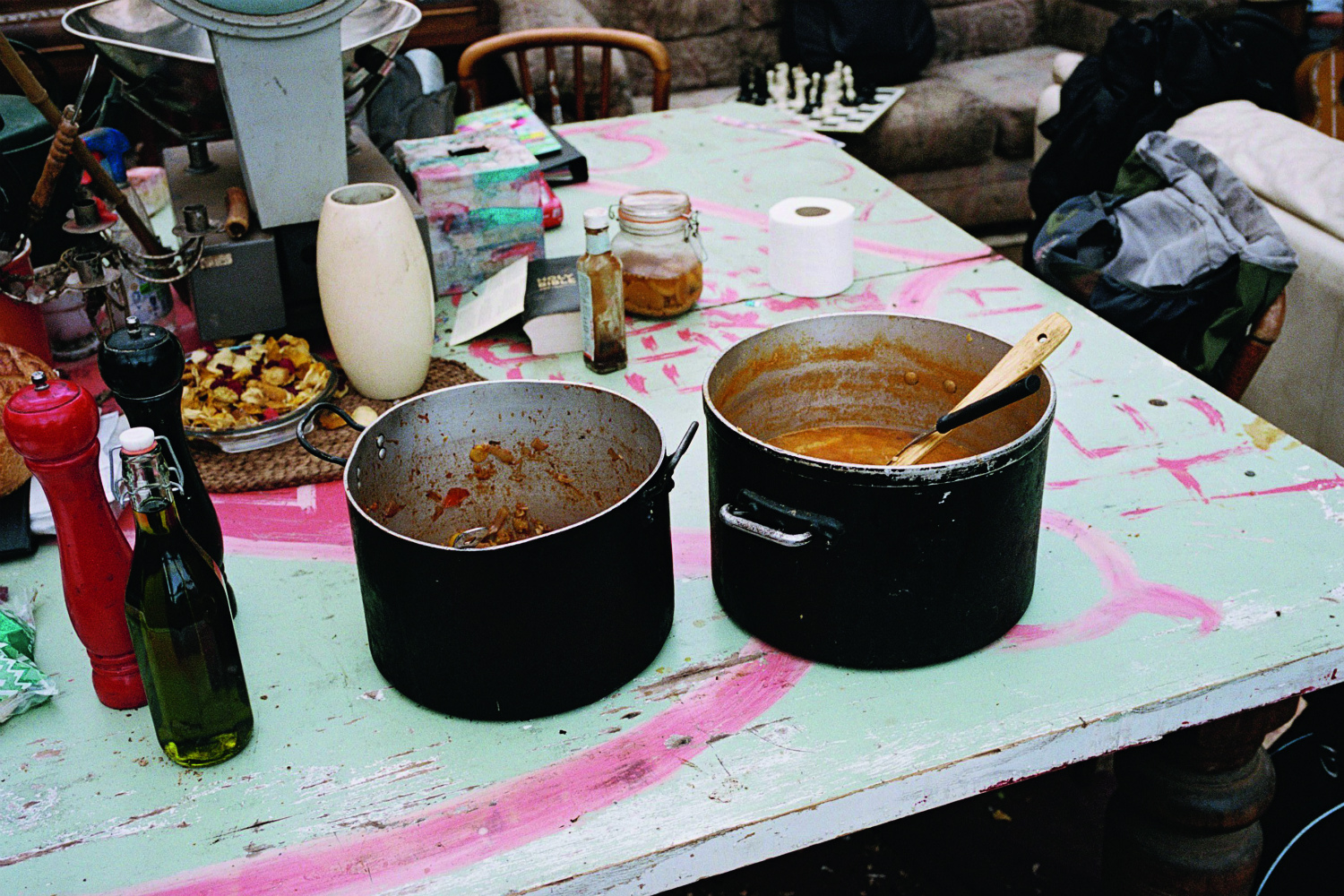 Max is 4 years old, has been living at Grow with his mother, and is one of two children living on site. Kirsty is a volunteer in the process of becoming a permanent resident, after a series of extended visits to the site her membership was approved by the rest of the community. Two pots of hearty stew were lovingly made with foraged goods from their wild pantry and food salvaged from supermarket skips. Meals are made communally for lunch and dinner to reduce waste, and duties rotate amongst the members regularly.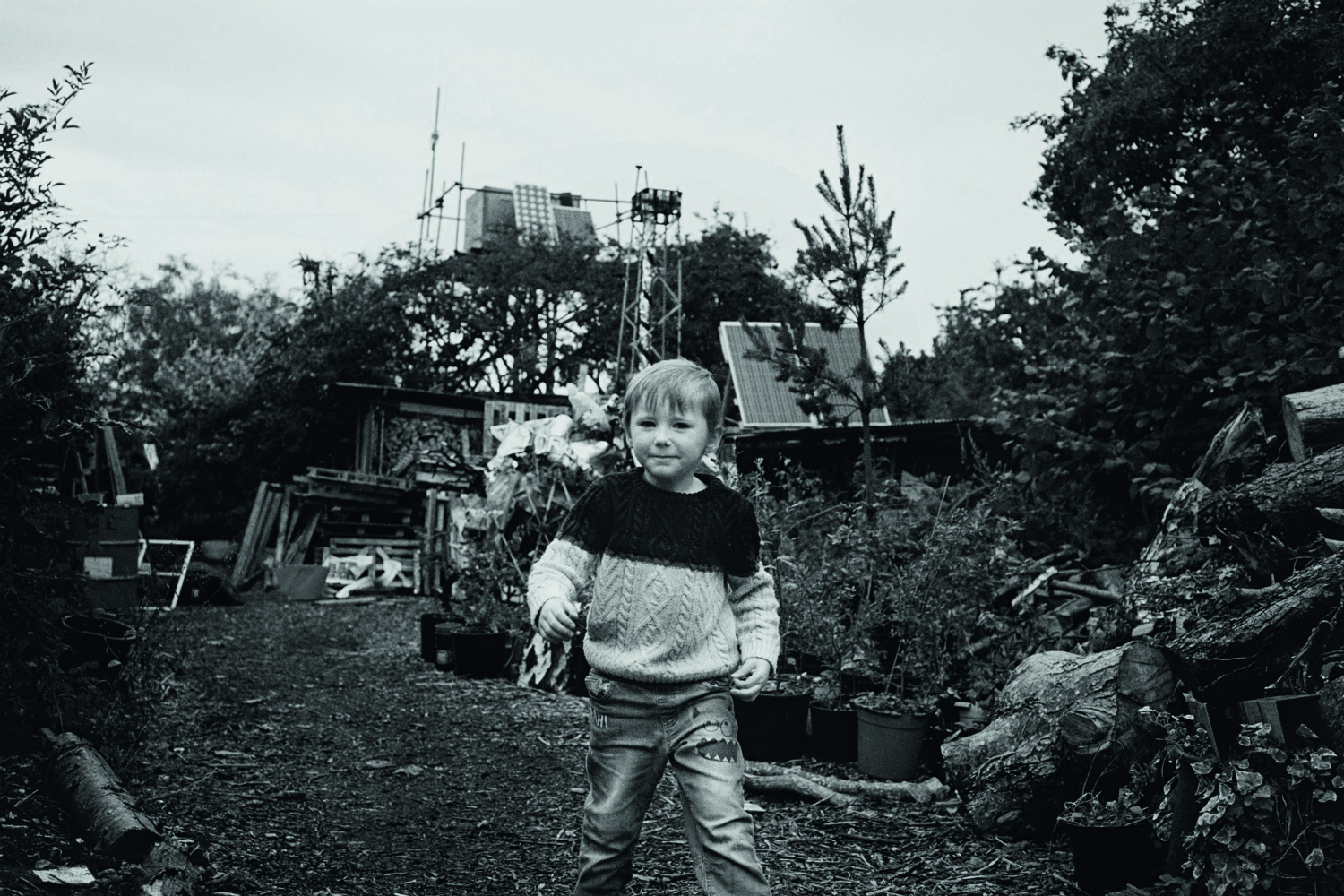 The straw bale house was built on a bed of tyres, with walls made out of solid bales of straw and covered with a mixture of clay dug from site, sand and straw. The reclaimed windows are south facing to capture optimum heat and light from the sun. Petra, originally from Hungary, has been a volunteer for 8 months and plays an active role in environmental campaigning. Anti-authority signs are dotted around the site and a large 'rubbish monster' stands just outside of the main space, originally made as a float to parade through the local carnival.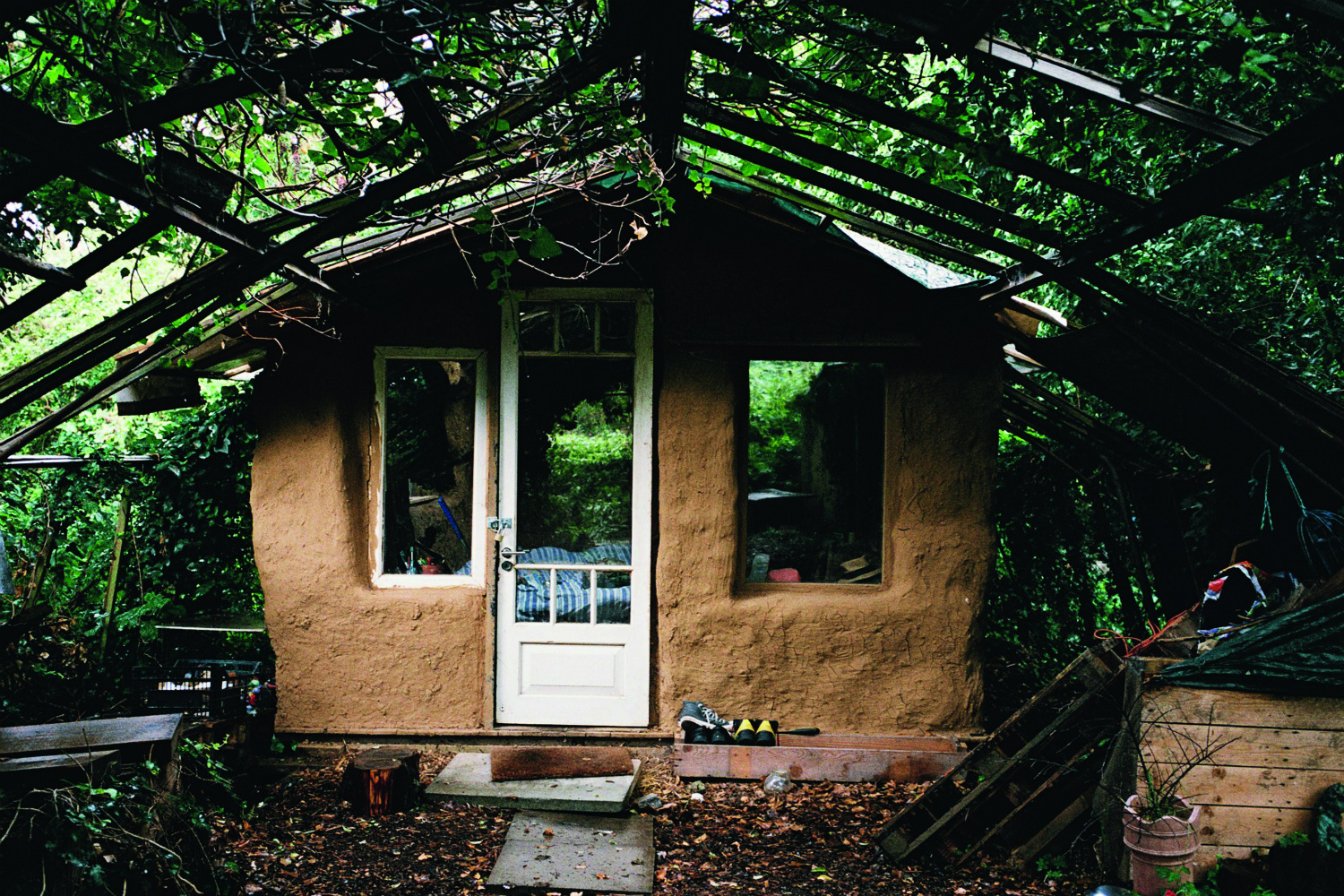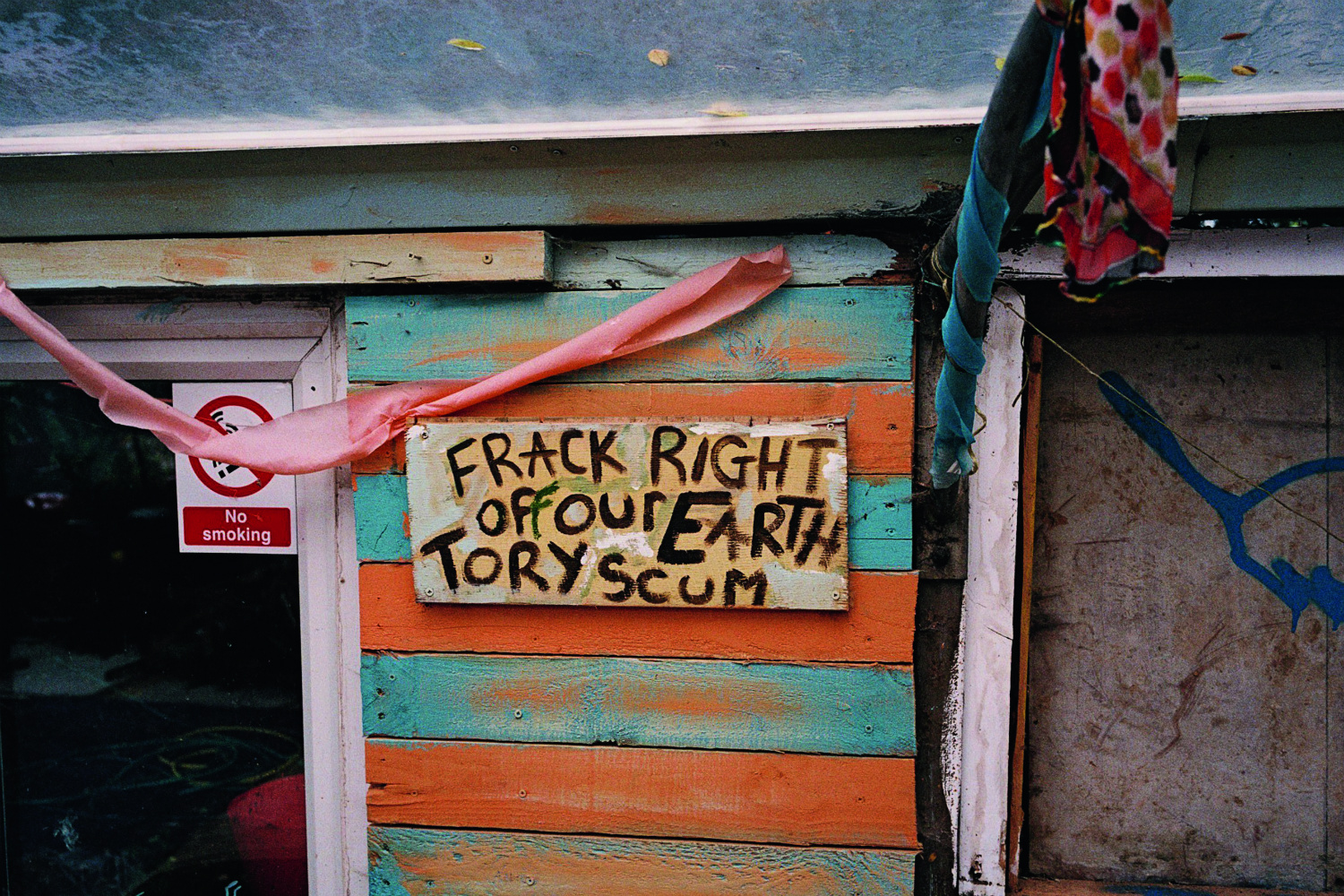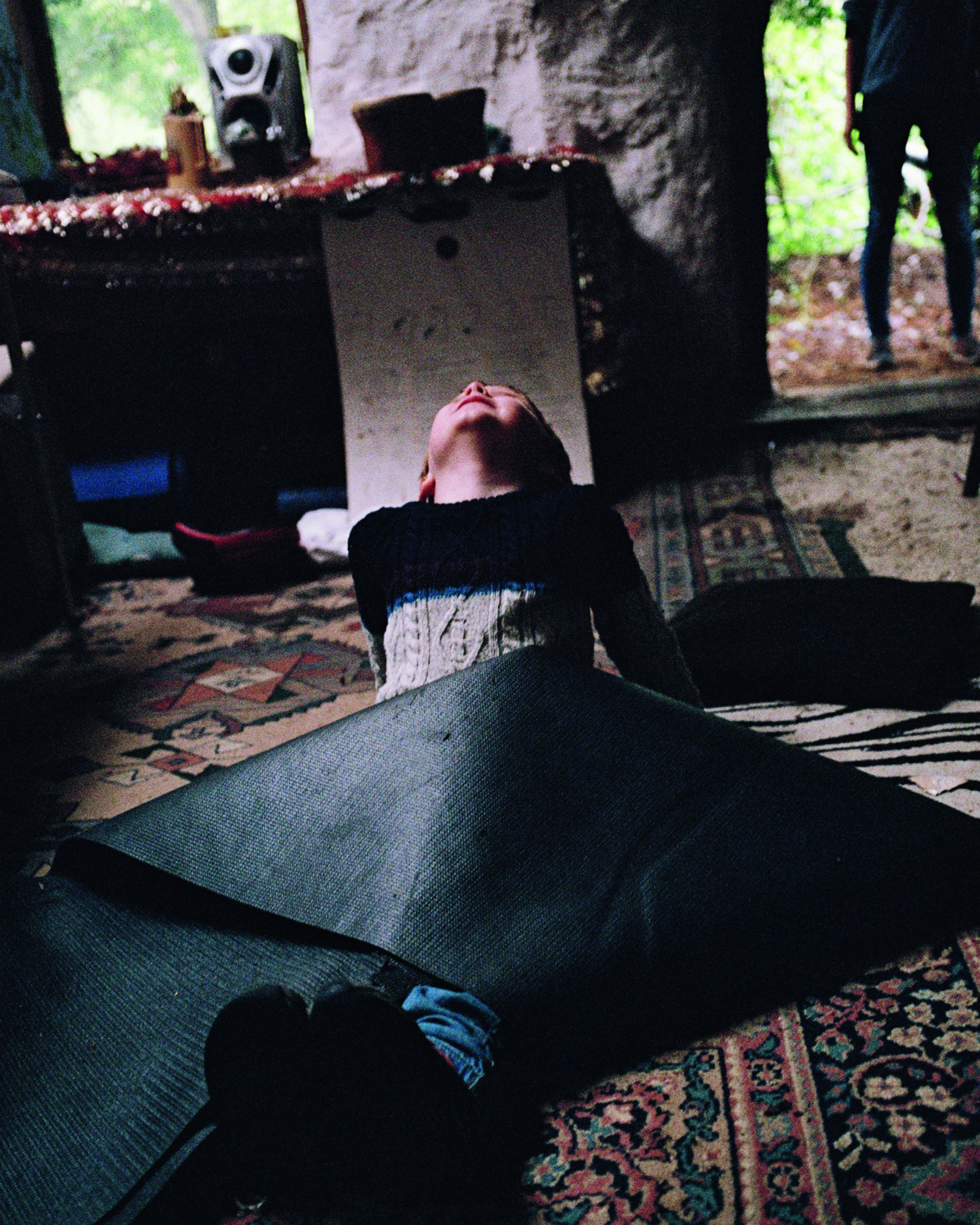 The treehouses were primarily built as defence structures against the authorities, and are also claimed as summer dwellings in the warmer months. Pictured below is the free pre-loved clothes shop, where people can donate items and take items at their pleasure. Max was eager to show us around his very own adventure playground in the wilderness.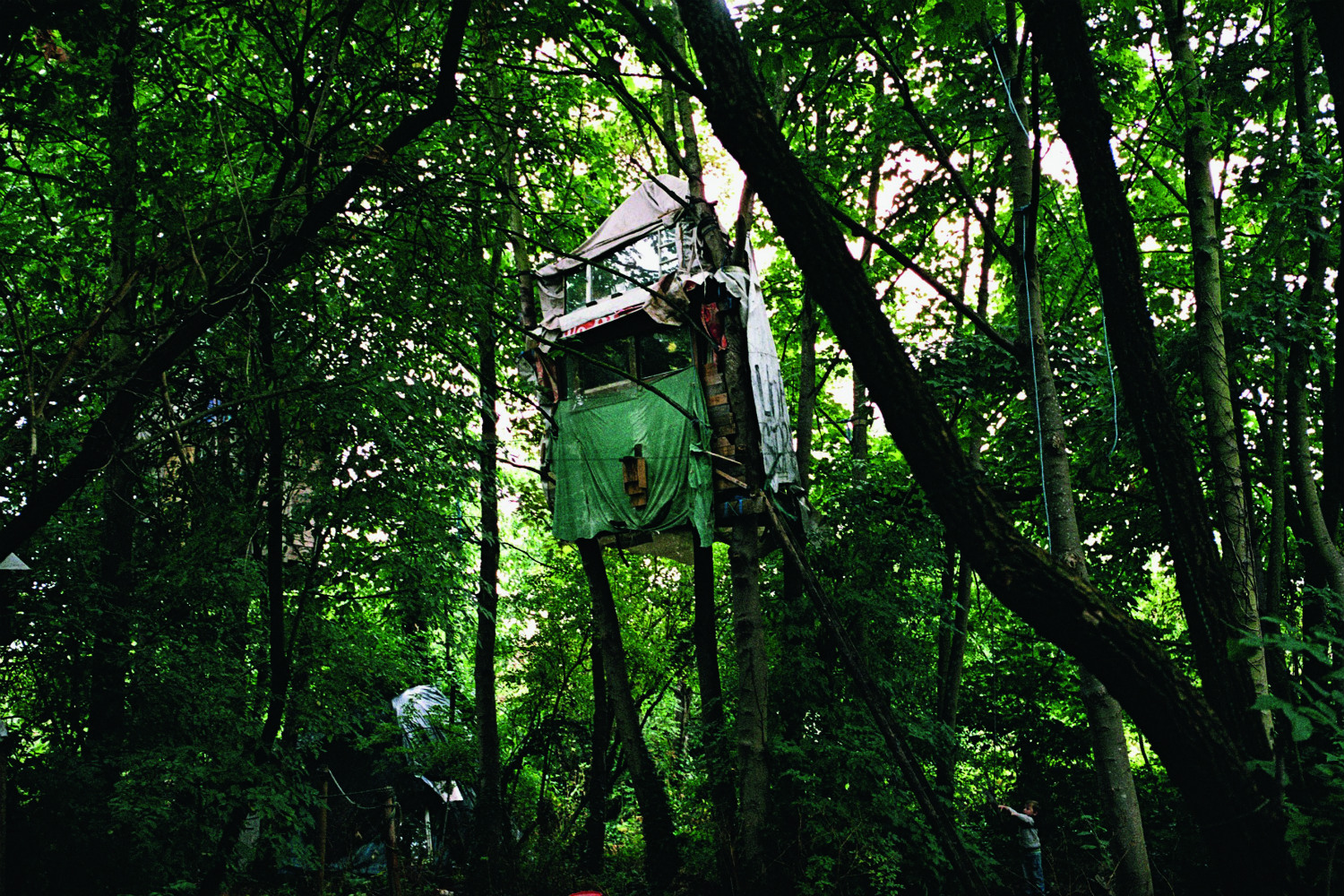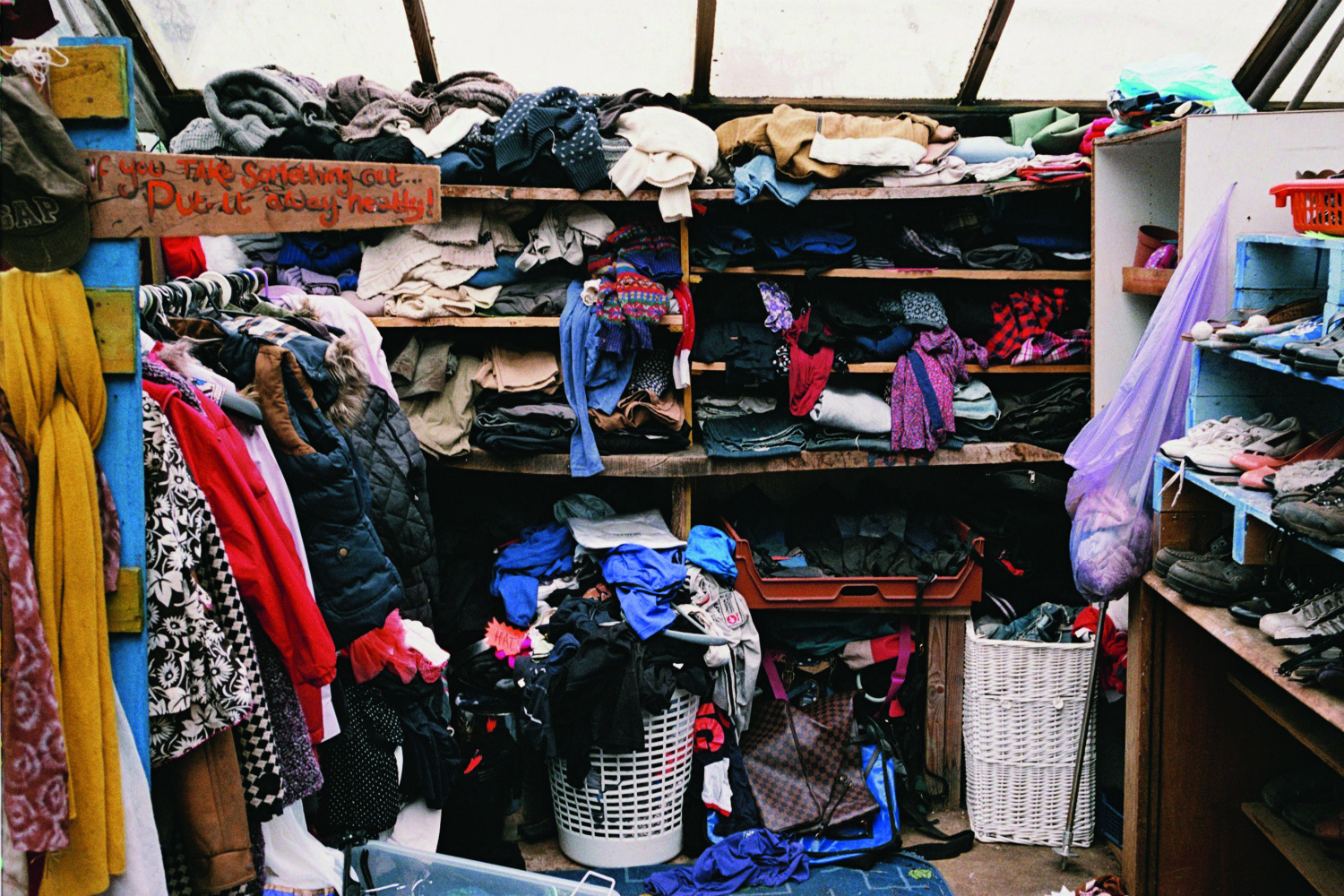 The main space is the hub of communal activity, where meals are served, conversations are shared and ideas are created. Long term volunteer Andy has been part of the community for one and a half years – living at Grow allows him to pursue art, rather than being a slave to the wage. Grow Heathrow is a home built by the love and hard work of residents and the surrounding community, challenging the stigma attached to squatting.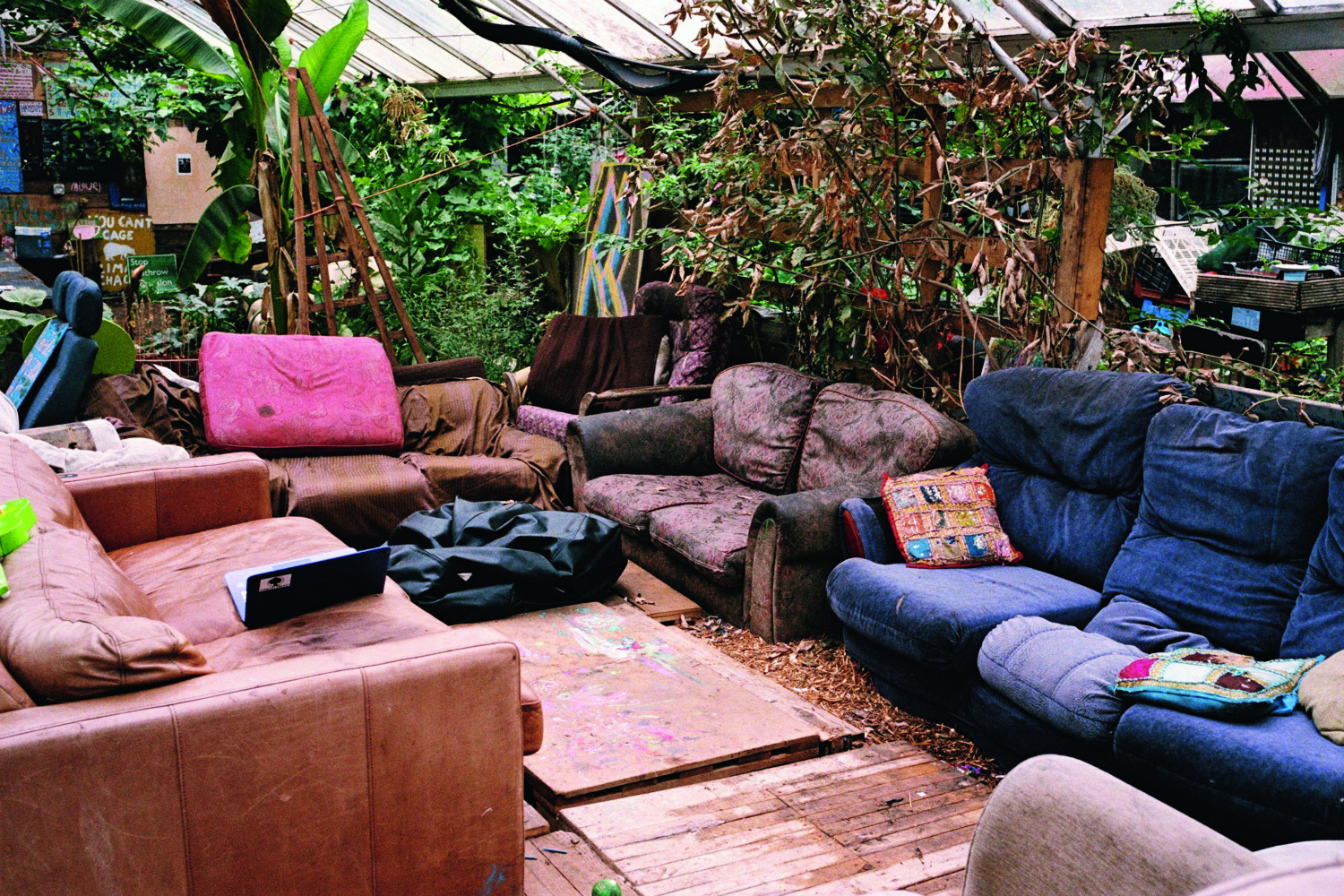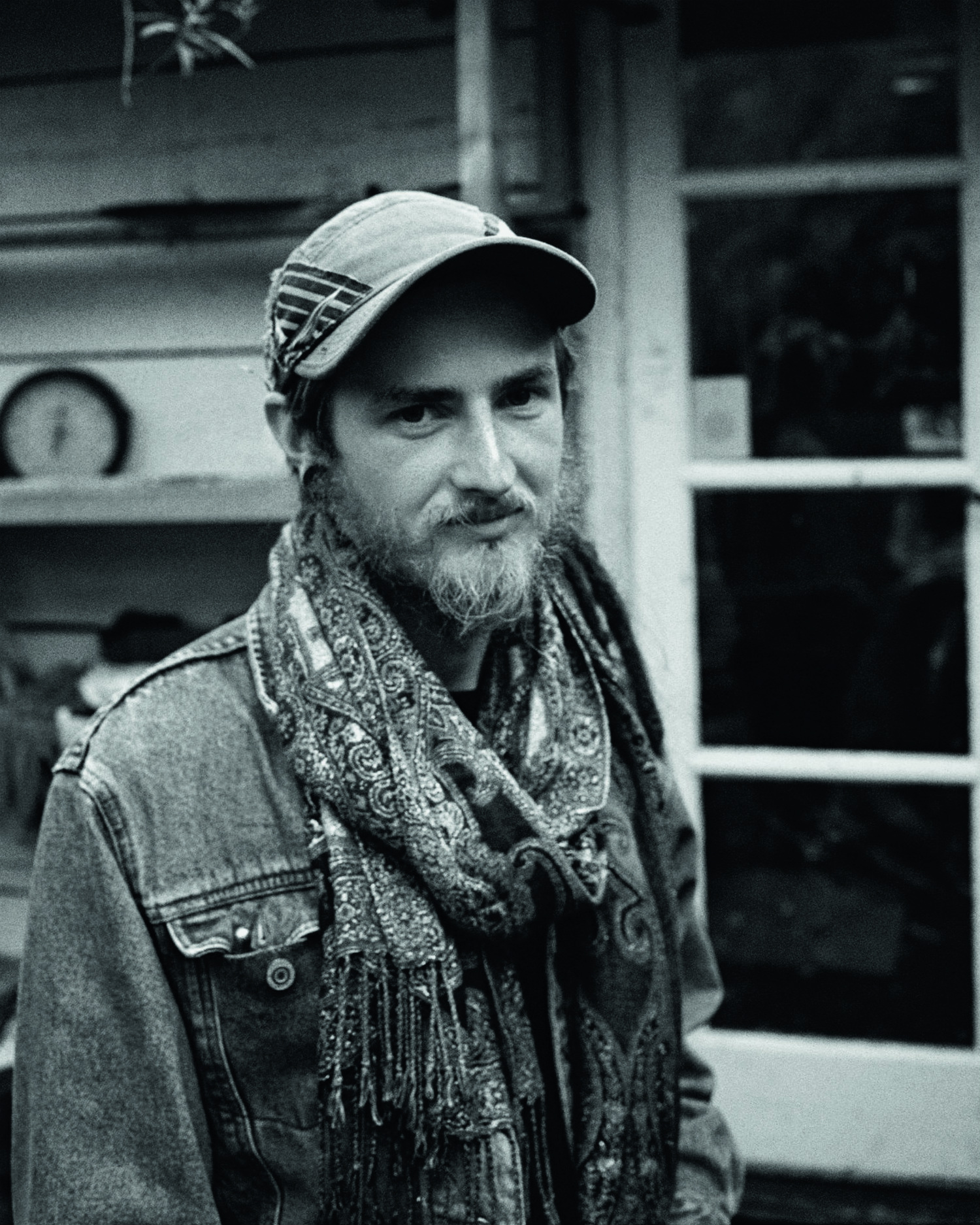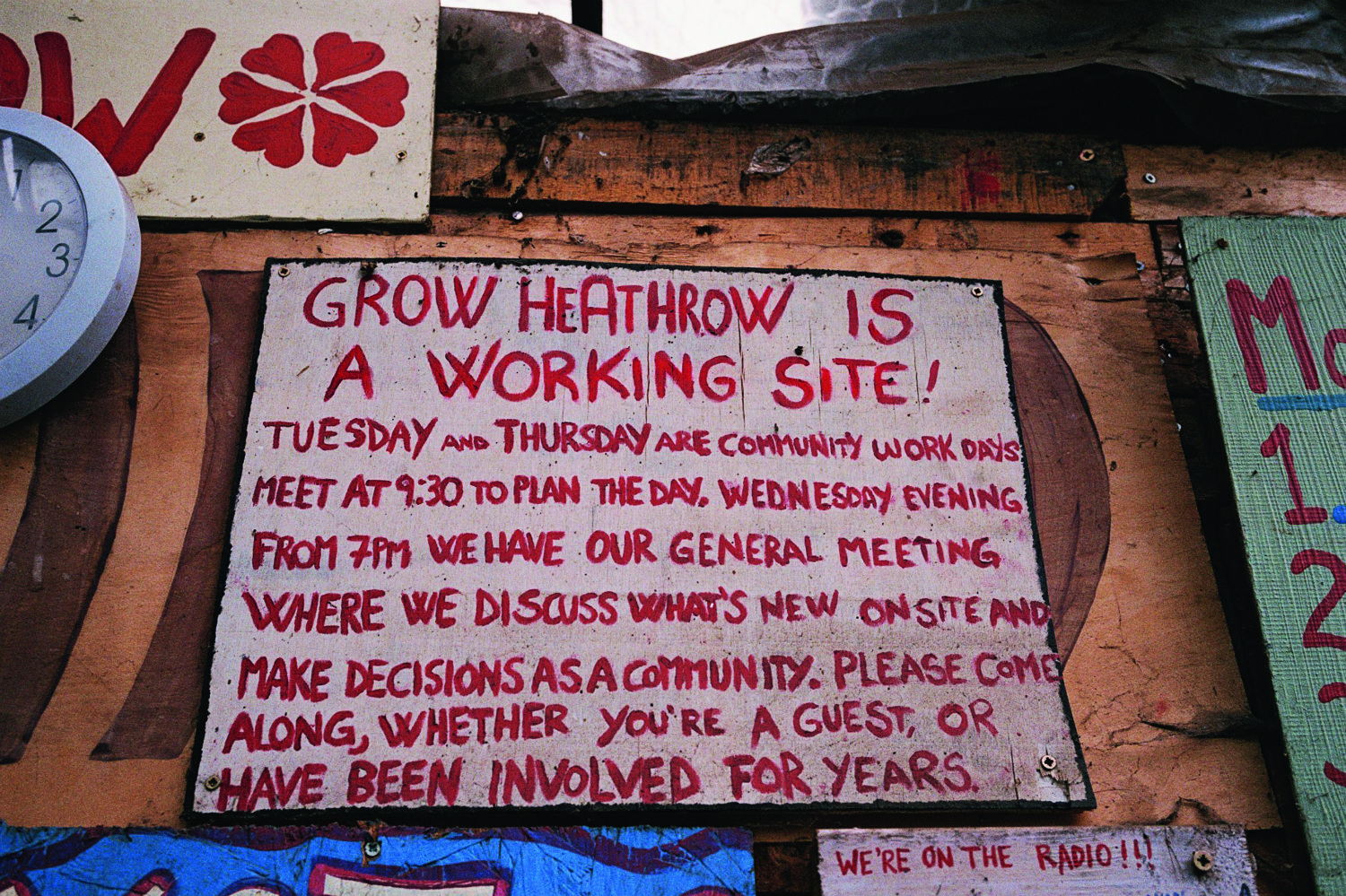 Photography CHRIS LENSZ
Words DARCIE IMBERT