Designer Florentina Leitner is a young creative based in Antwerp, working in multiple mediums to create her pieces, from film to performance. Her latest collection "Love Me Lovely Dionysos" is about breaking down and exploring elements of the female psyche through Greek mythology, especially the infamous myth "The Bacchae", about a village of women becoming enchanted and being driven mad by the Greek god, Dionysos. In her first five silhouette collection inspired by the Greek myth "The Bacchae", women are enchanted by the god Dionysos and turn crazy and wild, running with animals and dancing in the woods. We caught up with her to see what fuels the ideas behind her work: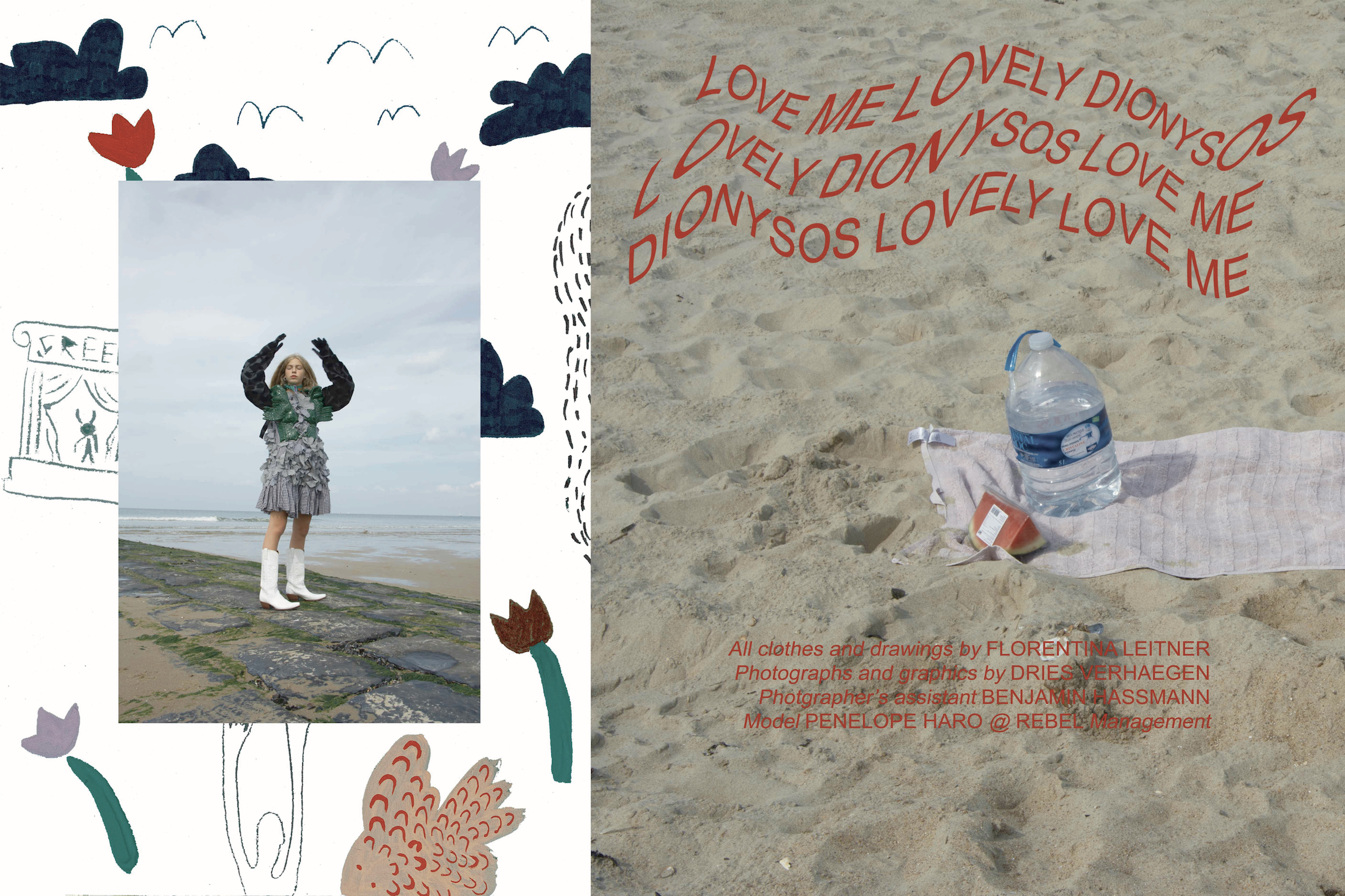 Would you like to first describe, in your own way, what the vision was for your latest collection "Love me Lovely Dionysos"?
One of my favourite movies is "Venus in Fur" from Roman Polanski. Wanda von Dunayev, the main female character in the movie, was my starting point for this collection. I wanted to make garments for women like her – powerful independent and beautiful. At the end of the movie they mentioned a Greek myth called "The Bacchae". I started researching more about Greek mythology and especially the one from the movie. "The Bacchae" is a story about Dionysos and his human nature. In this story he is taking revenge on a village and enchanting the women from the village. The women are turning wild-crazy, "Some women were putting snakes in their hair, some were suckling wild wolves and gazelles". My idea was to show the connection between the women and the nature and their relationship with the god Dionysos. I started drawing scenes out of the mythology and made prints out of them. My silhouettes where greek inspired and I used symbols taken from nature like flowers and other plants. Naked skin and eroticism also played a big part in the collection.
Do you focus a lot on the feminine psyche and feeling in your work?
Yes indeed. Mostly on my own! I am a sensitive person. My personal mood and psyche are always playing an important role while working. For "Love me lovely Dionysos" I was trying to bring myself into the mood by listening to Greek mythologies, watching movies like Medea, Satyricon, and other Fellini movies.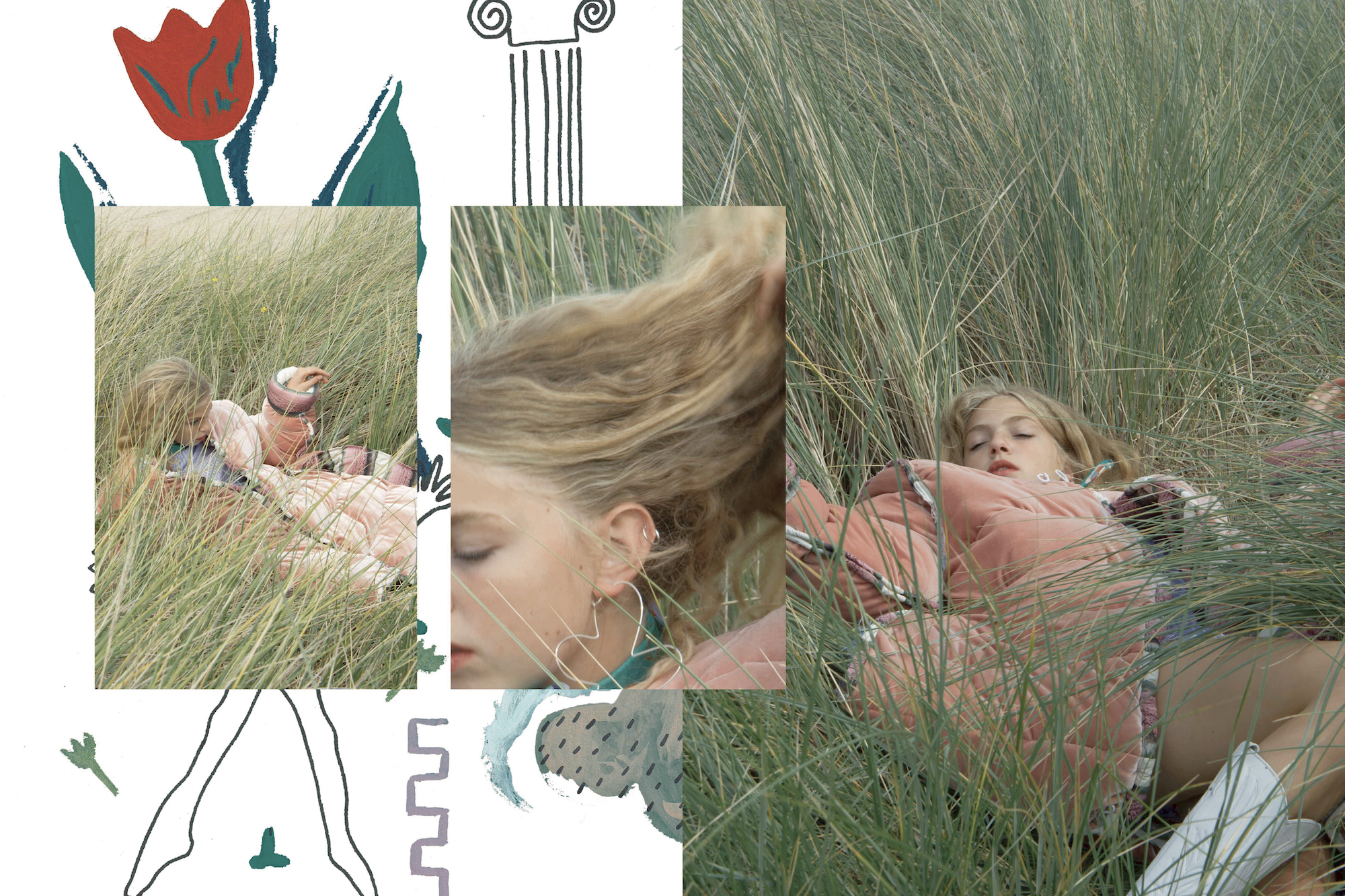 When did you begin designing clothes, or become interested in them? Did you go straight into it or did you begin with drawing/ illustration/ photography first? What led you to it?
When I was thirteen I began designing clothes. I decided to apply for the "Vienna Institute of Fashion" where I then specialised in knitwear design. First it wasn't even my plan to become a fashion designer, I always wanted to become a movie director. But after my second year there I realised that designing clothes suited me quite well. I was able to tell stories with my garments and I liked to connect people with my clothes, clothes make characters.
Why did you choose to move on from designing knitwear exclusively?
In the fashion high school I went to I specialised in knitwear for 5 years. I really enjoyed it but it was on a more technical level than a creative one. There I learned a lot about how to use the machines, the knitting techniques and how to make proper knitwear garments. I learned working with manual knitting machines and with industrial ones, for which you program patterns on a computer. But during my studies I found out I wanted to focus more on the creative side of designing garments. At the Royal Academy in Antwerp you don't really focus on women/men/knit or textile like in other schools, you are free to do what you want. So for my latest collection I decided not to work with knitwear.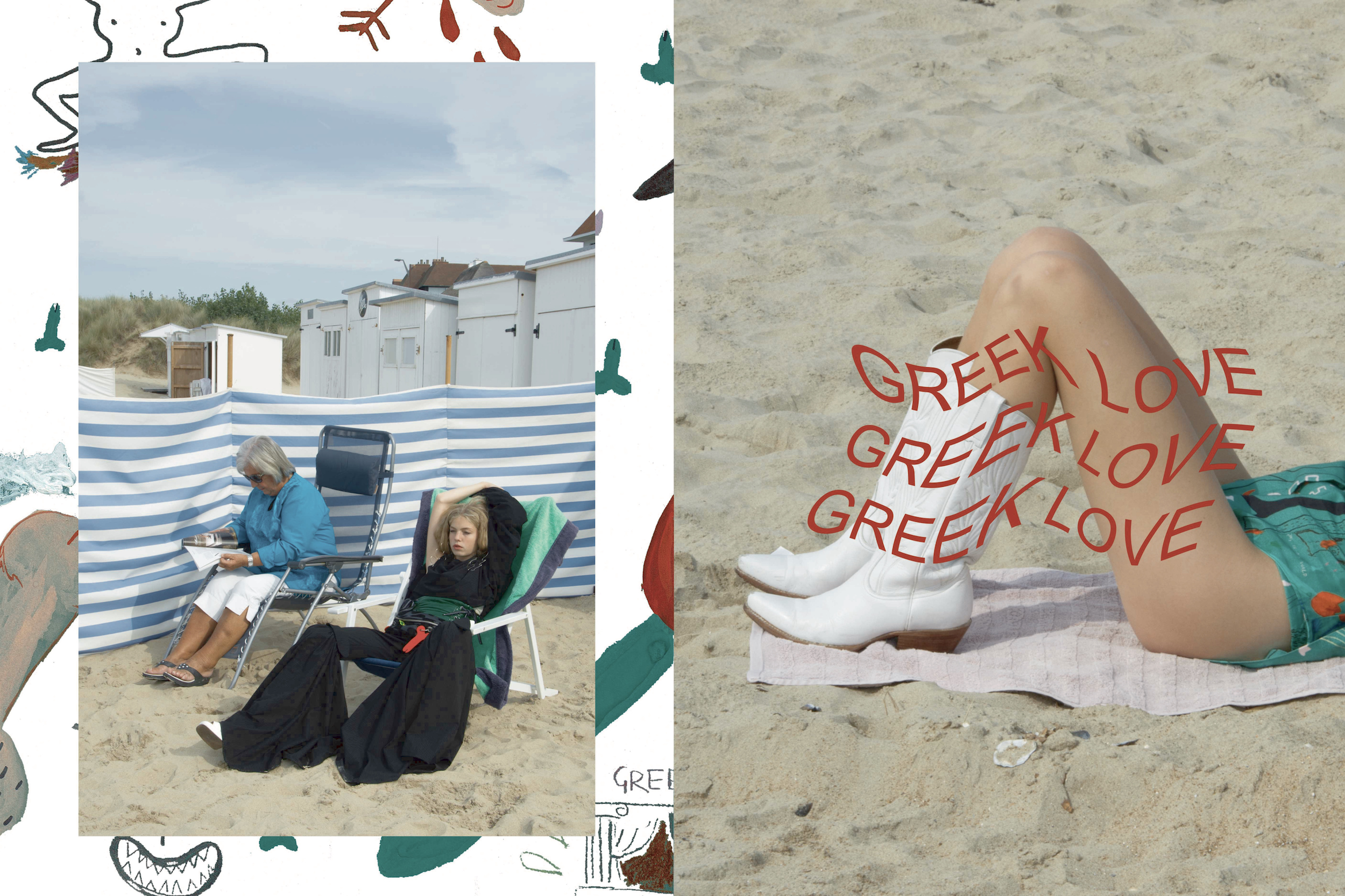 How has living in Antwerp and the art and fashion scene there influenced your work? 
Antwerp is a small city which makes it easier to stay home and work. That doesn't mean that the city ever gets boring though! We have some very nice museums like the Momu (Fashion museum), Muhka (Museum of Contemporary Art Antwerp) and the Fomu (Photography museum), where I constantly check the exhibitions to get inspiration. It is also a big plus that a lot of big designer brands such as Dries van Noten, Ann Demeulemeester or Raf Simons are located in Antwerp. All the Belgian brands have stock sales two times a year where you get their collection pieces much cheaper and you can buy fabrics, yarns, and sewing supplies from them.
You exhibited at the White Columns Gallery in New York – how was that experience for you?
I was 17 when I got this opportunity to show my work in such an amazing city as New York. The artist Rainer Ganahl, with who I worked on this project, organised a kind of "fashion show" in the Gallery. The concept was to make pieces around "Communism and Karl Marx". I showed garments inspired by the industrial revolution, the working class and class struggles in general. At the expo opening Rei Kawakubo, the founder of Comme des Garçons, came and I met other very interesting artists and designers there.
There is a real freedom in the way you jump between different mediums in your work – creating through photography, illustration, and of course, through your clothes. When did you develop this idea of working? Was it considered or did it happen naturally?
For me it is always important to document my steps. Take photos, make drawings, fabric samples, and sketches. I like to bring all of them together to get an organic feeling. With this way of working I go on when doing the collection shoot. I try to make collages with my drawings and the finished photos to show the vibe of the collection even more.
You used a combination of pure masculine strength (with a previous collection depicting Wrestlers) in heavy contrast with ultra feminine designs. What is the reason for this / why did you choose to work in this way?
This was for my 1st year project in the Antwerp Academy. Wrestlers are those tough guys that dress up in sparkling outfits making a huge show about themselves, I like that. So I created my own wrestling character, a cute but tough girl.
Your work has an organic feeling to it – from snapshot polaroids in random places to documenting performances that have a "last minute" vibe. Is this how you prefer to work?
"In the beginning there was only chaos" – this quote from "The Creation" (Greek mythology) suits me a lot. When I start making a collection I am always collecting all kinds of things. I like to give myself this freedom of chaos to start up with my collection so that I can try to find my way through it. It is important to me that my work is reflecting myself and my surroundings, I don't want to force things.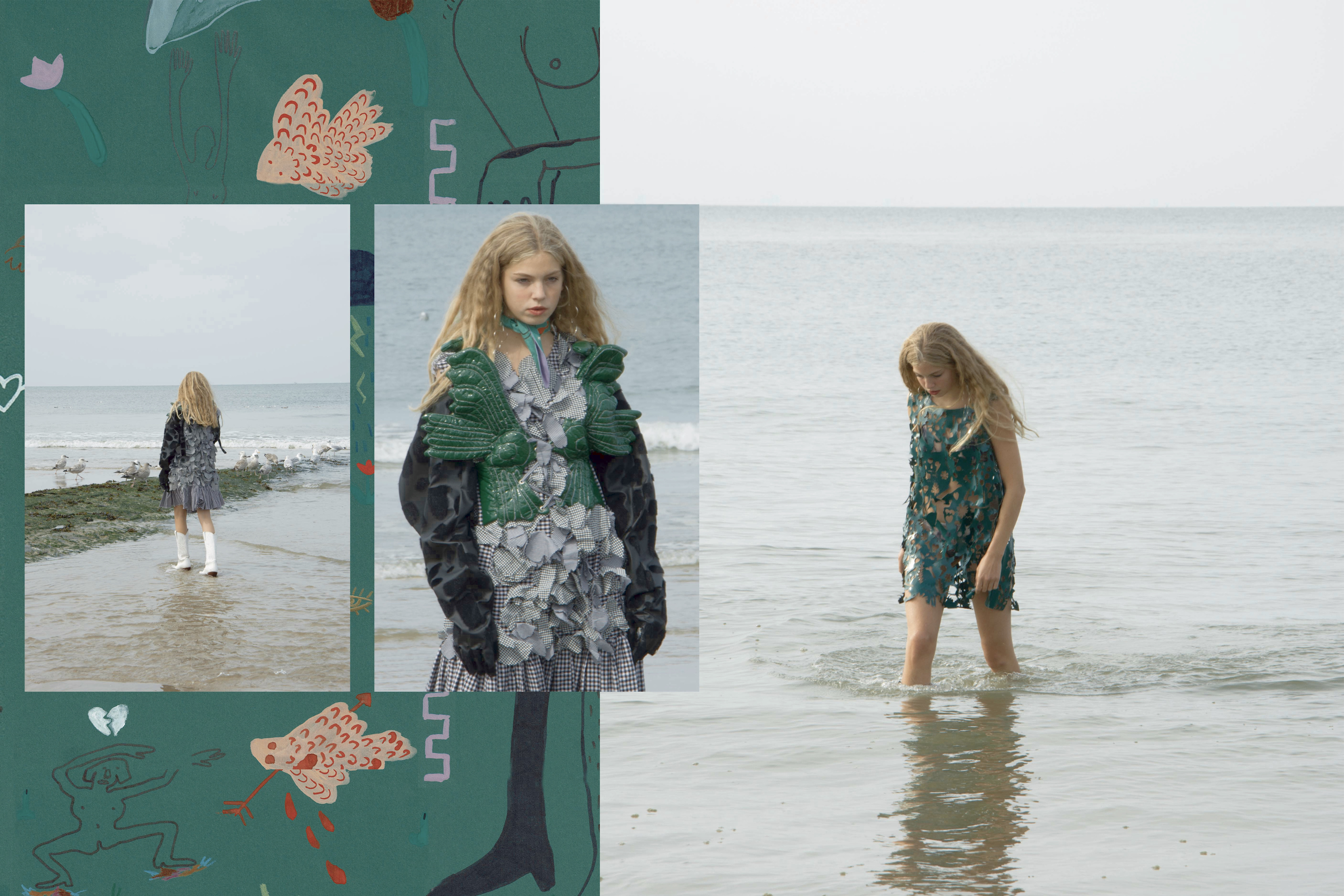 How would you describe the energy of your latest collection? Who are you designing for?
For my latest collection I designed for young strong women who are very open about their sexuality and don't care what others think about them. Classical riot girl.
Do you think you will continue making your designs for the same muses?
In fact I want to reach all kind of people with my clothes. So I try to always to find new muses. But maybe in the future I will come back to that specific kind of girl. For my next collection I already decided to do menswear though.
What is the next step for you?
First I will finish university and then I want to start working for a fashion brand which shares the same vision as me. It is important for me to work somewhere I can continue working in the same creative and free way as I am doing it now at the Antwerp Academy.
All Clothes and Illustration FLORENTINA LEITNER
Photographs and Graphics DRIES VERHAGEN
Photographer's assistant BENJAMIN HASSMAN
Model PENELOPE HARO @ REBEL MANAGEMENT