"Reggeaton in Spain is pop culture," notes Bad Gyal, a 20 year old "internet sensation" spearheading a renewal in Spain's underground scene. Responsible for several dancehall and reggaeton infused club bangers within the last year, the Spanish singer is now producing with Dubbel Butch – a Popcan collaborator – and Paul Marmota from the NAAFI collective. She first caught the attention with "Pai," a cover of Rihanna's "Work" sung in her own patois. Alongside other artists such as Ms. Nina, Tomasa Del Real (who is from Chile) and La Zowi, she highlights the heritage of 2000s reggaeton and dancehall with a bold attitude and a systematic use of auto-tune. Before she releases her next mixtape in November, we caught up with the mini-pop star while she's getting her hair done at the local hair dresser to talk about her ethics in music – and in life.
What haircut are you going to get?
I'm not getting a hair cut, I'm just getting my hair bleached again.
Your style is impressive, it's sexy and so kitsch that it's bold. Where do you take that irreverence from? Are you playing a character or are you 100% yourself?
I spend all of my time on Instagram. Since I was a kid, I've always been a freak. I was playing with Bratz dolls a lot when I was little. I was drawing clothes as well. I tried to study fashion twice but it didn't work. Studying wasn't really for me. Fashion has always been natural for me, I've always been interested in brands and clothes. That's part of my personality.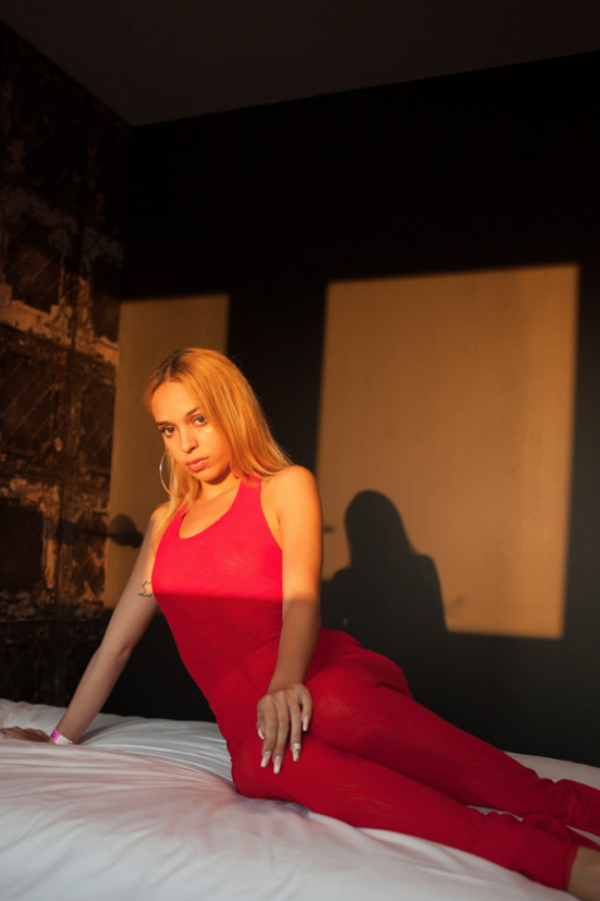 So, no meaning, just look?
I'm not trying to say anything with my style, it's pure aesthetic. I'm very much influenced by the icons I like. And Jamaican culture obviously. The style and the music are so close within Jamaican culture, the wigs, changing the colour of my hair, extensions. I like all that vibe. Long nails, tattoos. Old school dancehall queen style. I wouldn't take everything though because it's obviously not the same context.
Is Spanish fashion and culture also an influence for your looks?
They're a mix of dancehall fashion and Spanish culture. For Spanish culture it's more about the jewellery and the big brows, just messy. And long nails. It's a very typical Spanish everyday style. And also hip hop style, I used to listen a lot of Mos Def, 2Pac and Queen Latifah. That's all what's around me.
Is that why you became an "internet sensation"? How do you feel when people call you that?
I think it's a good way to refer to me, because that's what I am. I wouldn't be anyone without the internet, maybe inside of Spain but I wouldn't have had the opportunity to tour in Europe during the first year of my career like I did. The internet makes things go a lot faster.
However, internet phenomena are also very ephemeral. Aren't you afraid of being just another internet trend?
Not if you work a lot, have solid ideas and have something inside you. Hearing fifteen songs of this type of music and figuring out the blueprint to do it, I'm not like that. I've been in love with this music for years. You never know what can happen, but I'm trying hard. The dancehall scene in Spain was nothing two years ago. Now everyone is talking about it but no one knows what it is. That gives me something solid to make a career from. I know I'm not the best vocalist or the best musician, but singing live and trying to improve every detail gives me something that others don't have. I don't have technical skills, but I try to do better every time. I come from the underground, I record at my house with just a mic and a sound card. I can record alone, I can do it. I'm trying to do this professionally nevertheless. Then people in the music business want to interview you and feel if you're genuine. If you do good work, you attract good attention. You have to work!
If you're a rapper or a hip hop artist, it's not only about smoking all day and taking drugs, no. Not everybody will be happy about your shit. Maybe for a short time, but if you want something more you have to work more, from my perspective. Of course when rappers are being very genuine about drugs and all these things, it's magical! It's good but short. What I'm trying to do is something different. My music is more about the melody which gives me the opportunity to sing live, I love to add auto-tune and crazy effects… Also, as I'm doing something close to dancehall and reggaeton I can throw great parties and make people dance. I'm trying to do everything in one good show.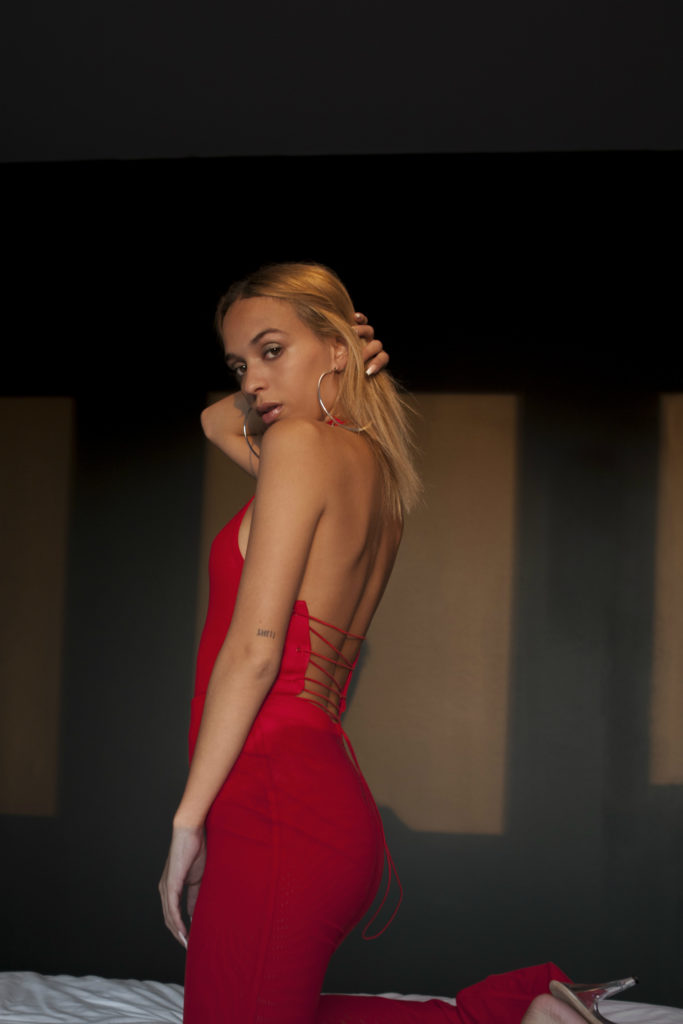 Doing the thing you do in a historically male dominated industry influenced people to think your music conveys feminist ideas. Nevertheless, you always said in interviews that you were not interested in feminism. I can't help myself from asking you one more time, are you a feminist or is what you do just the representation of women's enslavement?
Journalists ask me this question all the time and I always answer the same thing: feminism is a word that's beginning to take a new meaning. Dior made some "I'm a feminist" T-shirts. So I'm asking myself, what is being a feminist today? It's a fucking trend. The same girl that got beaten by her boyfriend is now wearing that t-shirt. I think it's very hypocritical. When I start dancing with my body, no one was twerking in Spain before. This whole "hoe" thing, I wasn't cool, I was just a hoe. And I was selling my body for men so I can't say I'm a feminist. I've heard so many meanings of the word. I don't know the real meaning of this word. It's difficult for me to explain. What I know is that I do what I want and no man tells me what I should do. I'm the boss. I pay my bills, for my nails, make up, clothes. And it's always been this way, I used to sell bread to pay for my stuff. It's an attitude in my life. I don't trust words, because they are changing all the time. But I know what my attitude in my life is, now and before. I've never been the type of girl that goes to a man to get something from him. I don't feel happy taking from someone else.
I think most people wondered if you were a feminist also because reggaeton and dancehall are originally dominated by male presence.
This isn't true, there were women. It's the industry that doesn't promote women. There are a lot of women doing this kind of music. I agree that some lyrics aren't empowering for women but I think the lyrics from these genres are also misunderstood.
It's not bad to say to a women that she's good the way she looks, that's empowering. They talk about fat women as goddesses. In western culture, that simply doesn't exist. The message of reggaeton and dancehall is to say: this music is for women, the fat ones, the skinny ones, with big or small tits, it's for all women. People just don't understand this music. I play a lot of these songs when I DJ. And girls go crazy.
People tend to think differently about your music because you're Spanish, and not Latina or black. How do you feel when people talk about cultural appropriation in relation to what you do?
Reggaeton in Spain is pop culture. Since we were kids we listened to reggaeton, think of Despacito for instance. When you start going out, you hear reggaeton. Dancehall is something else, I discovered it and became addicted to it. Old school, new school, everything. It's not something new for me. I'm not doing pure dancehall but it's the music I love.
Why do you think Despacito became so famous?
It's so easy, for everybody. Even if you don't speak Spanish. Everybody can sing that.
On your side, do you focus on being "easy" or is your music more complex than that?
I'm not one thing or the other. One day I do "Nice Cocky" which is sad and club underground, the other day I do a more Popcan type beat which goes faster with a big beat. I listen to commercial music but not the stuff you hear on the radio. I listen to the new Vybez Cartel for example, but also the newest and youngest artists from Jamaica and Panama. They have no views on YouTube.
Talking about other artists, who are the young artists from Spain that you like right now?
I don't want to tell you. You know why? Because then, people catch my vibe and copy me. It's good to say that I listen to really young people but, I do like everyone else: I discover everything online. It's not the first time I've said something and then someone goes faster than me and takes my ideas. I'm a perfectionist, in music you can't say everything you do. I used to say everything, I did a huge favour for people in Spain who didn't know shit about dancehall and now they're doing it.
Photography by Elsa Kostic
Bad Gyal is wearing full look Ignacia Zordan