Since Andira Sample started making jewellery in 2013, her designs have gone from strength to strength. With her Height & Light project she puts a new spin on elements inspired by ancient architecture. With a strong focus on nurturing solidarity between women of colour, Andira collaborates with women of colour for her photoshoots and commercials, and has also connected and created with an impressive roster of celebrities: Cardi B, Erykah Badu, and Lauryn Hill, among others.
In conjunction with some exclusive images shot with photographer Elizabeth Wirija, we had the chance to ask Andira some questions: about her design beginnings, her inspirations, and the importance of women of colour working together.
When and how did you start designing accessories?
I sketched my first pendant piece in 2012 and later created it in 2013. In the beginning all of my designs were sketches. I would draw my version of ancient Egyptian art symbols and continuously make additions to resemble necklaces and bracelets. I had no history in jewellery making so this was a completely new experience. Through research I found RW Manufacturing Co. which had amazing reps at the time such as Kathy Williamson and Lora Vandenburg, who guided me through the process from my sketch design, to CAD files, to moulds and different metal qualities.
How did you begin to look to ancient architecture in your designs?
I began to look into ancient architecture in my personal studies. Me and my brother Ralik would always watch a bunch of documentaries on black history and black art as teenagers. It amazed me how the Ancient Egyptians were able to teach you science, math and spirituality through their design work. I consider those qualities as a guide for me and a way to carry on the light work.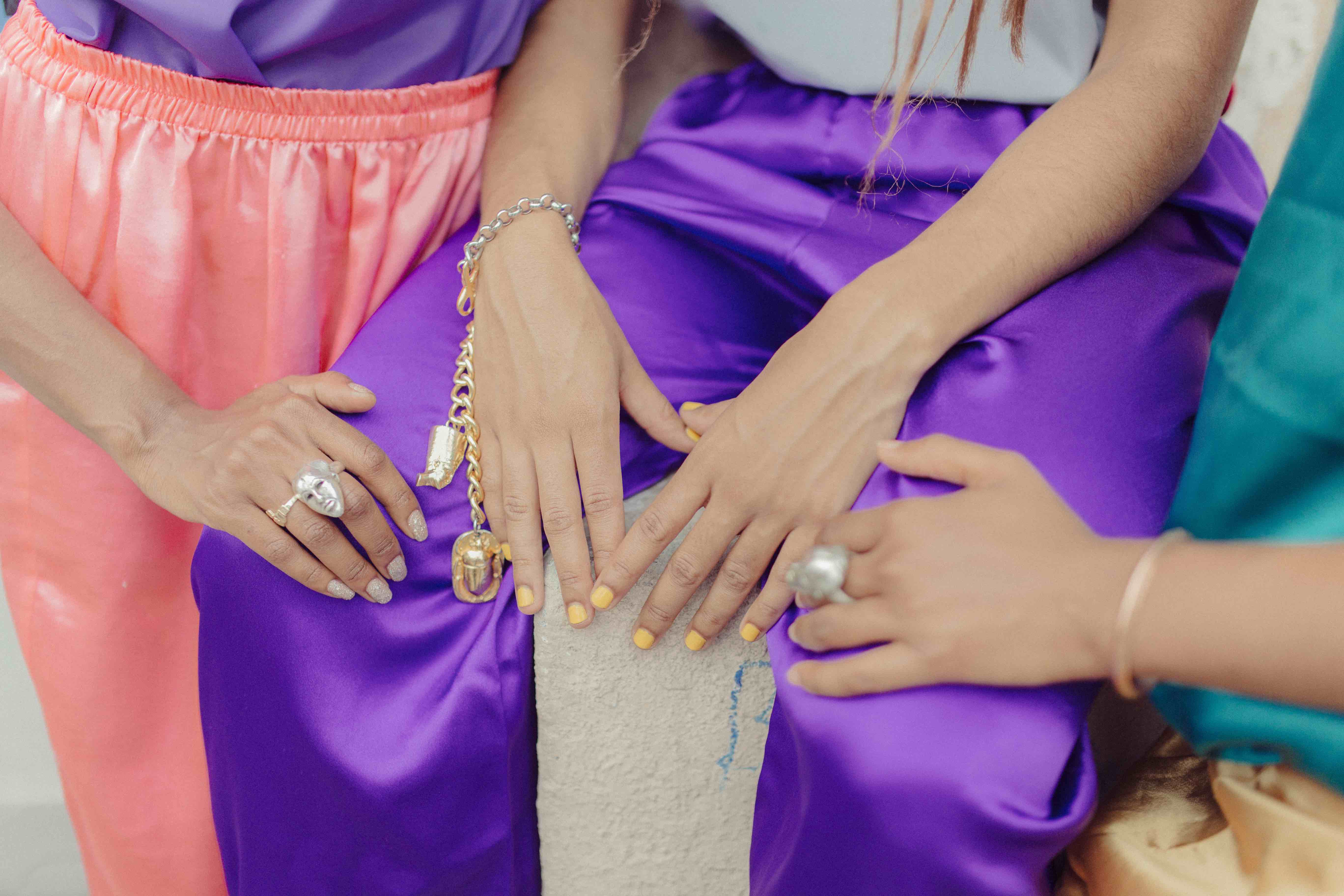 Are there any cultures that you look to in particular?
Ancient Egyptian culture inspires a lot of my work but I look to black culture in its entirety. From ancient art to music, to style. It's a reflection of me.
How did you come up with your brand name, "Height & Light"?
Like most kids after high school I didn't have any clue what I wanted to study or pursue. I went to college for a year in my hometown Long Island, NY. While there I discovered my brand name through a lecture about the basilicas in Rome and how the "Height & Light" availability of the architecture was most important. I kept the name in mind but still wasn't sure on what I'd do. I've always been into the arts like dance, fashion, and art history. So originally I figured I'd start in clothing but after sketching the Dripping Ankh I had a super clear vision of it actually being tangible as a necklace. It was a spiritual experience for me considering I was in somewhat of a lost space before this. It was the first time I ever felt that kind of assurance about any new idea.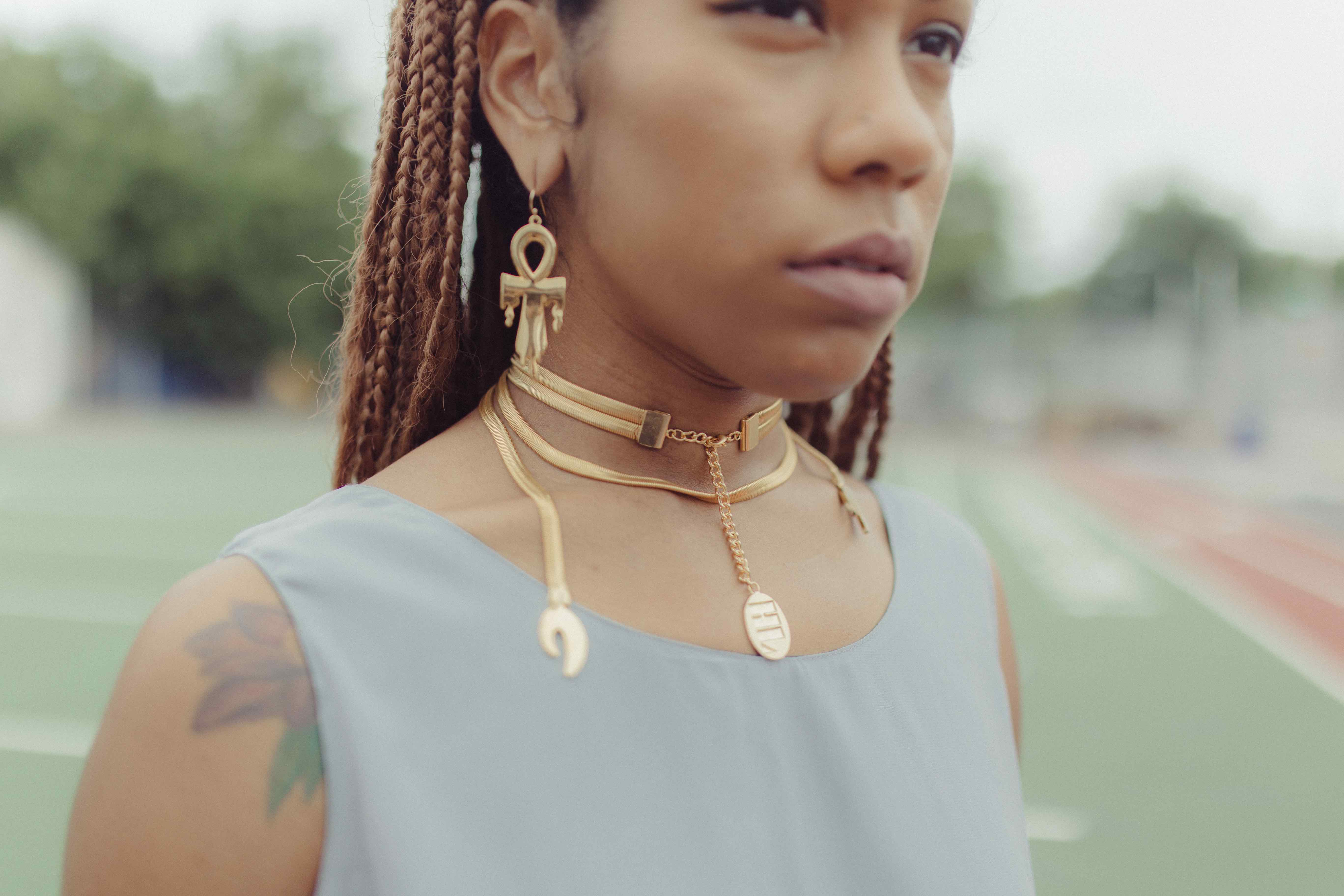 What were the main inspirations behind your latest collection?
My latest collection is inspired by sun energy and its electromagnetic field. Being a Leo I have a deep connection to the sun. Also after studying the ruler of the 18th dynasty Akhenaten and his reliefs it made it more visible in a design way. He understood the importance of the sun for humanity and worshipped the Aten. I connected with his teachings because he seperated hisself from the norm and went with what felt spiritually filling for hisself. We are taught to fear new ways and ideas when it comes to tradition.
How did you and Elizabeth come together for the campaign?
I reached out to Elizabeth to shoot the girls because I've always been a fan of her style of shooting. To me she shoots in a very soft but raw way. She uses her surroundings and natural light very well. When styling the shoot I made sure to find bright vibrant colours and I knew she'd find the perfect scenery to make it project magically.
Who are your campaign girls, and why did you choose them?
My campaign girls are Eboni Vance who is a spiritual life advisor, Aleah Waksor who is a model and influencer, and Gabsoul who is an entrepreneur and DJ. I chose these three beautiful black women because of the work they do for people of colour as individuals while spreading positivity and self love.
Why do you believe it is so important to work with WOC?
As a women of colour it's something that is embedded in me to unit and uplift other women of colour. It's my way of giving thanks for the blessings and direction I have received. I've been in stages of my life where I didn't have the confidence to grow and do things that I knew would better me as a person because of societies false images of how we should present ourselves. Growing up as a black girl, self hate and division is promoted amongst us. So as I grew older and realised these things I wanted to shed light on the power of unity and love.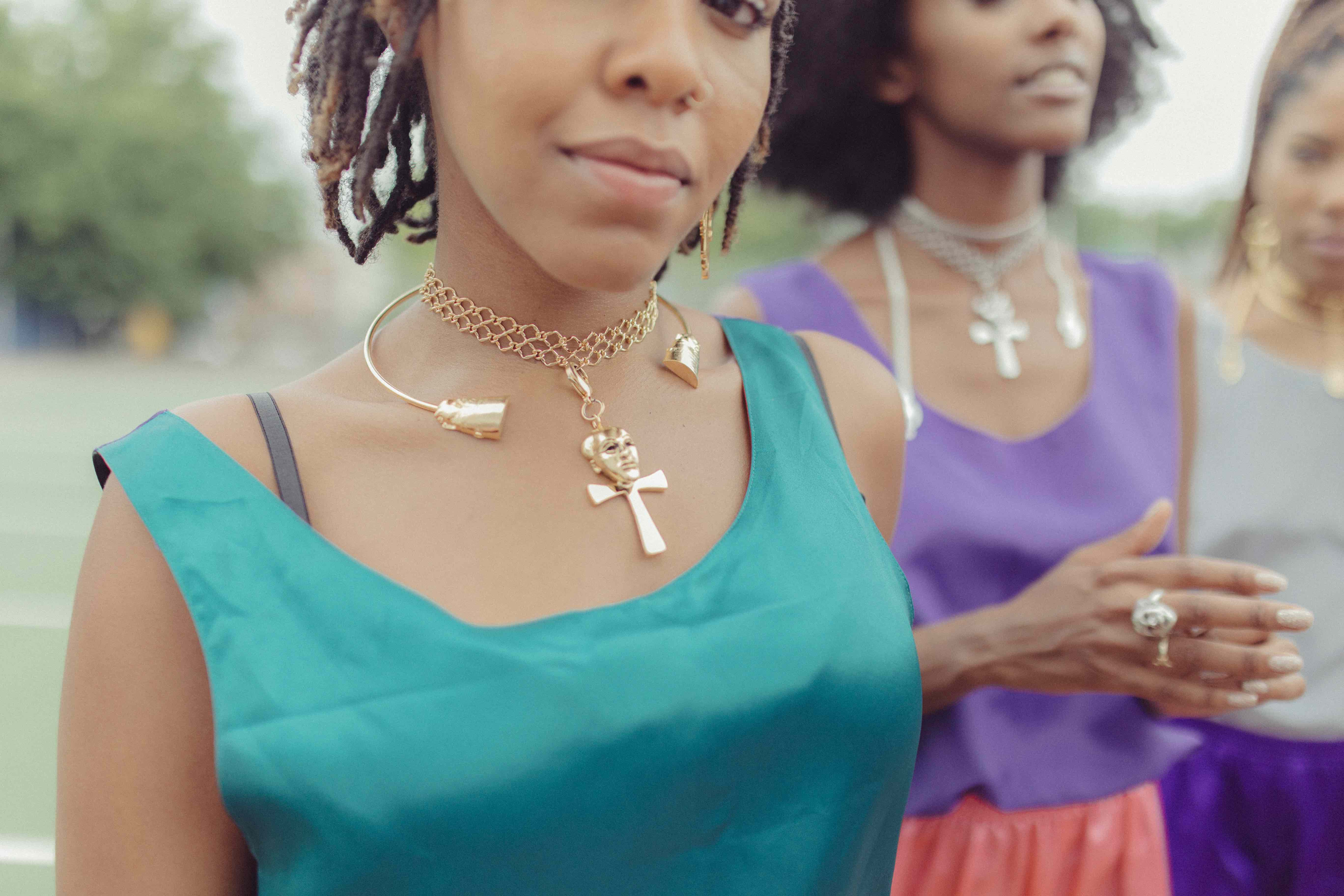 What unique struggles do you believe WOC have to deal with in business, particularly in the world of design?
Women of colour deal with adversity more so than struggles. We have to present ourself in a way that's firm but still stay true to our femininity and values. The double standards of society makes us feel uneasy about doing so. In a business aspect you have to constantly deal with egos and people testing your as a creative and thinking because you create your not knowledgeable of that side of the spectrum.
And what do you think needs to be done to help ease these struggles?
What's going on now is great amongst black female creatives. We've been connecting and creating new paths. I think because of the state of things with the deaths of black men and women from police enforcement we all realize how more important it is now to build and love on one another. This mindset alone teaches you patience, firmness, analysation, and strategising that opens any other doors but it starts here first.