As a child, Jasna Fritzi Bauer desperately wanted to be a rubbish collector. An ambition that the Swiss 28-year-old luckily did not realise. Instead of recycling scrap metal, in recent years the "New Faces Award"-winner has featured in films such as "Scherbenpark," "About A Girl," "Bornholmer Straße," and "Axolotl Overkill," taking the stage at renowned theatres such as the Vienna and Berlin City Theatres. INDIE met up with the up and coming actress to talk nude scenes, masochism, and the preparations for new roles.
Are there similarities between you and the characters you play?
Difficult question. When I act, I often play myself and bring a lot of myself into the role. For example, I bring a certain physicality that can't just be removed. Of course, characters have diverse traits, that I don't myself have, but there is still definitely a crossover between mine and theirs. I couldn't tell you exactly which ones they are, though.
How do you prepare for a role?
It might sound really lazy, but I don't prepare for roles for weeks in advance, or carry out some kind of social study to figure out what it's really like to be a young person. Everything you see just feels right. I act very intuitively. I've realised over the years that I can rely pretty well on my intuition. Right now, I wouldn't be able to tell you to which degree any given scene is acted or not. When I'm acting I don't think too much, I just follow my gut. Of course, there are always scenes that aren't so comfortable to play, or that require a different approach. Emotional scenes are always a big bodily challenge. If you're filming some kind of crying scene all day, by the end of the day you're just spent. Or with intimate scenes, of which you have a conscious fear.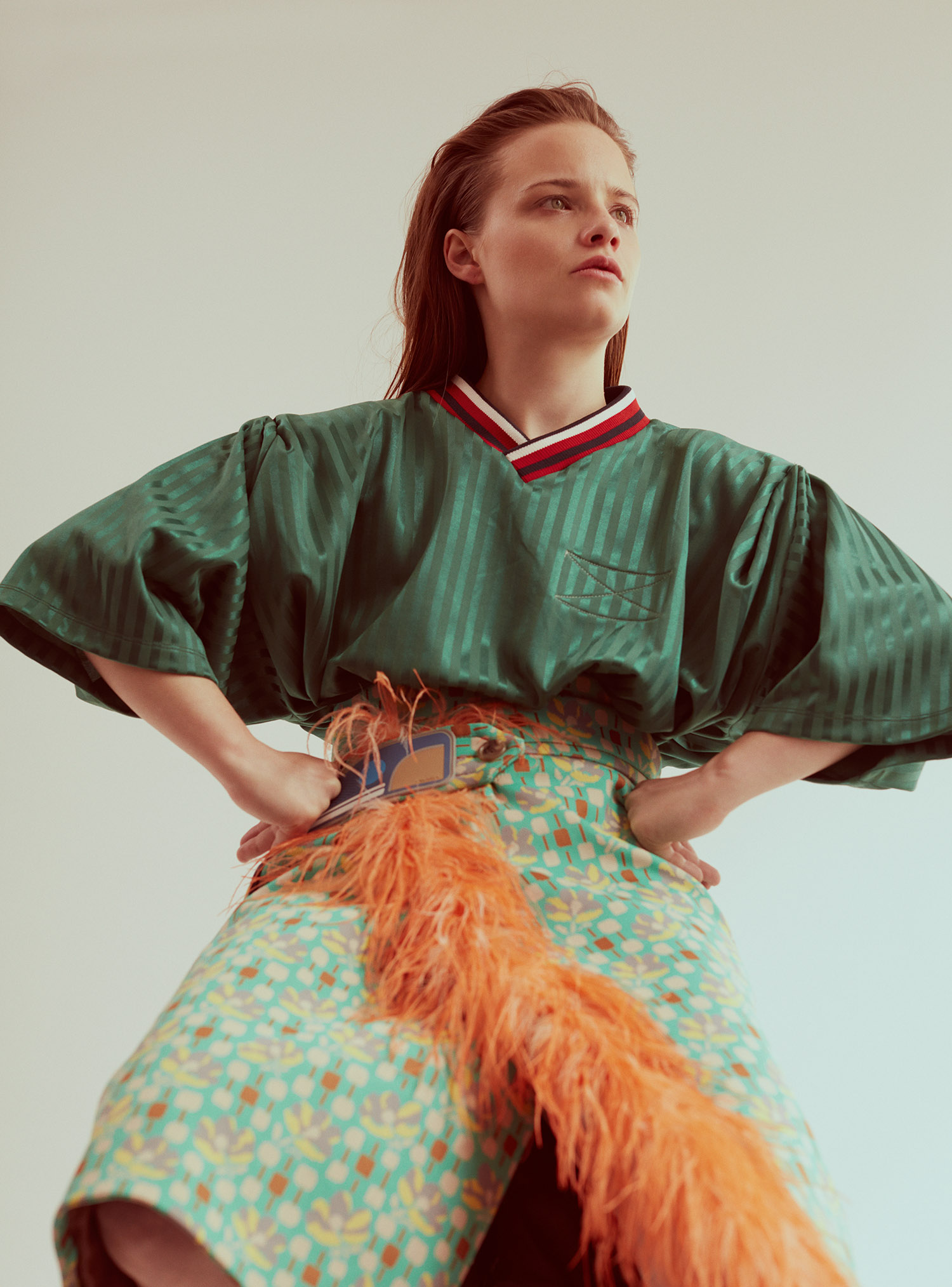 T-Shirt MARTINE ROSE via thestores.com, Skirt PRADA
Left: Suit JIL SANDER, Socks FALKE; Right: Jacket PRADA
How difficult do you find nude scenes?
It's definitely not comfortable. But you get used to it. I always ask in hindsight, if nude scenes are really necessary. More with regards to theatre than film. Nudity is often presented as strange, so you sometimes end up asking yourself why this person needs to be naked right now. But if the nudity is logical and plausible for me, I don't have an issue with it.
You also often play in the theatre, a totally different and far more intimate situation than standing in front of a camera, where there's as good as no audience and you can repeat everything. In an interview, you once said that before a play you get not just stage fright, but full on panic. Almost a little masochistic!
That's true. Interestingly, a lot of my colleagues experience the same thing. It's absurd to enjoy standing on a stage while also having fear of going out onto it. Those two things are sort of paradoxical. But maybe you could compare it to a kind of therapy to deal with anxiety. For me the panic comes from the anxiety that I'm going to forget my lines. You stress yourself out, even though on the stage there is support in an emergency, from your partner in the scene or from the prompter. It's got better though and is not as bad as it used to be.
Left: T-shirt, jacket and collar DRIES VAN NOTEN; Right: Jacket BALENCIAGA via thestores.com, T-shirt DRIES VAN NOTEN, Trousers DIESEL BLACK GOLD, Necklace VINTAGE
Sounds like a kind of love-hate relationship with theatre.
You're probably right. There are a lot of actors who stop working in theatre because they feel physically sick before performances. You inevitably have to ask yourself why you're torturing yourself like that. Although I haven't got to that point yet.
What role would you like to play one day?
I'd love to play a mafia boss. Something absurd, that nobody would ever expect. Something totally evil. Every actor craves new challenges. That would definitely be a bigger challenge for me than playing someone like the princess in "Beauty and the Beast." Definitely something challenging rather than something familiar.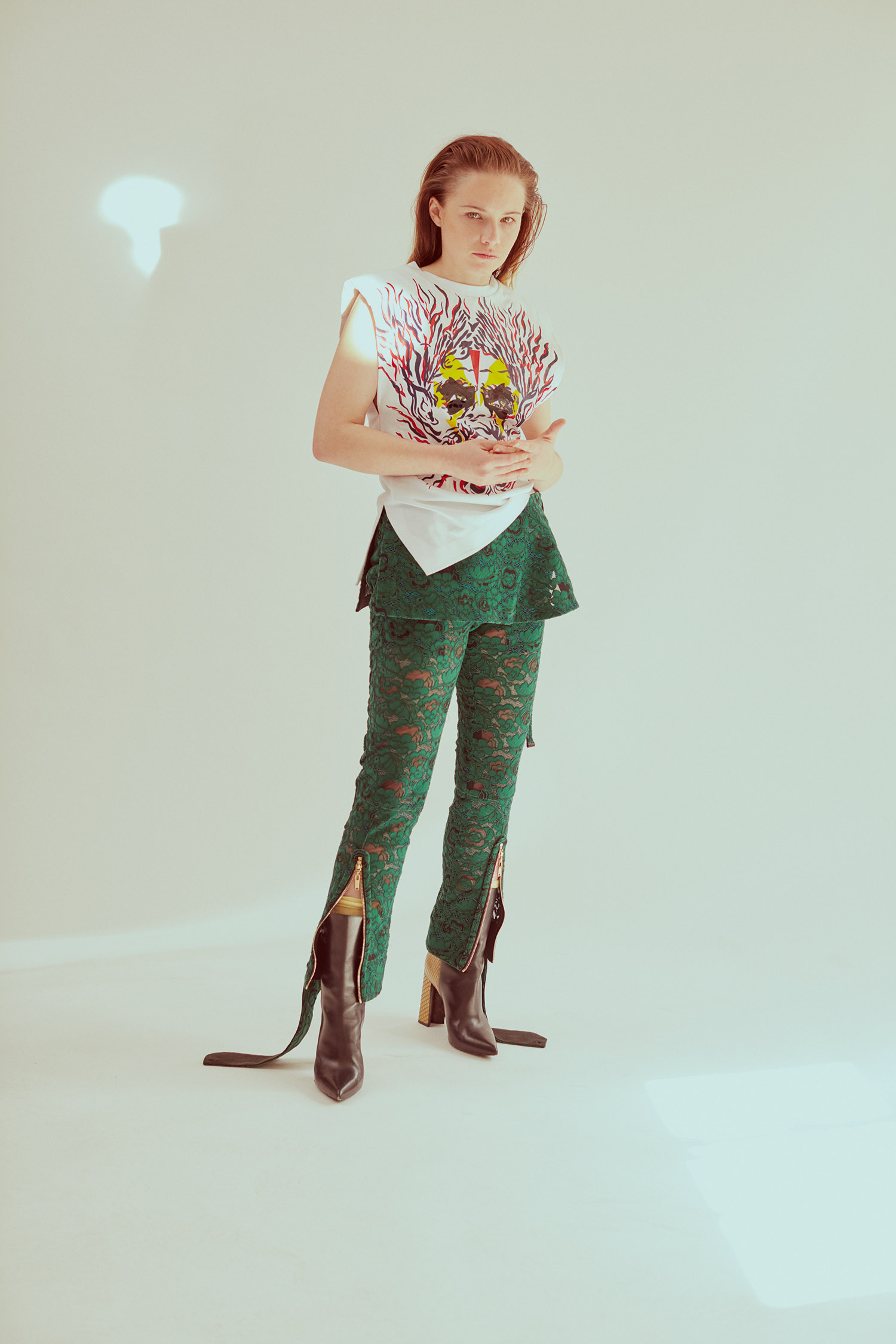 T-shirt, trousers and boots LOUIS VUITTON, Socks FALKE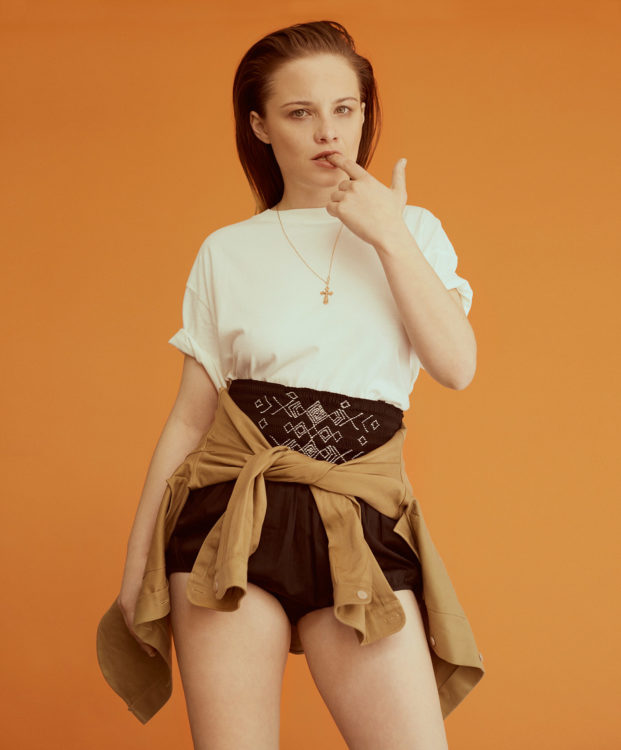 Shirt and shorts MIU MIU, T-shirt DRIES VAN NOTEN, Necklace VINTAGE
Photography JANA GERBERDING, Styling ALEXANDER GABRIEL, Hair and make-up ANNA NEUGEBAUER, Photo assistant HANNES M. MEIER, Styling assistant MAXIMILIAN MIGOWSKI, Words THOMAS CLAUSEN