Whenever German rapper Haiyti needs a break from her infamous Hamburg neighbourhood Reeperbahn, she just spins the globe and lets her index finger decide. This time, INDIE accompanied her to the other side of the world.
An uncompromising attitude, a unique aesthetic, and a powerful message – Haiyti has chosen to smash stereotypes with every creative step she takes. She will never play to the patriarchy. Since releasing her free mixtape City Tarif in 2016 onto the landscape of German music, Haiyti's work has shown a middle finger to closed-minded modes of thought. It's impossible to ignore her – "I'm just way too good."
Discovering Hip-Hop at a young age, she quickly fell for Southern underground rap and was soon to experiment musically herself. Following several solo projects, her alter-ego was conceived: Haiyti, now celebrated for her expressive stage performance; Haiyti, who gives her whole self to her art and her audience. She is unpredictable, multi-layered, complex, and full of surprises; all this, while also pursuing a career as a fine artist.
LEFT: Dress ADIDAS ORIGINALS EQT, Jacket M.Y.O.B NYC, Necklaces AMBUSH®, RIGHT: Hat M.Y.O.B NYC, Sweater ADIDAS ORIGINALS EQT, Necklace AMBUSH®, Bag JERRY PINK, Socks ADIDAS ORIGINALS, Shoes ADIDAS ORIGINALS EQT ADV RACING SHOES
There are flashes of her fine art in her music, and music in her art, the cross-pollination "inevitable." There is, however, an undeniable visual signature, a sense of instinct and passion, running through her work; Haiyti has created a unique and multi-layered aesthetic that she builds on with the release of each song and each video.
A fan of anime and cartoons ever since she can remember, Haiyti was finally able to experience this magical world as reality, touring the Nippon animation studio, where the legendary founder of Studio Ghibli, Hayao Miyazaki, began his career. As well as meeting the resident artists and getting an insight into their creative process, Haiyti also collected inspiration for an animated music video featuring those close to her. She travelled to Tokyo with adidas Originals and Copenhagen-based initiative Girls Are Awesome.
Dress ADIDAS ORIGINALS EQT, Jacket M.Y.O.B NYC, Necklaces AMBUSH®
As Girls Are Awesome is all about celebrating young, confident women and their unique style the two brands have teamed together to create the empowering platform Awesome Stories. The collaborative endeavour highlights the work of three female creators.making a name for themselves in traditionally masculine spaces, like skate photographer Laura Kaczmarek, and tattoo artist Simone Klimmeck, providing a space to document these trailblazers on their journeys. The goal is to form an ever evolving and growing network of great women where ideas and passion can be shared in a safe surrounding. A surrounding that gets inspired by the road of life, by the risks these three role models were taking.
On her journey Haiyti immersed herself into the Japanese underground art scene, meeting like-minded creatives, exploring the nightlife, and shooting with INDIE on the artificial island Odaiba, where sand dunes and modern architecture blend together.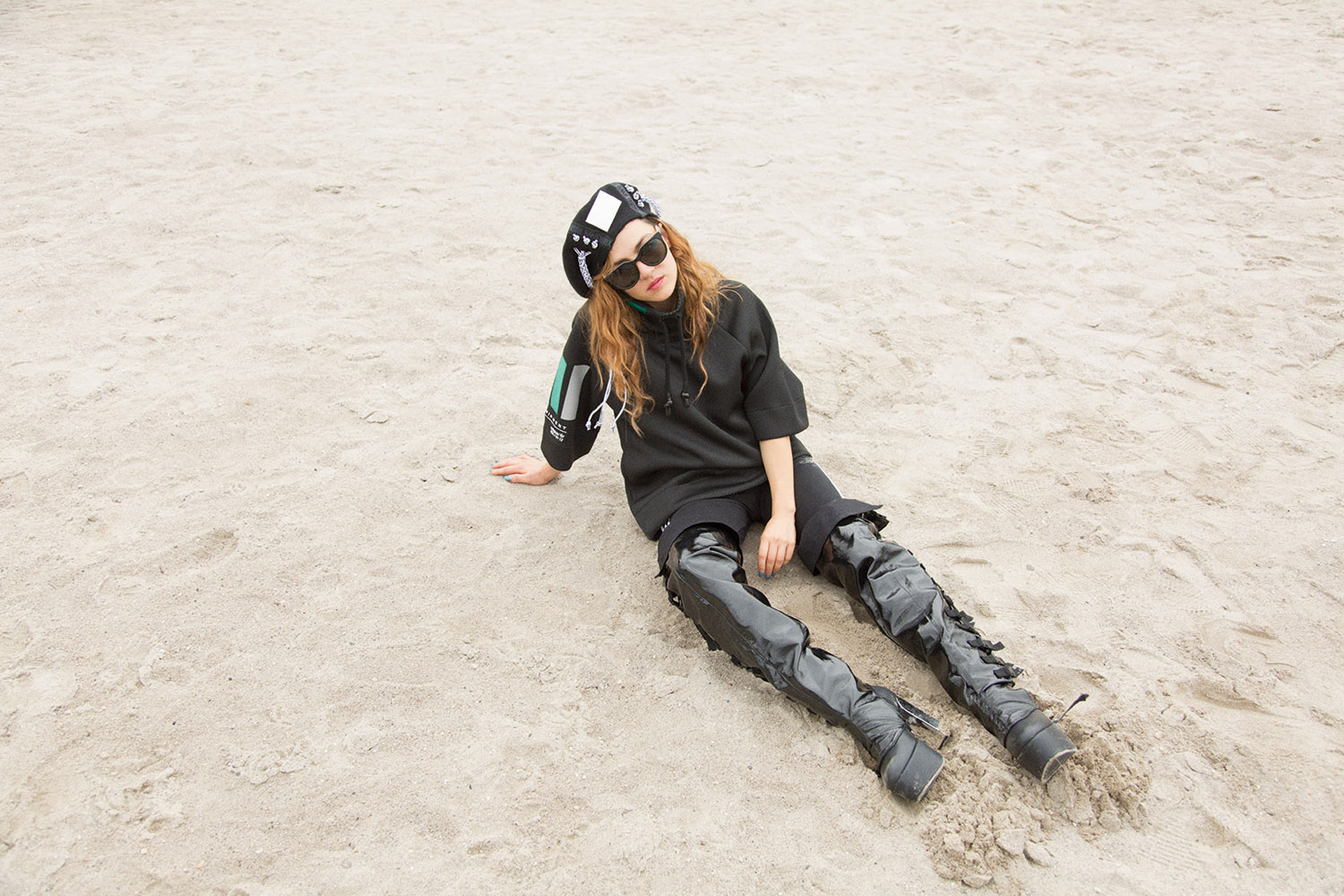 Sweater ADIDAS ORIGINALS EQT, Leggings ADIDAS ORIGINALS 3STRIPES, Hat M.Y.O.B NYC, Boot covers GROWING PAINS, Boots G.V.G.V., Sunglasses MODEL'S OWN
GET YOUR NEW INDIE MAGAZINE HERE!
Photography SOPHIE ISOGAI, Styling TATSUYA SHIMADA, Hair & makeup RIE SHIRAISHI, Production TAKA ARAKAWA, Hair & makeup assistant RUI SATO, Styling assistant MASAMI OKITA.