French LA-based director Clément Oberto's work focuses on women in "singular" atmospheres. For his newest project, "Cream", a short film "about loneliness, sensuality and the passage of time," Oberto teamed up with producer Mr Flash, who has collaborated with Kanye West and Sebastian Teller among others. We spoke to Clément about the inspiration behind "Cream", the creation of atmospheres, and the importance of sound in film. Take a look at the film, premiering exclusively on INDIE, below.
Your work often focuses around women in what you describe as "singular" atmospheres. What do these atmospheres look like, and what makes them special, or compelling to you?
I like the sound of "digital sun and cosmic lights" – something about colours, space, fashion, softness and metaphors… That is my style. Most of the time I'm inspired by someone I meet (on screen or in real life) and I think that is what makes these atmospheres special to me. The relation with the person I film, to see what it can create. Then what makes them compelling to me is the exploration: Who am I going to shape this with? How is it going to look? How is it going to sound? What type of personal layer of meaning will I hide inside? And what am I going to learn in the process?
How did you come to focus on this in your work?
As a kid it started with Rei Ayanami in "Neon Genesis Evangelion"… Pure complete fascination for her character, her contained strength and the rise of her aura in this mysterious and profound universe. This anime made me want to do films to celebrate women's depth and beauty.
Then later on, becoming a young director in Paris, there was always a photographer friend around. Some were doing fashion… And soon enough I was directing a video art series about women that went on for five years. It was a place for me to experiment with things such as how to film someone in a way that feels intimate and real – and how to match visuals with sounds.
To this day this is still the core of my work: women and music.
What importance do other sensory elements such as sound have in the creation of these atmospheres?
Sound is everything… I often remember places by the way they sound and my forever-ongoing movie script is about sounds too. Due to this obsession I give the utmost importance to music in my films and I feel very lucky to have worked with so many talented composers such as Plaid, John Tejada and Mr Flash – they all brought a different approach on how to manipulate emotions with sound – and none of the films I made would be the same if not for the soundtrack.
Did you have a specific inspiration for "Cream," and what spurred you on to make it?
I had this image in my head of a girl with an ice cream in Santa Monica – with the amusement park on the pier behind. It was supposed to be light and colorful, but once on location with Jane and the team, the sky was so cloudy that I had to rethink my footages with this dark red look full of gradient noise.
The film became a whole new piece, centered on the sensation of loneliness and melancholia that I felt when I moved to LA. This, and a general statement: Time is the key element to all things poetry. Without time, without the erosion of beauty, there is no poetry to life.
How would you describe the visual language of "Cream"?

Metaphorical: as in nothing is said but everything you see has a meaning.
The couple, the kids, the beach house… The back and forth, almost like a clock, of the pirate ship, the rollercoaster, the roller-skates… The wind in the palm trees, the ocean, the ice cream melting, the kite flying, the anonymous girl… Everything.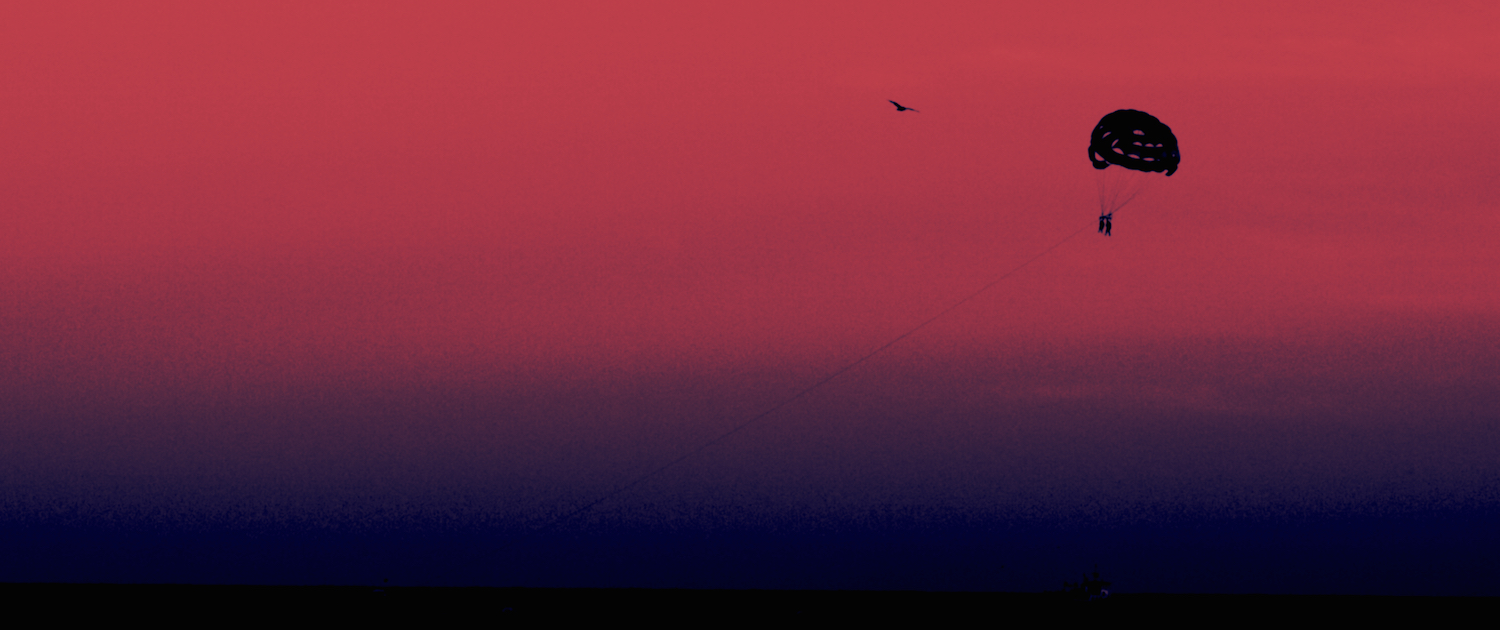 How did you and Mr Flash come together for the soundtrack?
Gilles (Mr Flash) came to my place and played some of the material he had already composed. We were trying to get an idea of what was working with the images and what was not. When he played a song he had composed for a future album, it felt right away like the perfect match. Everything was at the right pace with the right tone… But since the music was supposed to be the main theme of his album, Flash was like "no way." Then it took something like 3 or 4 months of intense persuasion to convince him… I mean like literally every time we were on the phone or met in person I would bring back that perfect match between his music and the visuals – until the point where he was fed up enough to accept.
How do you think the soundtrack adds to the film?
I believe the soundtrack is providing most of the emotional dimension – guiding the viewer into the appropriate mood. It has both the softness and the depth needed to emphasize the loneliness and melancholia.
It's not a revelation to say Mr Flash is extremely talented – not only because of this soundtrack and all his past work, but also because of things I heard that are not out yet… I'm not sure what I'm allowed to say but I can tell you – "Cream" is not our last collaboration.
Where does the title, "Cream," come from?
We debated for a long time about "Cream" or "Scream." Flash was in favour of Scream – as in the internal scream of loneliness and I was in favour of Cream – for the ice cream; which has a futile dimension to it. Something about simple pleasures and their ephemeral aspect… Time here again: the ice cream melts.
What would you say to someone about to watch it for the first time?
It's about loneliness, the passage of time and ice cream.
I hope you like it.