As part of this year's "bold" themed Bread & Butter by Zalando, The Festival of Style and Culture INDIE is hosting the official after show party on September 1st – in preparation for this exceptional night we're visiting three of our bold live acts at home in Amsterdam, London and Madrid to get an insight into their creative life and to capture the birth of a soundtrack. Watch the third episode about Madrid's upcoming reggaeton superstar Ms Nina below!
Seeing her performing on stage, following her Instagram presence, or watching her often lascivious music videos, it's easy to form an opinion of who Ms Nina is. It's an image that is empowering, sex-positive, bold, and strong – zero fucks given. And she definitely fulfils all these ideas. However, this attitude is just a part of her personality – her alter ego. When the 14-year-old Jorgeline moved to Spain from Argentina with her family, she was the "weirdo" at school: insecure, and struggling with her self-confidence. Only as she grew older did she slowly develop a sense of her real self and, learning to express her creativity, she began to free herself from the negative vibes of her surroundings. Jorgeline discovered the Ms Nina inside her.
Although she is an artistic multi-talent – she briefly studied photography, became tumblr-famous with her pop-culture heavy GIFs and collages, and sometimes even tries her hand at tattooing, her current passion project is music. Between Argentina and Spain Ms Nina was raised with the sounds of salsa and cumbia, influences that led the now 26-year-old to the male dominated, often sexist and homophobic reggaeton. She breaks the boundaries of this genre with her maxims of inclusivity and feminism. The times in which Jorgeline was intimidated by others are finally over; the time of Ms Nina's revolutionary, bold, and bad-ass take-over is here.
As an artist you expose yourself to the world, you make yourself vulnerable. In this context,what was the biggest risk you've ever taken? 
When my family went back to Argentina I didn't go with them and was living by myself. I was afraid to be separated from them, but I did it, and it was the best decision. However, this wasn't the biggest risk in my life so far: It was always very difficult for me to show who I was and to show my personality because I was always the weird kid at school. If you dedicate yourself to this you indeed expose yourself to positive and negative attitudes. If I didn't take this risk then I wouldn't be a singer, but just have any job and regret it later in my life.
So you weren't always the confident, and bold Nina we see on stage today?
I'm actually a very shy and insecure person but bit by bit I'm becoming more confident. I think this comes with age – at least for me it did. But for example Nina "the artist" is a girl that does what she wants and is sure of herself – she is basically my alter ego. Jorgeline is not like that; it seems stupid, but that's the way it is. It took me a lot to become confident and bold because I was very very insecure and still am sometimes. But when I see that I can do these things and travel with my music I start believing in myself more. When I heard people singing my songs and supporting me it made me feel more confident with time.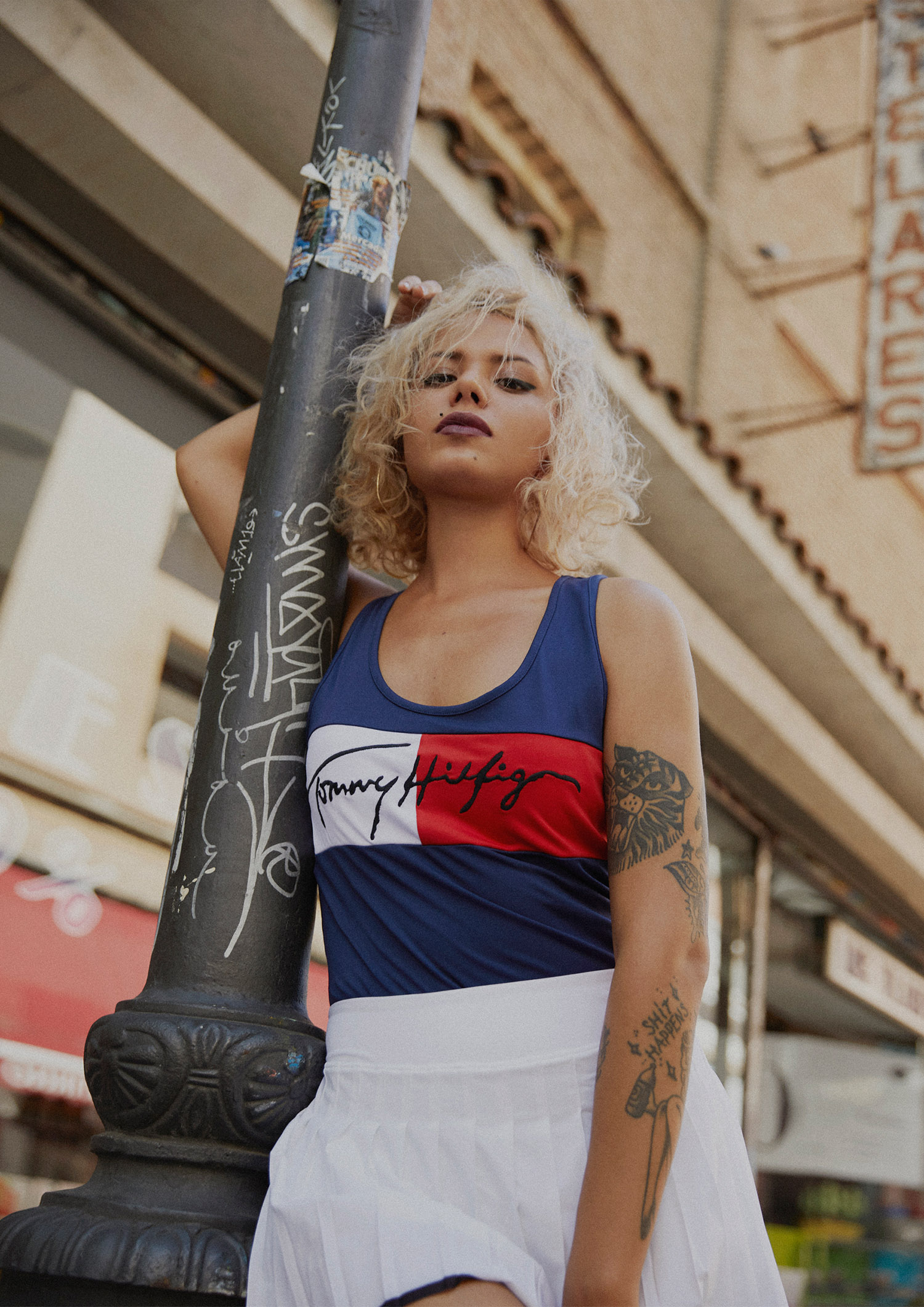 Body HILFIGER DENIM via ZALANDO, Skirt NIKE via ZALANDO, Jewelry NINA'S OWN
Your music makes people feel good – even if they don't speak Spanish. What are the topics that you enjoy singing about the most?
Normally I want the topics I focus on to make people forget about their problems and just enjoy themselves, when they're dancing in the shower, kitchen, or wherever. My songs are mostly about going out and partying, dancing and love. They're all about having fun and having a good time. Music has a greater reach than any art – everyone listens to music. I used to do exhibitions and the crowd I reached through that was more limited.
Being a female artist in the reggeaton genre can be tough – often it is still very male-dominated and macho. You break with these stereotypes.
The first girl I met that does reggaeton is a friend from Chile, Tomasa Del Real, and she was very open in her lyrics about homosexuality and sexuality in general, because as you said, reggaeton is usually very macho. When a woman uses the same topics she is immediately considered a slut or a whore. What I'm trying to do is create equality for both – women should feel comfortable being sexy and moving in a sexy way when they're out and partying.
The last work I did together with my friend Jedet was also about equality and how people should be themselves, because even though it seems that things are changing, reggaeton is still quite closed and homophobic. I'm really trying to push the idea in my songs that people should be themselves. Especially women – I want them to feel free, to speak their minds. People should be themselves whether they are gay or straight, fat or skinny or whatever – you have the right to enjoy your life without people calling you a whore. If you are a girl and you are confident with yourself in the way you dress and move people call you a bitch. But for a guy these standards don't apply…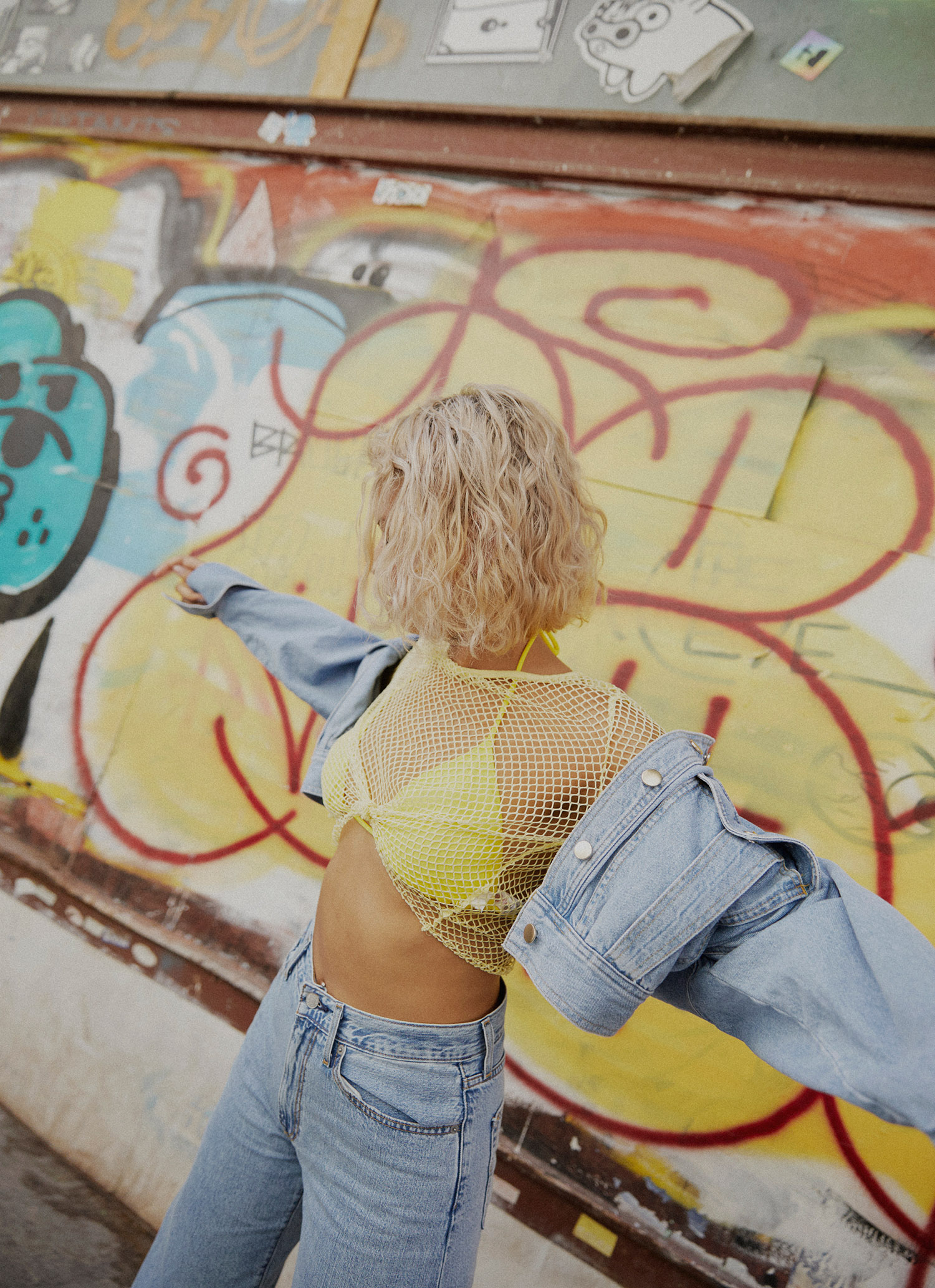 Jeans LEVI'S via ZALANDO, Mesh top NINA'S OWN, Bikini top NINA'S OWN, Jacket TOPSHOP BOUTIQUE via ZALANDO
Would you say that the Spanish music scene is pioneering in this sense?
In Spain I have a lot of girl friends who make trap, dancehall and we're all a similar age – it's very cool. It's good to see more women making music and there's a growing scene for women in Spain that are taking this chance; they're doing really great, which inspires more women to be active and make music. They're  confident enough to do what they want, and be in charge of themselves and their bodies. We come from the internet which gave us a platform to grow on and become known, and show put the content out there in the way you want it. It's definitely changing the Spanish music scene. I guess I'm a weird combination of internet and reggaeton, a rare species of a girl.
You also have a lot of tattoos, which one is your boldest tattoo?
I used to work in a tattoo shop in Granada and I often get tattoos from friends. I also sometimes tattoo my friends. The last one I got is of my dog that passed away. I love tattoos because they tell your life story…
Your next trip to Berlin is coming up on September 1st. What are you expecting for your Bread & Butter performance?
I'm excited to go to Berlin again, I've been once before. I'm very excited to see how people will react to my music and I just hope they enjoy it. I'm very happy to be going to Bread & Butter, and looking forward to make people dance. I want to take reggaeton and Ms Nina to Berlin.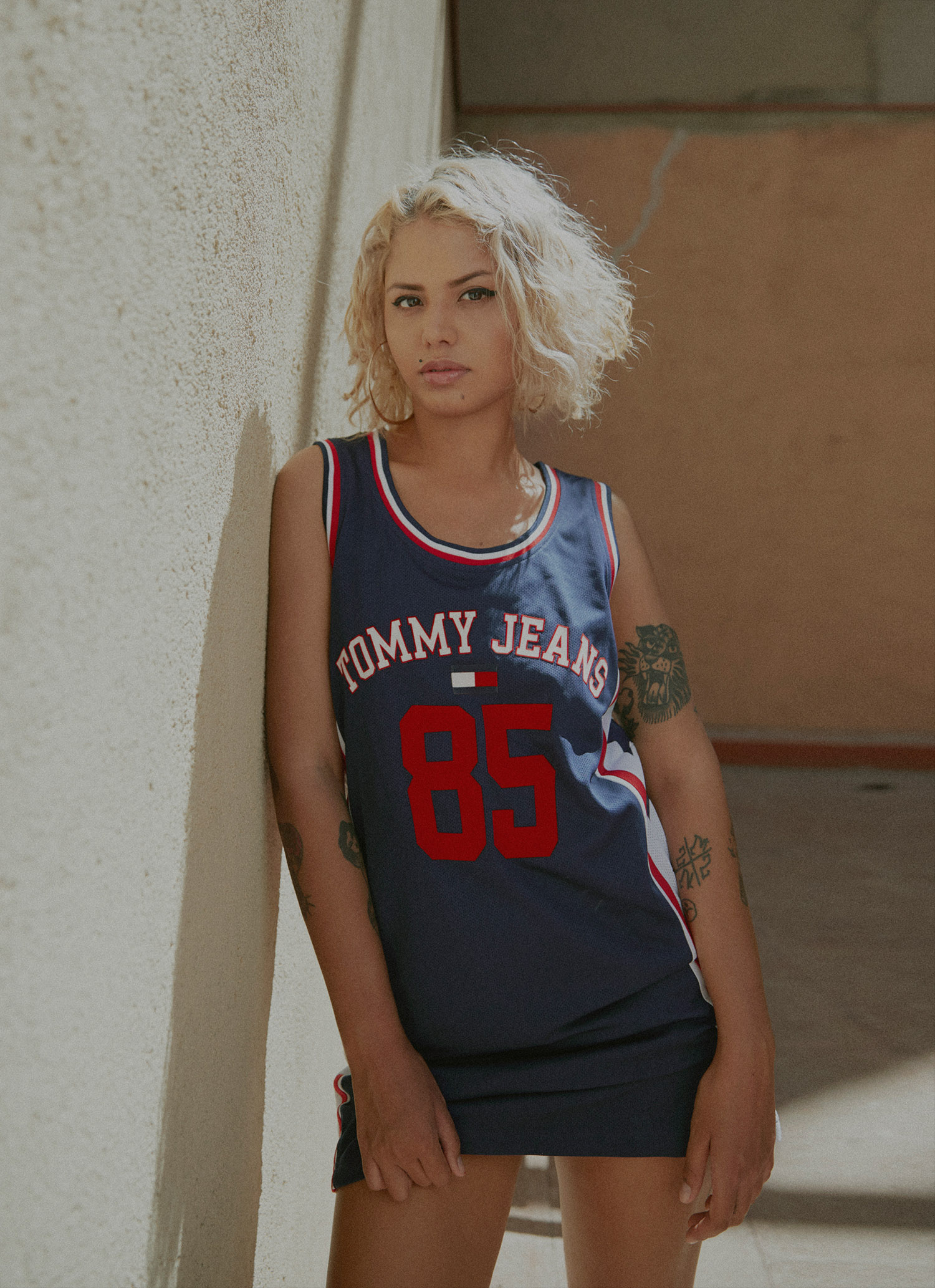 Dress HILFIGER DENIM via ZALANDO, Jewelry NINA'S OWN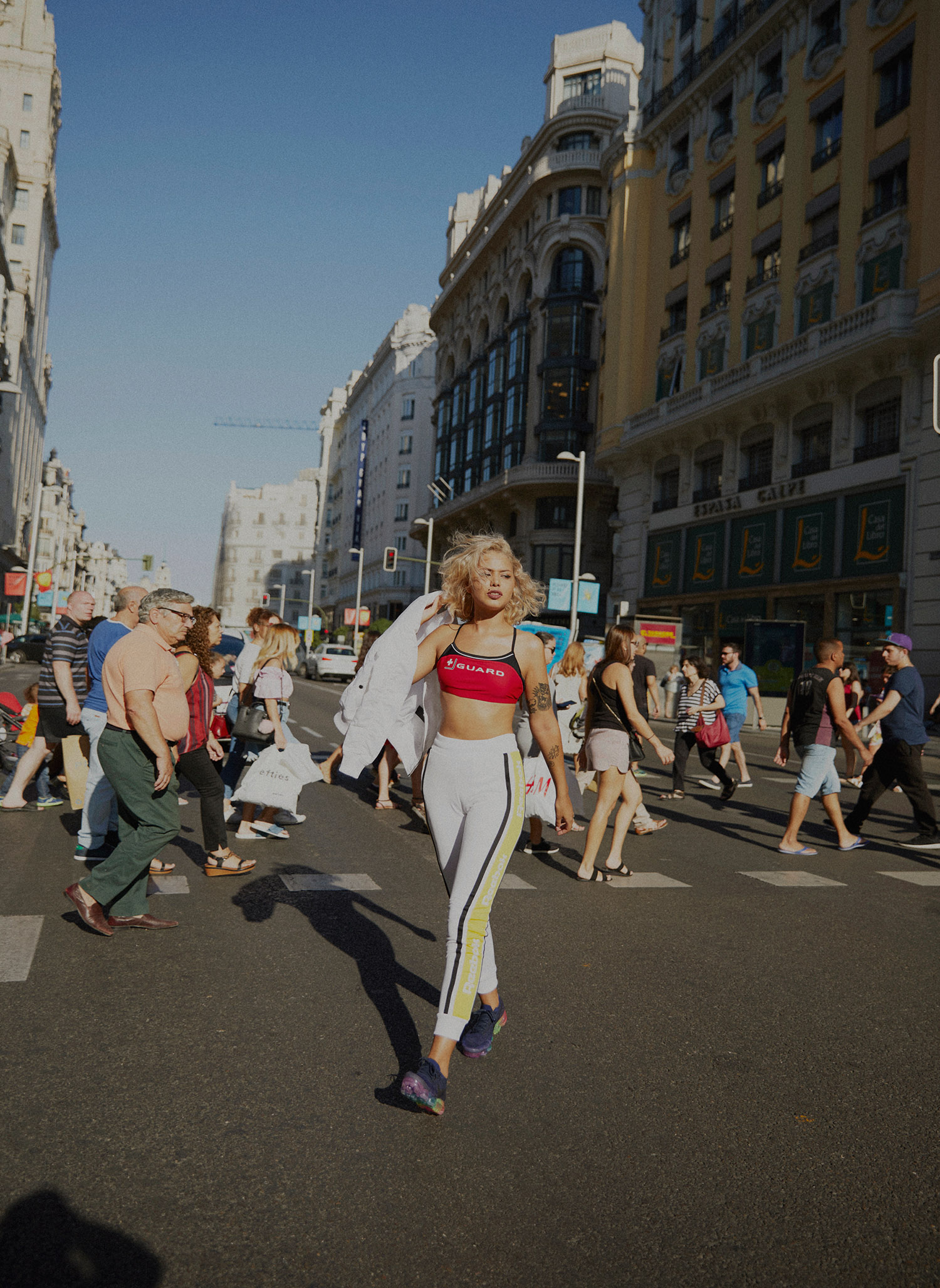 Jacket ALPHA INDUSTRIES via ZALANDO, Bikini NIKE via ZALANDO, Trousers REEBOK via ZALANDO, Shoes NINA'S OWN
Bread & Butter by Zalando runs September 1st to 3rd at Arena Berlin. Don't miss your chance to see acts like Nadia Rose, Simon Kaiser, and Mobilegirl performing live, The Kooples showing their latest creations, Highsnobiety's David Fischer talking about his career, and Ms Nina partying on INDIE's stage. For further information about all the bold brands and unique people involved, and to buy tickets, visit breadandbutter.com or breadandbutter.com/tickets.
Creative Direction MARIEKE FISCHER, Production CHRISTOPHER MCINTOSH, Videography & Editing ELEK VISSER, Photography CARLOS MONTILLA, Photography assistance DANI GALLAR, Styling ROCIO ALVAREZ, Hair and Makeup CARLA PAUCAR, Translation MARIE BERGER