As part of this year's 'bold' themed Bread & Butter by Zalando, The Festival of Style and Culture INDIE is hosting the official after show party on September 1st. In preparation for this exceptional night we're visiting three of our bold live acts at home in Amsterdam, London, and Madrid to get an insight into their creative lives and to capture the birth of a soundtrack. Watch the second episode about London spoken word artist Kojey Radical below!
Describing Kojey Radical as a rapper fails to give a true sense of his work, his thoughts – his passion. He lives and breathes creativity. Creativity that comes to life in his visual projects, in his music, and most evidently in his words. He is a storyteller who invites his audience to dive deep into his past and present spent in East London, the place he calls home: a neighborhood filled with his friends and family, his struggles, hopes and dreams. A neighborhood that formed the Kojey Radical we know today.
14 years ago, when he was in fifth grade, his poetry was first published – the beginning of what would become a love affair with words that colored his teenage years, a love that would shape his future. For him it was an opportunity to harness a creative outlet, to express himself in a direct, immediate way. While images and paintings are open to interpretation, words are explicit; the music only serves to bring his poems in a new context. He has never stopped drawing, though, particularly faces: faces of people whose names he will forget, and faces of women he likes.
Kojey Radical is a poet, a contemporary artist, a creative director, and a founder. A bold person in every aspect of life; a face that will not be forgotten.
What brought you to the point in your life where you are now?
Choices, I think choices turned me into the person I am now. In every instance, you have the option of changing your whole life just with a decision. The moments that I decided to just do what I wanted, at every point, are when I figured out what I was going to do for the rest of my life. I'm just gonna do me until I die…
That's a bold statement. In general, in your lyrics you're really outspoken about social and political issues. What things really touch you?
The world's messed up! And we know this; we're not silly, we're not naive to the fact that there are injustices in the world. I wouldn't even necessarily call it a game of luck, but you either are on the side where you can sustain and live life tolerably, or you're on the side where you feel that suffering, and you understand what the world really is… And I can't say that I'm on the latter. I don't necessarily know the extent of how people go through their pain every single day… But at least having that inkling, or understanding to say open that door, open that window, and listen to people, is probably what gave me that desire to speak on any kind of social or political issue. I feel like we're all a bit political, as people. It's hard not to be. We live in a world that is governed by politics, but it's just a case of how much you choose to ignore it. I could tell a love story and somehow include politics in it, because people have conversations. I feel like my music is based more on conversations, rather than directly addressing social and political issues, because people speak about these things. I just relay it.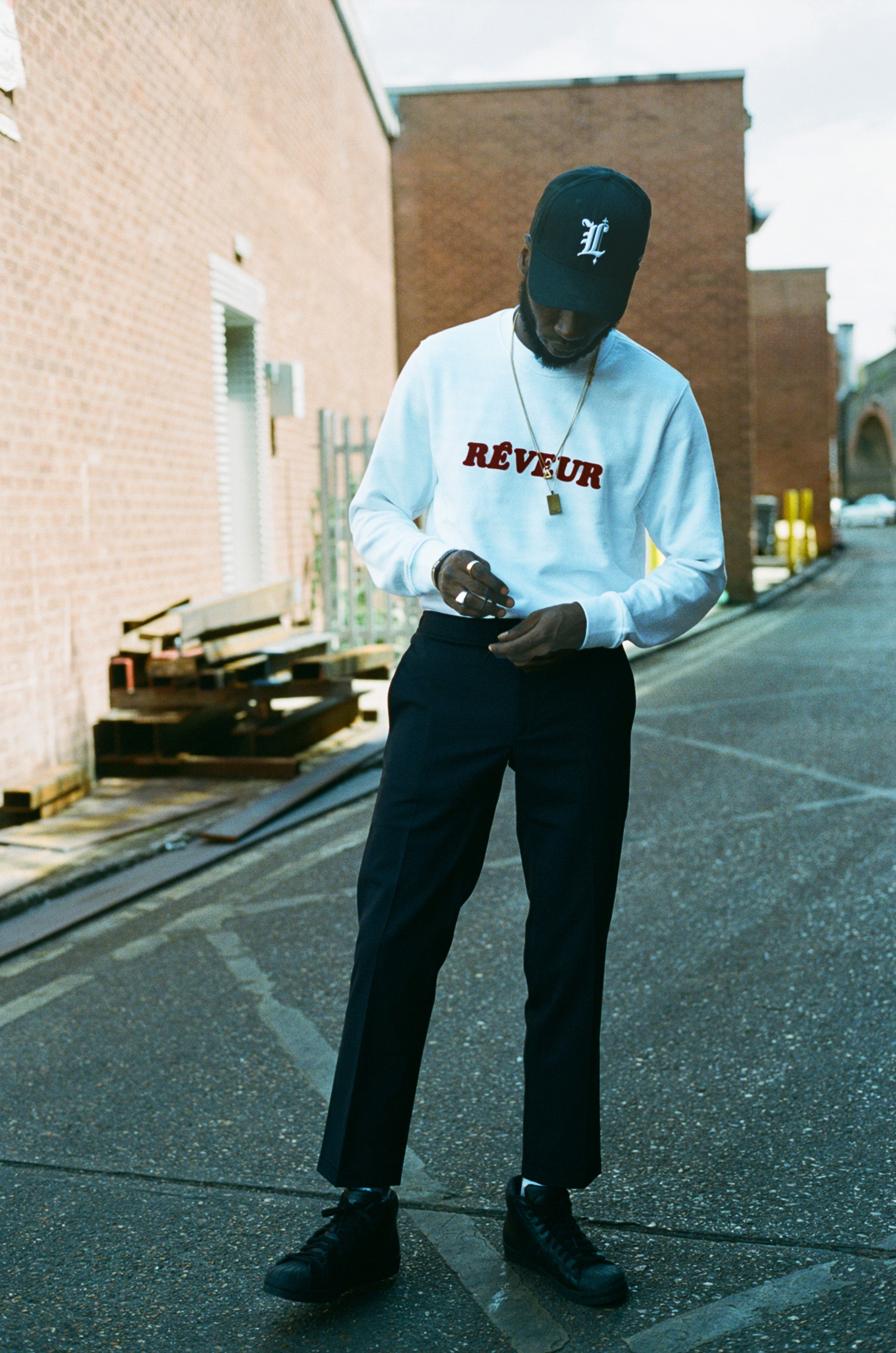 Cap KOJEY'S OWN, Jewelry KOJEY'S OWN, Sweatshirt SANDRO via ZALANDO, Trousers SANDRO via ZALANDO, Shoes KOJEY'S OWN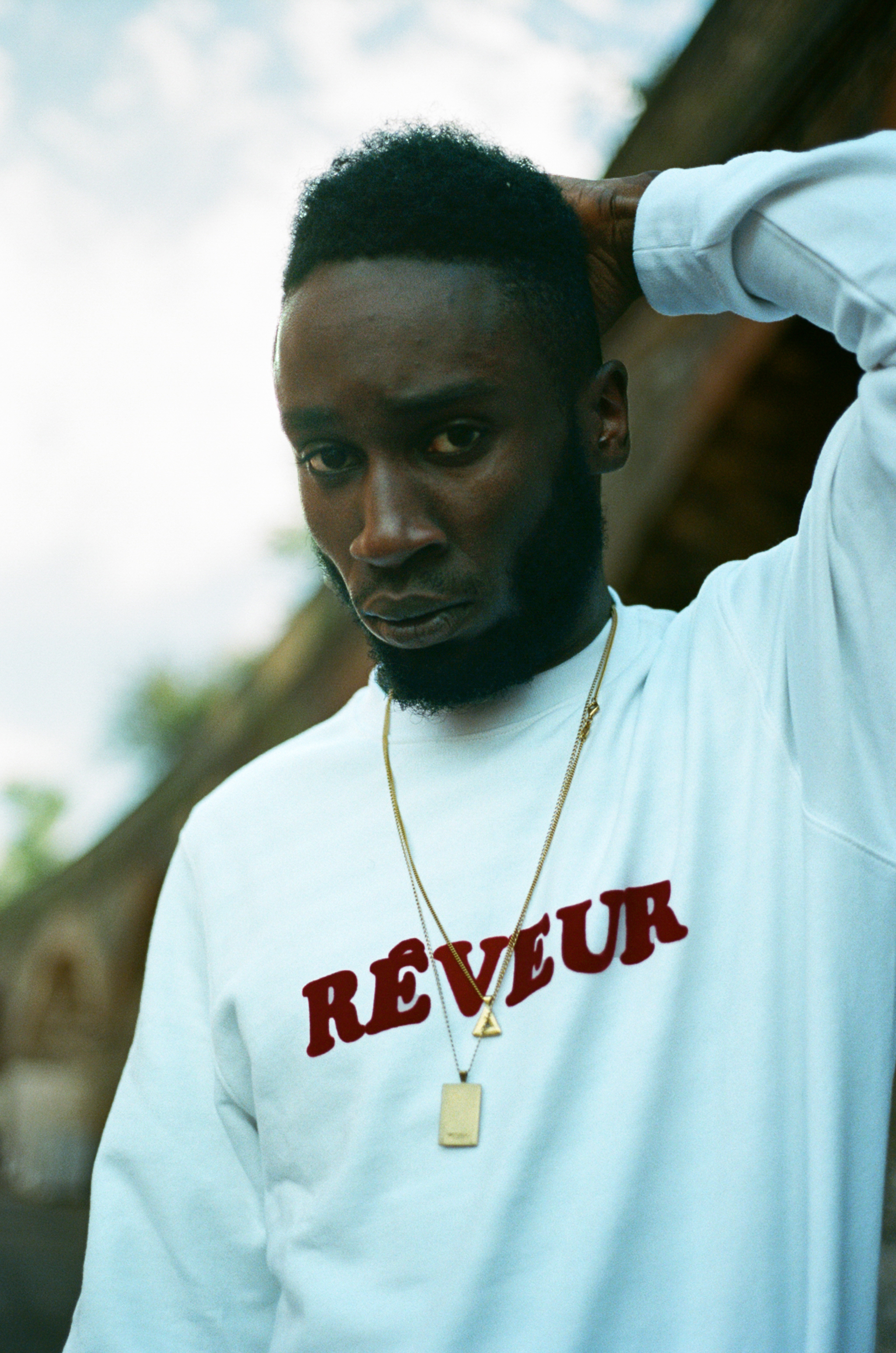 Sweatshirt SANDRO via ZALANDO, Jewelry KOJEY'S OWN
Where does this boldness come from?
Where I come from, how I grew up, it's simple as say it with your chest. Like if you've got something to say, say it, say it like you mean to say it; if you don't, then be quiet. If you don't say nothing, then you don't have a voice. That's up to you… It goes back to that choices thing, you could choose to have a voice or you could choose not to.
All of what you're saying and doing really suits your artist name. How did you come up with that?
The answer's so anticlimactic. My name was a happy accident. Kojey's just a nickname, based off my real name. Radical… I remember I drew a comic book cover, and I was the superhero on the front of the cover, it was called "The Escapades of Kojey Radical," and I remember I was like picking a stage name, and seeing the cover and being like, yeah I wanna be a superhero, so I picked that name. I knew what the word radical meant, but I didn't understand what it means to be radical… So I ignored it, as a fact that it was even in my name or something to encompass, and I just continued to live my life. Because these are things that I am, rather than things that I'm trying to be. I earned my namesake, but it was never anything that I was like, I'm naming myself radical and I'm gonna be a radical, I just decided to be myself. And I think with that, you can take that same sentiment and you can apply it to so many things, you can be a radical in any kind of field. I think it speaks moral intent, rather than just like "Yo, imma go lead a revolution…" There's a lot of revolutions to lead…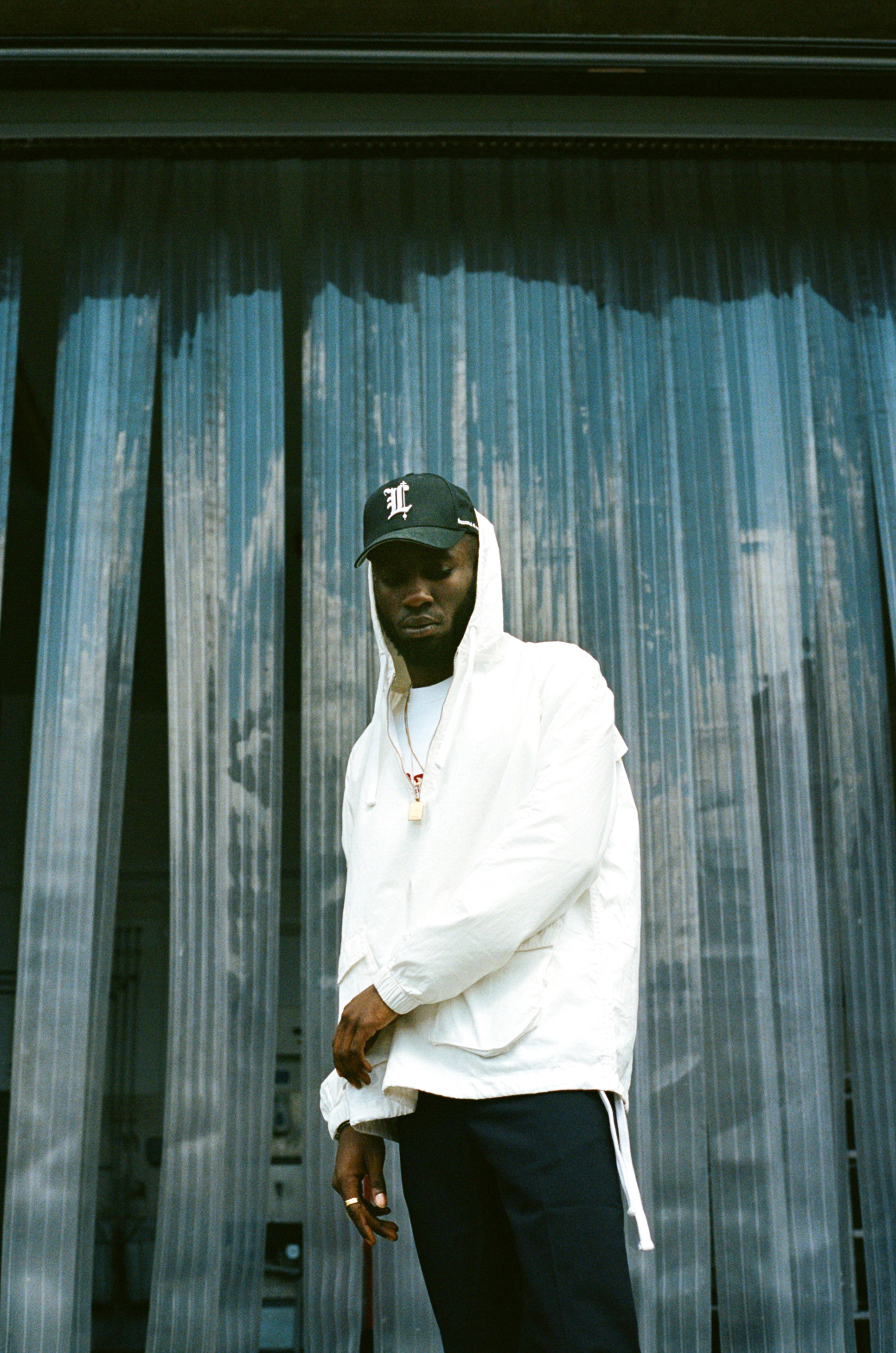 Cap KOJEY'S OWN, Jewelry KOJEY'S OWN, T-shirt SANDRO via ZALANDO, Windbreaker CELIO via ZALANDO, Trousers SANDRO via ZALANDO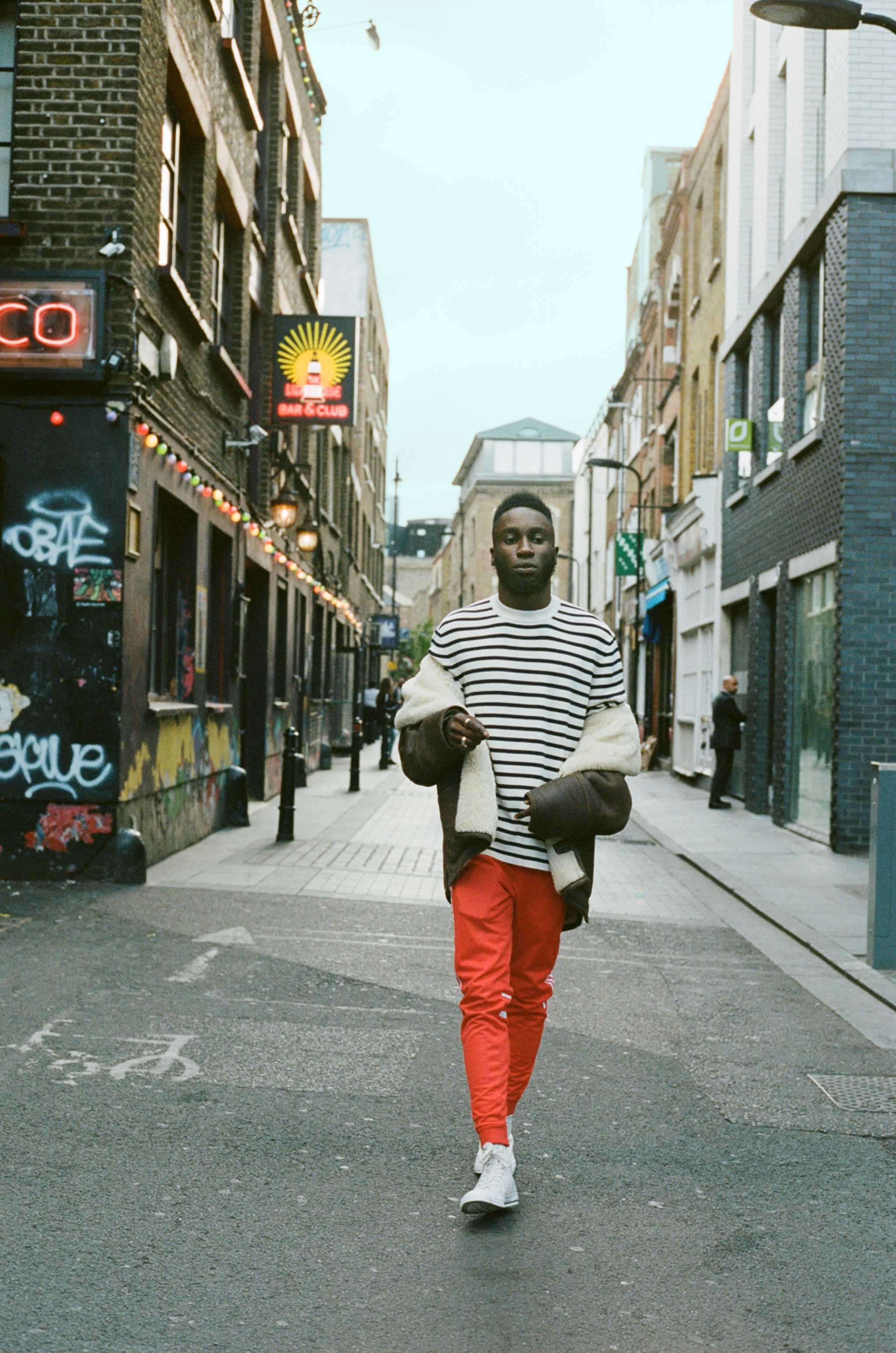 Jewelry KOJEY'S OWN, Jacket KOJEY'S OWN, T-shirt KIOMI via ZALANDO, Joggers KOJEY'S OWN, Shoes CONVERSE via ZALANDO
What revolution would you like to lead?
It's really hard to say. I don't know what revolution I'd like to lead because I feel like if I start on a problem, then cause and effect means that even if I solved it, another one would arise. There will be a day where people use their common sense just a little bit more, and use it without ego. I think there's a basic understanding of what survival is, what love is, what acceptance is, what anger is, what violence is, and what it's used for and what it's necessary for. There's an understanding of all of those things, and those things are diluted by intent, you can manipulate those things. I think, if there was any kind of revolution I'd lead, it would be the one where everyone just wakes up.
Was there one particular person that gave you all this wisdom, all this knowledge – was there one bold person that brought you to the way of your thoughts?
I think everybody that I see, every day of my life, wake up, and get on with it, teaches me to be bold. That's everybody from my Mum to the lady in the bakery who's been working there since I was 7 years old and still works there today and I can see that she's putting on a smile, she's doing it because she has to – those kind of small reminders are what teach you to be bold and to put things into perspective, in order to teach yourself how to be stronger.
Your shirt, it says rêveur, and that means dreamer in French – what do you dream about?
I rarely ever dream. I don't really go to sleep that much. When I do dream, I dream about very idealistic scenarios, that's just my current state of mind, I dream about things like my family being happy and comfortable, I dream about feeling safe, like really boring stuff. I dream about being a unicorn. That's a recurring dream. I've dreamt about being a unicorn for like 10 years, easily. The first time I thought about being a unicorn was like 14, just because everything they do is great – they even poop rainbows. Everything I do is great… Even my shit particles are made of gold dust and sunlight!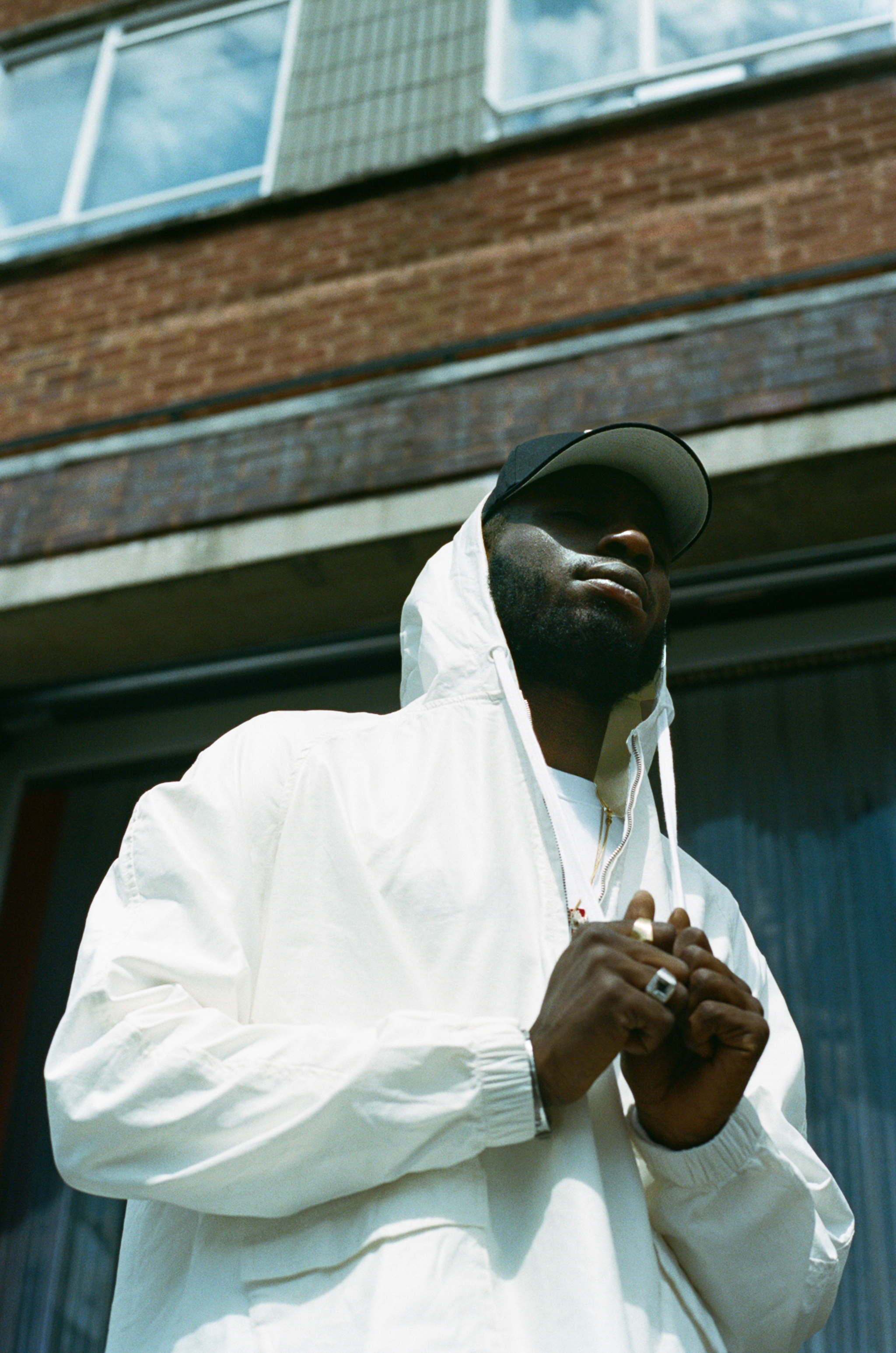 Cap KOJEY'S OWN, Jewelry KOJEY'S OWN, T-shirt SANDRO via ZALANDO, Watch NIXON via ZALANDO, Windbreaker CELIO via ZALANDO
And how did the UK scene influence you? What do you think is the most exciting part of the contemporary scene in the UK, and London in particular?
I'd say the most exciting thing about the scene of the UK is that you rarely ever know what you're going to get. It's very saturated, so anyone could step onto the stage in that aspect, but when something blows you away, it genuinely takes you away. There's no half measures, it's either wow, I can't believe I just heard or saw that like that's amazing, or wow, I can't I believe I heard something like that, it was trash. And because it's so cut-throat, diamonds shine through the dirt… It's very easy and quick to be inspired by your peers – I'd say most of my influences for the last 3 years have been people around me. People I listen to and I'm like god, you're a genius. I'm thankful for that. I don't think I could have got that experience or that kind of push if I didn't come from somewhere like London.
Being an independent artist might seem to be a big risk. Was this decision the biggest risk you've ever taken?
I think the boldest thing I've ever done in my life so far is not go back to a nine-to-five. I lost my job 2, 3 years? I don't know, I don't care. I remember finding out that my job didn't exist any more, like it wasn't even like I got fired or I quit, my job just ceased to exist, there was no value in my position. I had to very quickly make the decision to never let that happen to me again. I'm the only one that can decide if there's value in my position, if my job doesn't exist no more, that decision can't be made by anyone else. I never went back to the idea of working for anyone else ever again.
And now you're life equals recording in the studio and touring the world. How will you prepare for Bread and Butter? What do you hope for that gig?
Turning up! And turning up! It'll be exciting to be at Bread and Butter, and see how they take to it. There's definitely going to be a moment where I know that we we've all had fun together. Me and whoever it is that I'm looking at in that crowd. We're all like yeah, we had a good time didn't we? -Yeah. We had a good time. -Alright, lads. Sweet, mate. Later. Then I'm out.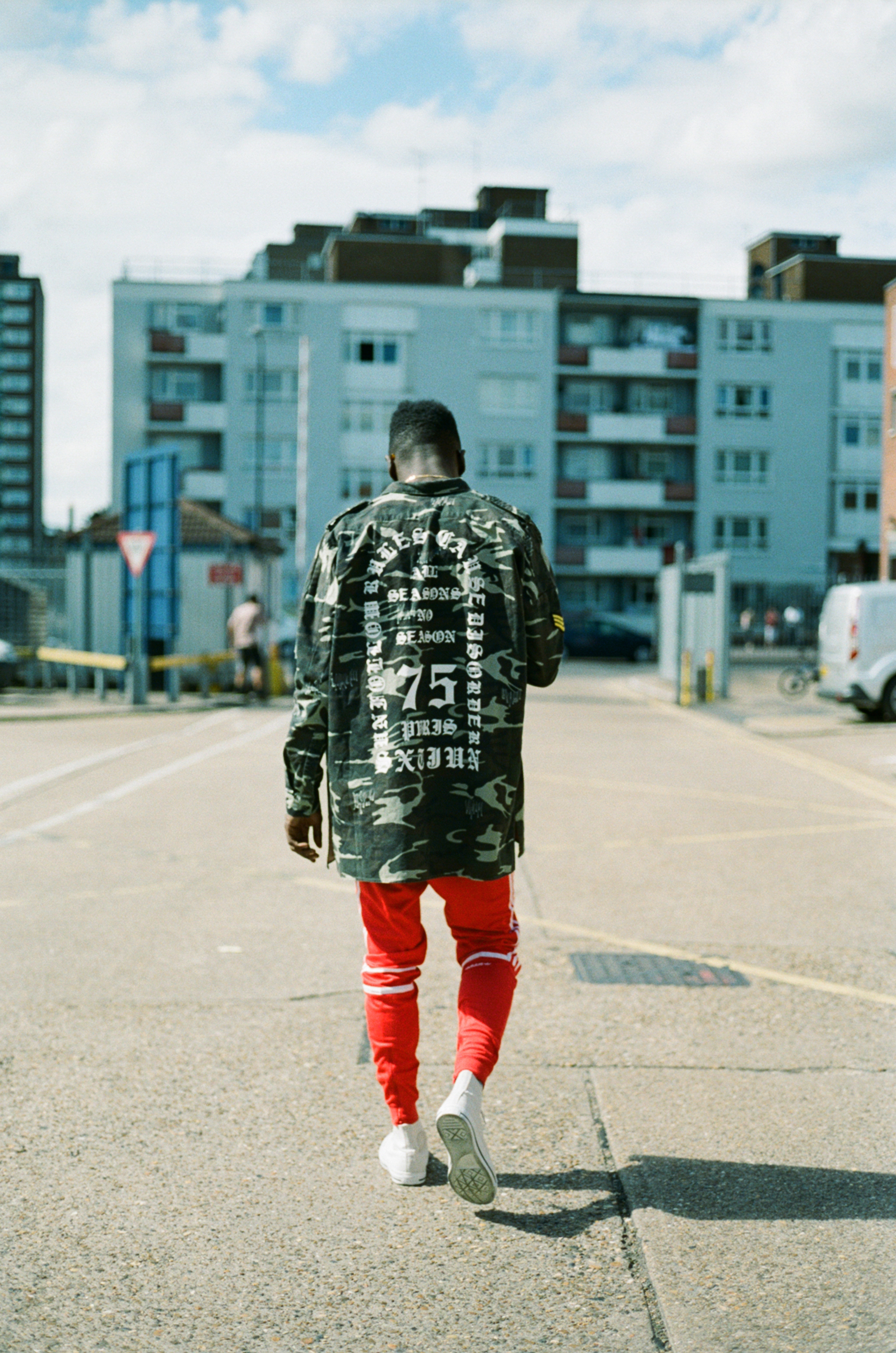 Jacket SIXTH JUNE via ZALANDO, Trousers KOJEY'S OWN, Shoes CONVERSE via ZALANDO
Featured Image: Jewelry KOJEY'S OWN, T-shirt CARHARTT WIP via ZALANDO, Pants KOJEY'S OWN
Bread & Butter by Zalando runs September 1st to 3rd at Arena Berlin. Don't miss your chance to see acts like Yung Hurn, Hannah Faith, and RIN performing live, Topman showing their latest creations, Vivienne Westwood discussing the topic "Get A Life", and Kojey Radical going wild on INDIE's stage. For further information about all the bold brands and unique people involved, and to buy tickets, visit breadandbutter.com or breadandbutter.com/tickets.
Creative Direction MARIEKE FISCHER, Production CHRISTOPHER MCINTOSH, Videography & Editing ELEK VISSER, Photography BIANCA BATSON, Styling DARCIE IMBERT