You may not have heard of Robbie Simon, but you might be familiar with some of his works, especially if you've got a passion for music and 1960s American imagery.
Robbie is the man – just to mention some of his works – behind Californian band Allah Las' album covers, videos and artworks. All those beautiful plain warm-coloured geometric shapes and collages you may have spotted holding your LPs or scrolling down your Instagram feed are a product of Robbie's artistic skills.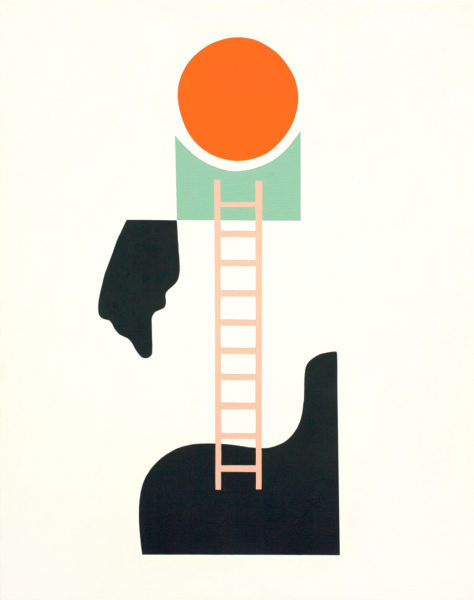 Robbie is more than a graphic designer, though. He's a painter, a photographer, a pop culture lover and a collector of vinyl oddities. I met him for a pint and a chat before his DJ set in support on Allah Las' gig in Brighton just a few steps away from the venue.
Robbie tells me he started his career as a graphic designer after finishing his studies, motivated by the urge to find a job to earn some money. What really concerned Robbie, though, was making his own things. He says: "When you've just started it feels good to see someone paying you to do your art."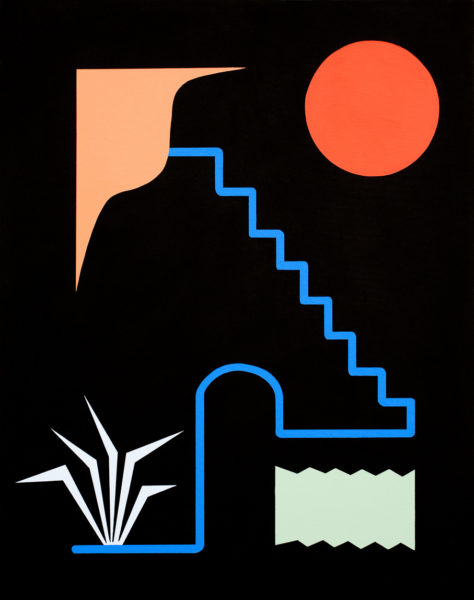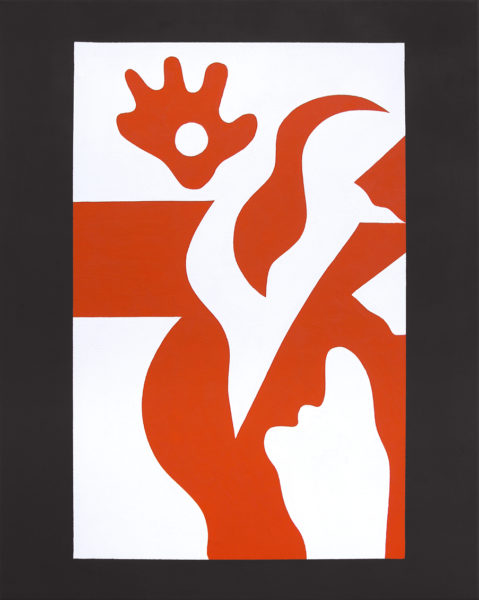 Essential was the role of a mentor, which Robbie found in Geoff McFetridge. "Geoff is the man who crystallized everything I was looking for. I work for him and he inspired me to start painting."
Paintings undoubtedly are some of Robbie's finest artistic achievements. Plain colours and minimal geometric shapes are the two elements that define his works. References to a personal passion for the art of Alexander Calder and Joan Miró. Influences which witness a lively interest for the culture of the 1960s, the decade when these kind of art reached its most mainstream level becoming familiar in everyday life – from record covers and adverts to criterions in architecture. This decade, though, does not represent a cage with neat boundaries for Robbie. "I always loved music and particularly the artworks," says Robbie with a toothpick hanging from his lips, halfway between a cowboy and a seasoned truck driver; "At some point I realised that art I was doing was actually from the '30s and '40s. But a great work is timeless." "Sometimes I find myself listening to Krautrock and doing Calder-style paintings," he adds with a smile.

The aforementioned artists also experimented in other fields, such as architecture. Despite having never explored this medium, Simon shares with them a multifaceted personality. He says: "I never tried sculpture or architecture. You need basic requirements, but an artistic concept applies universally. I spend a lot of time doing collage, lithography, film. Even though you do not do architecture, one's art also depends on how you display your house."
One of Robbie's earliest works is a book of watercolor landscape illustrations entitled Cities. When we discuss it, he reveals that it was distantly influenced by the mid-20th century Italian novelist Italo Calvino, who I'd always considered little known outside his homeland, despite having a sociological interest in the US. Chatting about the time that the writer travelled across New York on horseback in the early '60s, Robbie says, "some of the illustrations reminded me of [Calvino's novel] Invisible Cities. I didn't realise it immediately, but then it could have worked as a comparison between the book and my work. I like Invisible Cities, and its concept in some ways applied to my work." Each illustration, painted two-dementionally in Robbie's distinctive style, is split symmetrically into two different sides of a landscape. According to him they are based on the concept of mirror, so the two sides work as metaphors of a city. When asked whether he prefers the city or the desert, Robbie comments enthusiastically, "in L.A. you've got both, and both are part of my identity. You've got the sea and the city. That's good – I'd be stressed out of life in a metropolis like New York.'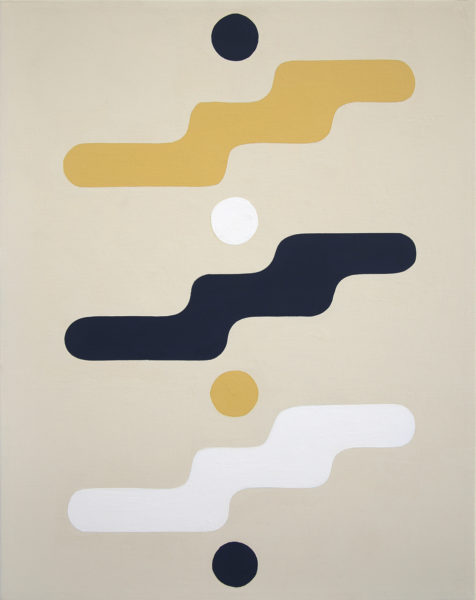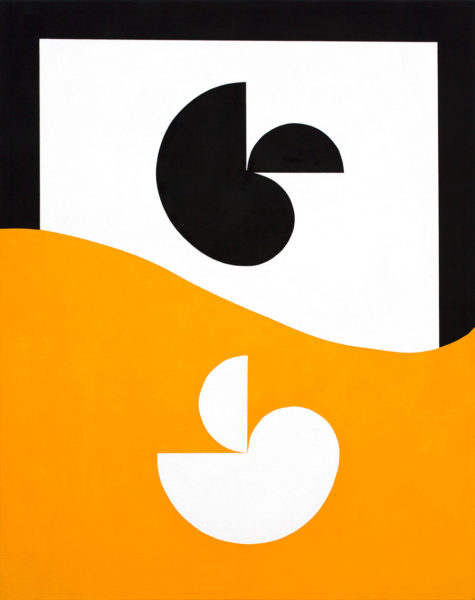 The West Coast is a home for many subcultures, but Robbie, despite his 70s vintage sheepskin coat, shoulder-length hair and skater canvas shoes, has never identified with any of them, not even as a teenager. He recalls: 'Surf and skate were mainstream where I lived, there was no point in being rebellious. What really made the difference was being able to download songs, that opened the world for me.' Despite his lack of subcultural affiliations, Robbie has a '90s American vibe, which set him in that decade's pop culture; his work, too, seems to reference Keith Haring's signature graphic paintings.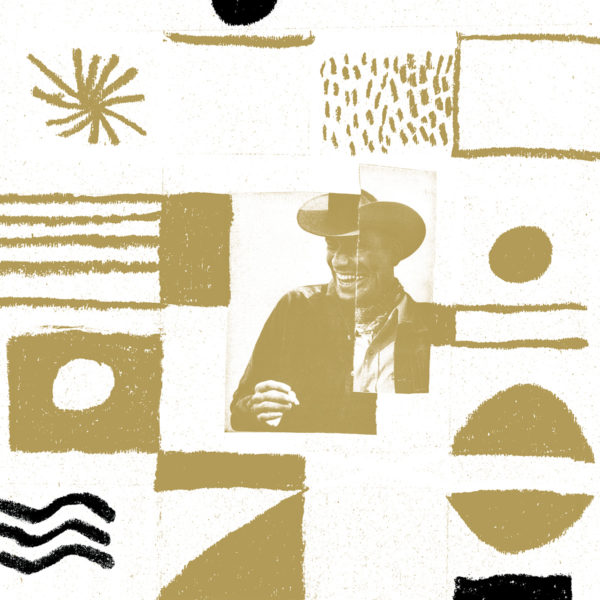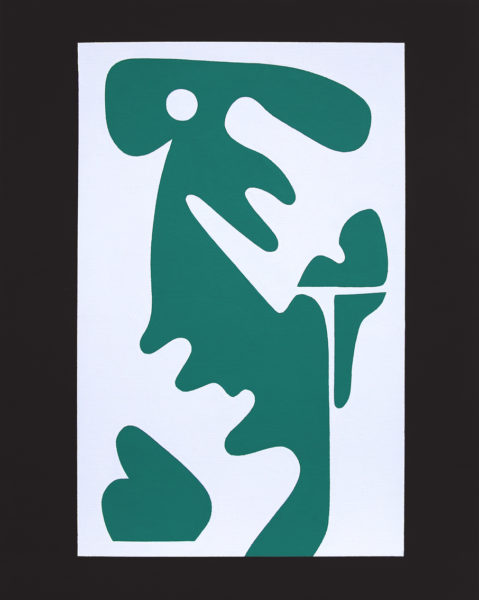 LA is also the birth place of Allah Las, the band that Robbie has been collaborating with since their beginnings. The relationship between the artist and the '60s-flavoured act goes far beyond work. "I've known them a long way before Allah Las formed. I know them all and I lived with [drummer] Matt in San Francisco before moving to Los Angeles," explains Robbie. He jokes, "at the beginning I was a resource, my work was exploited [laughs]. We helped each other out and I have to admit they give me a great platform."
The magic of the use of Robbie's videos and artworks for the band is that they are the result of like-minded people collaborating. The symbolic use of the California sun, of desert cactuses, or Miró and Calder-style patterns are all reminiscent of the 1960s American culture evoked so perfectly by Allah Las: a patchwork of Frank Lloyd Wright architecture and Cal Tjader latin jazz rhythms; of Sunset Strip teen bands in dusty Chelsea boots; of Technicolor 8mm films. As Robbie explains, "the covers are the most collaborative things we do. It's easier to work with them as they know what they want. Usually I work on their ideas. For [debut album Allah Las] I worked on one of Matt's photographs. The second [Worship the Sun] was my interpretation of Matt's idea. For the third [Calico Review] I made a collage using two pictures of cowboys taken from a beautiful black and white French photographic book entitled Mademoiselle 1+1."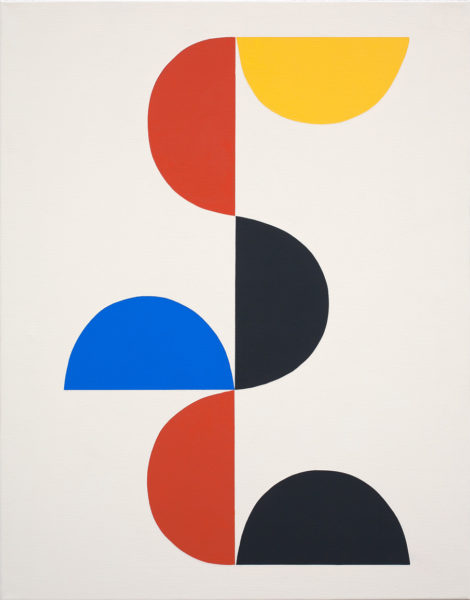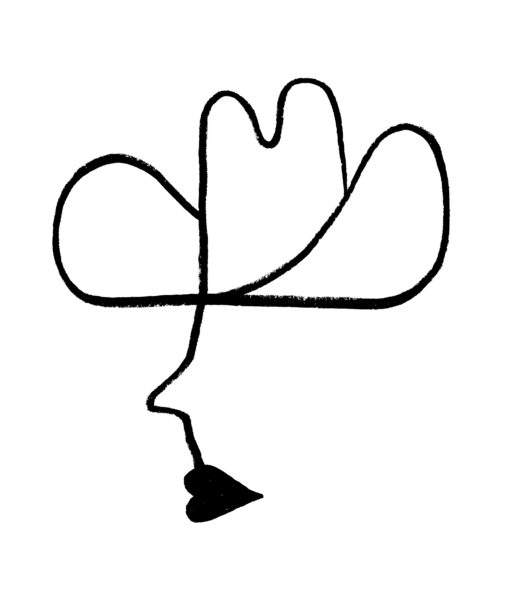 Apart from collaborating with Allah Las and other musicians as Wilco and FEELS, Robbie is also a record collector and DJ for Reverberation Radio, the monthly podcast created in college by Allah Las' Miles Michaud.  Robbie explains, "with Reverberation we are as broad as we can get. Our music is quite eclectic… A lot of '60s international pop and soft jazz." Jazz is undoubtedly one of Robbie's biggest interests: his social network handle is BroJazz. As we discuss the beauty of Miles Davis' Bitches Brew, Robbie tells me he does not dig for records as much as in the past, when as a student he worked in a record shop. "Now I just re-dig in my record collection discovering things I had forgot about. The internet ruined record shopping. Prices are exaggerated. I still buy records, but cheap $1 ones especially."
Just before leaving the pub I ask Robbie to suggest a record he's enjoying particularly at the moment: Diamond by Brian Eno and Phil Manzanera's [Roxy Music] solo albums, an utter proof of the eclecticism of this artist, and evidence of how important is for art being able to feed one's brain with diverse experiences and influences.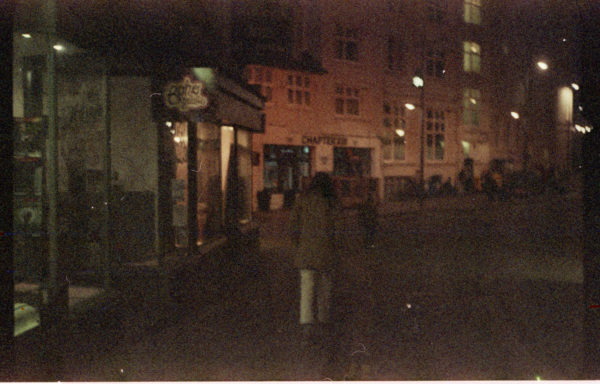 Words by music enthusiast and journalist Lorenzo Ottone. Read his pieces on The Sir's Corner.
Photo credit : Lorenzo Ottone.