As part of this year's "bold" themed Bread & Butter by Zalando, The Festival of Style and Culture INDIE is hosting the official after show party on September 1st – in preparation for this exceptional night we're visiting three of our bold live acts at home in Amsterdam, London and Madrid to get an insight into their creative life and to capture the birth of a soundtrack. Watch the first episode about Dutch rapper Ray Fuego below!
Bold – a buzz word that lies in the DNA of Ray Fuego, whether it be in his outspoken lyrics, the way he performs on stage, his style, or his social commitment. In his own words? He's an ass-kicking wolf that opens its mouth whenever there's injustice, whenever there's too much old mishmash. Ray Fuego is the "black baby Jesus" for Amsterdam's youth, preaching the message that you should always do your own thing. His personal path has led him from de Bijmer, a tough neighborhood in the Dutch capital, to stages all over Europe.
His music blends punk and hip-hop, his audiences moshing and forming walls of death; punk and skinhead cultures form a significant part of Ray's identity and appearance. Growing up surrounded by rap, he was familiar with its culture in his youth, while bands like Bad Brains also stuck with him and offered an alternative, an addition to his upbringing. When Ray Fuego speaks, with carefully chosen words, he seems far older than 21. The lessons he has learned from life are the foundation of his connection with the younger teens who hang out in the collective store in the centre of Amsterdam, shared by his music and fashion crew SMIB, designer Bonne Reijn, and the brand The New Originals (TNO). The store has become a meeting point, while Ray Fuego has taken the role of the big brother who always has an eye on his family: the big brother he always wished he had, the bold brother pushing Amsterdam's creative scene further with each project he embarks on, and with each thought he shares.
What does being bold mean to you?
Bold for me means to put yourself in a vulnerable position, just to make the best out of your art and your music. Being emotional, not being scared of being emotional! For me it means trusting in your craft 100 percent, and putting time into your craft.
With this attitude you're pushing boundaries in the notoriously macho Hiphop game.
Yeah, in Hiphop it's kinda difficult because you need to be really tough and manly and shit, but most people don't understand that being manly means dealing with your emotions too, because that's what makes the art eventually. Even if you make a song when you're really pissed – being pissed is still an emotion; if you make a love song for like the girl you really like. You need to embrace it to make the best out of your art.
When you talk you really sound wise. Was it a hard journey for you to become the person you are today?
It was hard because I couldn't say that I always had the people around me who were motivating me to be a better person, my home situation with my mom was hard too for me, but eventually I had to make a sacrifice and walk away from home for a bit – on my journey of living on the street kind of thing, I found myself. The things that really matter to me, the values of life came to me when I had a feeling that I didn't really have anything except for my art. And the friends I have around me. I started to appreciate the stuff that I have in life and the stuff that I can make and the way that I feel. I think people, people get to know each other, get to know theirselves, when they're in difficult situations.
You also have a lot of tattoos that tell the story of your life. Which one would you say is the boldest you got?
The one crossing my belly and my chest. It has a skull, because I don't wanna live with being scared of shit because the only thing that's promised to us is that we're gonna die eventually, and it means that it doesn't matter when it is, if it's like thirty years or forty years, sixty years, if there's a fire, the fire is gonna go out, even the sun – the sun is not gonna burn forever so, I think that's one of the strongest tattoos because it looks pretty but it has a deeper meaning to it than just a skull. It just means that the only thing that's promised to us is that we'll die eventually so just make the best out of your life.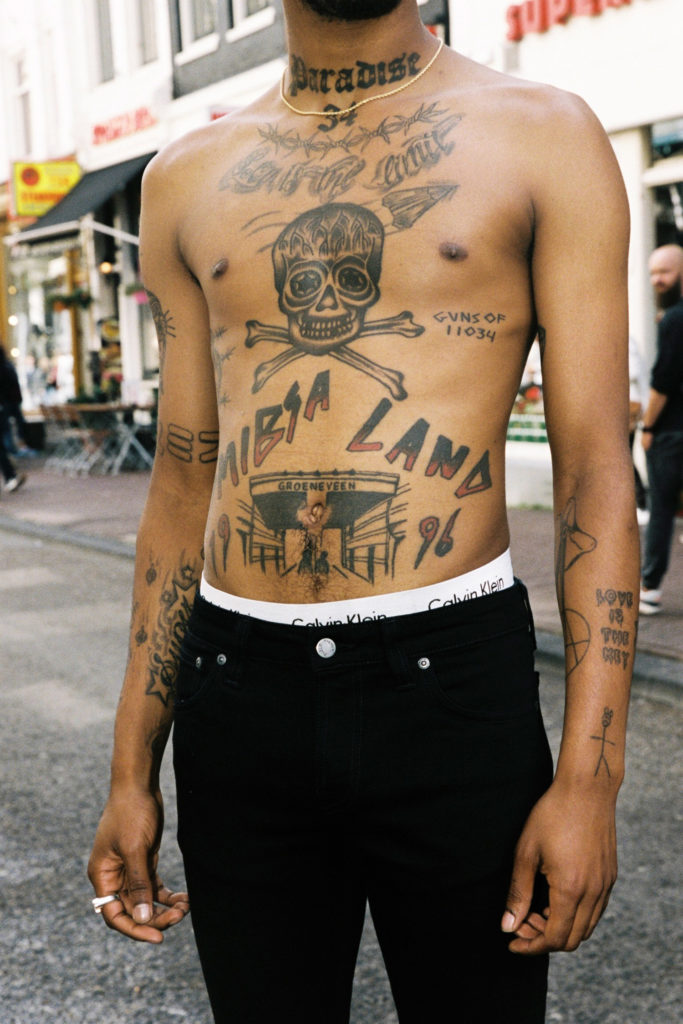 Undies RAY'S OWN, Jeans NUDIE via ZALANDO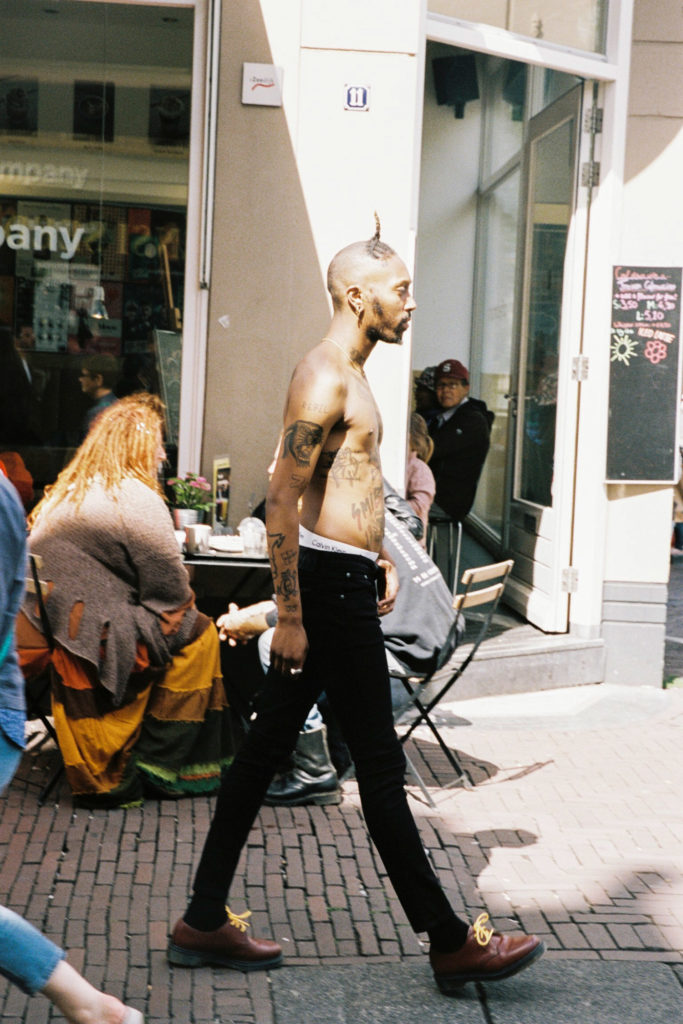 Shoes DR. MARTENS via ZALANDO, Jeans NUDIE via ZALANDO
Making the best out of your life – how do you want to fulfill this?
The thing that we talk about a lot is being black entrepreneurs in a white world, and all the stuff that could make us lose speed while we're driving on a highway. All those problems; we talk about it within our close circles a lot to make stuff easier for us in the future, you better think about it now than think about it when it happens, and try to get rid of the problem. If you can just dodge the problems, you're winning time and you're winning money. We're talking about our own business and our own money. We talk about stuff that happens in the world too, the wars and shit, that now is the moment that we need to gather around and start to realize the value of sticking together and loving each other and helping each other where it's needed, because it's just a crazy time now…
You're a bold person. Is there another bold person that has really influenced you, your work?
I think my parents. Even though they're not together any more, theirselves, individually, they are really bold. My dad never gave up, made something of his life, my mom has four children, always did it on herself, so I think my dad and my mom. I have loads of respect to them.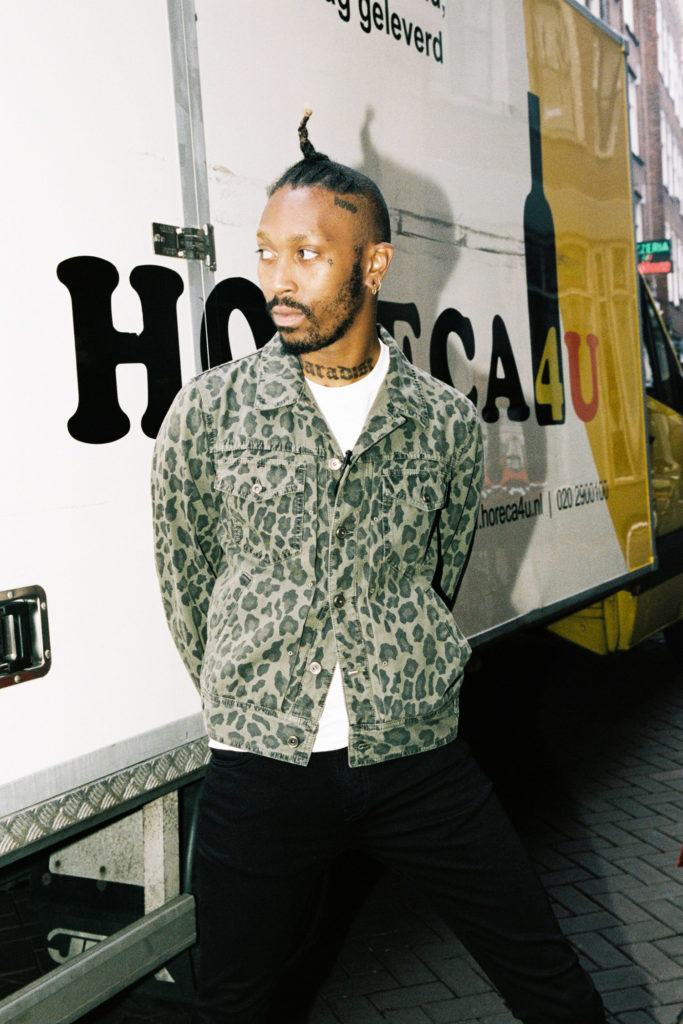 Jacket JUST CAVALLI via ZALANDO, Shirt RAY'S OWN, Jeans NUDIE via ZALANDO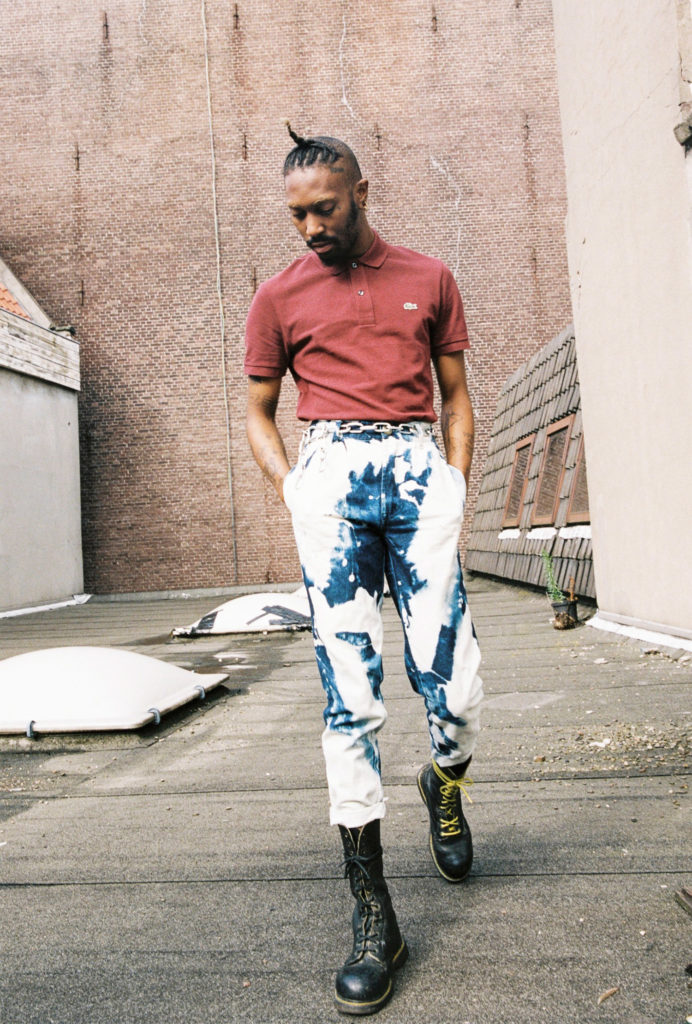 Shirt LACOSTE via ZALANDO, Belt, Jeans and Shoes RAY'S OWN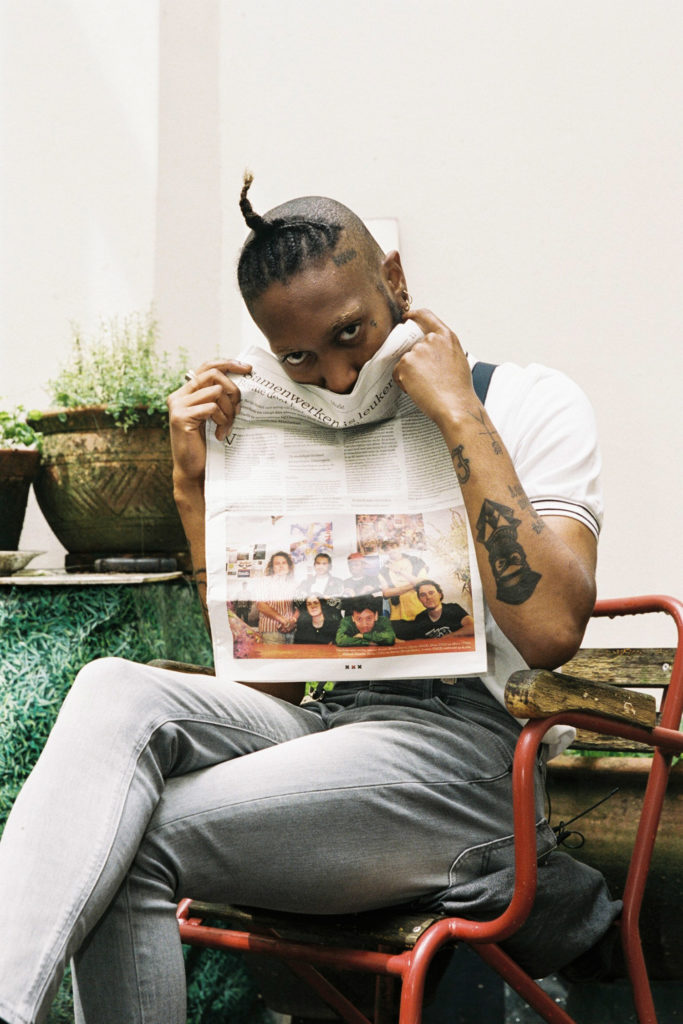 Shirt and Suspenders RAY'S OWN, Jeans LEE via ZALANDO
Bread & Butter by Zalando runs September 1st to 3rd at Arena Berlin. Don't miss your chance to see acts like Bilderbuch performing live, Viktor & Rolf showing their latest creations and Ray Fuego going wild on INDIE's stage. For further information about all the unique, bold brands and people involved, and to buy tickets, visit www.breadandbutter.com or www.breadandbutter.com/tickets.
Creative Direction MARIEKE FISCHER, Production CHRISTOPHER MCINTOSH, Videography & Editing ELEK VISSER, Photography MICHELLE JANSSEN