"I'm 18, I'm a bit of an existentialist and I'm from Elephant and Castle, South London" – These are the words young newcomer Joy Crookes introduces herself with to us. And, as it turns out, all of this is essential to her life and work as a musician. From an early age onward, Joy knew she wanted to pursue a career in the music industry, citing the artform's cathartic, emotionally liberating effect it has as the main reason for her diving head first into one of the toughest businesses in the world. It takes guts, and (obviously) talent to take the steps Joy has taken in order to achieve what she aspires to do. And, guess what? She has proven to have both!
A while ago, we listed Joy Crookes on a list of our favorite new music releases. It was then that we promised to keep an eye on her, and we did. So, without further ado, have a look at our Q&A-chat with the R&B-star-on-the-rise, talking all things future, goals, and dreams-come-true.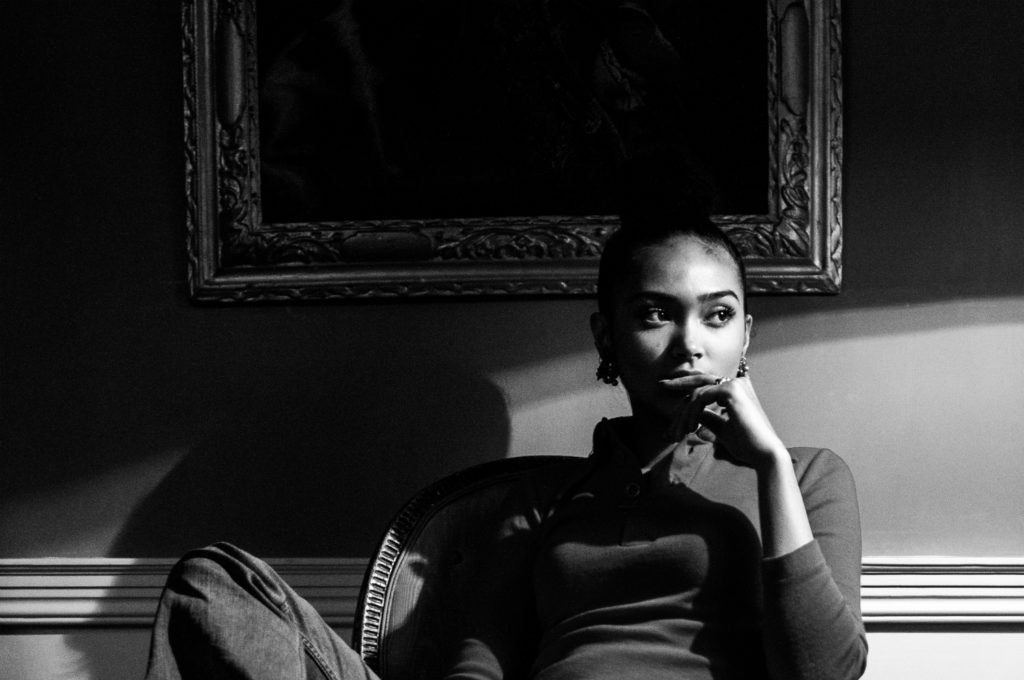 Can you remember the moment you knew you wanted to get into music?
Yes and no. When I was a kid I knew I'd be a performer. I loved the attention. I guess I knew once it became completely second nature to me. Something would happen and I'd immediately be writing about it. It's amazing that my therapy could become my career. It's scary too.
Is there a specific artist, song or album that comes to mind when thinking of that moment?
Probably Sinead O'Connor. I'm Irish and she was obviously continuously played at home. I found out she released her first album at like 16 or 17. I always found that fact amazing, especially as she's still doing her thing to this day.
You seem to be pretty busy; how do you combine working on your album, a social life, school (…) ?
I left school early to pursue music. I surround myself with other creatives and hungry and determined people to learn and grow with. I try and make music a fun experience, sometimes it does feel like I'm writing just for the sake of it so having those people around really helps me feel like I can have a purpose.
What is it you want to achieve with your music? Is there a set goal in mind?
Just to make a lasting impression and have longevity. And no part time job. I don't need a beach house in Malibu or anything, I'd just like to know my music could potentially help a selection of people across the world. Music was a therapy for me and now I want to be the therapist.
What'd be your dream come true? 
I'd love to have met Prince. I was on a restaurant shift when he died and asked my manager to go outside and have a little cry. I think that says enough. I like how he particularly supported female musicians. I felt like I maybe, could've potentially, hopefully had a chance.
What are the main themes of your music? Do you process certain situations, emotions, (…) in your music?
Yes, my best songs come from my heart and emotional situations. Without wanting to sound like a cheesestring. I think authenticity makes the best songs. That particular feeling spilling all over the song which is completely and forever individual to that situation, emotion or event.
Where do you see yourself 10 years from now?
I want to be self assured ad independent. Know what my music is. Know how to really manage my time between my career and personal life, such as family. They seem like basic goals but I think finding yourself is such a long, beautiful and painful journey and once you have you've reached the pot of gold.
Images: Courtesy of WMA Agency
Follow Joy on Instagram & SoundCloud