Despite Tel Aviv often being thought of as a city layered with political issues and social turmoil, that seeming surface also covers a thriving cultural scene, drawn with artists that don't let themselves be restricted by Israel's crucial situation but rather use their creative outlets to create colorful safe havens, sheltered from reality, and still a progressive way of taking on the problems affecting their immediate environment. With Tel Aviv as the cultural heart of the country and the creative scene as the pulsing heart of the city, we dove right into the veins fuelling Tel Aviv with its distinctive creative power and night life appeal, getting to know the forward thinkers shaping, drawing, and audiolizing its future.
If you had to describe the city's creative scene in one word, it'd probably be something along the lines of "melting pot", Noam Yona, a tattoo artist based in Tel Aviv explains, "The population in Israel is very diverse. The roots of each of us come from a different place in the world and Israeli culture is varied accordingly." A mix, also evident in a diverse form of cultural outlets, he adds, "I think Tel Aviv's middle name should be creativity. The creative scene is alive and kicking in every corner. Art is in the air in Tel Aviv." Specialized in geometric, dot work, and black work tattoos, Noam particularly values the inventiveness and collaborativeness of the city's creatives, he says, "We are a small country, and Tel Aviv is a small city which sometimes feels like a big family. If you are an artist you're just automatically surrounded by friends and most of them create something new every day."
With these crossovers, not only new creative ideas are shaping in people's heads, but also a never before seen one of a kind Tel Avivian art style, Yaen Levi and Tamar Levit of fashion design duo Muslin Brothers, add, "It seems like there is a new wave of inter disciplinary creatives that invent their own definition, perhaps started because all of us are half time everything, but it is evolving into something brave and unique." A progressive take the two also explore with their designs, creating unisex clothing with a layer of social criticism. Because for them, channelling the conflicts they are confronted with on a day to day basis into their creative process is something not only important but actually inevitable: "We are all passionate about what we do, and we have to do it instantly because nobody knows what will happen tomorrow."
That connection with one's own heritage, as a result of the threats in the country, is something also self-described oriental hip-hop witch Karma She sees as one of the main characteristics setting Tel Aviv's creative scene apart from ones of other countries. "There is a process of younger artists exploring their roots more and more, bringing inspiration from their families from countries in Africa or Asia, and seeking the originality of this place," she explains, with influences hailing from Europe and Western TV shows as well as the immediate Middle Eastern environment, "People have a Mediterranean spirit here and everyone comes from a different background, so it's an interesting tension."
This clashing of worlds is equally as evident in the city itself. Distinctly Middle Eastern buildings are as prominent as 4,000 Bauhaus ones, called the "white city", and all is covered with eclectic street-art and graffiti. Because although this form of self expression actually is illegal in Tel Aviv, police most of the time is too occupied with handling more crucial crimes than painting on houses. Still, the political issues that are constantly overshadowing this cultural heritage and its modern continuation are an ubiquitous burden for the city's creatives.
"I think it's important that people outside of Israel see that we are not just all about bombs and war," Karma She explains, "Most creative people here don't support the government or identify with the mainstream culture, so we are giving our heart and soul into creating art, at times in order to escape that shit even though it bleeds in and affects everyone here." The Muslin Brothers add: "To be honest, Rihanna put it quite perfectly 'we found love in a hopeless place'. Culturally we are a start-up nation, so the scene keeps on emerging and sizzling, however with questionable sustainability." A problem, also intensified by a lack of governmental support and the expensiveness of living costs, which forces a lot of artists to have multiple jobs or quit their passions altogether in order to survive, Karma She says, "Most people see artists as privileged here even though they work harder than everyone else to keep going."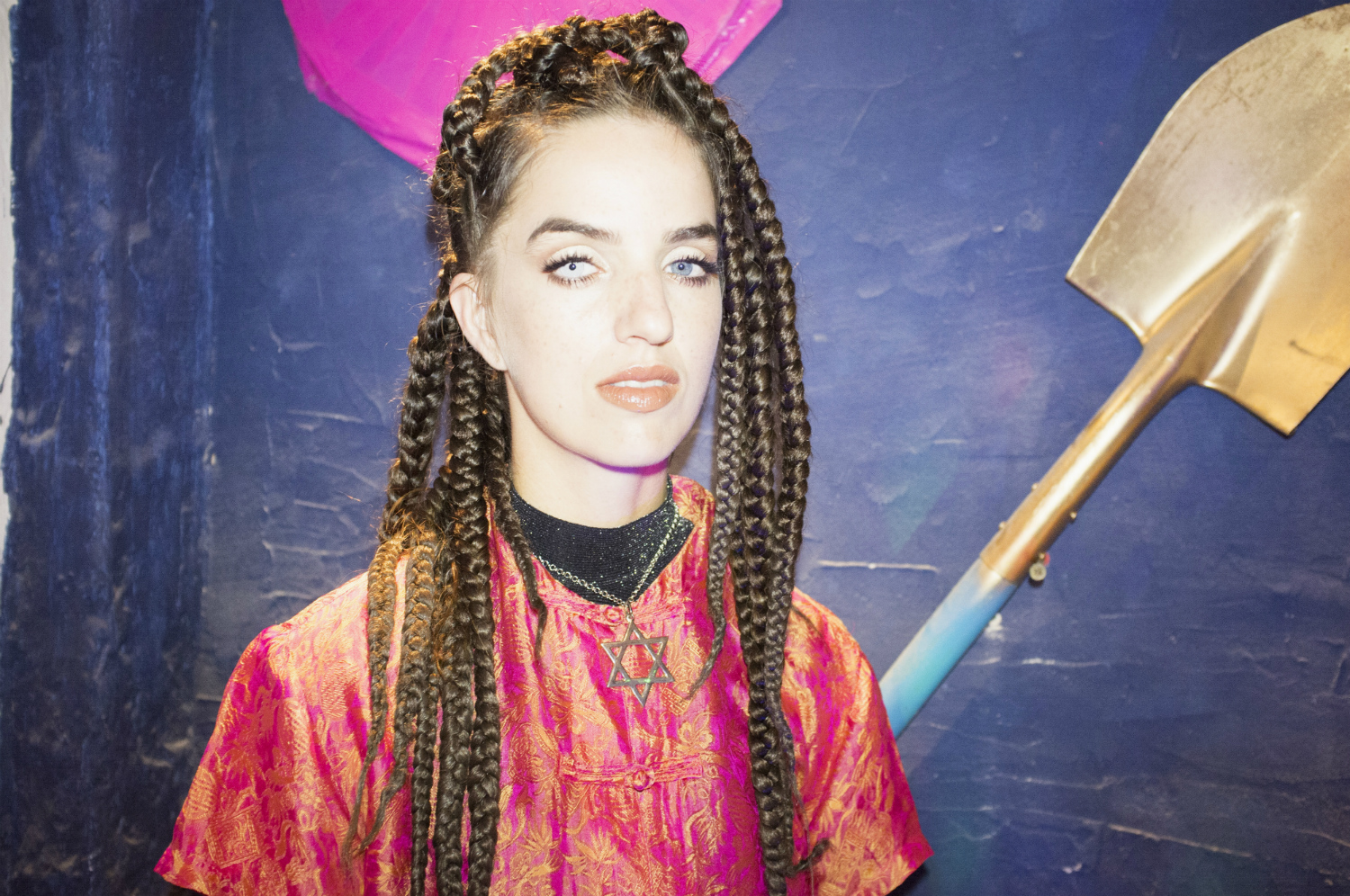 With a day to day life as burdened as the one Tel Avivian creatives experience, it's no surprise their getaway possibilities are deeply rooted in night life, and especially it's current thrive, heavily and heavenly interlocked with other creative fields. "Many of the newly opened bars have added value, a lot of them exhibit art, the walls are filled with works by young artists. That's how underground can become mainstream in a good way," Noam says. For Karma She, the music scene also is a way to tackle another problem in Tel Aviv's male dominated society, she says: The underrepresentation of female musicians, DJs, and promoters. "My work expresses equality, openness, individuality, by creating seductive visual environments that offer me a magical alternative to the harsh and aggressive Israeli reality. I'm making my own way and also contributing to a scene that needs confident women artists."
Drifting between sunlit extremes and moonlit escapes, Western and Middle Eastern influences, a profound heritage and an evenly progressive take on the future, Tel Aviv and its creative thinkers make clear they are on a journey that may not have a distinct destination, but that only gets all the more interesting because of this instance. Particularly shaped by an invincible positive outlook and a night life scene both essential and exciting, Karma She sums up: "Music builds people's identities. It'll always have an extremely important role."
Header image taken by David Havrony