The representation of African heritage is – luckily – becoming more and more ubiquitous in the fashion industry, a step that was long overdue. Fresh faces, strong voices and incredible talent enrich the Western world with a flare of diversity. Bee Diamondhead and Aart Verrips are at the forefront of Johannesburg's artistic youth, celebrating the uniqueness of their home town and its productive inhabitants. We had a chat with them to find out more about their life and the narrative behind the editorial…
What should we know about you to understand your work/art?
B: That I am a young black female dedicated to preserving the African aesthetic.
A: Well there is a ton I guess but to keep it short, I think my style or my work is a reflection of me in some sense, it's subtle yet daring and that's me in a nutshell I guess.
What struggles were/are you facing after you decided to work in the creative field?
B: I've been working for about 12 years now and I have to say I've found the industry to be quite open. So with hard work and a strong ethic there hasn't been much struggle.
A: Well to start off with I was a party chef before entering the world of being creative, well I guess both are considered being creative but they are worlds apart. I'm a self taught photographer so for me it was finding what I love shooting and figuring out my style. In saying that, I have figured out what I want to shoot and my style but yet I think one always needs to evolve and keep improving yourself as a photographer and as a creative finding new ways to shoot things.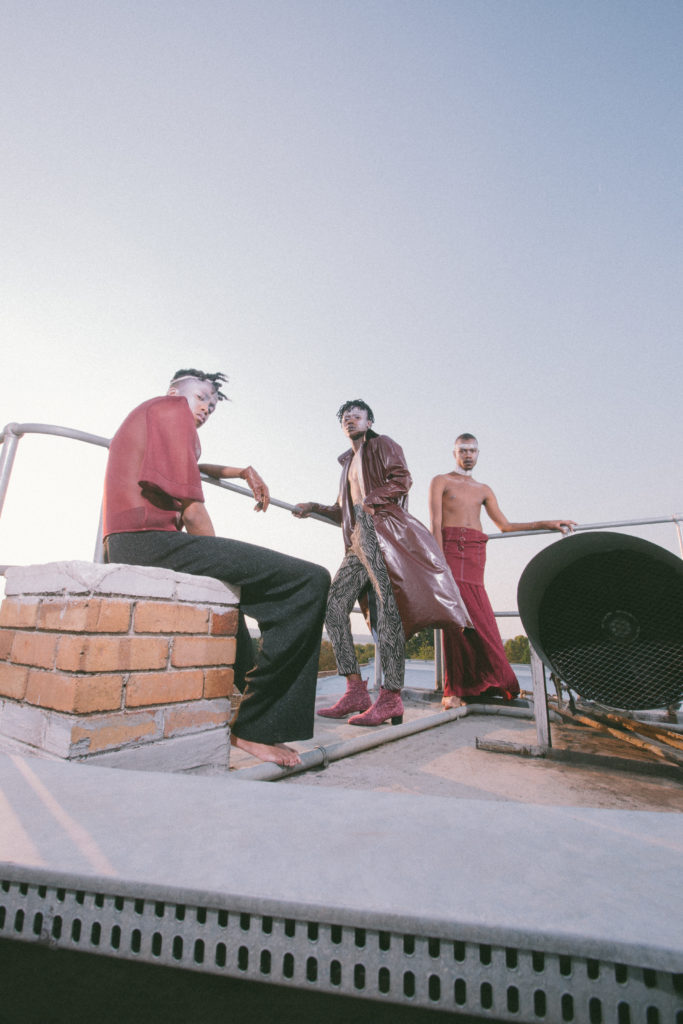 (from left to right) Top THEBE MAGUGU, Pants H&M, Jacket NAO SERATI, Pants H&M, Shoes ZARA, Shirt THEBE MAGUGU
Skirt H&M, Shoes STYLIST'S OWN
Tell us more about the fashion, music and art scene in Johannesburg?
B: Johannesburg I feel is South Africa's best representative in terms of culture. For a predominantly black country, apartheid did a lot to segregate or mask who we are and theres still a lot of that. But in Joburg you definitely feel the authenticity and pride.
A: Johannesburg is insanely diverse and I think that we are quite lucky living here as we have more than 11 different cultures and lunges in South Africa. I think this shows completely in the scene. We are exposed to a number of cultures and that influenced everything we do in the creative world. The young designers of south Africa are really making waves locally and internationally, with that being said the young musicians are doing the same. I think they create original new content that the rest of the world is finally recognising.
With that being said what makes Johannesburg special to you in comparison to the rest of South Africa?
B: That its a true representation of who we are. And the hustle. It's so alive.
A: For me it's the people I would say their honest and up-front and straight with you, that how I like a person. I surround myself with creative people and I think that's the way to do it when you are in this industry. With that being said, this is how the editorial came out. Bee Diamonhead and myself are neighbours and she's honestly one of the most creative, clever and talented people I've met. We are neighbours, when we both don't have paid work we create work for ourselves and shoot original stories that we tell through images.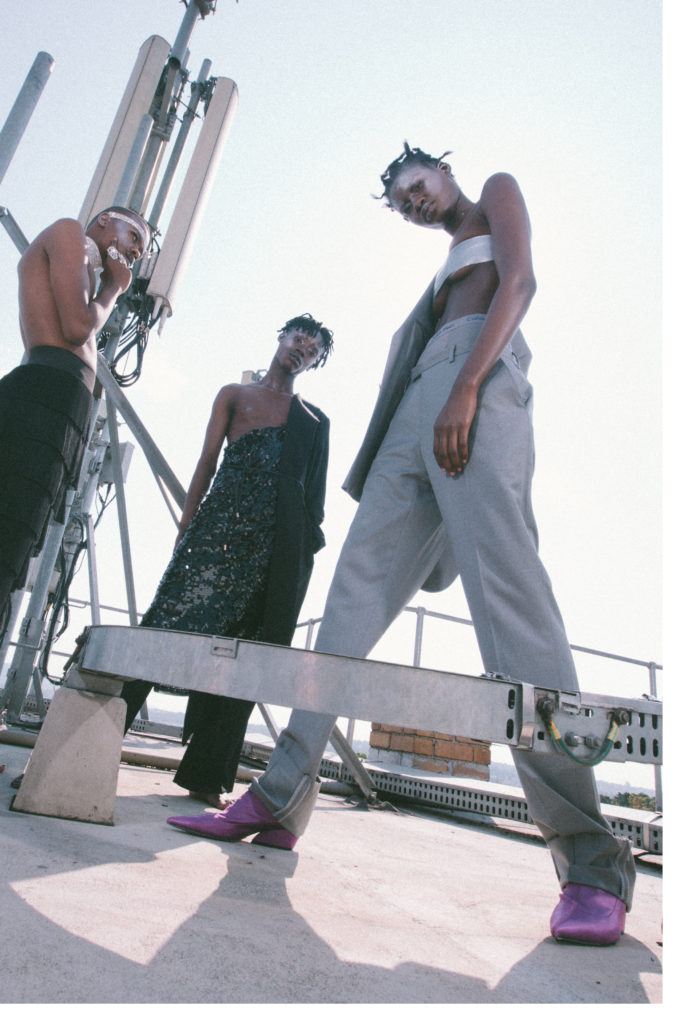 (from left to right) Skirt H&M, Dress Trousers and Jacket H&M, Suit HUGO BOSS, Underwear CALVIN KLEIN, Shoes ZARA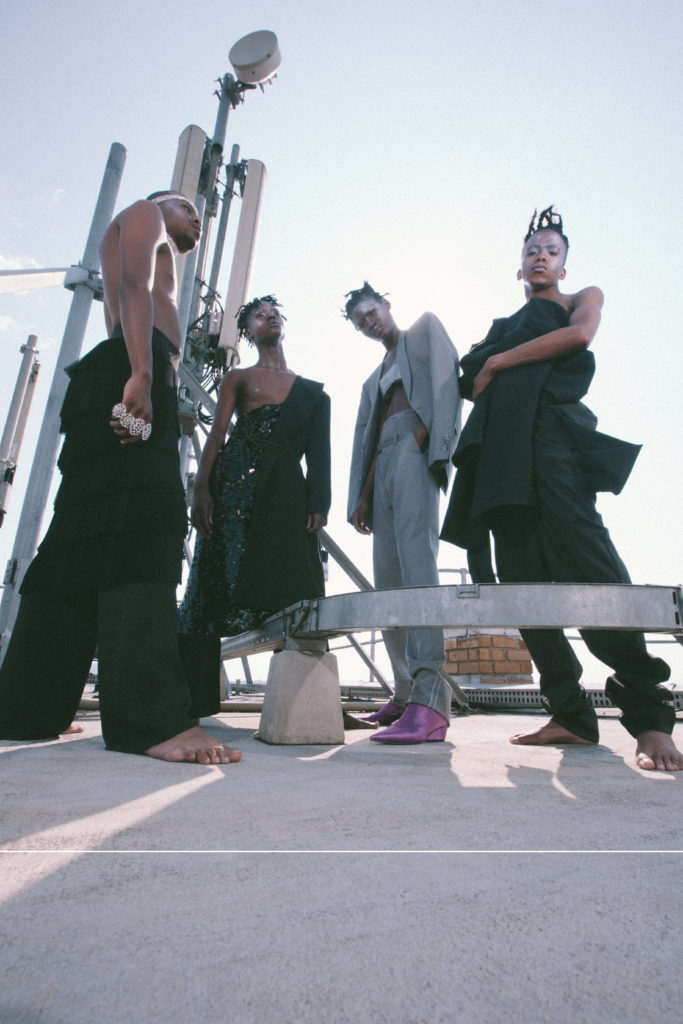 (from left to right) Skirt H&M, Dress Pants and Jacket H&M, Suit HUGO BOSS, Underwear CALVIN KLEIN, Shoes ZARA, Pants and Jacket H&M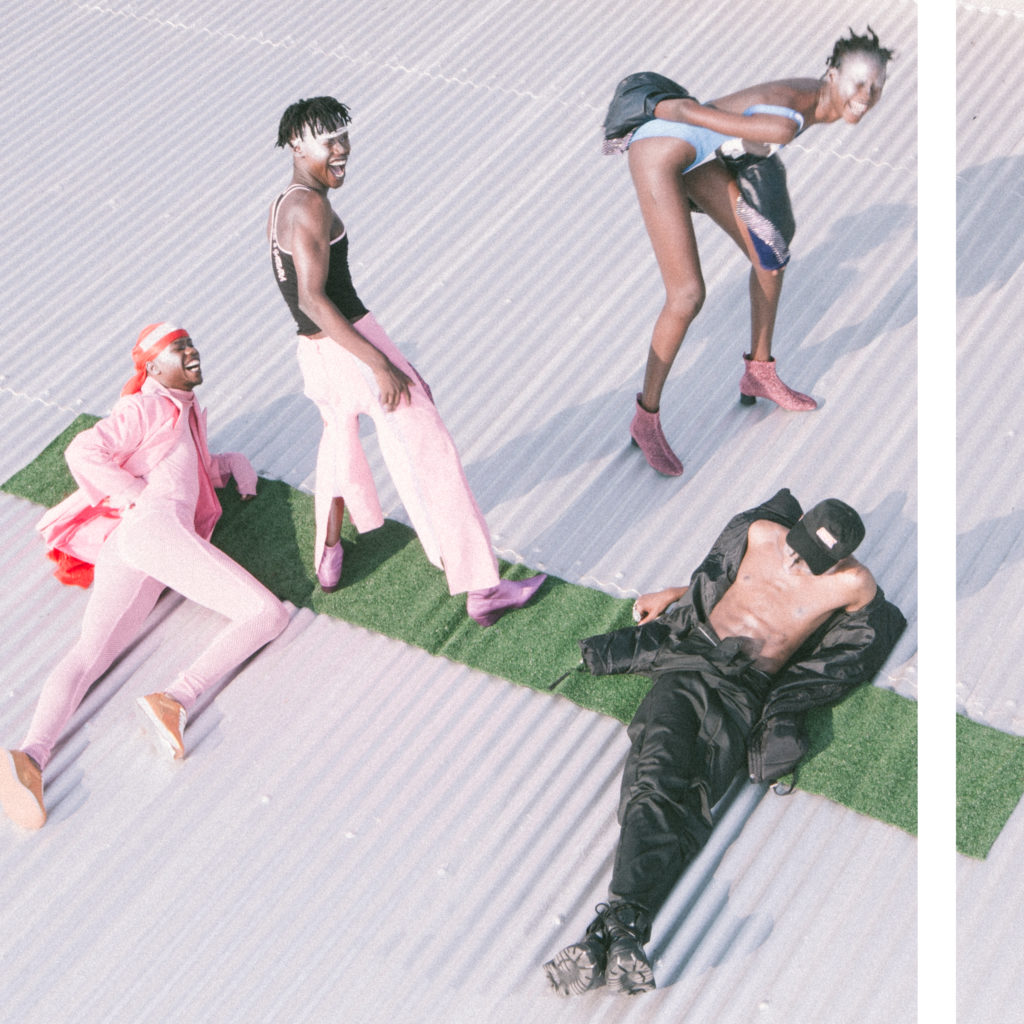 (from left to right) Jacket NAO SERATI, Jumpsuit NAO SERATI, Shoes ZARA, Pants NAO SERATI, Shoes ZARA, Top STYLISTS OWN, Leather Jacket ZARA, Bodysuit DISNEY INTERNATIONAL, Shoes ZARA, Jumpsuit ZARA, Coat H&M, Hat URBAN OUTFITTERS
Did you ever have the wish to move somewhere else? What made you stay?
B: I feel as a creative, it's kind of an intrinsic part of ones matter. So there's always an itch. I've lived in London and loved it. But I think if you have a real love for home it always pulls you back. Luckily work allows travel, I'm currently in Ghana for the next 3 weeks shooting an ad.
A: I think most people would say the would want to live somewhere else in the world from where they live. I think humans are never completely happy with anything. But if I would say where I want to live it's a number of cities, maybe it's a bit corny but I would love to live in New York City, The Big Apple… I've been there a few times and every time I go there I just fall more and more in love with the big city and the people, and most of all the hustle and bustle of the city. I would also love to live in Tokyo I think it's something to do with the culture, architecture, food and fashion. I do love, however, living in Johannesburg because of home comforts. I love our food in South Africa way too much, the big bold flavours – it's what I am used to and it's familiar. I lived in France for a few months years ago and the only thing is, I missed the food and the living environment. But one gets used to that I guess wherever one lives.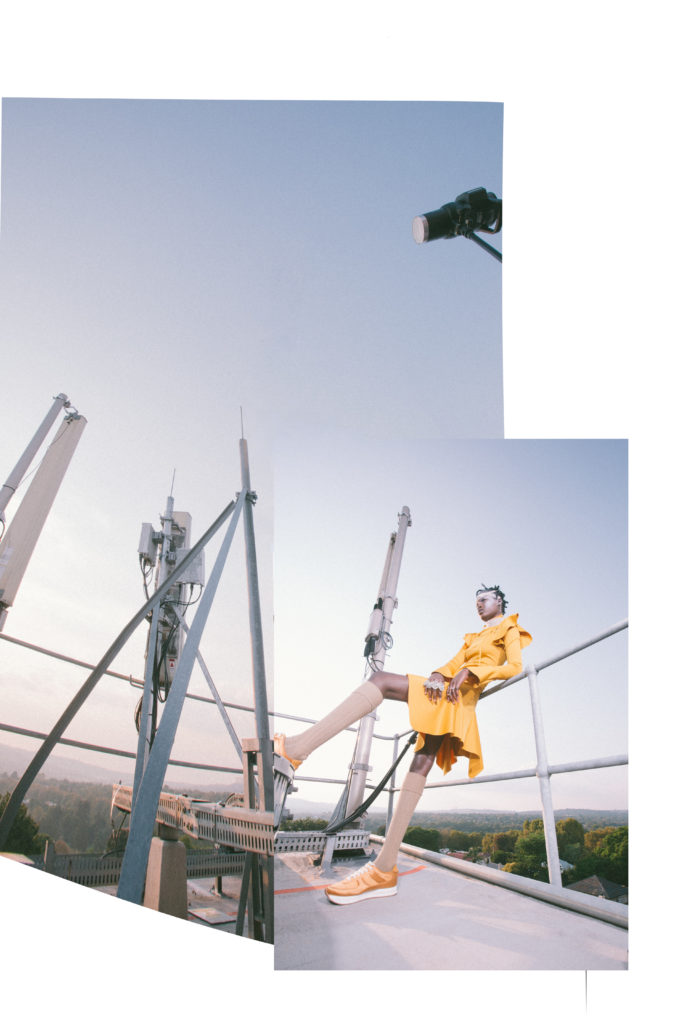 Dress RICH MNISI, Shoes ZARA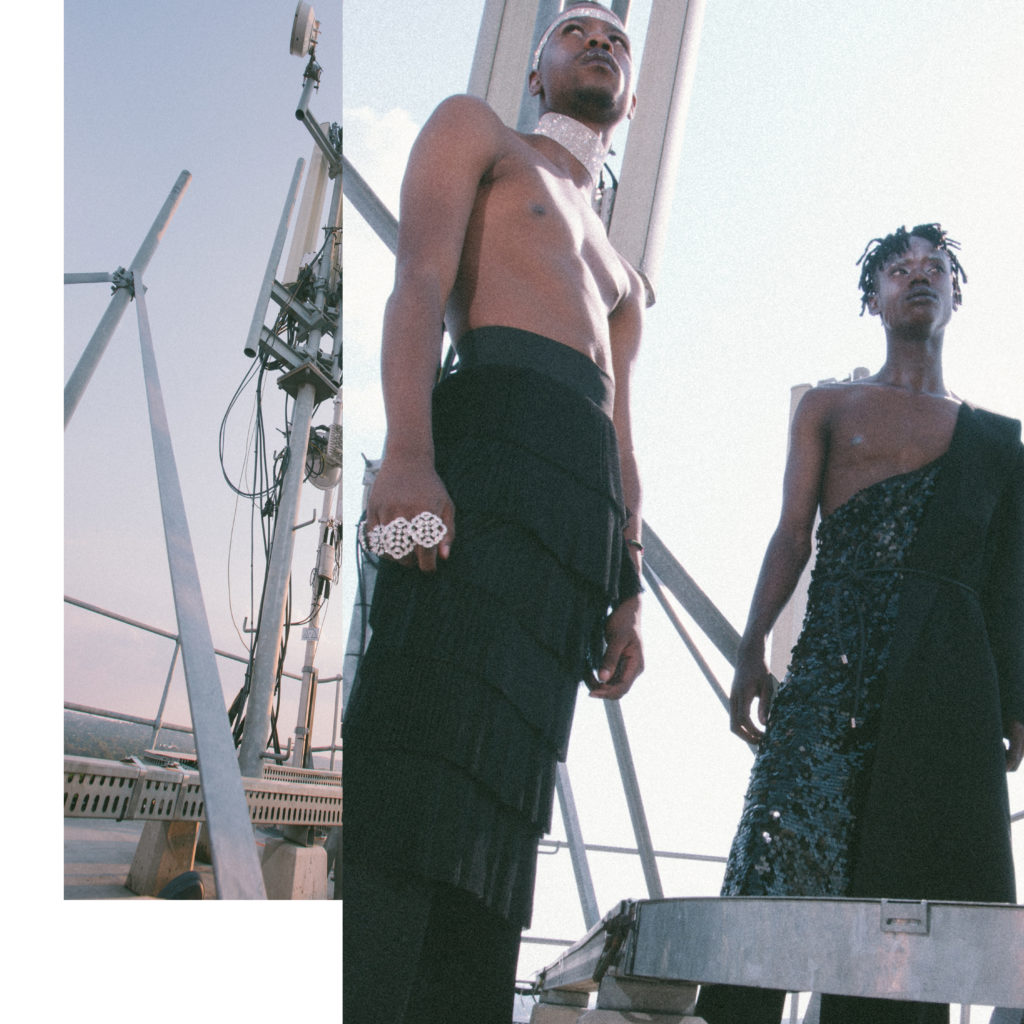 (from left to right) Skirt, Dress, Pants, Jacket H&M
Art and fashion reflect (most of the time) the society, the political situation, cultural movements – what story does your editorial and the featured designers tell in that sense? What are the topics that are really inspiring the youth movement?
B: This editorial is special in that it features young, creative African kids working on unique and fresh ways to make it. Our parents grew up in a time where things were simpler and jobs were plenty. In our current climate, we have to create our own opportunities.
Especially in Western media you recently often read the headline that South Africa really is 'on the rise' – what are your thoughts when reading something like that?
B: Africa is always the plug so South Africa included. As a nation we are and always have been extremely talented and unique. In fact, half the interview questions I've answered for the last 16 years ask the exact same question. How Europeans perceive us is actually not relevant in my opinion. It's up to us to take pride and elevate ourselves. We live in a unique and special country no one can ever dispute that.
A: I think it's about time that the world sees South Africa and even Africa on the rise. We have such a creative world here and so many stories to tell whether it's through art, fashion, music, photography, dance plays, or anything as such. We have so much to tell the World. We have to work harder than some countries as we have more limitations here in South Africa of what we have to work with, but we are all standing out now with creative new work that the rest of the world is finally recognizing.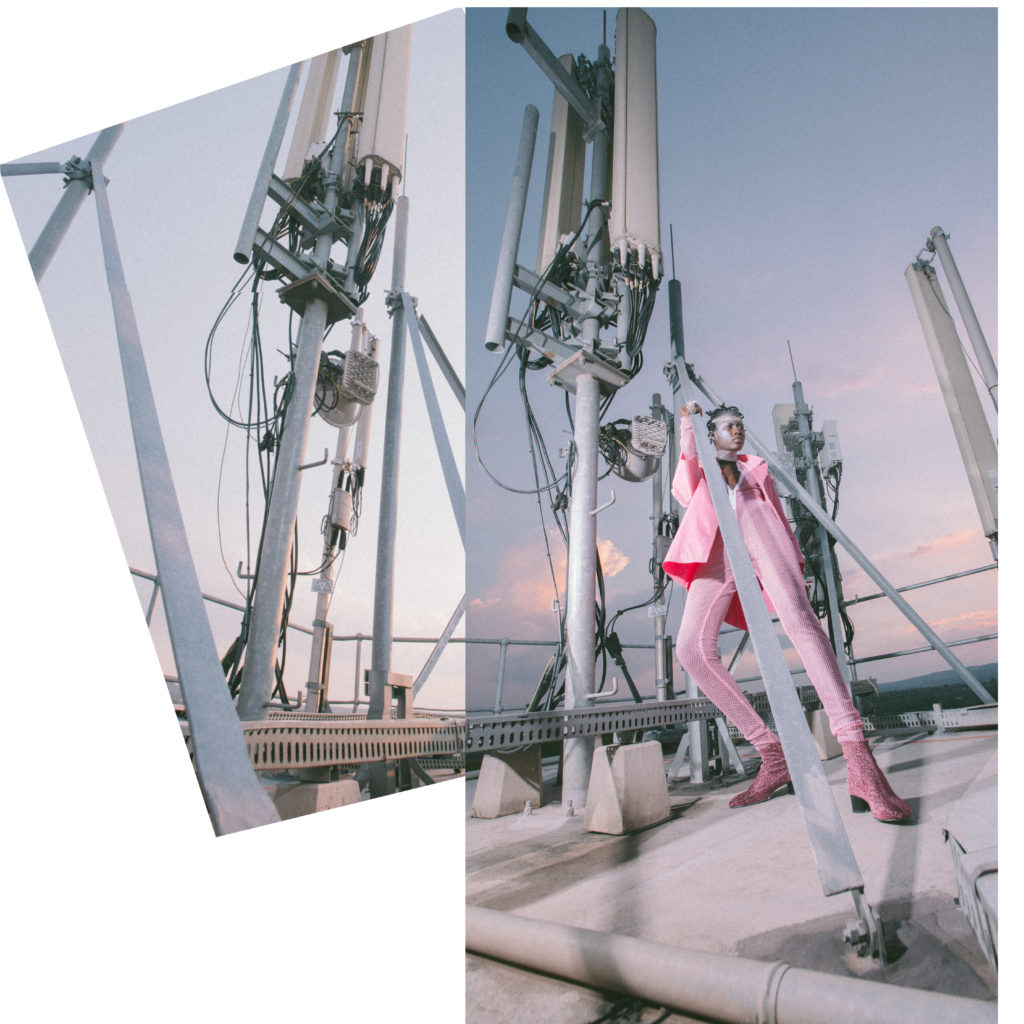 Jacket NAO SERATI, Bodysuit NAO SERATI, Shoes ZARA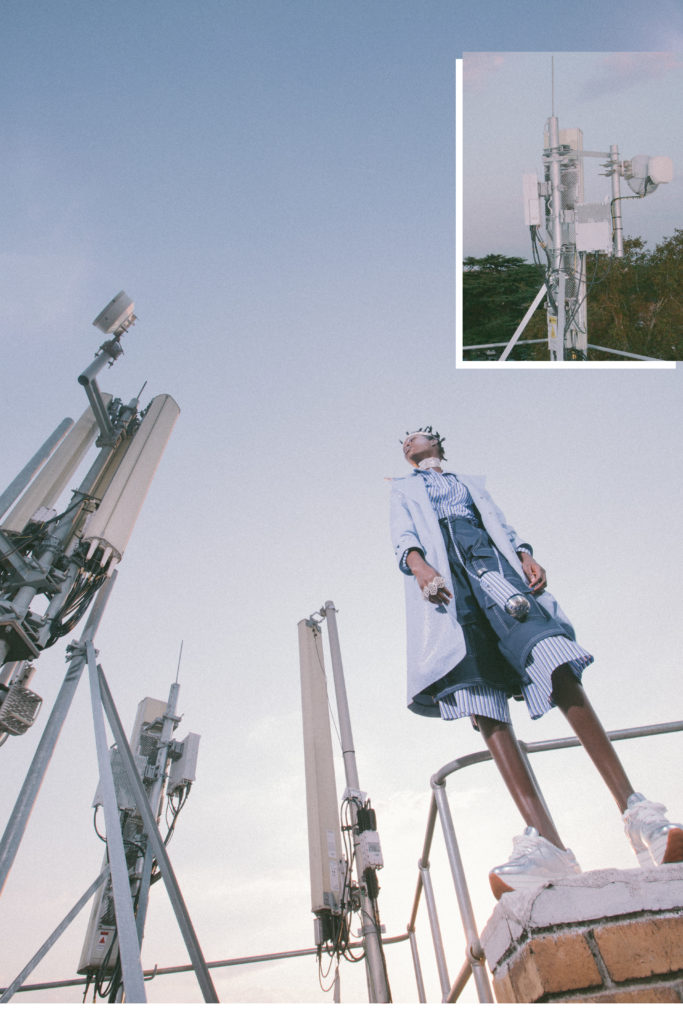 Coat, Shirt, Pants THEBE MAGUGU, Shoes ZARA
Who are the designer, photographers, musicians that are changing the scene at the moment?
B: Naturally the scene is constantly changing, which is exciting. In this particular editorial I chose some young designers I respect like Nao Serati, Rich Mnisi and Thebe Magugu, which I mixed with high street brand H&M to give it a bit of a street style, fashion-kid feel.
A: There are so many at the moment, I can't really say exactly who they are but the ones I surround myself are making waves abroad, such as Rich Mnisi, Thebe Magugu, Lukhanyo Mdingi, Lange Mavuso, Kristen-Lee Moolman, Gabrielle Kannemeyer to name a few.
What are your hopes and dreams for the future?
B: My wish is for everyone to be awarded the same opportunity in education and to enter the creative industries. That it's not just for the privileged. We come from a place that has made it so difficult for people without resources to work they're way up. I wish more people in positions of power would consciously work on changing this, and making it right.
A: Well, I have so many but I think for me I wish to have work in some of my favourite magazine such as Wonderland, Fucking Young, Another Man to name a few. Also, to have agents in a few main cities like NYC, London, Berlin and Tokyo. But for now it's all about the hustle and trying to reach my dreams and wishes. I am sure they will come, fingers crossed.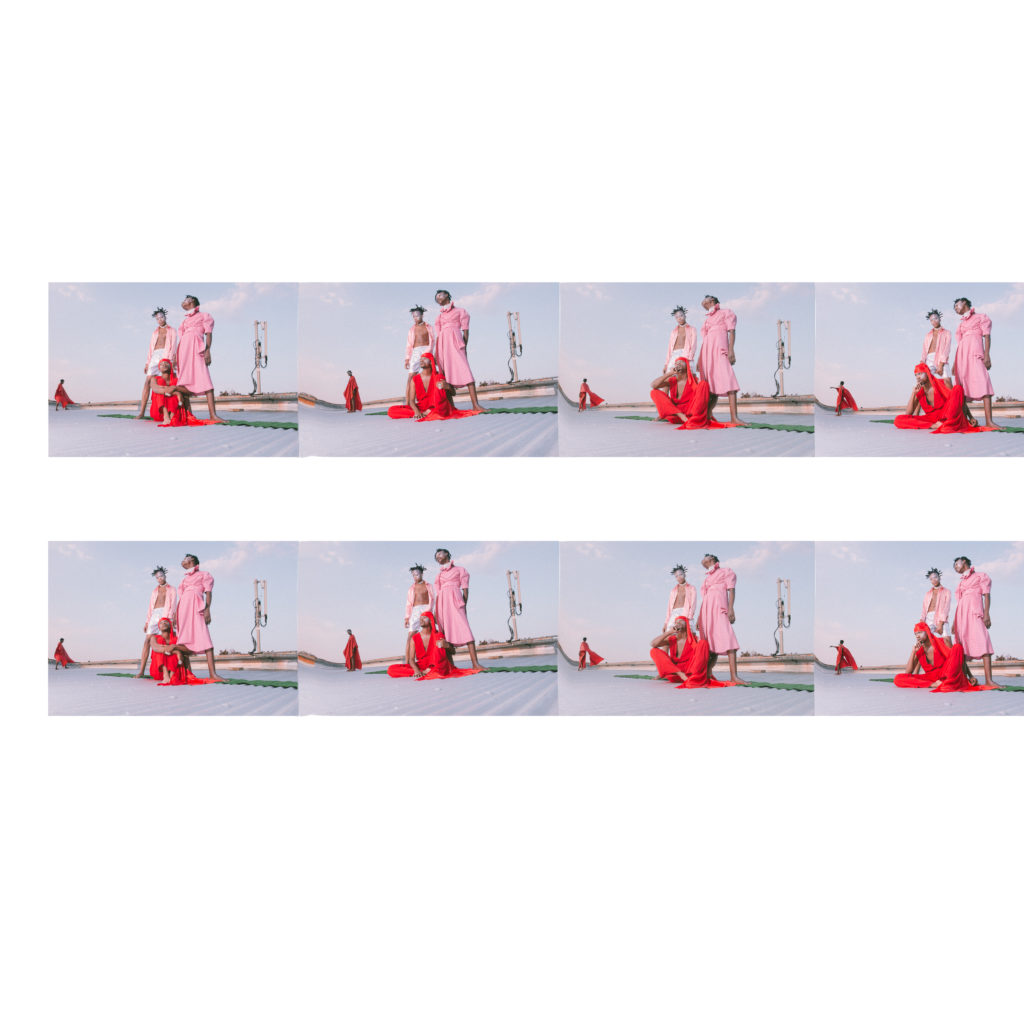 (from left to right) Dress RICH MNISI, Shirt MR PRICE, Pants NEO SERATI, Bodysuit RICH MNISI, Dress THEBE MAGUGU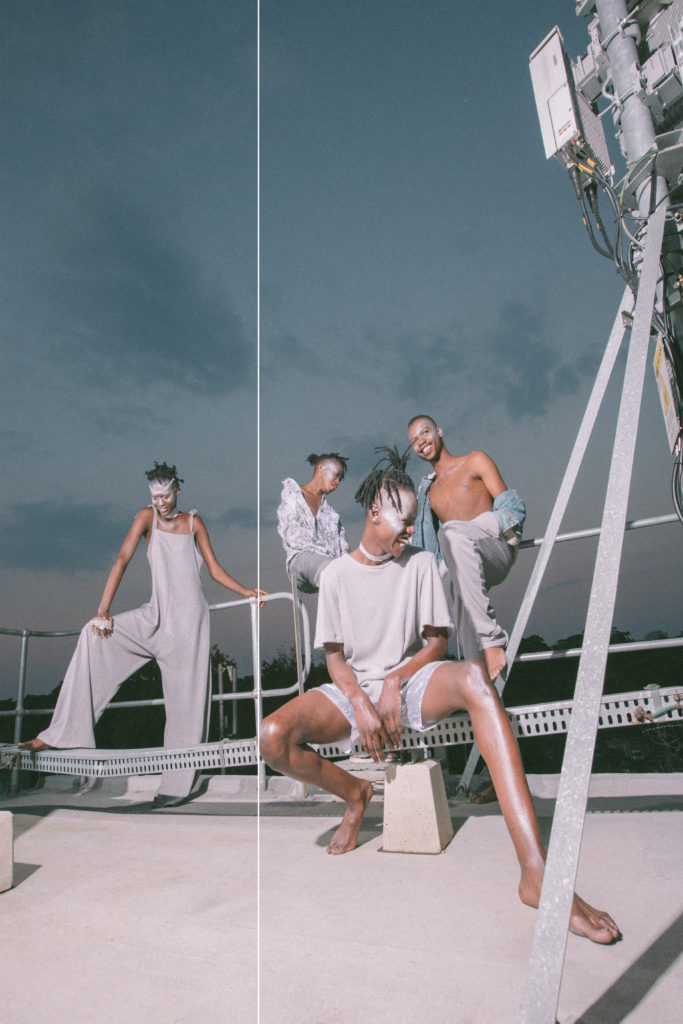 (from left to right) All NAO SERATI
Photographer AART VERRIPS @ LUSTRE CREATIVE MANAGEMENT, Creative Direction BEE DIAMONDHEAD, Styling Assistant NAO SERATI, Hair and Makeup ORLI MEIRING, Cast JOSEPH NTAHILAJA, HAUWA ASINGAR, SIYANG, WILLIAM WIZINKUNA, SHAAGAN MICHEAL, Special Thanks to AMY ZAMA, DON ZONDO, HAZEL, MPUME