Kerri Ciullo, better known as Botanical Bunny, is a New Jersey-based artist and embroiderer inspired by the natural world and the concept of feminine vulnerability. Kerri's medium of choice is clothing: her canvases include bralettes, t-shirts, denim jackets, and baseball caps, which she adorns with precisely threaded images of botanicals such as flowers, mushrooms, and insects, as well as introspective phrases about fragility and personal growth, each dripping with meaning. Through her wearable art, Kerri explores her own personal trials and tribulations while challenging stereotypes of femininity and what it means to grow into a young woman in today's society.
As recently-obsessed fans of Kerri's work and Etsy shop, we decided to reach out to the Botanical Bunny herself with a few questions to better understand the creative process behind the construction of Kerri's unique and whimsical art pieces, as well as where she finds inspiration for each of them. Here's what she had to say.
Embroidery is a very specific art form which often takes years to develop real skill at. When did you become interested in embroidery? How long do you feel it took you to truly hone your embroidery skill to the point where you could properly convey the ideas and inspiration you have through this style of art?
I was taught how to hand sew at a very young age. I think that knowledge was very helpful in my transition to hand embroidery. I became interested in the medium around five years ago, when I began to stitch very tiny botanicals on my clothing. It was very much a method of self soothing, as well as an opportunity to add my personal touch to what I wore. Giving it voice in a way. I am now four years into practicing almost daily embroidery. In many ways I feel I still have much to learn and master, though after about 2 years of consistent stitching, I feel I have become more confident in properly portraying my ideas and feelings through embroidery art.
You clearly draw a lot of inspiration from the natural world, especially natural plant life. Where did your fascination with botanicals arise from?
I have always been fascinated by the natural world; in many ways it has always felt more like home to me than any man made habitat. As a young girl, I spent the majority of my time outside ankle deep in soil, foraging for insects to admire and flowers to pick. I have always felt such a sense of safety surrounded by nature. It holds a level of purity and mysticism I have not encountered in any human. I believe that all living creatures, including plant life, posses a connection to the earth that many of us have seem to have forgotten. In my work, I want to inspire a level of respect and acknowledgement for all this planet provides.
One interesting aspect of your art is that although its immediate focus is on botanicals, you've integrated an unobtrusive feminist influence on many of your pieces through loaded phrases such as, "Imprisoned in this fragile form," and "Do you love me or what I provide for you?", as well as incorporations of the female form in plant-based designs. How do you feel that other clothing designers and fashion artists could infuse political statements into their pieces?
I personally believe that when creating a design that is going to be worn, it's incredibly important to be aware of the issues currently affecting the world. I also think it's important to try to empathize with the feelings of the potential wearer. Creating anything with a verbal statement always takes more consideration than a piece of clothing designed without anything written on it. You are giving your creation a real voice and it will speak to those who see it. I think it's very pertinent to always be mindful of that, and to remain inclusive when making a literal phrasal statement on clothing.
How do you feel your growing social media following has affected the success of your art?
It's very flattering to think about. I have gotten so much support through social media, and I truly appreciate it. It has given my voice and artistic perspective the ability to reach so many people that I would never be able to otherwise. My embroidery work has been purchased by people all over the world; it is such an exciting yet humbling thought. I hope to continue to expand my social media following further and reach even more amazing people around the planet.
What would you say is your favorite embroidered piece you've completed? Why?
I would say that my piece "Inner Growth" is one of my favorites. It is very much an autobiographical piece that I created during a period of my life when I was very sick. I have battled chronic illness for 10 years, including late stage Lyme disease that left me with a PICC line in my arm for months with daily intravenous infusions. The embroidery I created for "Inner Growth" even incorporates a piece of medical tubing I saved from my experience. It was a very hard period of time, but also a very inspiring one that continues to help me grow as an artist.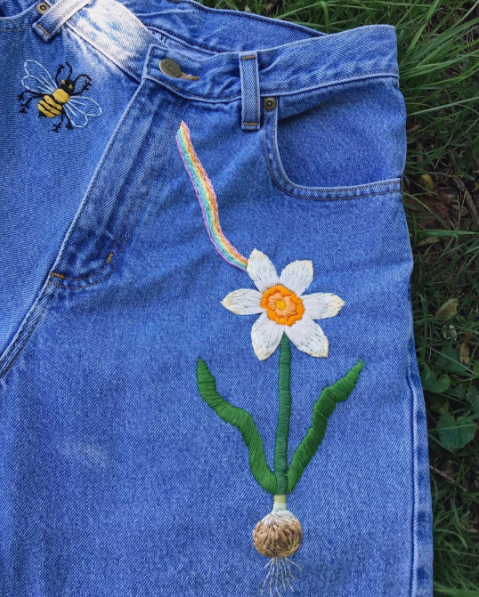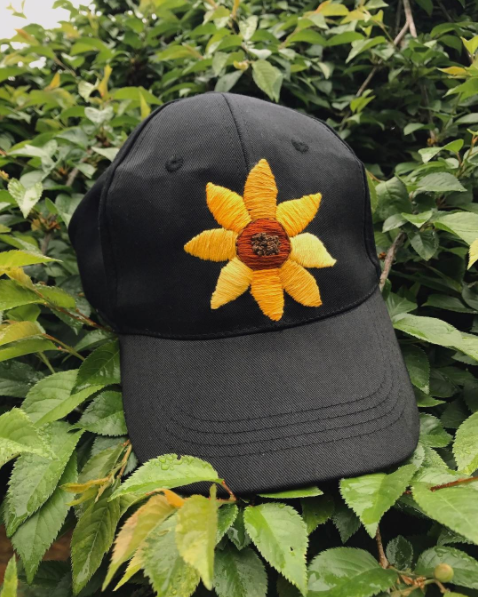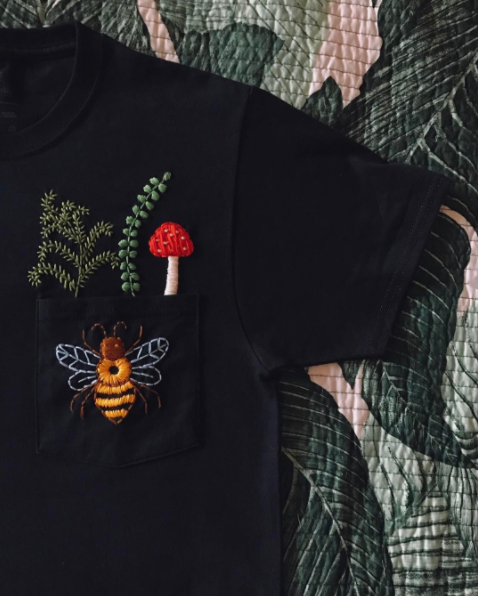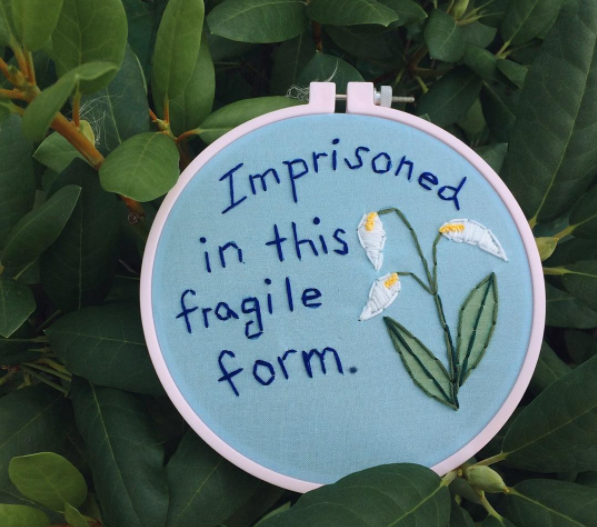 Interview by ZOE LONDON.