Collabs are happening all over the place. Saying it's of a trend is a bit of an understatement when viewing the current fashion map. It seems that designers, artists, collectives, or basically anyone somehow linked to the world's creative scene are teaming up and coming together to join forces on creating exclusive capsule collections, all of which are enhanced with signature design elements by the parties involved. Some more, some less surprising than others, though seemingly always a successful marketing tool. Supreme, for instance, has an unheard of and possibly record-breaking amount of collaboration-collections under its belt. Every now and then, however, we stumble upon a pair of co-creators whose combined forces have such great energy that it'd be a shame not to make use of it once more. This, in fact, is the case for Munich-based jewelry designer Saskia Diez and Fabrice Aeberhard, creative director of Swiss eyewear label VIU.
After last year's successful offering, the two have decided to collaborate again for an upcoming Summer 2017 collection of sunglasses and matching eyewear chains. To celebrate this, we caught up with both of them and asked them a couple of questions concerning their work as individuals, how all of this came about in the first place, and what inspired the second round of VIU x Saskia Diez.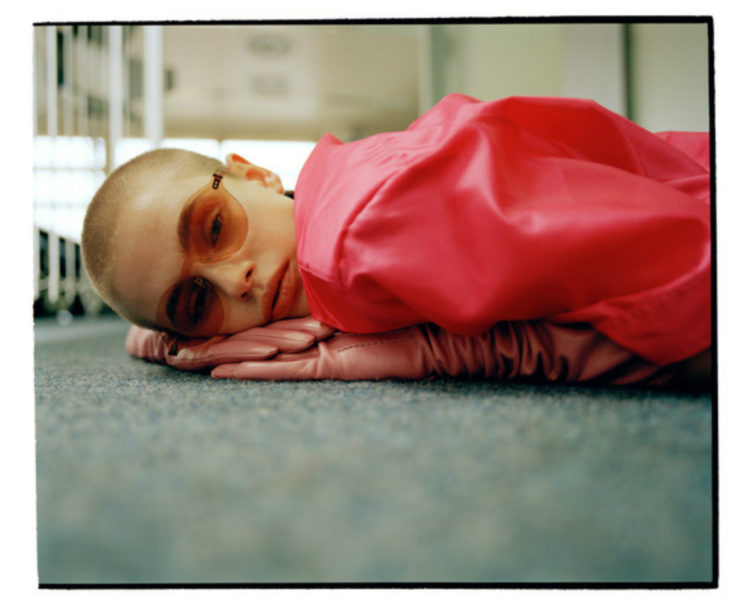 So, tell us a bit about yourself.
Saskia: My name is Saskia Diez and I am the designer of my own namesake label that creates mostly jewelry. To me, jewelry does not necessarily have to have anything to do with gold or silver. It can just as well be a pair of sunglasses, an armcuff made of porcelain, or even a fragrance. I love the symbolic meaning of jewelry, its intimate and archaic qualities.
What is VIU and how did this collaboration come about?
Saskia: VIU is a Swiss label all about eyewear. It's very modern and we share many of the same creative values. It was Fall 2015 when VIU approached me and asked if I were willing to create a line of chains for their next collection of glasses. I found eyewear to be very interesting, so I pitched the idea of collaborating on an entire capsule collection. So, together with VIU's creative director Fabrice Aeberhard, I created two models of glasses, each available in three colorways in addition to the aforementioned chains.
Fabrice: VIU embodies modern and urban design aesthetics. At the same time we are very keen on sustainability. So, we aspire to create eyewear at highest level design quality, full transparency and fair prices. My team and I create the collections in Switzerland and have them traditionally manufactured in Italy and Japan. In addition to re-issuing last year's silhouettes in a more summer-appropriate color palette, we created a brand new model: THE OH.
How would you describe your design aesthetic?
Saskia: Clear, defined, sensual.
What inspired the collection?
Saskia: Since we had to keep the rather opulent chains as a decorative element in mind, we wanted the glasses to be more reduced. When I was travelling in Japan a while back, I stumbled upon this pair of glasses in a Tokyo thrift store. It was made entirely out of one material. It was pretty big and heavy, as it was all over, one-colored glass. No frames, no details… Nothing. This turned out to be my starting point. I began experimenting with shapes and silhouettes VIU had used in previous collections, cut them out of paper with a pair of scissors single-handedly, and had Fabrice translate this into the three-dimensional, into a modern production process. We used nylon to bring the shades to life, to sustain this cut-out-quality they had. The nylon helped reduce weight of the glasses and make them as light, comfortable and durable as possible.
Fabrice: I loved Saskia's idea. Wanting to keep things as simple and minimalistic as possible. This paper-cut-character, this idea of creating a pair of glasses from a single pattern was something I really enjoyed bringing into the actual manufacturing process.
Where can we find traces of these inspirations in the campaign?
Saskia: Cajsa Wessberg (model), Vitali Gelwich (photographer) and our location combined many of the elements we found important while designing this collection, and in general. First off: Cajsa. With her buzzcut-hairstyle and rosebud lips, she embodies the feminine body with a sense of modernity, liberty and passion. Vitali, on the other hand, has a very rough and straight-forward side to him, alongside a certain softness. Also, the location: It was somewhat extreme, even edgy and shabby. But at the same time the lighting was so charming that it created a type of balance between these two opposites. And lastly, the styling: Viviane Hausstein created a dialogue between lots of free skin and very bright, bold colors of flowy materials.
Which is your favorite piece from the line?
Saskia: I like the sunshine-tinted OH-model with the rosegold chains. It's a bit smaller, has a pretty round shape and dyes your surroundings in a beautifully warm shade of sunrays.
Fabrice: I'd have to agree. The OH is especially cool for men, due to its very classic, rather traditional fit. Sunshine, the color Saskia mentioned, could even be worn indoors as a statement accessory.
This is your second(!) collab—can we expect a third?
Saskia: When we first started working together we just took a chance. We didn't really know where exactly we were headed and, thus, had to find out along the way. After learning what it's like we cooperating like this, we were able to use last time's experiences and incorporate them into this new collection. It would have been a shame not to do so, I think. But we haven't really talked about another project, as we are pretty busy with this current one. However, we do make quite the match, so it's definitely an option.