Racism in America is institutionalized in all aspects of life. We attend schools that are, in essence, segregated due to social and economic disadvantages. We watch an endless stream of negative media representations of black people, from news sources that unfailingly run a menacing photo of the black person in question, regardless if they are the victim or the alleged perpetrator. We are citizens in a country with an unjust legal system, which seeks to fill prisons with a disproportionate amount of black people everyday, every month, and every year. It is because of these reasons, and countless others that exist, that black people have to tell others, as well as themselves, that black lives matter.
In the broader context of the black lives matter movement, there is an unrelenting desire shared by many individuals to play a role in the struggle for equality, and to fight for black people at the intersection of art and activism. "Black lives matter means that we will fight for our community. It means to me that every single black life matters, whether it's a queer person, trans person, or a black woman – it means to not only fight to improve ourselves but to fight to improve our community and to represent ourselves positively and fight stereotypes," says Jheyda McGarell, Photography Curator for Art Hoe Collective, an online and Instagram platform for sharing Black and POC art. "It means more than just fighting police brutality, even though that was the initial and main cause that black lives matter supported."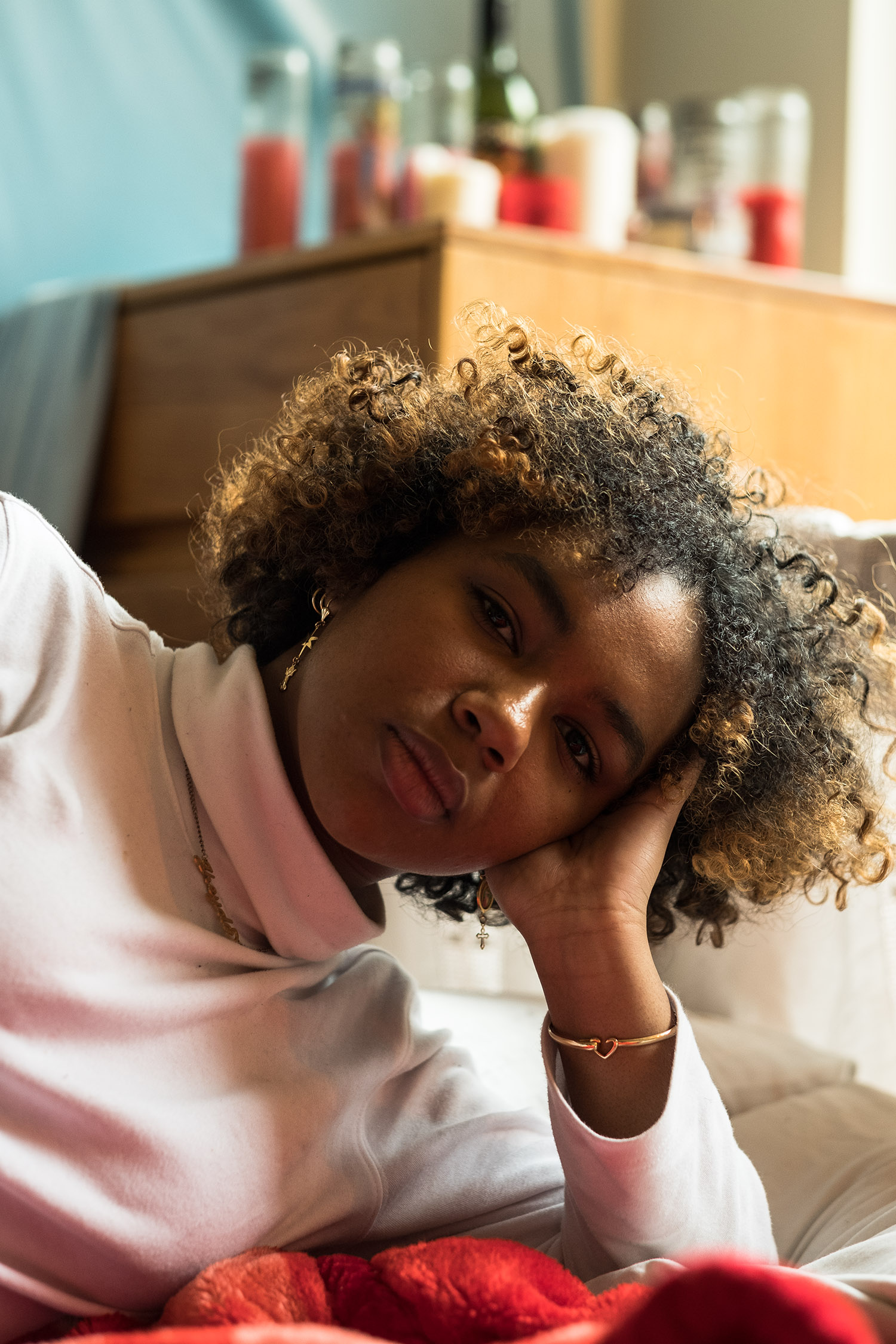 To that end, Jheyda and the Art Hoe Collective, founded by Mars and Sage Adams, seeks to empower young artists by giving them a voice that echoes their own, and providing a space for self-awareness and reflection through art that is representative of their own experiences. "We should speak about our oppression and express ourselves, and demand respect as people of color, and be whoever we are or want to be – people can be weird or different and still be valid." As protests led by her NYU peers made headlines that rainy afternoon, Jheyda stood in front of her collaged dorm room wall, flanked by images of Maya Angelou, notes from her mother, and a Guyanese wall hanging. "Activism through art is valid, even though it gets very discredited. I think that when we empower our community though, even if it's taking more photos of chubby black girls, we empower it as a whole, and it helps us to make large strides in helping people realize that even if they can't go out and march in the streets, they can do something."
Being out in the streets is second nature to Andre Wagner, an NYC based photographer, whose black and white photography acts as a mirror to the various complexities of human nature. In the many years that we have known Andre, we have never once seen him without his camera, which should give you an idea as to the intensity of his photos. They are quick and emotional moments that push viewers to deeply explore and consider the essence of his subjects. Andre explains, "What do you have to say? If you ain't dealing with the world, then you have nothing to say. That's what art is about." Raised in Omaha, Nebraska, Andre moved to Iowa to play basketball and study social work. After college, Andre moved to New York and found another path open up to him as he began to find his voice through photography. "A friend gave me a Gordon Parks book, and I remember thinking that I had never seen any pictures like this before…That's when I realized I really wasn't trying to be a social worker, because I wanted to express myself in a way that I couldn't before."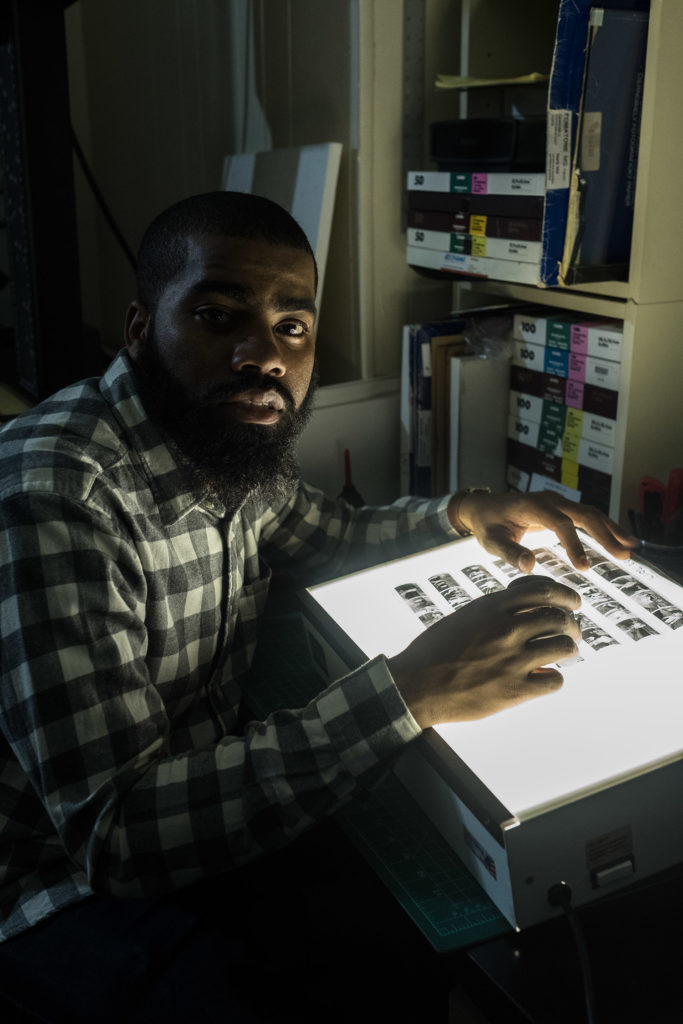 As he pulls images from an impressive and neatly organized array of meticulously labeled photo boxes, a range of black faces peer up at me from the stack. A father rides his son on the handlebars of his bike, young boys flex their muscles on a Brooklyn street, and a woman and man rifle through a donation bin for used clothing. It's clear there is a message here, but he coyly dodges spelling it out. "I'm just trying to make an image dynamic, using my experience of who I am as a black man in America, and where I am now, using everything within me to express and photograph the world." When pressed about what exactly he is trying to say to the world, he muses, "There is something that (James) Baldwin says about being a moral witness within his work, and something about that hits me hard. Everything we do should bring all of our efforts together to rise." He pauses for a moment, and continues quietly, "Nothing I'm doing makes me a better person than anybody I'm standing around. I'm being true to who I am and what it is I feel that I should be doing when I'm out photographing, and that is being in black communities and portraying my people and the people in my community. It's also about being in the world, representing a world view, and trying to have all of us look at it, as it is, while creating a dialogue about our viewpoints. I feel like it's my duty to represent my community and to represent black people, and to represent people in general. There are a lot of ugly things happening in the world but there's also a lot of beauty." 
The Very Black Project (TVBP), a partnership founded in 2014 by Justin Fulton and Andre D. Singleton, seeks to celebrate the beauty of blackness without mincing any words. "It's a very tender thing for one to talk about their identity," notes Andre, while discussing how he and Justin met. Bonding over their shared experiences as young black men attending The New School in NYC, Justin and Andre quickly realized their affinity for existential conversations, and the sharing of everyday emotions and anxieties, which created a much needed space for expression. "Our friendship makes us communicate with each other," Andre explains, "and is the kind of partnership that allows us to ask each other, did you think about that, have you thought about this, how do you feel about that, and sometimes the reaction from others overhearing our conversation would be like, shit this is important as fuck!" As roommates their friendship was solidified by long living room and kitchen discussions, at a time when, Justin explains, "it felt like people in general tip toed around talking about blackness."
TVBP shirts are unmistakable – VERY BLACK, they affirm, in large bold font across the front. "It's an affirmation for the soul," notes Andre. The first shirt was made by Justin as a birthday gift for Andre, was worn by a friend on sight, quickly cosigned by woke black folks, and is still a coveted item judging from the large quantity of packages they were shipping out when we met up. "We like making people feel good about themselves. Feel good about their history – if they had any doubts," Justin adds. As Black Americans, both note the sensitivity they feel in regards to a lack of their own histories, and the damaging impact this can have on young black people. "So much of our being told who we are wasn't by us, so we have to tell each other our stories, and see our intersections," Andre's hands cross gently to illustrate his point. He continues, "I think when we don't know our history, we can't and don't imagine that we have a history." Justin nods in agreement, adding," It's hard to take pride in yourself if you don't know who you are or where you come from."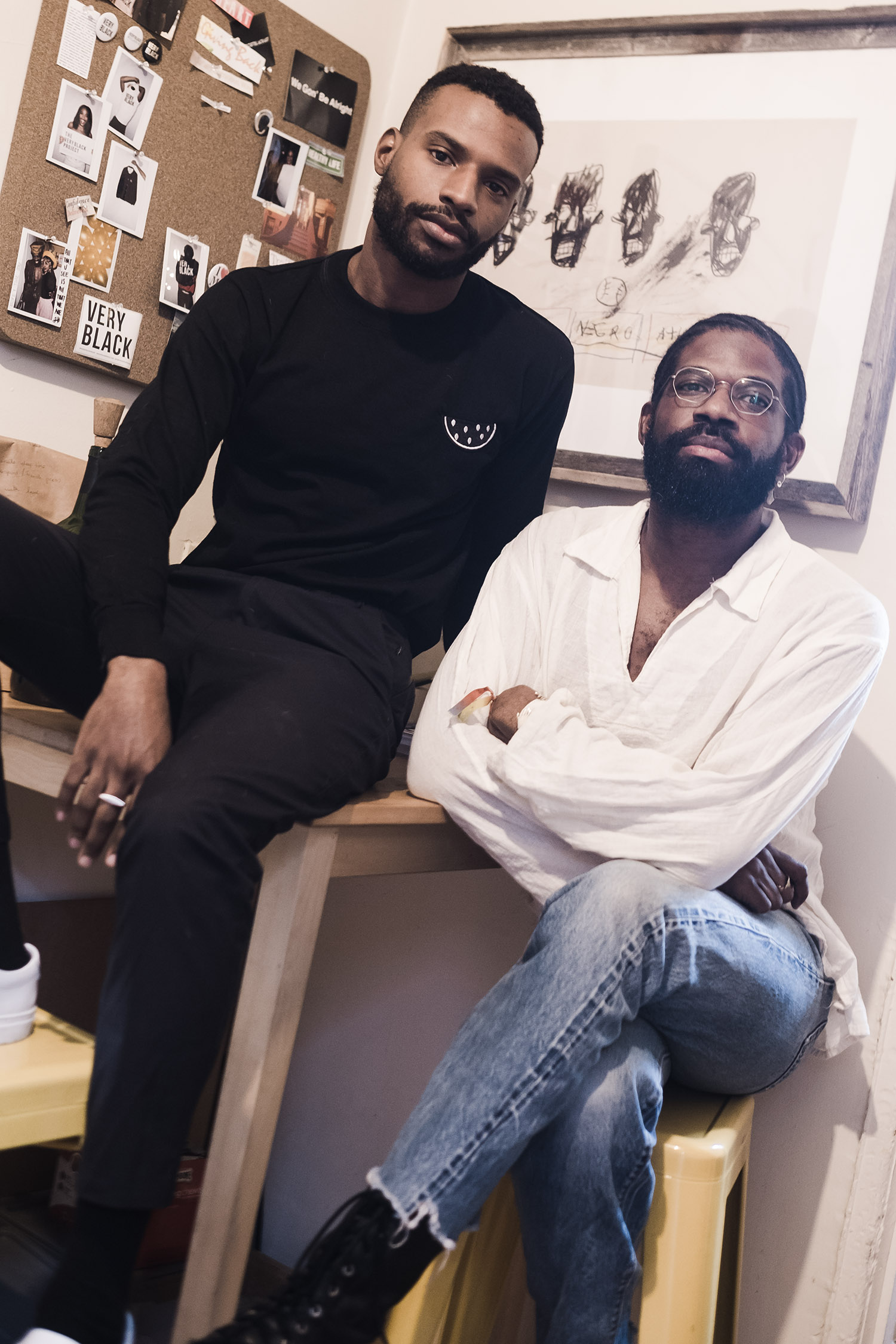 For TVBP, Black Lives Matter acts as a catalyst for much needed conversations between black people. Andre explains, "Very Black and Black Lives Matter are a conversation. Me and Justin express ourselves differently, but we are expressing the most important and vital parts of the same things. We read a book, Seat of the Soul, that talks about the senses, and being multisensory. Very Black and Black Lives Matter is essentially the same – it's about creating and giving a space for all of the senses – we need all we can get! What else is black? Thank you for acknowledging it and making it a point!" 
At Brothers and Sisters, a monthly discussion group hosted by Saada Ahmed and Jason Parham, conversations are an integral starting point to understanding what can be done to affect change. Discussions are open to the public, and provide space for participants to directly address and consider a wide range of topics that affect Black and POC communities. While the format is unconventional in a social media driven era, Saada explains, "I think it's very different to have a discussion with someone in real life. You don't have the Internet to hide behind, and you have to talk to someone and talk it out." Jason concurs, "We're in the world together but we are all alone, effectively soloed in many ways. I think this is a way to get our community in one space for a few hours once a month to talk about shit – what can we do, how can we create change?"
For both Saada and Jason, the desire to create a space for conversations sprang from a deep sentiment of frustration. "I remember I went to a protest after Trayvon," Saada recounts, "and we invited a couple of elected officials, and I was so disappointed in the way that they spoke about what happened – it seemed like it was just all for show. I kept asking, what can we do? And there was no answer. I think that's what really drove me to reflect, and that's when I said to myself, I have to figure out a way to get more information…I think different people have their own forms of activism. It's not one-way or another." While many in the black community share these sentiments, Saada and Jason made a commitment to engage their community in discussion, and have spent the last three years organizing monthly opportunities for awareness. "I think the resources are there," Jason comments, in regards to engaging Black and POC communities in discussion, "but people just don't necessarily know about them, so Brothers and Sisters, in a way, provides an activation for people to know about the resources that exist in their community."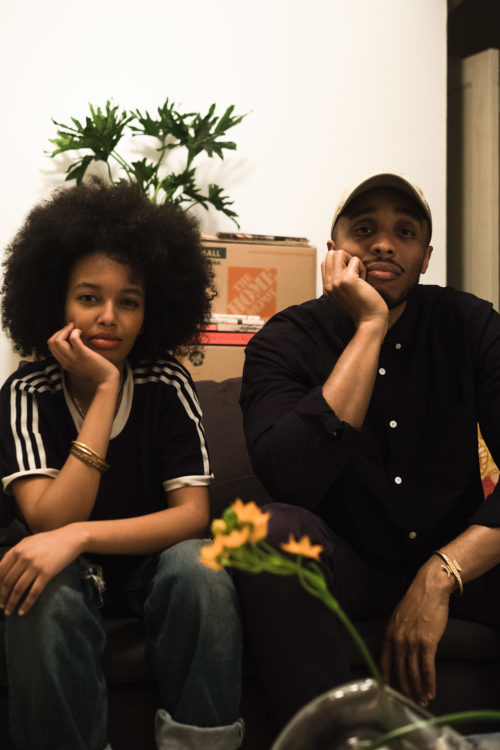 Reflecting on discussions of the past, it's clear that Jason and Saada are passionate about the opportunity to affect change whenever possible, and both view creating a safe space for the Black and POC community as a privilege. "In one instance we were talking about trauma and mental health in the black community, and I remember feeling really connected to everyone in the space," Jason recalled, "and I think that trauma works in a weird and unexpected way, in that we all carry it around and it moves and activates and comes out of us in different ways, and people were in that space acknowledging that they were carrying it in the wake of Michael Brown and in the wake of Sandra Bland, and all of these things that were happening in our community. It felt very healthy and nourishing to be a part of that space, where people felt weary but not deterred." In examining their roles and the future of Brothers and Sisters, Saada reflected that the experience had the unexpected result of changing her own thinking in sometimes drastic ways. "I definitely think that sometimes I can be hard headed in my beliefs, and I have to be more open minded to other people's experiences. Brothers and Sisters allows me to see different perspectives, and see and appreciate the diversity in people."
A deep sense of community drives each of the people featured here, and in speaking to each of them, a palpable and urgent commitment to empowering the black community was nothing short of contagious. Activism manifests itself in forms that are often overlooked and sometimes unimagined, until the right person or group of people feel inclined to pursue and practice a form of activism that feels authentic to them. This authenticity is electrifying, and is why even today the speeches of activists before us, like Malcolm X, Audre Lorde, and Stokely Carmichael, still make our hearts race and strengthen our awareness of the responsibility that we bear. It is an obligation to our communities, and to each other, to ensure that black people are treated with the respect and dignity they deserve, and to remind the world, and ourselves, that black lives matter.
This piece was taken from the INDIE REVOLUTION ISSUE – out now!
Words and images by Maroon World