Berlin-based singer, songwriter and producer BLVTH has come a long way since first entering the music scene. Before working on projects entirely brought to life by his very own creative energy, the German multitalent made a name for himself and his distinctive, dark style by remixing and reworking tracks by artists such as Sia and Rihanna. All of which to SoundCloud-acclaim, garnering him a larger audience and platform to later release his solo work. While he himself refuses to specifically describe, let alone define his artistry, BLVTH's music can most likely be categorized as a mix of Trap, Future Bass and Grunge. Following last year's EP "7IGER" and its accompanying short film, we caught up with BLVTH and had him answer a couple of questions in celebration of his brand new video for his track "I Don't Love You".
How did you get into music?
I first started releasing music as BLVTH a couple of years ago, via SoundCloud. Back then it was mainly a collection of illegal remixes, things I found on reddit or elsewhere that I decided to experiment with myself. It didn't take long until music blogs and trend-lists started writing about me, spreading the word and praising what I did. Once that had started, artists and their managements from all over the world started getting in touch with me, asking to collaborate. Everything just came about so unexpectedly. Especially since most of my work was put together rather quickly with no real equipment other than my Macbook. All of this eventually spurred on my desire to create music by and for myself. To write, produce and sing my own songs.
You enjoy working for and with other artists—who did you recruit for "I Don't Love You"?
For "I Don't Love You" I, once again, teamed up with fellow Berlin-based producer SOVT. He has worked with me previously on numerous occasions and contributed greatly to all of my artwork and visuals, including this one.
It says this track is about "Single mothers struggeling to make a living"—What does this mean? How do you relate?
The lyrics, I find, are pretty clear and don't need further explination. It's a topic that hits close to home. A struggle I've been wanting to get off my chest for a while now. My mom has been through a lot, life has not been easy on her. She is the most important person in my life and I have the highest amount of respect towards her and her strength.
The one-take-video was shot at a church—Why is that? What were you trying to express?
There are multiple reasons for this. For one thing, the church had such an impressive, nostalgic vibe to it. Its 70s-feel made it seem an appropriate location as I was trying to process my life's past through the track and video.
Church is also a place people go to free themselves of their sins, to find comfort in their faith by praying. For many, it's a place of finding peace of mind and of coming-together, and of confrontation. In the song I deal with who I come across, who confronts me or, better, who I confront.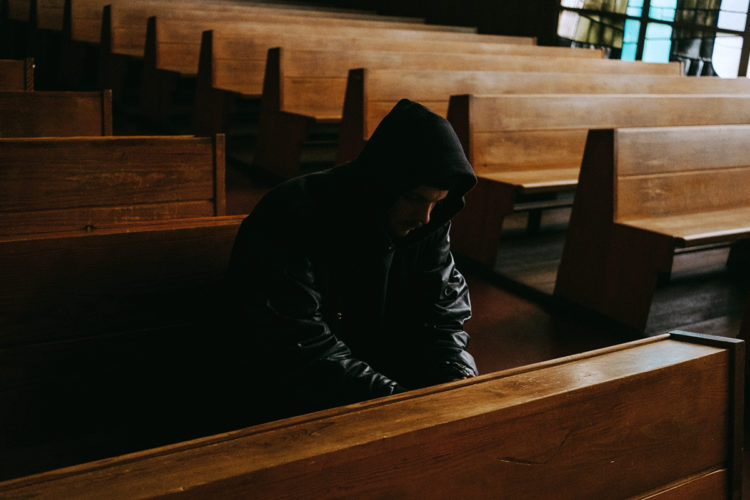 What's next?
Just recently I played my first concerts. As Chrome Sparks' supporting act in Cologne and Berlin. This summer I have a festival gig at Splash! that I'm really excited about. I'm really hoping to do more of that.
In addition to this, I'm already working on the visual for a new single, set to be released sometime in June or July.
My main focus is to simply create as much as I can. My laptop is close to exploding from all of the ideas, beats and samples I have on there and I can't help but keep adding to it every day.
Photography by Felix Aaron and Julian Jonas Schmitt