A new blockbuster release initiated by a Tweet is one thing you might not so quickly believe to be true. But when this possible movie features superstar Rihanna alongside actress Lupita N'yongo as the protagonists, you probably start to rethink – we are not here to hoax you, a Rihanna Lupita N'yongo movie!
After a picture of Rihanna and N'yongo at Fashion Week in 2014 with the caption "Rihanna looks like she scams rich white men and lupita is the computer smart best friend that helps plan the scans" went viral on Twitter, the singer and actress both hopped on board for the plan. N'yongo tweeted her possible commitment right afterwards which was followed by Rihanna who said that she'd be all in for a movie, too.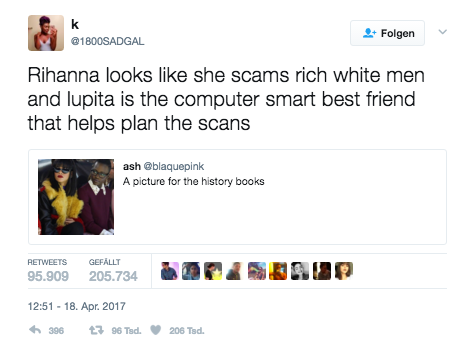 The cherry on top was put by Issa Rae who has created the web series "Awkward Black Girl" on YouTube and agreed to write the screenplay after she was proposed for it by another Twitter user. So let's hope that the Rihanna Lupita N'Yongo movie won't just stay plans. Because this spy movie would be way too good to not come true.