Describing themselves as "six rebellious fashion graduates", Laura Aanen, Zara Asmail, Alyssa Groeneveld, Kim Kivits, Michelle Lievaart, and Sanne Verkleij of fashion collective Reconstruct don't care about the rules and regulations of the fashion industry. What they care about is starting a revolution, borrowing a bit of superpower from Sailor Moon and a bit of ambition from the boundary pushers that came before them. The six met while all studying fashion design at Willem de Kooning Academie in Rotterdam and soon bonded over their similar desire to confront fashion with their sense of reality. With unisex designs and an unconventional approach, their name not only perfectly captures the designs but also the goal they envision: To take things apart and put them back together according to their own understanding of fashion, designing clothes and a whole world in the process. Filled with superwomen and superpowers, we caught up with Reconstruct to get a glimpse into their universe.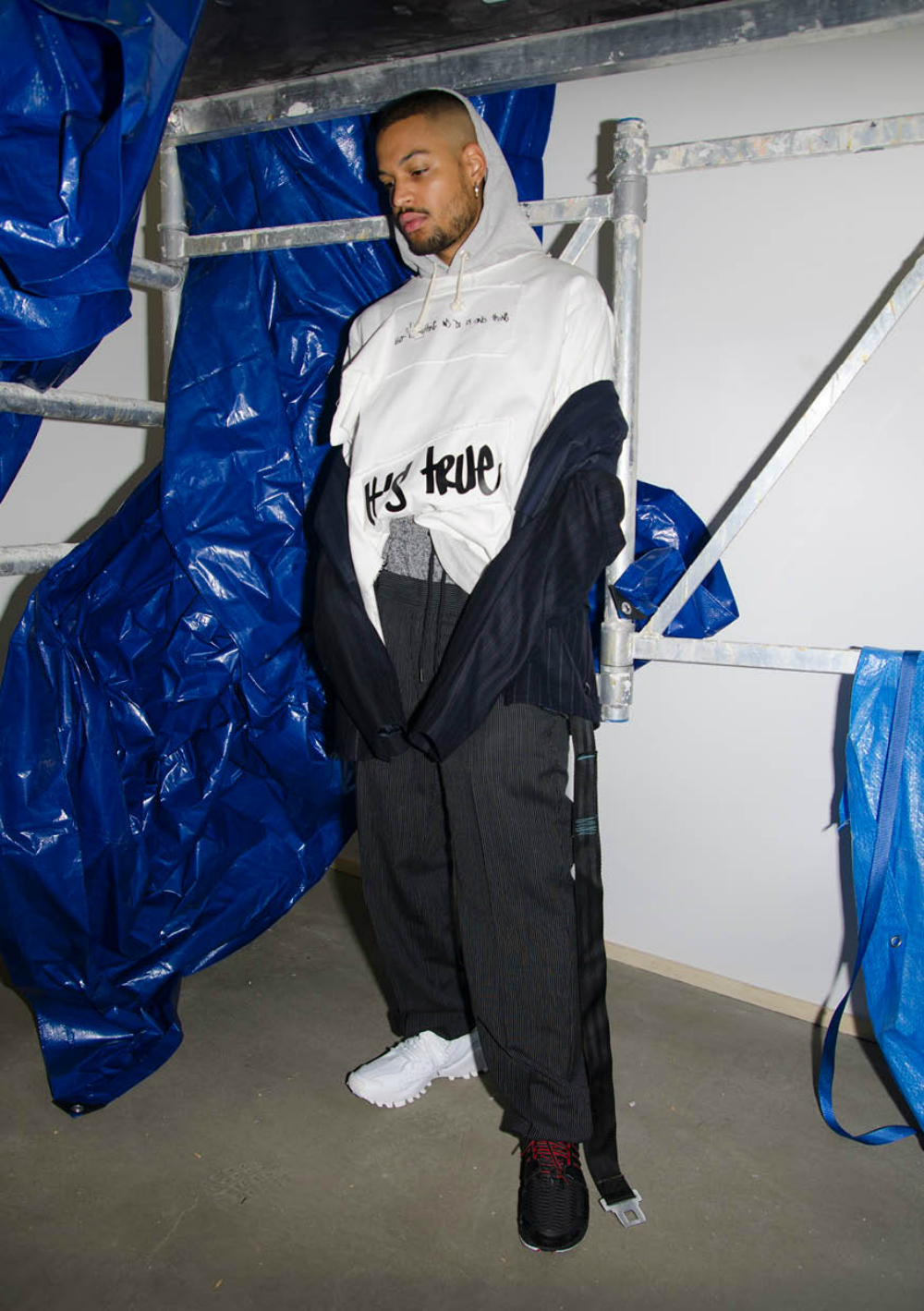 How did Reconstruct start?
We met at uni and decided to roll together after graduation. While organizing our graduation show we found that we formed a good team of hardworking girls so we figured it would be best to stay united and gather our visions.
Were there any difficulties you had to face since starting so fresh out of Uni?
We slid into the industry slowly, step by step. The opportunity was there so we decided to fill the gap that we believed was missing. We are learning tremendously every single day by trial and error. They don't teach you that at uni, it's not just creativity that runs a business. But we are surrounded by some great people with great minds and positive energy, they make the ride easier to handle. And it's more enjoyable to work together. But we are still individuals. We are doing projects together like fashion week and collaborations.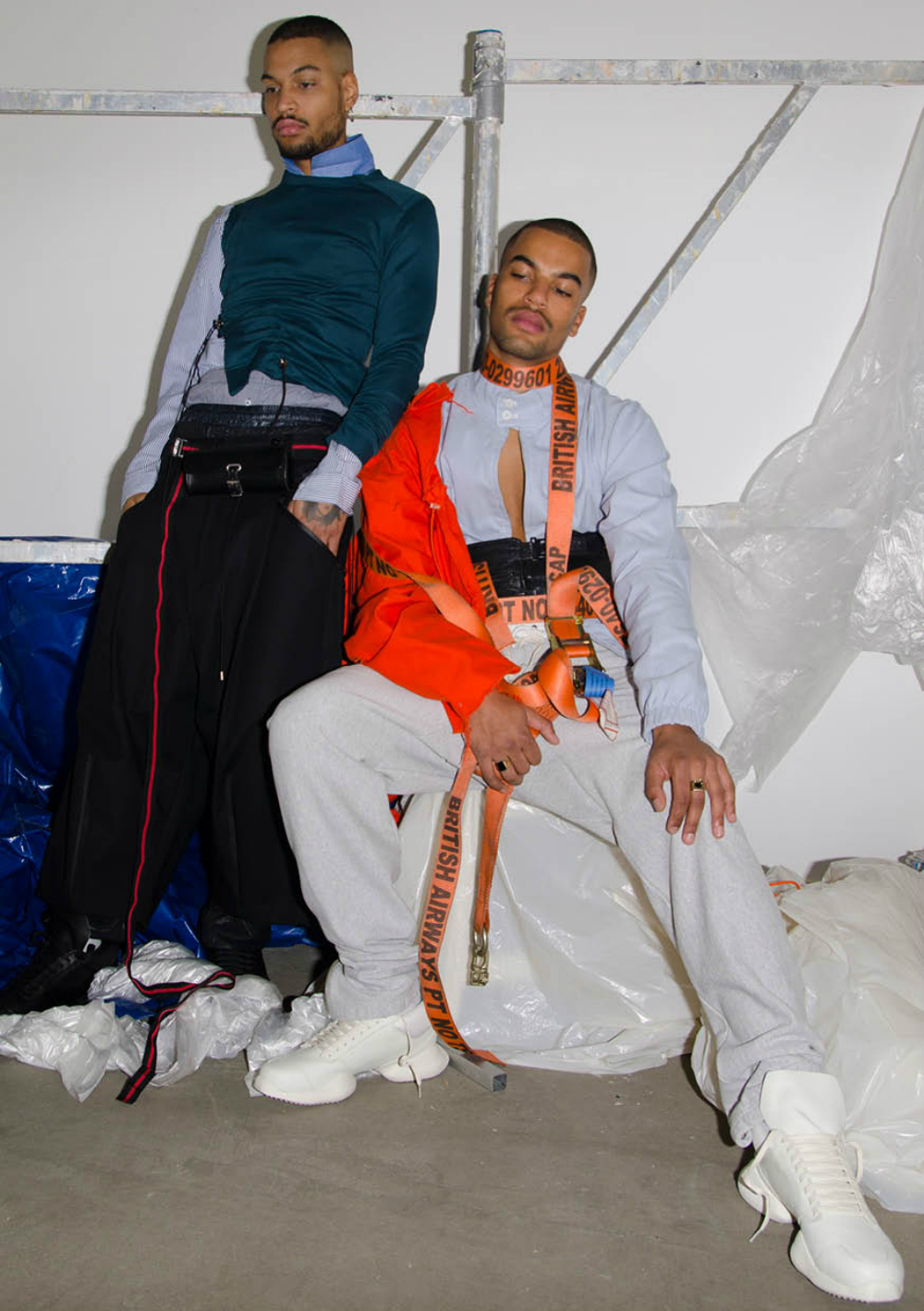 How do you manage to combine all your different opinions and points of view into one garment?
We don't. We fight all the time and after fashion week we'll probably file for a divorce. No, but seriously we fight and fight but that makes every person stronger. We fight in a positive way. And we truly made a collection with all the 6 different powers we have in us. We became sisters from different misters.
Collectives seem to be a big buzzword in fashion right now – what sets you apart from other groups?
We are on the low low but want to bang as a volcano. We are six different females but we are sliding through the same wave. Our brains are connected. Sailor Moon inspires us, an anime focused on girls combining their powers, an all-female group that joined together who took our hearts at a young age. Unfortunately we don't have extra-terrestrial powers so we decided to do something in fashion.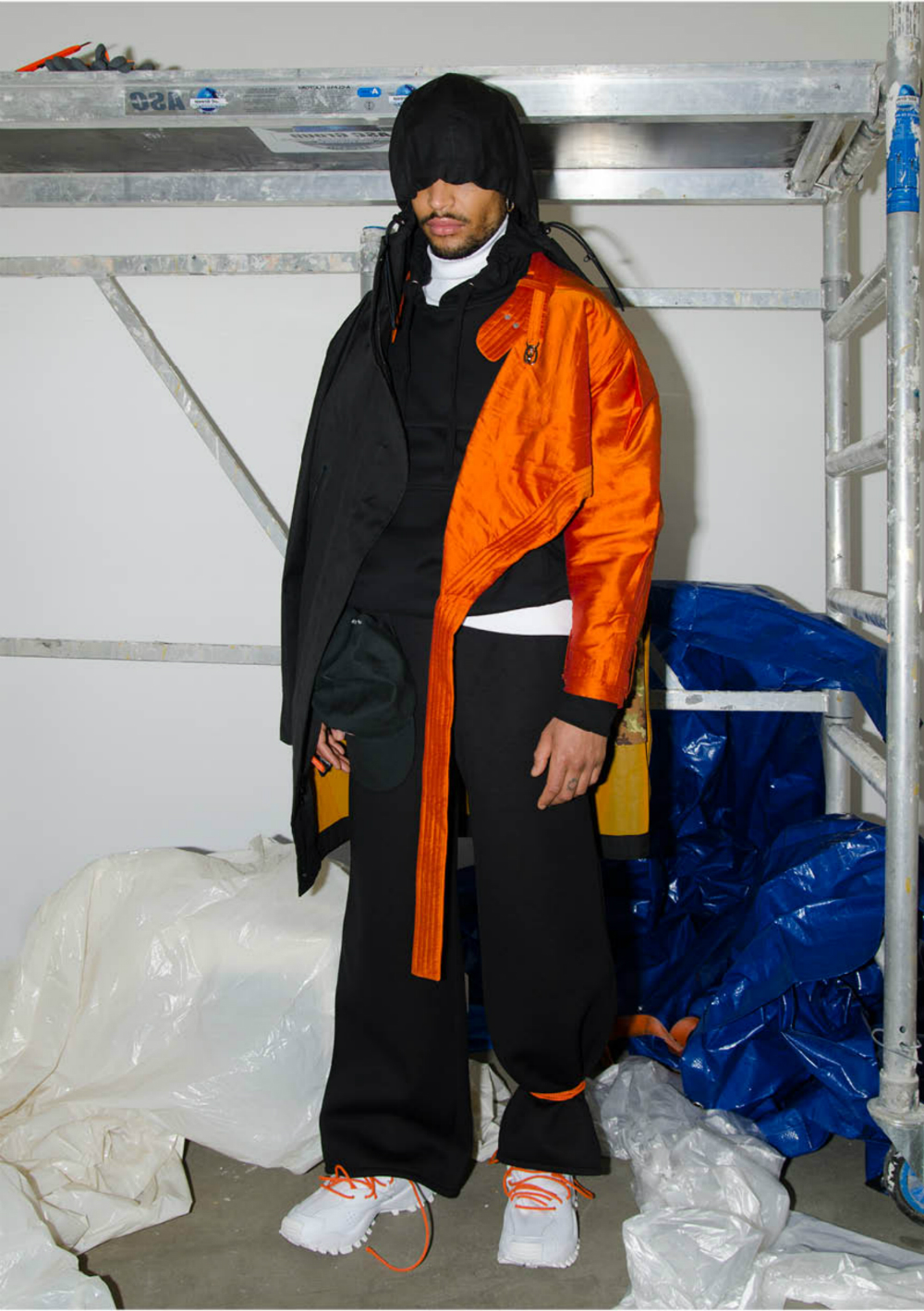 What made you focus on unisex clothing?
There shouldn't be a guideline to what gender is sexier so we chose both. We don't seclude one race, one type of person or one gender. Let all the people be involved in our world of Reconstruct, it's all about positivity and love. Corny huh.
Do you think it's the duty of young designers to shake things up?
Definitely, we are put here on earth to restore balance. We believe it's our duty as young creatives to unite and speak our minds as loud as possible. We cannot just sit around and let things be the way they are now, we have to take control.
How do you plan on doing that?
Just wait and watch the volcano erupt. Bang Bang.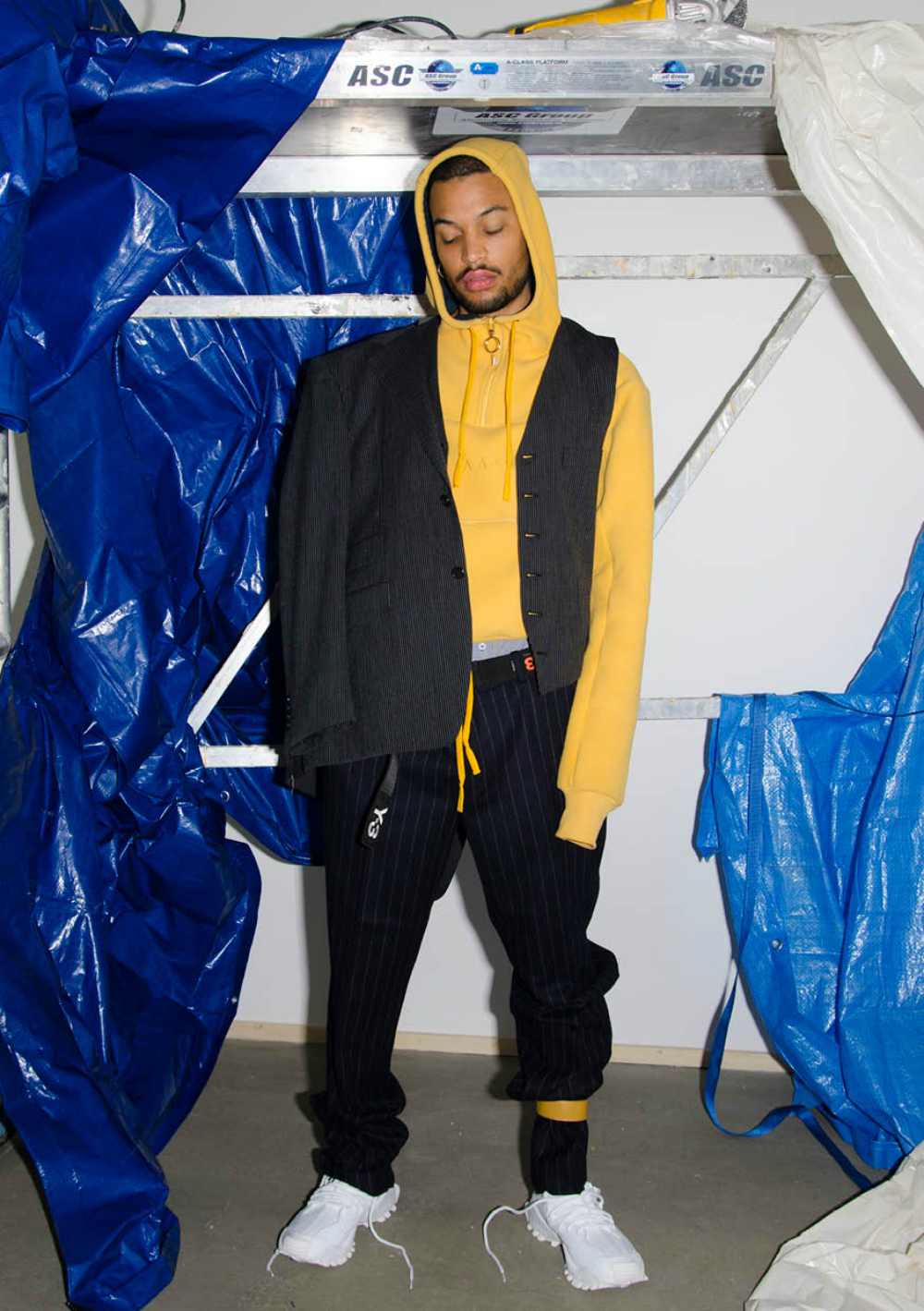 What bothers your about the state of fashion?
Why are we wearing thongs under our trousers? Nobody is paving the way anymore, nobody. All the pavers are dead. May you R.I.P.
How do you envision the ideal fashion world?
As a kind of Hogwarts where everybody would be dressed up in pink and sparkles. A world where magic exists and happens.
Until then, what do you plan on doing as Reconstruct in the future?
Staying true to our souls and unlocking our full potential as superheroes.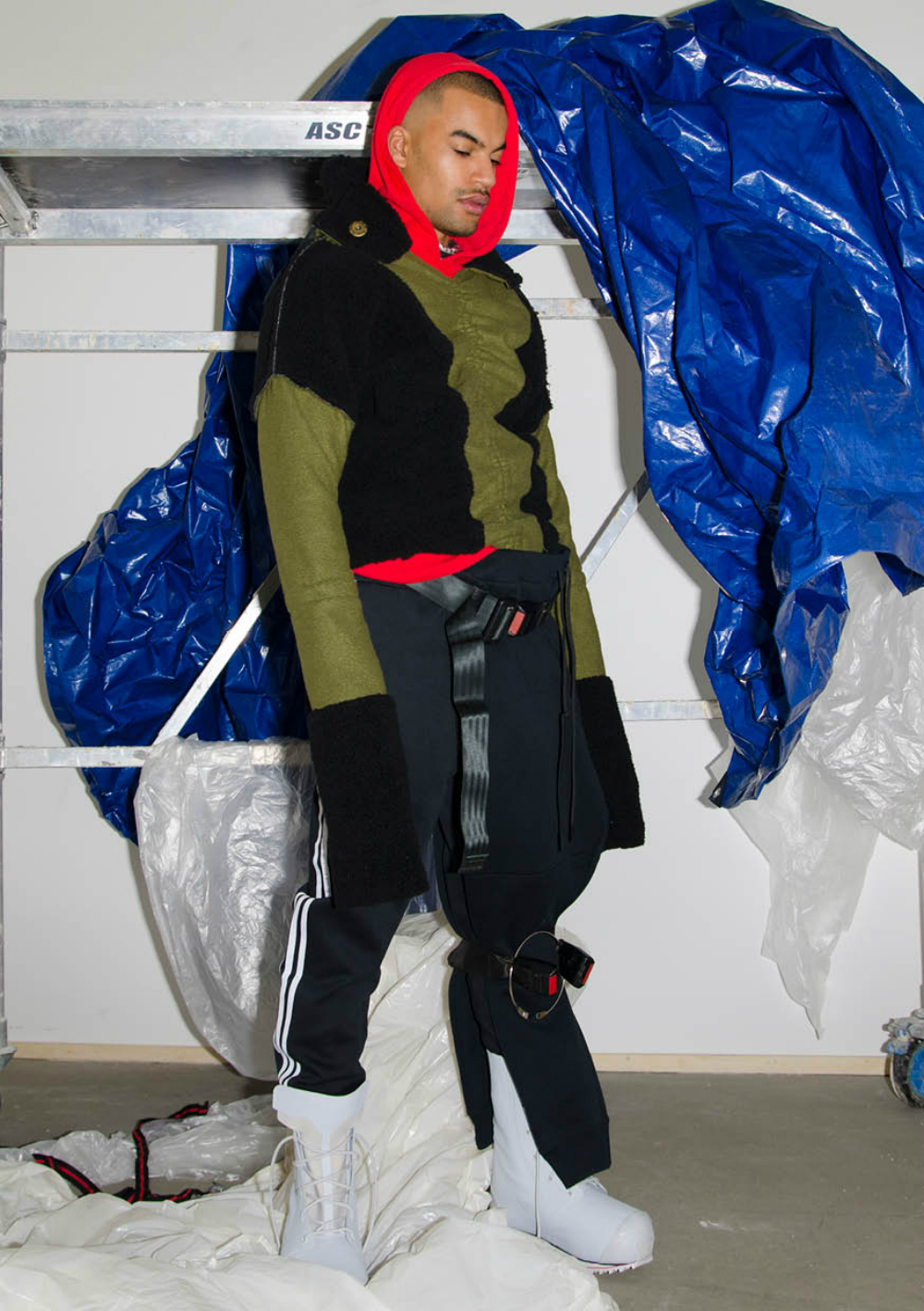 Images Concrete x RECONSTRUCT
Photography Zara Asmail
Styling Pamfillie
Clothes LAURA AANEN, ZARA ASMAIL, ALYSSA GROENEVELD, KIM KIVITS, MICHELLE LIEVAART, SANNE VERKLEIJ and pieces from CONCRETE STORE
By Trisha Balster
Merken
Merken
Merken