Photography Mona Shatry 
Playing to a packed out venue, Palace had the crowd hooked from the very first song. After listening to their newly released debut album "So long forever", a record mixed with songs both old and new, we were entranced by the sheer beauty of their music. The theme of "loss" is present throughout "So long forever", the album is dark and details very personal experiences that you can relate to yet tore at your heart strings. They take us on a poignant and reflective journey singing of heartbreak, destructive relationships, and death with a diverse range of epic ballads and intimate moments.
The British band is made up of Leo Wyndham (vox/guitar), Matt Hodges (drums), Will Dory (bass) and Rupert Turner (guitar). They lulled us into a trance with their energetic stage presence and lead singer Leo's impressive pelvic thrusts that no words can do justice. We truly were transported to another place with their soulful rock, filled with ethereal yet powerful melodies.
The supporting act, "The Beach Babies" warmed up the crowd with summery tunes and their frontman sported a rude and incredible mullet that I had to compliment him on following their performance.
Just before the show, we sat down with Matt and Will from PALACE for some cheeky banter and decided to break the ice by talking about a subject that – according to the BBC – the British are crazy about, the weather. And from there we launched into a chinwag with two halves of the magic that is PALACE, Matt and Will.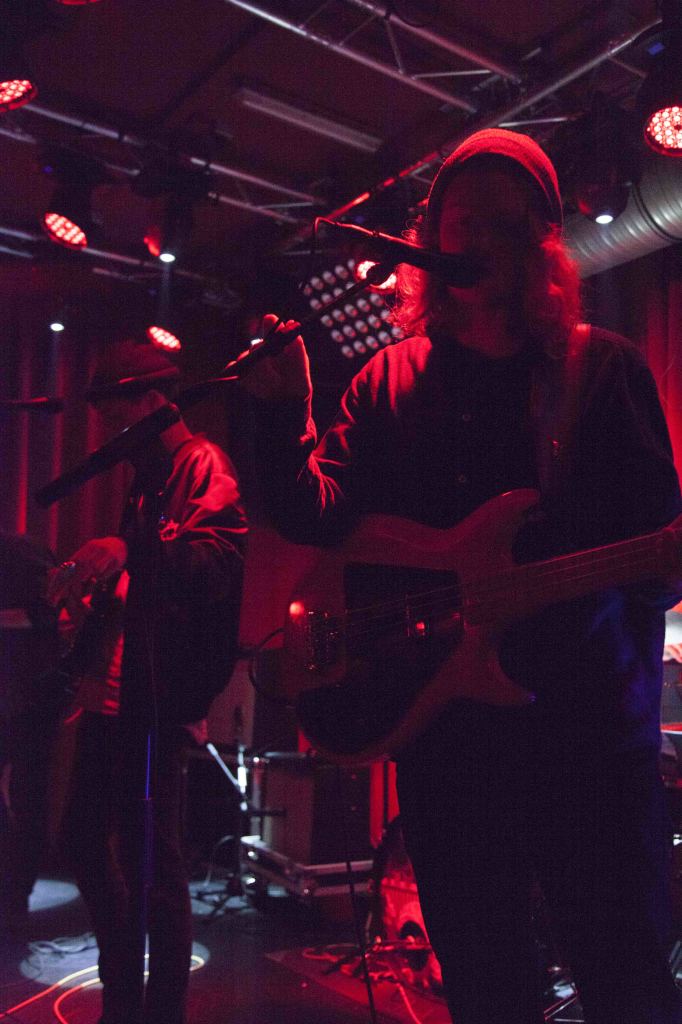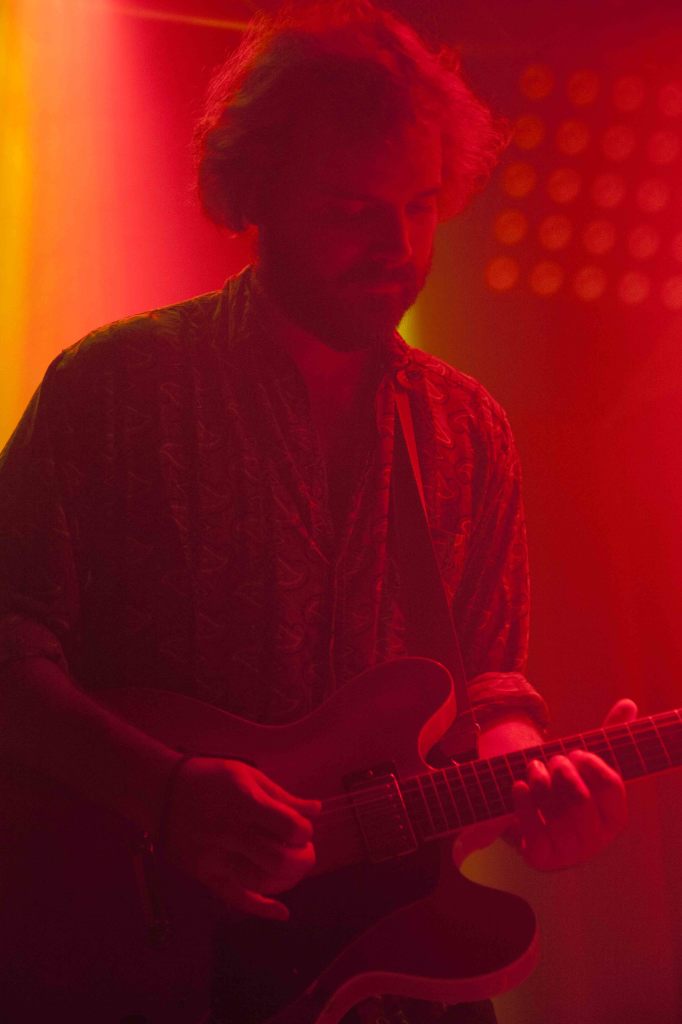 So you guys have played in Berlin a couple of times before right?
MATT: Yeah twice last year, once with Jamie T at the Postbanhof Club, and the other show was at the Berghain Kantine
WILL: That was our headline show. We wanted them to let us into Berghain, but sadly that didn't happen, but yeah we had a massive night that night
MATT (to Will): You had three beers didn't you?
That's pretty massive dude…
WILL: Yeah I went to bed at 6 and we had to be up to go to the next gig at 7am, but yeah it was a good time.
How do you guys handle traveling so much? You've been touring a lot, especially this month, you're going everywhere Prague, Vienna.
MATT: We've all known each other a really long time, you kind of just settle into a routine really. Maybe the first couple of days you're more tired but then it just eases out and your body gets used to that sort of way. Then you walk into your house at the end of the tour, and I always find I'm like what the fuck am I supposed to do now? It's like the reverse of motion sickness.You expect to be moving at all times but then it's just still and quiet and it's really weird…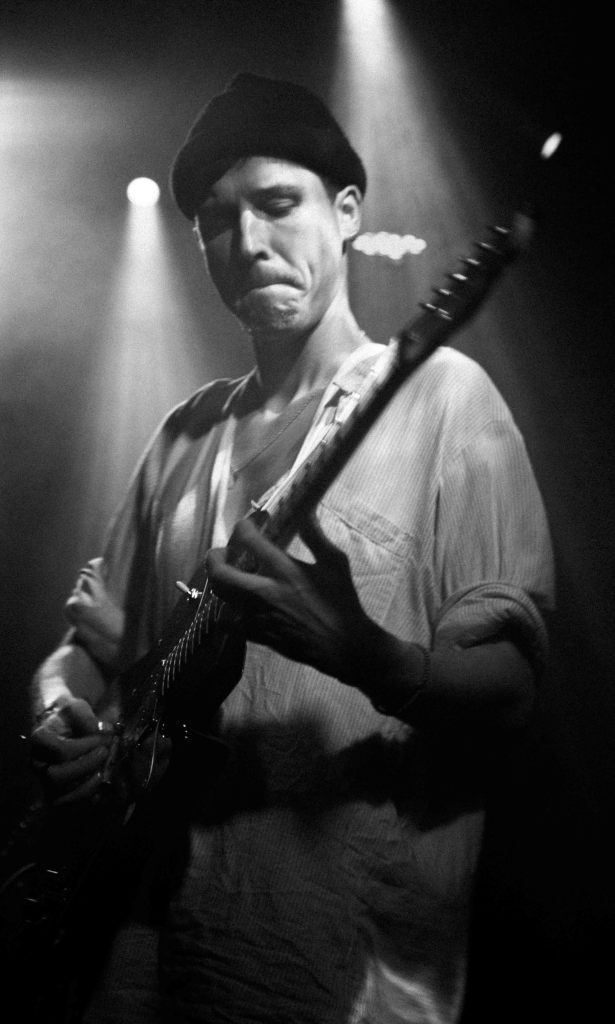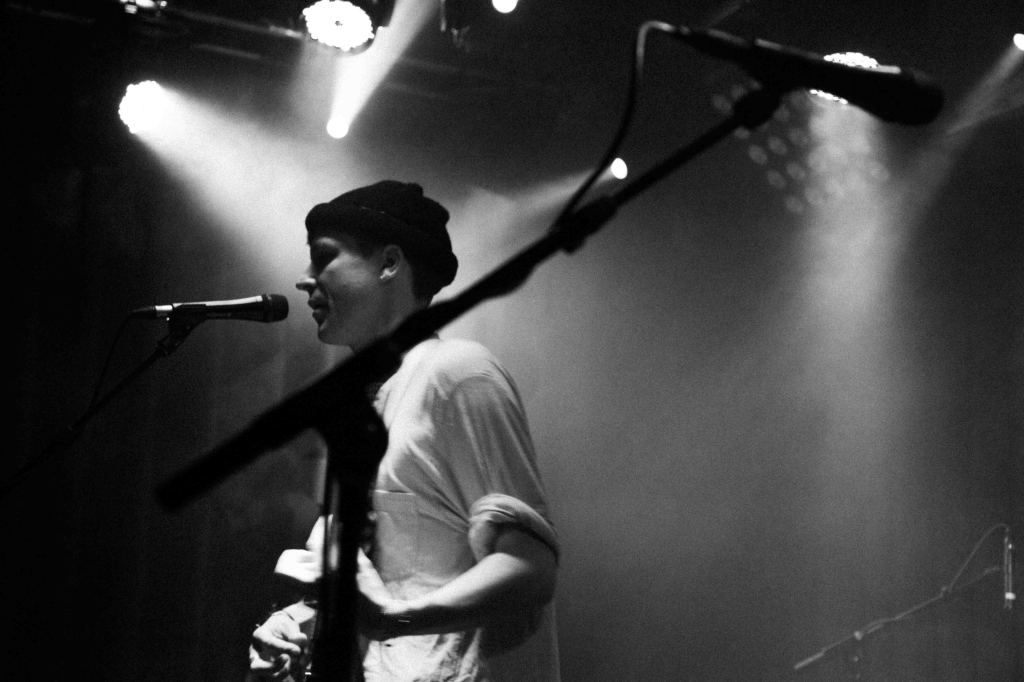 How long have you guys actually been playing together, it's been around 2 years right ?
MATT: Yeah two and a bit years… we started playing at the beginning of 2014 so yeah two years since we started the band. Leo and I decided to have a jam one day, just for fun and I'd never played drums before and were just like you know, fuck it let's just have a jam. And we had Rupert, who's our guitarist now, he was playing bass. So it was just the three of us, and then we realized it just wasn't that good. Then Will came on board on bass and he's actually a guitarist himself. He didn't really play the bass before the band either, and Rupert who played bass now plays guitar and Will now plays bass but used to play guitar.
WILL: We are a band of misfits.
MATT: Yeah we are, and it's just kind of stayed like that ever since, it's a good combination.
Yeah, I think you guys make rad combination… And I'm curious what's with the name, are you guys secretly royalty or something? Where exactly did the name PALACE come from?
MATT: I wish there was an interesting story to go with it, but it's just a word, we were trying to think of a name and we had our very first show, and our agent was saying to us the night before the show, guys you need a name to put on the poster, and Leo's brother just said "How about palace?" And we just went with it.
WILL: (whispers) You were meant to say the elaborate story
(Everyone laughs)
MATT: Yeah I wish there was a more elaborate story like we were all born in palaces all over the world.
WILL: However, I think if that was the case we wouldn't be telling that story…
MATT: Yeah we probably wouldn't be in a band! Leo's brother actually gave us the name, he's done a lot for us, he also does all our artwork.
Yeah Wilm Danby? He sounds amazing, he does everything, he should be an honorary member, I guess he is in a sense. Tell me more about this dude! How do the concepts for the amazing album artwork come about?
MATT: Yeah he is! Well he actually used to be in the band as well…
WILL: He played bass before me.
MATT: Reluctantly (laughs)… for the first EP it was actually a self-portrait that he again, reluctantly let us use and for the second EP he actually found the girl from Tinder.
Ooh right…
WILL: Not in that way haha
MATT: So he was looking for a model to paint from tinder specifically for our album cover, and there was a girl who has since gone onto being in loads of our stuff, she's in two music videos, she's the face of the second video AND she's in the latest album artwork too. For the latest album we gave him a few of the song titles from the album, but then we just said go for it. He made this cover himself from a rough brief, the lemon represents the song "bitter", the guy praying refers to the song "have faith", there are different things but the overall composition is all his own work… and he made this amazing thing.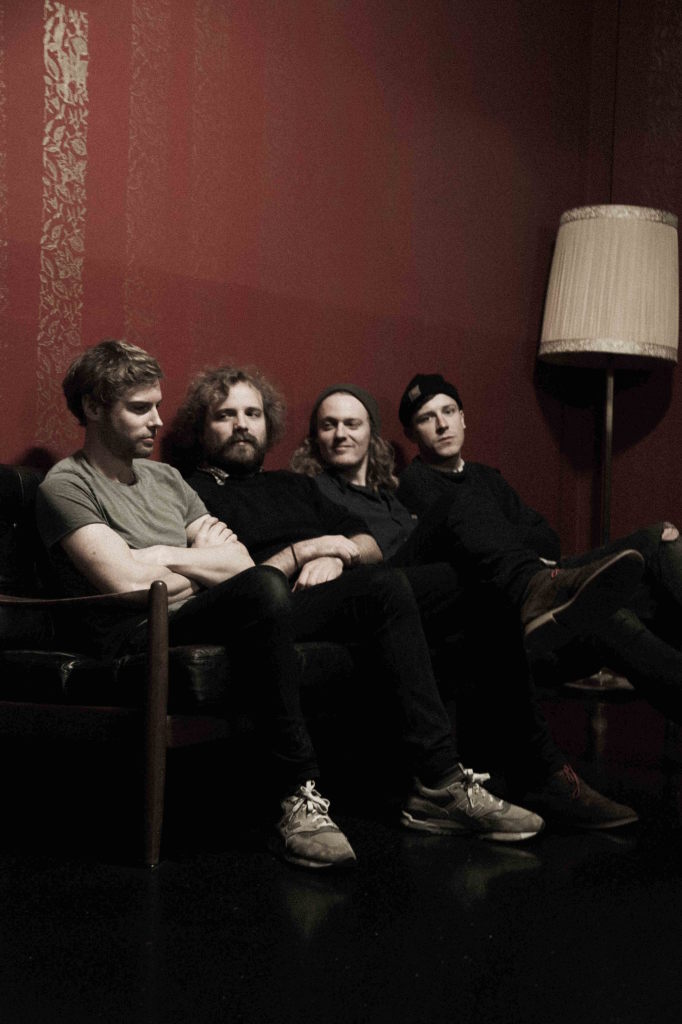 By the way, congratulations on your debut album I really like it as I feel a lot of the songs on your latest album really resonate with me on my own personal journey at the moment. I think that's why your fans love your music, this album feels very personal and quite intimate. When compared to your last EP what are some differences that you've really noticed? Obviously, you've grown more as a band the longer you played together, but are there any particular differences you've noticed within yourselves?
MATT: I think it's definitely more polished, it's more sophisticated. I think the album is a good mix of old Palace sounds and sentiments and music but with a shot of adrenaline.
WILL: I think we tried to keep as much of the old kind of style as possible but then just sort of build on top of that and put it with a more high fidelity production, so that sort of brings it to a new sonic area.
MATT: We recorded all the old stuff in our studio, so you can hear the difference, with really good equipment, but we think it's so you can hear it but it's definitely more polished in a good, progressive way.
WILL: The sentiment remains in all of the music but it's just recorded differently.
Palace wrote and recorded their first two EPs in The Arch. A warehouse community of musicians, artists and designers in Tottenham where they built their own rehearsal and recording space.
So with the older stuff you've recorded, where did you get the equipment to record with?
WILL: Well we are part of this collective of musicians that started about five years ago, there are about 16 people. Those people have changed, a couple have remained, but out of all those people, everyone put their equipment together and with that we've had enough stuff to record really. You don't really need a huge amount of stuff, you just need a computer, a mixing desk, and guitar amps.
MATT: Well I guess that's the difference, that's what we used to record, but then with the album the producer had all these ridiculous ideas we would never have thought of. Like shoving a screwdriver between the strings in the neck of a guitar and hitting it so you get all these crazy sounds, he actually had the original reverb box that was used on Led Zeppelin one and two that we used on our record.
Ah, super cool.. so what's your favorite venue you've played so far? I see you've done Glastonbury, Leeds, and Reading festival. I would probably shit myself if I had to play to a huge crowd. Do you guys ever get stage fright?
MATT: For me, last summer we played a venue in France called Musilac. In the South of France, on the edge of a lake in the mountains, with good food and good people. We played to 20,000 people which was insane.
WILL: I would say the same, it's pretty terrifying going on before the Chemical Brothers.
MATT: Yeah we shared the stage with Paolo Nutini, Alt-J and the Chemical Brothers, and Muse was the next day. For me, and Glastonbury was almost the same, when there's a big stage and big barrier you almost feel slightly more disconnected with people. When it's a smaller intimate venue where you can see people and read their reactions and what they're thinking that's more nerve wrecking I think. When they're more far away and it's just a sea of people you just let it wash over you.
WILL: I feel it's less scary to do an acoustic set to twenty people right around you than doing that kind of show, apart from the fact that your face is on the big screen, that's pretty terrifying, I turn to look at Matt and see my face on the screen and try to duck out of the camera. (both laugh)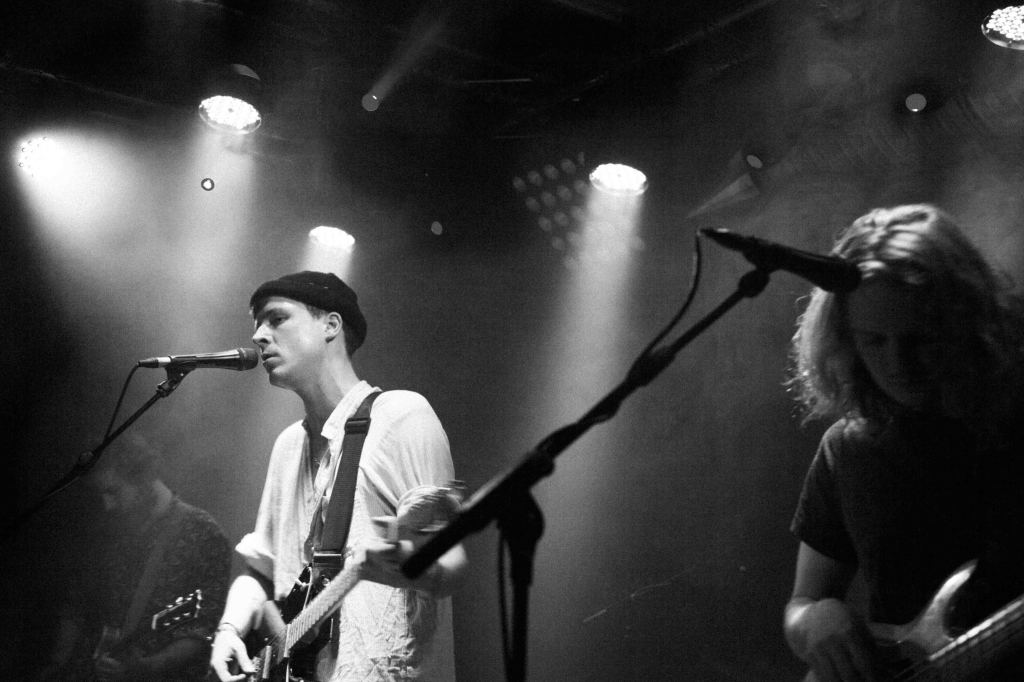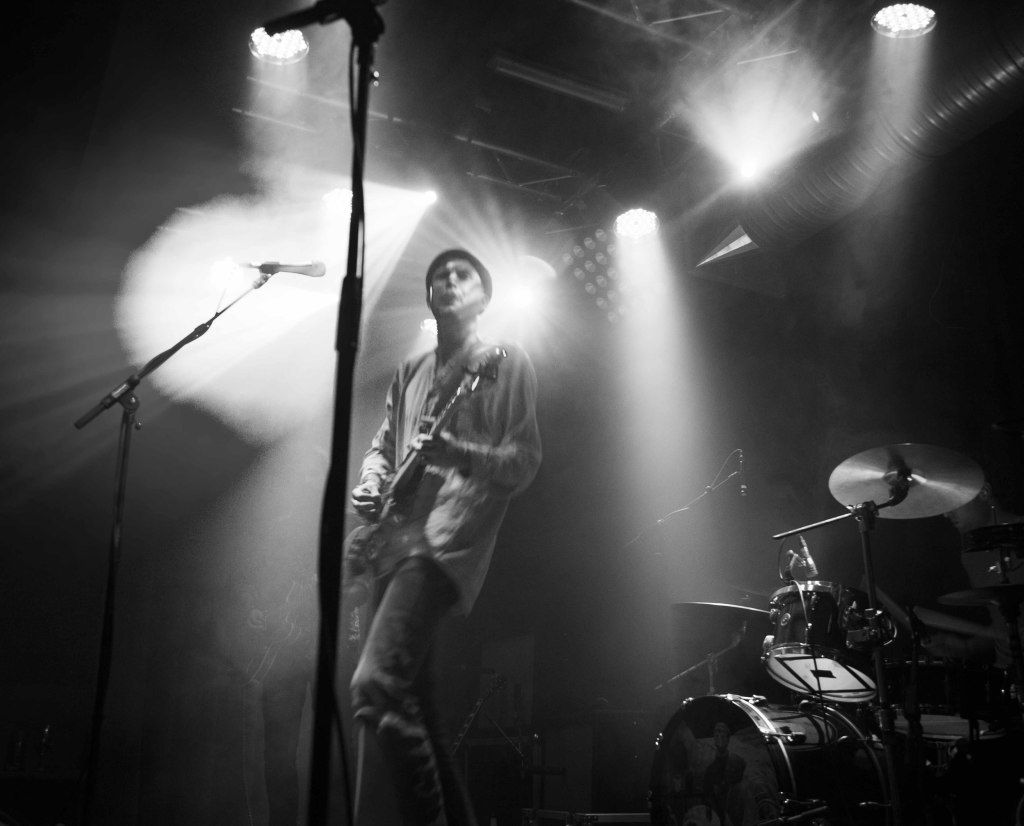 So what's your plan for the future with your band? I know everyone always asks " so what's next?" But this is the world we live in, so what can we look forward to whilst we enjoy your album?
MATT: We just want to play as much as possible, we just love playing, it sounds really cliché but it's so fun! Traveling around to different countries, playing places you've never been to before. We have a lot of new music in the pipeline as well…
WILL: Yeah working on new music, making sure we are prepared for next year, lots and lots and lots of gigs worldwide we hope.
"So long forever" has just been released on Fiction Records and is available to stream on Spotify.
Merken