Photography Sina Lesnik
Assistant photography Kevin Herrmann
Patrick Mason – the 26-year-old fashion design student that is taking Berlin by storm. Taking his first steps towards conquering the fashion world, he had his first big break showing at last year's Berlin Alternative Fashion week and after seeing his show at BAFW this year again, INDIE had to know more about this fantastic new designer.
What was it like growing up?
When I was 10 years old my parents and I moved to Regensburg, a small town in Bavaria. Growing up it was super boring. I was the only mixed race kid in town so I got picked on a lot. That has had a lot to do with the person I am today. It was hard but my dad always taught me to stand up for myself and to never back down. My parents are amazing and have always meant the world to me, they have always supported me both spiritually as well as financially. There is no way to thank them for all they have done for me, teaching me to have strength, willpower and stamina to go for what I want!
What drove you to art school?
Funnily enough, growing up Berlin was never on the map for me. I always associated the city with being a total wreck and dirty. I had a very West German idea of what Berlin would be like. It was my mom that pushed me to move to Berlin and go to school here instead of in Munich. She said this was my chance to get away from home and see the world. So I sent my portfolio to a private school for Art Direction and Communication Design and Graphic Design. The school was very elite and only let in about 10 students a year. And I got in! I had never been to Berlin and overnight I moved into a small apartment in Steglitz!
Is this the school you are still in?
No it is not. I did 6 semesters but never finished that art school, I knew I wanted to study fashion design and I felt like I had acquired enough tools and knowledge at the private school to be able to study fashion successfully and be as independent as possible during my further studies.
What was it like moving from Regensburg to Berlin?
When I moved to the city I started dealing with my sexuality in a real way for the first time. The first weekend I was in Berlin someone took me to the club GMF. I had only ever been in small clubs in Munich and this was next level.  Where I was from all the gay men were "fairy gays" and very pretentious. I never fit into that scene. I started working at GMF and worked there for 2 years, from there I started to see all that was possible in terms of style and fashion but also in the gay scene.
There was also a disconnect there, the gay scene can be tremendously superficial and can label men very quickly. I was looking for love while most gay men were looking for a hook-up. I struggled with this a lot I felt like an outsider within the outsiders.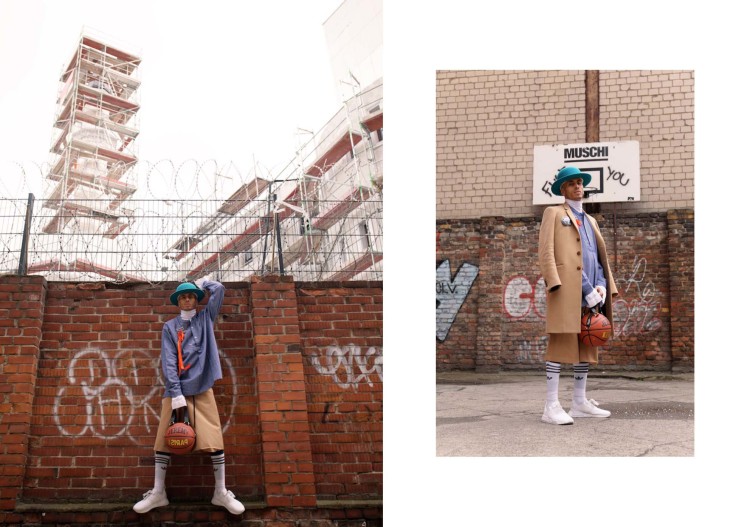 How did you develop your own style?
My style is my way of self-expression. Turning yourself inside out and wearing it like a second skin. That is what I want to achieve with my clothing line as well. It has become a bit of a tick, I feel like I am not complete when I am not dressed properly, I don't feel comfortable. I am a narcissistic person, constantly busy with how I look. I don't think it is necessarily a negative thing. I see it as self awareness.
People come up to me on the streets all the time to make a remark on my appearance. The best compliment someone can give me when they come up to me is not "wow you look great" but it's "wow I really buy it; I can see this is really you". To be authentic is the most important thing to me.
What sparked your interest and made you want to get into fashion design?
Fashion has always fascinated me. When I was 18 I saw a McQueen show for the very first time and I was blown away. That's where it all changed for me. I saw how strong yet fragile his work was, how he could bend fashion and put it on display. It was everything to me.
There is a quote by Karl Lagerfeld "Fashion is wearable art" that is how I feel and what I want to do.
How did you feel when McQueen died?
Devastated. I locked myself in a room for a week and went through all his shows and books. It was a huge loss for the art world as well as for fashion world. To this day, in my opinion, there is no one that can touch McQueen. I wouldn't dare say I am the next McQueen but his spirit does live on in me and it gives me the drive to do what I want to do.
What is it like to already have had such praise from the fashion world so early on in your career?
I am extremely grateful for it, of course. But now that I have been getting a lot of attention and the spotlight is  on me I need to be aware of how other people interpret me. I have been reflecting a lot lately on the way I portray myself and what I project onto other people.
Does this early success make still being in school difficult?
I knew what I wanted when I went into fashion, it is all part of my calculated plan. I see university as a way of earning new tools that help me to further develop myself as an artist. Building my portfolio is most important right now, no one is going to be interested in my grades at school. It is all about the work I make.
Of course planning my last two shows all by myself. Juggling work, school, various projects I am involved in and a social life. Sometimes it all gets to be too much. But I am very grateful especially for my assistant Emily Gessner who I met after my first show, she is my left and my right hand.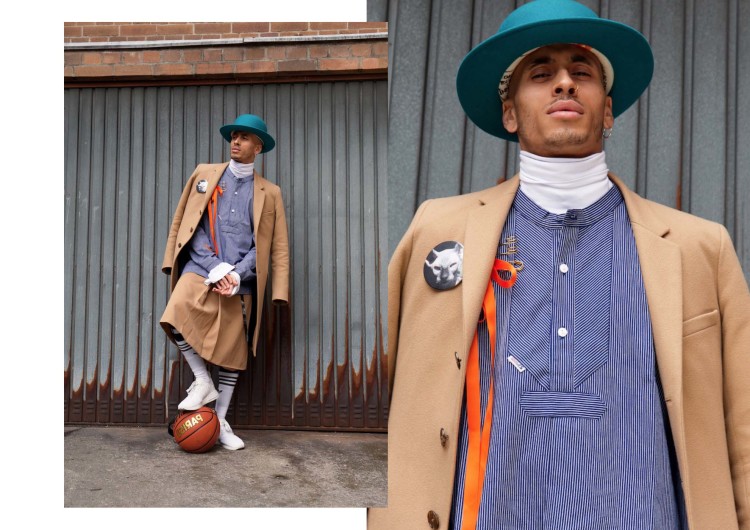 You speak of "your calculated plan", what is the next step in this plan?
My next step will be doing a masters at Central Saint Martins
I heard you have recently been involved working for Zalando, how did you come about this?
I do art direction for Zalando. I was working with a photographer whose best friend works for Zalando. They were looking for a fresh wind to change Zalando's visual appearance and they knew I was studying art direction and asked me if I wanted to come on. I really like it there and I work in an amazing team of stylists, photographers and hair and makeup artists. 
You have also been known to have been linked with Adidas, how has this helped your career?Adidas gave me a huge opportunity. I got scouted over Instagram for the Adidas Tubular Launch campaign as a model. We could style ourselves, that really kicked things off for me as a fashion influencer. Ever since Adidas has been a huge supporter of mine and I am shooting their new campaign this week!
Where do you find the time to do everything? Special time management tricks?
I tried a working with all different kinds of calendars but I always lost track. Last week I signed with an artist agency called Epic Development so they will take care of my schedule from now on. A huge weight lifted off my shoulders!
Where did the idea of combining performance and art to fashion come from?
I put a lot of thought in my shows from the music to the models to the lights. I really try to put as much mixed media and art forms into each my shows. I am obsessed with characters and striking features. I really want to put different kinds of models on the forefront because I think the way people perceive beauty has to change. Like I mentioned before Alexander McQueen is one of my heroes and when you look at his shows you see drama and performance art and I think that has to be the future of fashion. The people want to be entertained. The old way of having models walk to the front and then back again has to be over.
We can't help but hear the name Maison Mason being spoken of, where does this name come from?
Maison Mason is my fashion label. From a graphic design point of view I wanted a label name that would look good as a logo. Mason is my last name and brings the craziness and the individuality. Maison is like the traditional big Paris fashion houses and brings the quality and fines to the label.
Where do you see yourself in 10 years?
In New York working as a CEO for a big house. Establishing myself and making my name known in the fashion world. I would have my whole crew accompany me. My four best friends Danny Wutzl, Dina Schiller, Don Aretino and Leonard Becker are essential corner stones in my life. I would be nowhere without them!
It is interesting, you want to work for someone else's big fashion house, why not your own?
I want to work for someone else to begin with so I can make mistakes. Learn the industry, the tricks of the trade. Then when I have all those compounds together I will launch my own label. I suppose that is the 15-year goal! 
You seem to be very calculating and patient career-wise –  many people want everything right away yet you seem to be working hard but slow.
I see it a lot in the fashion scene. People have a small glimpse of fame and think they don't have to work from the bottom to get up anymore. They do their thing but have nothing to back it up with. The way I work is the way my dad taught me, take it one step at a time and don't try to taking 10 steps at once because in the end you will fall behind. 
Would you consider your most likely demise?
I'm a perfectionist and sometimes that takes the overhand. I know there is always a bigger and a better for everything. It is very hard for me to let go and say something is done.
You live in your own world of perception so much; does it ever get lonely or feel like you can't connect with people?
It gets lonely a lot. I think most artists struggle with this loneliness. I think it was a big reason to why McQueen decided to end his life. As an artist you always have to search for new boundaries. You have to look for something that hasn't been done before and you have to put yourself on the line.
I am most creative when I am depressed or going through self reflection. I have to deal with me and my issues, I become fragmented and look at each part individually. The art then is to put the puzzle back together and make a mosaic of something new and beautiful.
People will only be moved by work which has touched your soul, when you take a part of it and give it to the people. Soul searching is really important before you decide to expose yourself.
Do you look for that edge where you almost push yourself too far in order to create?
Yes, always. There are times when I have gone and pushed myself too far but I am blessed with wonderfull parents and friends to help me get back. In any case my aspiration is not to be happy, my aspiration is to know myself and be okay with myself.
Do you see it as a sacrifice?
Yes, but also as a blessing. To be able to create, it takes a lot of strength but you can only achieve that when you get broken down, when you are crawling in the dirt yet still get up fix your crown and keep going. That has happened to me a lot. You have to fail in order to learn. Without failure you will not be able to achieve anything meaningful.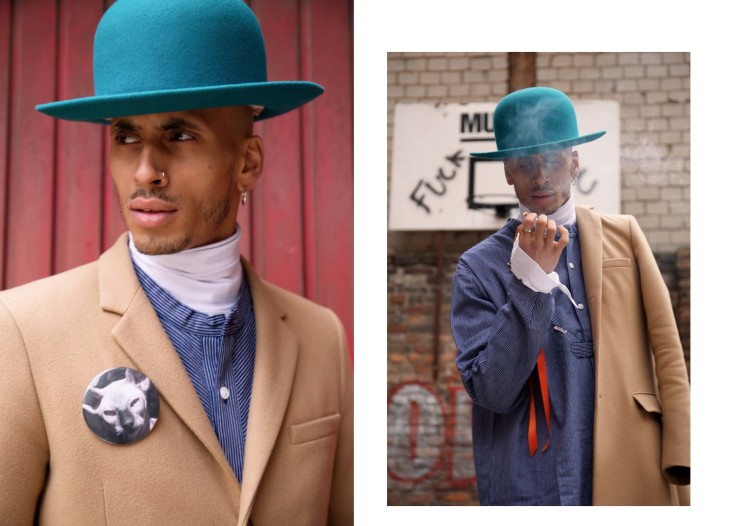 What turns you on creatively, spiritually or emotionally?
Art is all kinds of ways. Genderfuckers who really push their boundaries and push the way people think. The streets of Berlin, I love to walk the streets and observe the way people behave or the way they react to me, how they influence the city.
Music, I cannot live without music. In Berlin I especially love Berghain, it is my favorite place. I am there almost every weekend. I recently got into DJ-ing and feel so inspired by DJs like the Black Madonna or Âme & Dixon, people who know how to make the masses move and the ability to tell a story with their set. I think that is what most DJs lack, being able to make people emotionally involved in their set.
When I come home from a night at Berghain I will sit in my bed and just draw and try to bring up all the emotions I felt there and my inspiration flows.
What kind of drawings do you make in these moments?
I am obsessed with portraits so I sketch a lot of faces, scars, different features, demolitions. I am really fond of the abnormal. 
One person you would love to design for?
FKA twigs
Favorite place on earth?
My grandmother's old apartment
What can we expect from you in the future?
My next fashion show in September. It is going to be my last fashion show at Berlin Alternative Fashion Week and it is going to be huge! I want to go out with a blast!
By Indiana Roma Voss