When rebellious Rock'n'Roll band Starbenders approached INDIE to be the catalyst for their new music video release we jumped at the opportunity to not only push their release but also to have a little chat with these up and coming rock'n'rollers!
Who all is in Starbenders and what are their roles in the band?
Kimi Shelter, lead singer and guitarist from Atlanta, GA
Katie Herron, drummer from Huntsville, AL
Kriss Tokaji, lead guitarist from Atlanta, GA
Aaron Lecesne, bassist from Atlanta, GA
How long has the band been together and how did you get started?
The band has been together for 2 years. We got started after Kimi Shelter began working with producer Nico Constantine. We'd all been in other bands and known one another for a while and it was the perfect time to get together.
Why did you decide to name the band Starbenders?
Kimi: My vision of the band has been clear and uncut since the beginning. We wanted a name to carry the tradition of glam. In the midst of a celestial brainstorm, the name revealed itself to me.
Tell me about how everyone got into being musicians?
The genesis of our individual crafts are parallel amongst us all. We all love rock n' roll and were automatically allured by the mysticism of being performers. Each one of us are relatively self taught; born with the ability to channel our callings from a young age.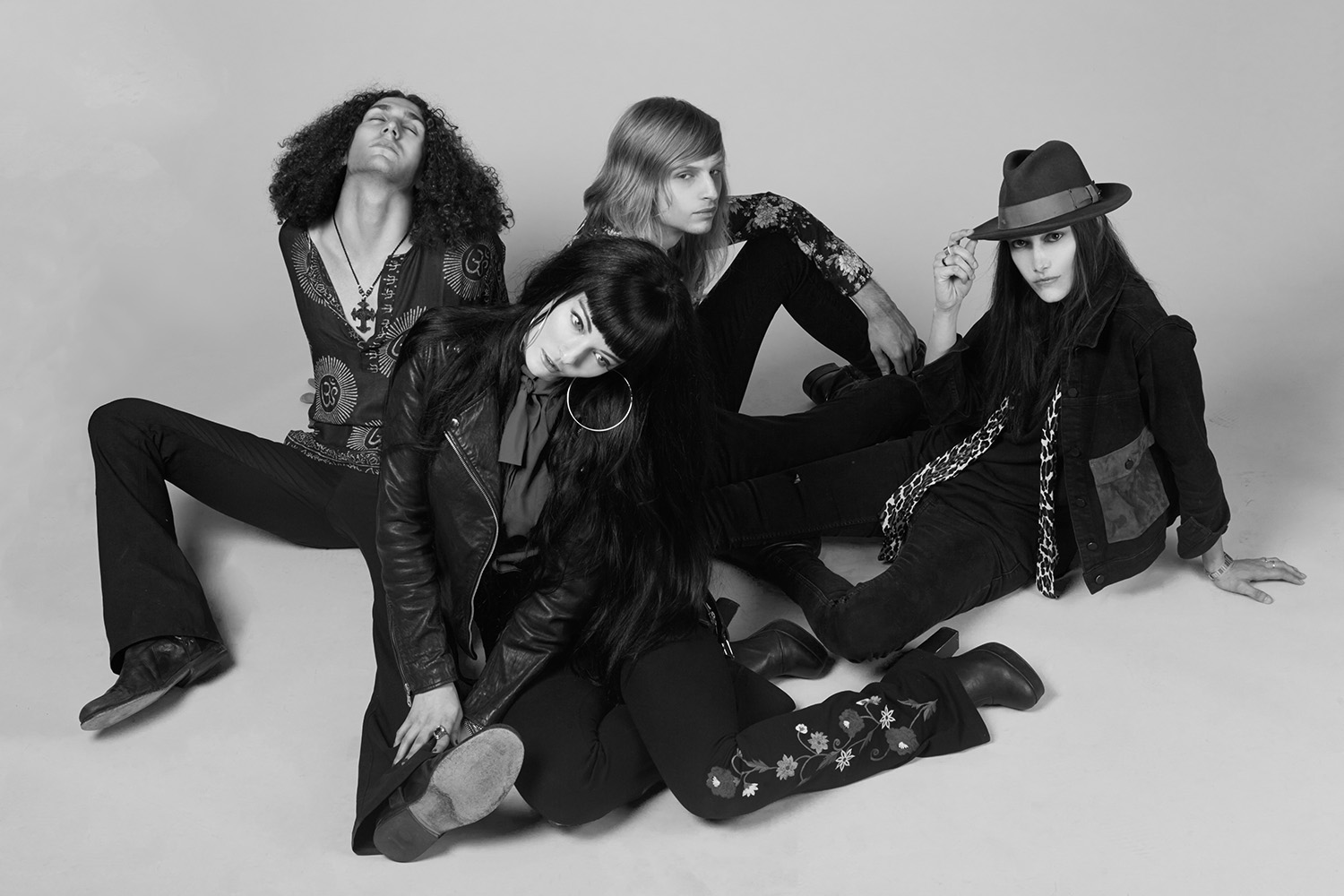 Photographer Christian Cody
Clothing by Sav Noir
First song you ever wrote?
The band's first song was a track called 'Abduct Me'. It's unreleased, but it's become a throwback crowd favourite.
What is it about music that you love the most?
Through selling freedom, we get to walk the path of being free men and women. Music allows us to journey into any realm we require.
What is the greatest struggle about being involved in music?
There are dark sides to every party, but we have to trust our struggle. It's part of our journey so we try to use all that we encounter, whether it's positive or negative.
How would you describe the band in 3 words?
Intergalactic, romantic, thunderous
Does Starbenders have a code, a motto to live by?
Whoever fights monsters should see to it that in the process he does not become a monster. -Nietzsche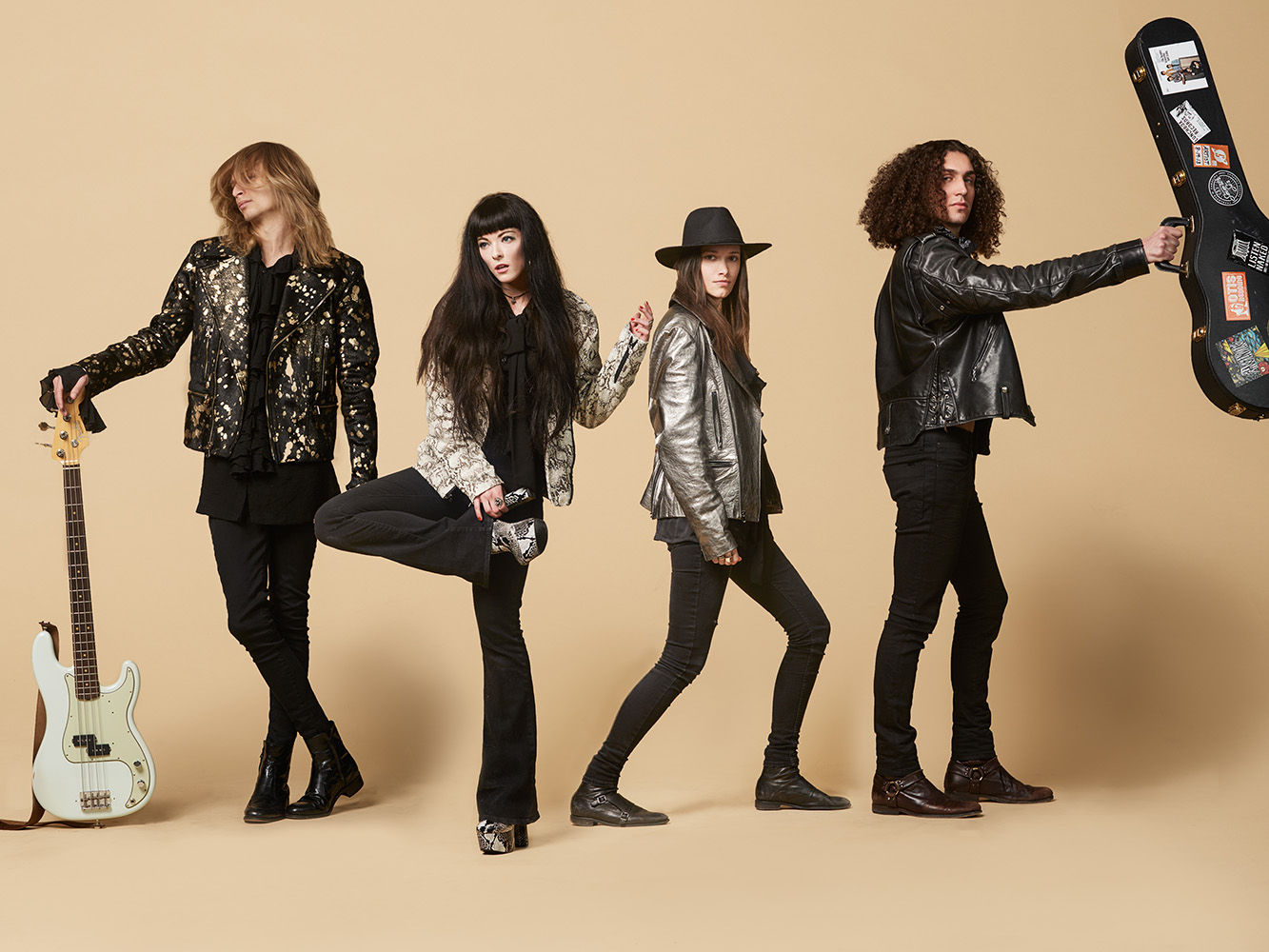 Photographer Christian Cody
Clothing by Sav Noir
Describe the perfect gig?
When the band is telepathically connected to one another and the energy of the room propels us forward into a blacked out adrenaline stupor.
You say your music comes from "this misunderstood state of mind—a snotty teenage attitude toward life". As you guys get older how do you hold on to this teenage attitude?
Part of youth is being under the impression that you can change the world. There are a lot of things about the world that are terrifyingly unjust. We carry the torch of the unspoken, and in that way maintain a "teenage attitude". Rebellion is built into the foundation of the band.
What is the song blood about? How did writing this song come about?
Blood was inspired by an image that I saw of a dark room full of people, with only one person shrouded in a red light. It made me think of running into a past love after not having seen them for a while. Their taste never left your mouth and you feel attached to them telekinetically as they move around the room. After seeing them, the obsession intensifies to the point of utter restlessness. We cut the song from the floor at Glow in the Dark studios in Atlanta, GA. The song seemed to appeal to the ghosts of the studio, as they lent their own contribution of eeriness onto the track.
What are your biggest non-music influences?
Love is the truest inspiration of art.
What's next for Starbenders?
We're soon to be releasing our new full length record "Heavy Petting". It's an exciting release for us. The band plans to embark upon new territory in the next year, both sonically and physically.
Featured image by Christian Cody; Clothing by Sav Noir
By Indiana Roma Voss