Berlin from the Eighties till today: Mark Reeder, Furfriend, Nico Deuster of Killekill, the Creamcake collective, Sullivan and the newcomers Metoux, Lord Pusswhip and Jascha Kreft talk about the music scene in the city. What has changed? And: is the city still longing for young creatives?
Please tell us more about your project Creamcake.
Creamcake is an explorer of visionary experimental music & art, and represents the OnlineUnderground in Berlin. It was f ounded in 2011 by Daniela Seitz and Anja Weigl. Since then we involve as many friends as possible by providing a diverse platform everyone can use. Affiliates include: DJ Paypal, 333 Boyz, BattleAx, Nile, Koetting, and Aurora Sander.
What's your aim with Creamcake?
Introduce you to a new world of v isionary projects, which work at the intersection between e xperimental music, art, and digital culture. Supporting artists who use the Internet as their primary stage, welcoming new sounds and aesthetics into a reallife environment.
Why did you choose Berlin as location?
We are Germans and have lived here since 2007. Berlin is our spine.
How would you describe Berlin's music scene?
Vibrant.
And Berlin's nightlife?
Kreuzberg nights are long!
What would you like to change about Berlin regarding your work?
If this is my wishing well for change: The domination by men and menrun music networks. The lack of support between women under the surface, the fighting over crumbs while men have the whole cake. What's up with that?
And what should never change?
Change and transformation are important, but dogs should always be allowed to walk without leashes.
Could you think of any other city that could become a competitor?
There are exciting movements in the world which anticipate major changes to come in our time. Future mainstream hits and underground trends will develop more and more out of Asia, Africa, and Latin America. There is already an obsession coming from Western onlineunderground music scenes towards these scenes. Berlin will probably manifest as the creative center of Europe. LOVE will be the currency.
Do you still feel the city's cultural past today?
Since the 80s, Berlin has been a creative playground a bird of paradise, if you like and it offers an exciting mix of very diverse people and communities, which is very inspiring. The city always been embracive of new gender roles and queer identities, and you will get that asap when you arrive. You still can bypass capitalistic logics, there is still no real industry, if that makes sense but it's also getting more expensive to live here. Lots of our friends are having hard times finding affordable studio spaces.
How do you discover the artists for your unique lineup?
We do research on platforms such as SoundCloud, Bandcamp, Facebook and Twitter. We follow music and art blogs and bookmark sites. We use our network and connect with artists on the Internet. Most recently, we also get messages from people who know of our project, and would like to play a show, or provide online content. That's really exciting!
How do Berliners react to your events and the artists that are playing?
They like it! The form and styles we represent are getting more interesting and popular, and are appealing to bigger platforms. Supporting the movement is really important for the artists, so they can live from their music, play bigger shows, and tour internationally. It's important to understand that Techno is mainstream here, and lots of people can act intolerant to things they don't know/understand. Creamcake can(t) be for everyone! Two years ago, it was not possible to play a Rihanna edit at a straight Techno club. Now you can!
What role does the internet play in your work?
Thanks to the Internet we exist! By focusing on postdigital visions and contemporary remixculture, we are able to move outside elitist, cultural and political canons. Detached from commercialization, gender stereotypes and norms, the artists we are working with gain an audience via social media platforms like Soundcloud, YouTube, Twitter, and MediaFire. So the I nternet, digital access to data streams, the possibility to connect through social media and listen to music from around the world are the engines behind our work.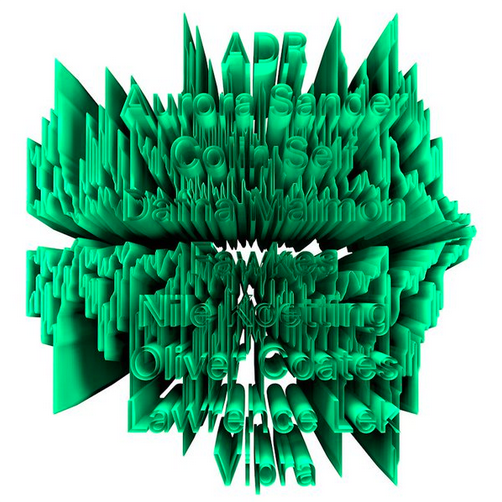 Why did you found the 3hd festival?
We founded 3hd because we wanted to provide a more significant format for our users by expanding Creamcake with a discursive program like discussions, lectures and an exhibition, and reflect on the movements we have experienced and watched for the last four years. We thought it's important to extend the format offline as well as online, and create a "source" for our scene. We want to create a space for the promotion of equality of OnlineUnderground artists in Berlin. We want to push the acceptance of the online underground and the digital mediation of music on a cultural, political and institutional level in Berlin.
Do you have the feeling being part of an underground movement?
Well we have always felt like outsiders, but we are getting more inquiries now, so probably yes! Thanks to our users, and an increased audience, we are gaining a more significant voice, and having a more cultural, social and political impact.
What makes music/artists interesting for you?
Artists who challenge the interplay between sound, image, information and come forward with new aesthetics and rethinking formats. The artists we find interesting are making connections with the world by using diverse existing material on the Internet. They rearrange, assemble, collage, recombine and interpret it with hightech sound effects, dystopian noises, unhuman voices. I n this way, they create a completely new work by using existing material.
Your message to Berlin's music scene:
We can't wait to see you!!!! 14th of May @OHM, 29th of June @HAU.
Listen to the very best of Creamcake on their Soundcloud
Pictures via Twitter
By Marieke Fischer