Photography Niz Denox
Styling Adam Fletcher
You may think that he magically popped out like a genie freed from its bottle. But Fritz Helder is an old hand at the song and dance game. His career is written in the stars. And it has been building up to this moment ever since his talents were realised at a tender age, beginning dance classes at just 5-years-old. Fritz's list of undertakings resemble a never-ending #instascroll, a non-stop developing feed. Performance artist, DJ, ballerina and one quarter of the epic, eclectic electronica tetraptych Azari & III, to name but a few of his accomplishments. Last year he added another string to his bow when he launched his music label AVSR (Audio Visual Spiritual Rituals). But it hasn't all been plain-sailing. It's a universal truth that listening to an artist fall, dust themselves off and try again can be a truly tantalising experience. When the lead vocalist sheds the shackles of one of the most seminal dance groups of the Naughties, he heads out into the big wide world alone. The path to musical success is never carved in stone. But, for Fritz, his comeback single 'Force of Nature' is lip-lickingly lush and has our Indie stamp of approval. Fritz is forever flitting between Berlin, Basel and London, often dressed in his perma-black Horace uniform and signature all-white DM's. Ahead of his summer EP launch, we speak to the boy with cutesy corkscrew peroxide coiled hair about his unbeweavable wig collection, the future of electronic music and Madonna. So get on the Fritz and fall head-over-heels for Helder.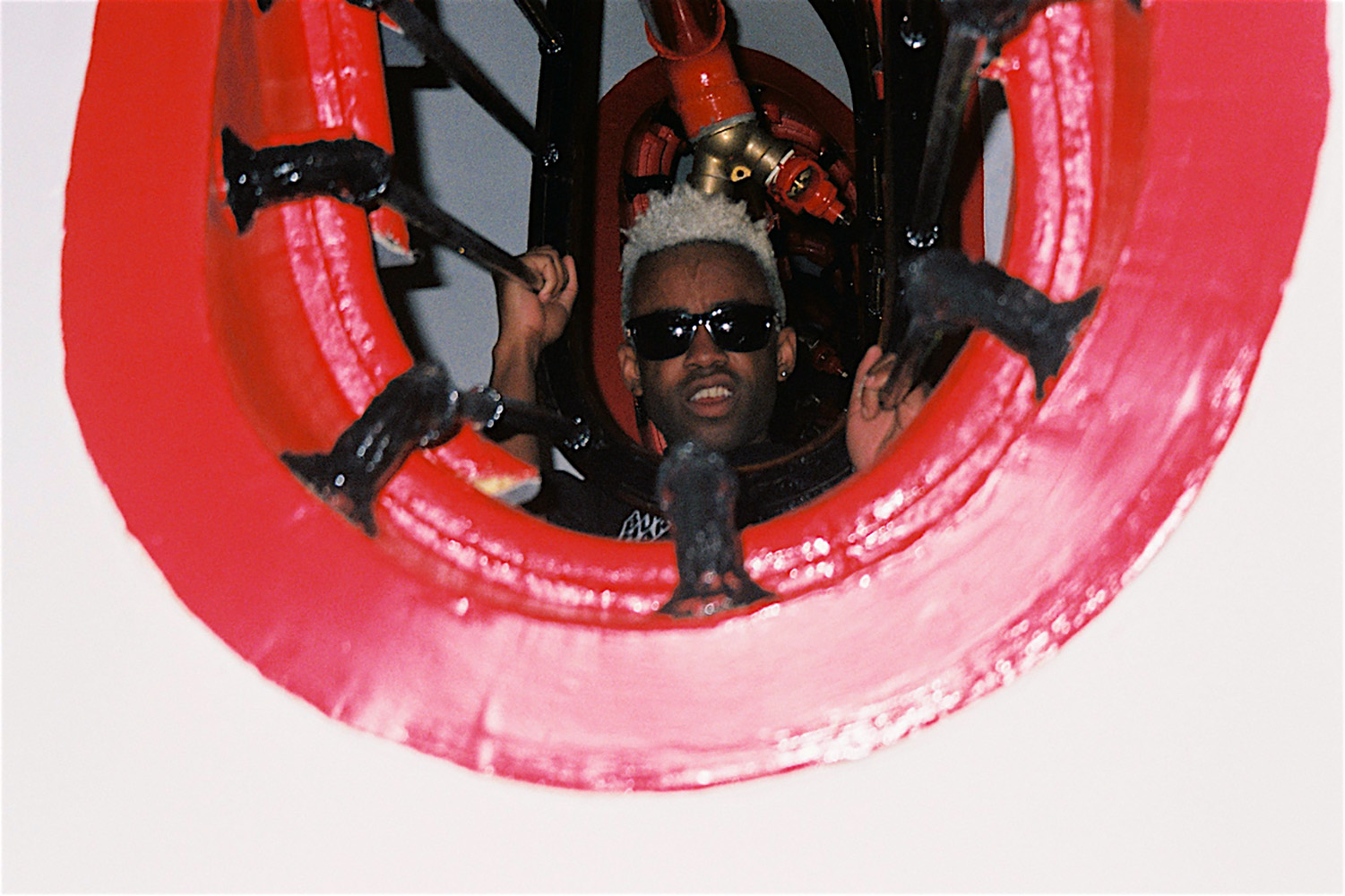 sunglasses and jumper STYLIST'S OWN
How did you first learn to dance? Are you self-taught, or was it through a dance school?
Both, I always wanted to dance and jump around. I grew up in a really small town and I had a lot of extra energy, so my parents put me in Scottish dance and Ballet classes. It was all that was offered at the time, but I really loved it and from five to seventeen years old I took dance classes almost every day after school, and later studied it at University.
What did you specialise in exactly?
Contemporary dance.

hat STYLIST'S OWN, sunglasses CHEAP MONDAY, bomber jacket TZUJI at HAPPY SHOP

Dancers were once considered role models of emancipation; inspiring audiences to express themselves, not repress themselves. For example, Madonna's Blond Ambition dancers and Willi Ninja. It seems that even today these icons have still as much of an impact on us. Do you think that the role of the dancer has changed?
When I saw Truth or Dare as a kid, it was the trigger in my brain. I didn't know exactly what it meant to be a backup dancer (or what the lifestyle was); I just knew I wanted to be that. I think it's a generational thing; dance has always had to fight to stay a part of culture. As an art form, dance moves in and out of favour more than any other. I think it's still relevant but dance has taken on a different function maybe from before. Everyone did it back then, whether it was social dances, partnered dancing, in film and on TV. It crossed all stylistic boundaries.  But now it's often secondary in comparison to the other art forms we celebrate. Ballet and Contemporary dance seem farther removed from everyday life than ever before. It's the commercial or urban styles that hold our attention, but maybe only because they've successfully updated the sexual language of dance to suit today.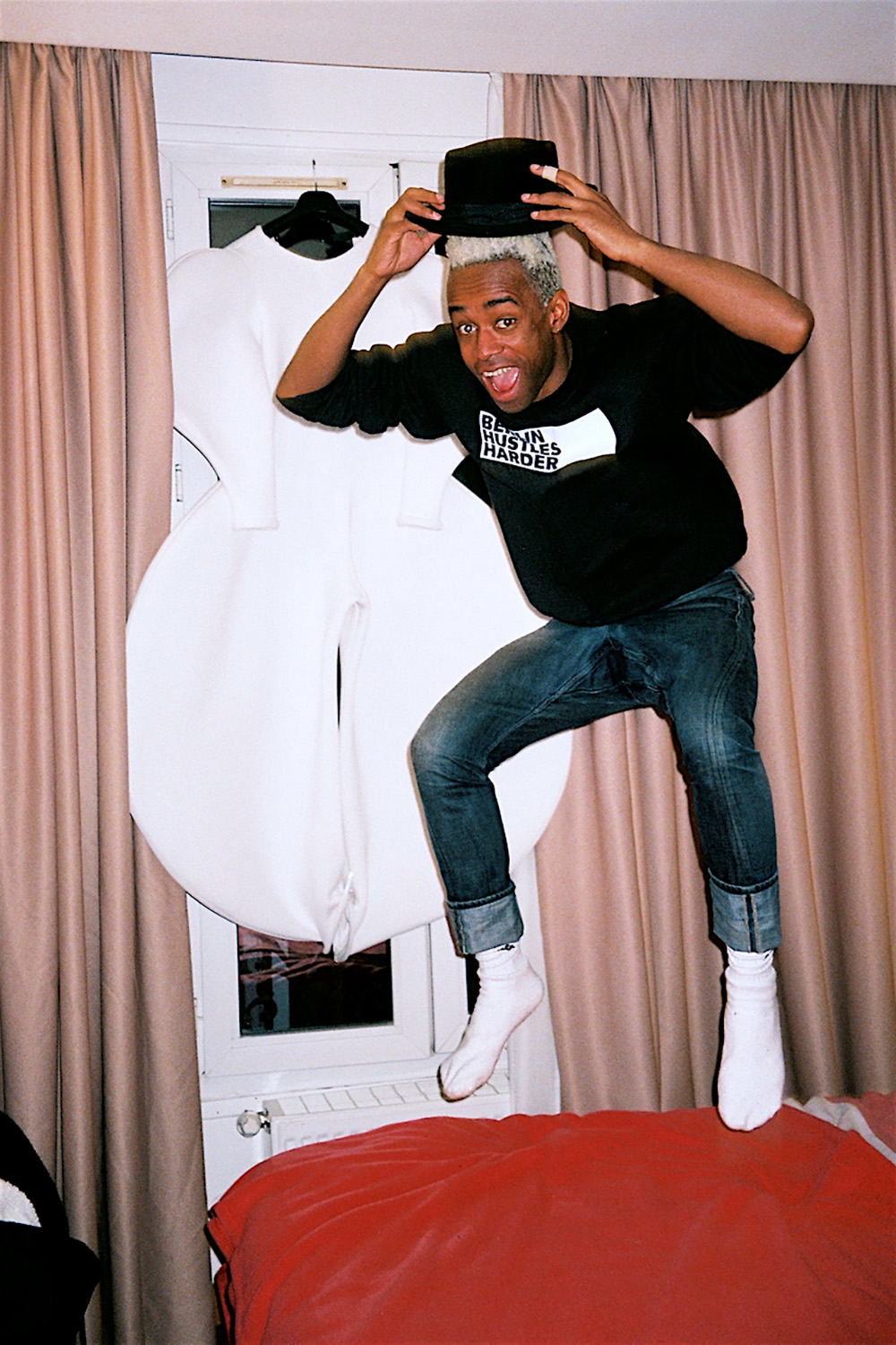 jumper, jeans, hat and socks STYLISTS OWN, costume ATELIER NOTRE FAÇON

Who would you like your music and dance to speak to?
My music and art is really for whomever wants to listen and experience it. People often want you to define your sound or pick a genre that perfectly describes it all. I want my work to be plugged into it all and always shifting and changing like electricity. I want to power ideas and inspire. Whoever it touches, I'll wait for them to come to me.

Many fashion designers try to tell stories through their clothes. Now more so than ever, it seems that storytelling is an integral part of fashion creation, particularly for young designers. Does your dance combine elements of storytelling?
Definitely, I see dance as a physical language. I always try and move as if my body is singing in conversation with the music, not always just complimenting it but also contrasting, responding, or completely rebelling against it. I think the audience gets a richer and more fulfilling live experience when an artist is fully physically committed and fearless on stage.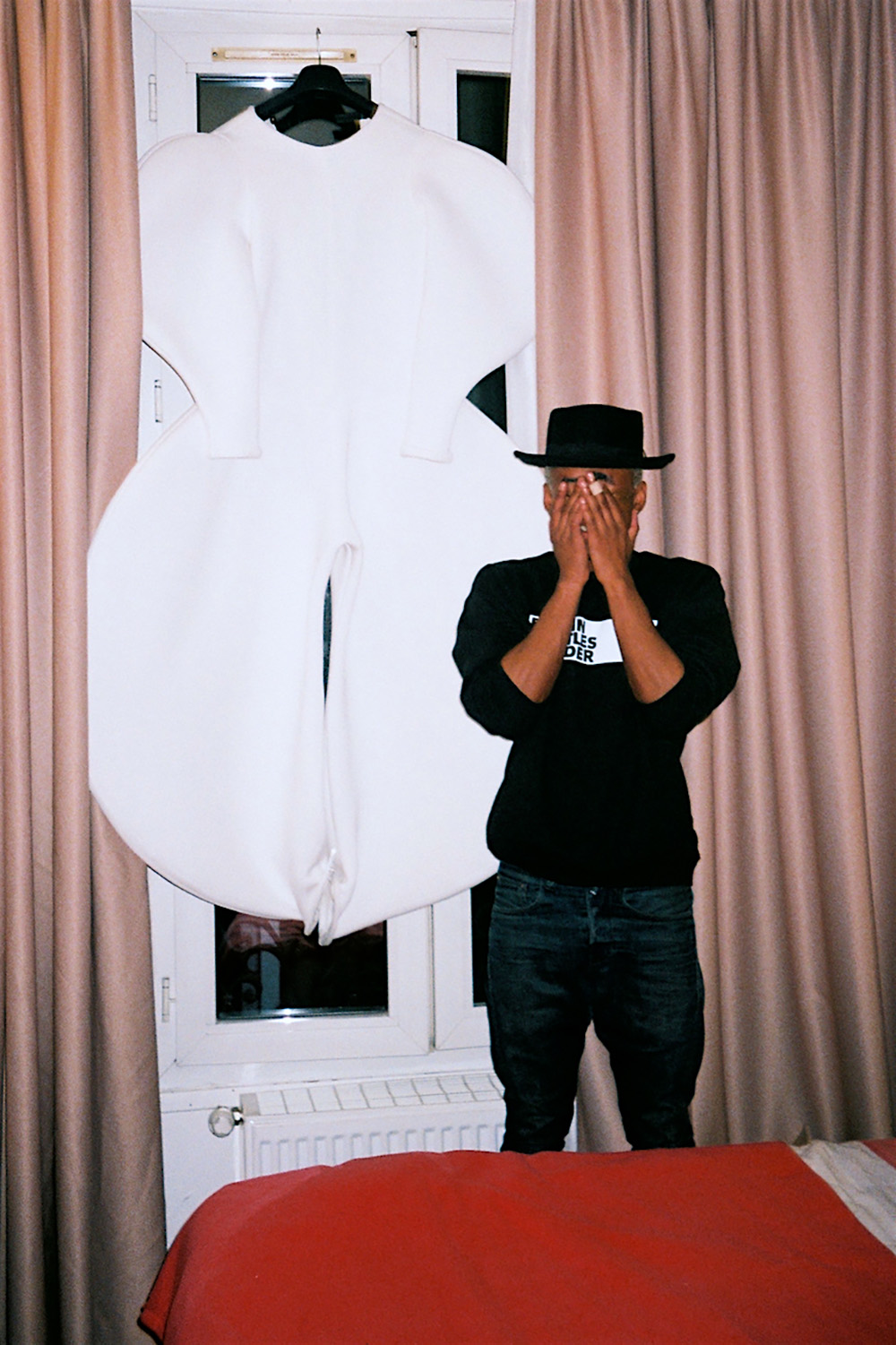 jumper, jeans, hat and socks STYLISTS OWN, costume ATELIER NOTRE FAÇON

You recently performed at Silencio. This venue is legendary, as it's owned by David Lynch. Do you incorporate any cinematic elements into your music or dance?
I think I have a cinematic mind. I always seem to start with the final picture. I first think of the setting and the vibe of the world I'm trying to depict. Basically, I decide on my visuals and then work my way backwards. If I have a strong visual idea or theme, then that impacts and informs how I put a song or show together.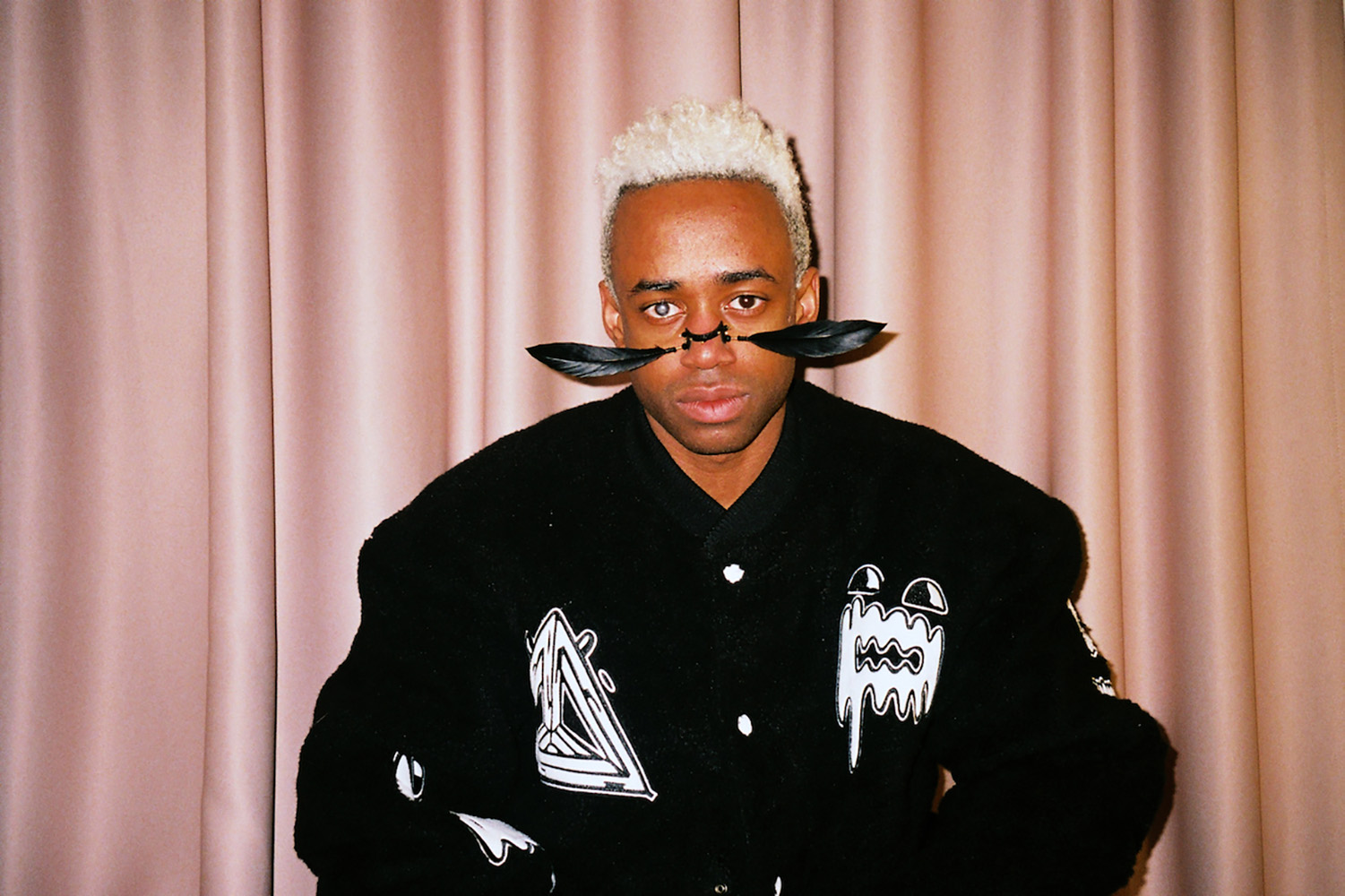 nose cuff HOUSE OF MALAKAI, jacket ZLISM at HAPPY SHOP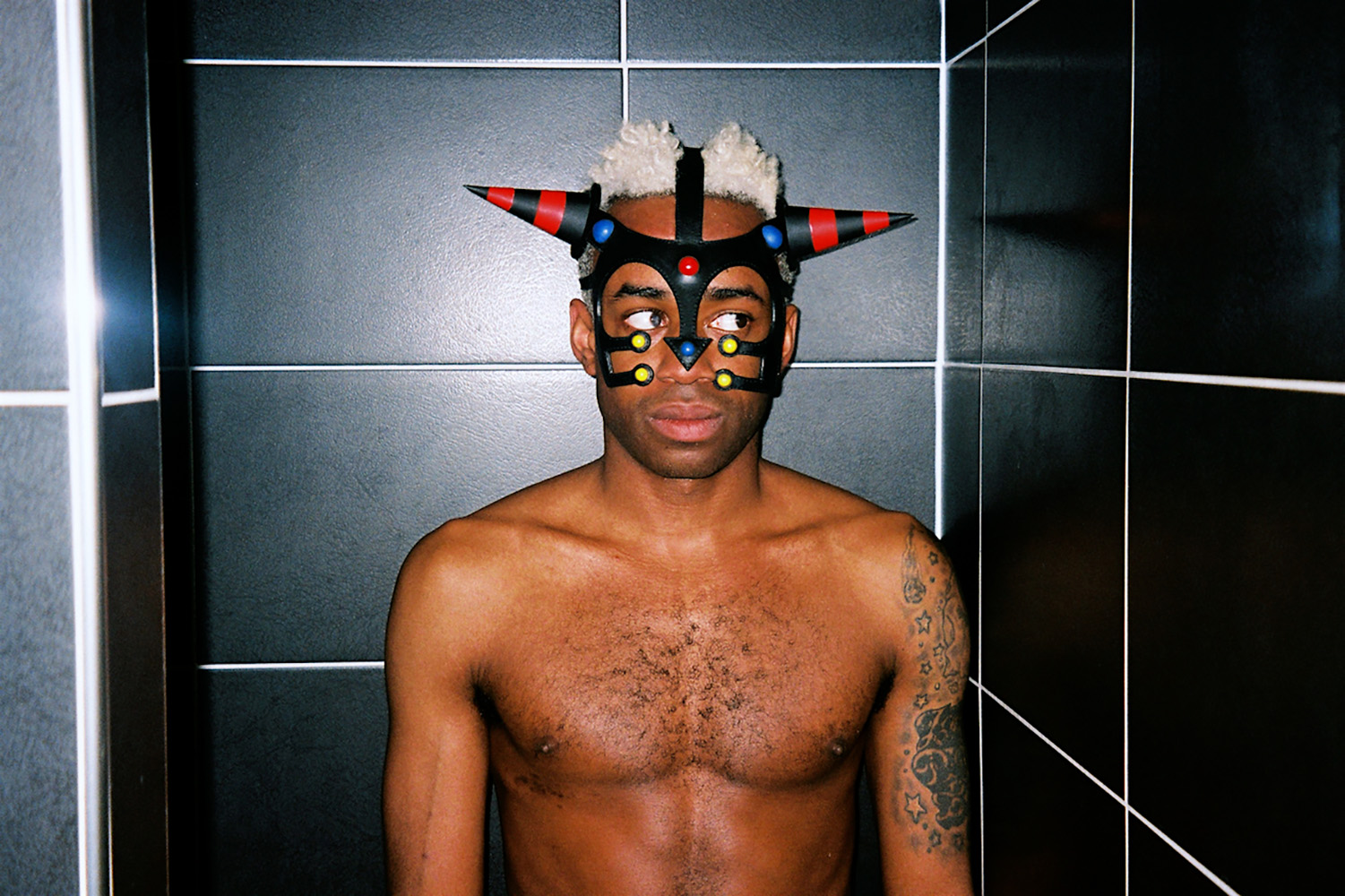 facial piece HOUSE OF MALAKAI
Where do you feel most inspired to write music?
It's never the same place twice. I'll get ideas randomly and will have to stop and take note of it or it's gone forever. I'm most inspired by the people who bring me out of my shyness. They're not necessarily musicians, but nonetheless they inspire an attitude in me, and a conversation can often turn into themes or ideas.
How does your new sound differ from your work with Azari & III?
My new sound is different simply because it is. I knew it wasn't worth trying to repeat or continue in the same direction as before. Azari is a very specific part of me, and I want to explore all the other sides. I decided to just experiment, move in multiple directions and be rediscover my freedom.
When do you release your EP?
The full EP comes out this summer (June 2016).
Both house and electronic music were at a pinnacle a few years ago. Do you think that we are witnessing the death of house?
We're definitely witnessing some sort of death in house. But good house never dies. The electronic music "scene" may change but the music can always survive this.
What does the future look like for electronic music?
I want to see a resurgence of electroclash and more punk inspired trashy, glam, unpolished party music. I think it just makes sense now, especially if you look at what's happening in fashion. I think it's time for more aggression in electronic music.
You recently released your new solo track 'Force of Nature'. Tell us about that…
That was one of the first tracks I started after Azari. It was a jarring time. I didn't realise how much I was stunted by everything stopping so abruptly. I was starting over in a way and 'Force of Nature' emerged as a mantra for the moment.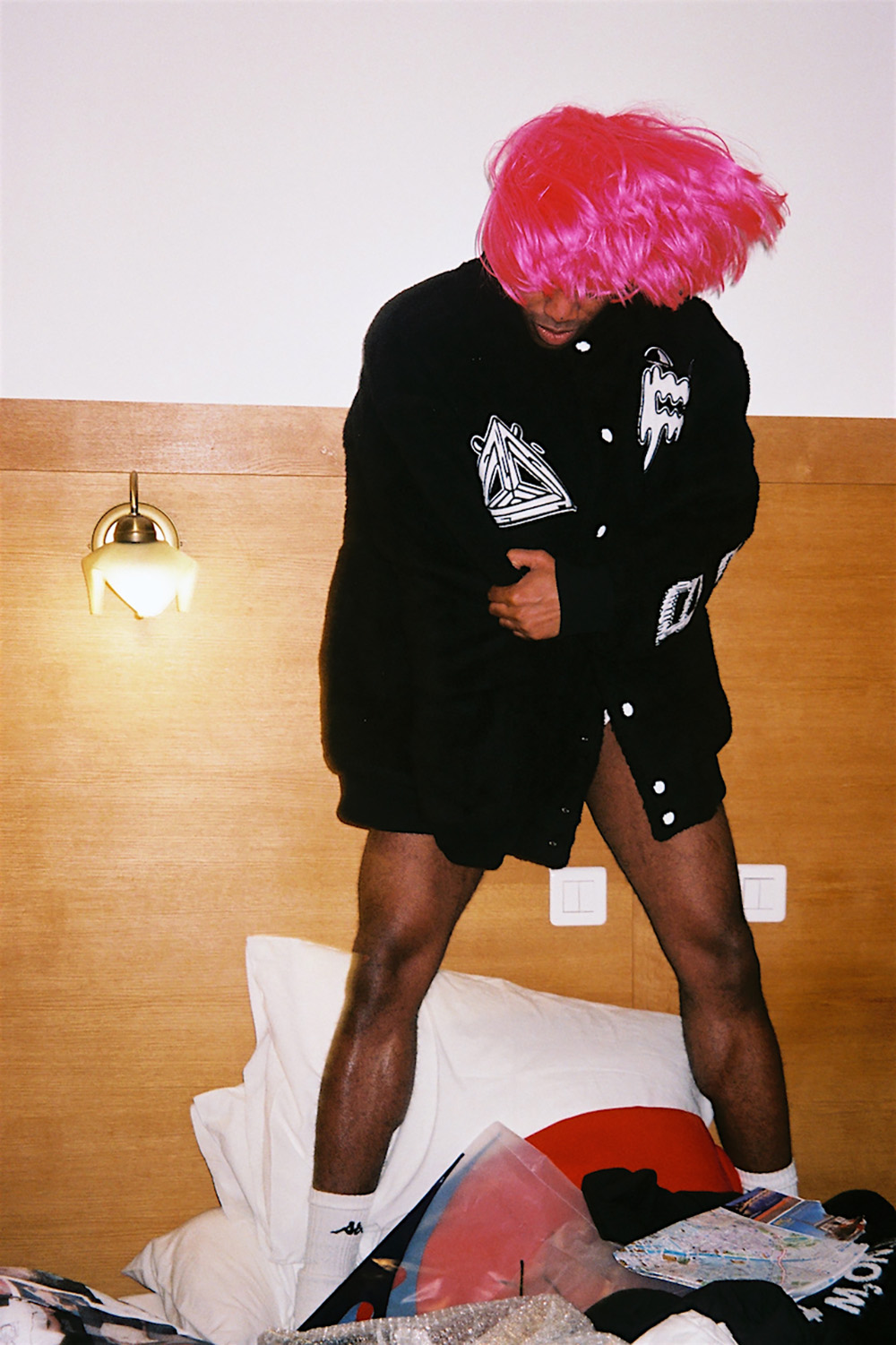 jacket ZLISM at HAPPY SHOP, socks KAPPA, jacket on bed CHEAP MONDAY

Would you say that you are a shy person when meeting new people, or are you more of a force of nature?
I would say that I'm both. I'm an introvert and I think from a very young age I was lucky enough to be put into the arts by my parents. I realised that it's dancing and performing that gives me confidence. Performance provides me with the time to be that crazy extrovert.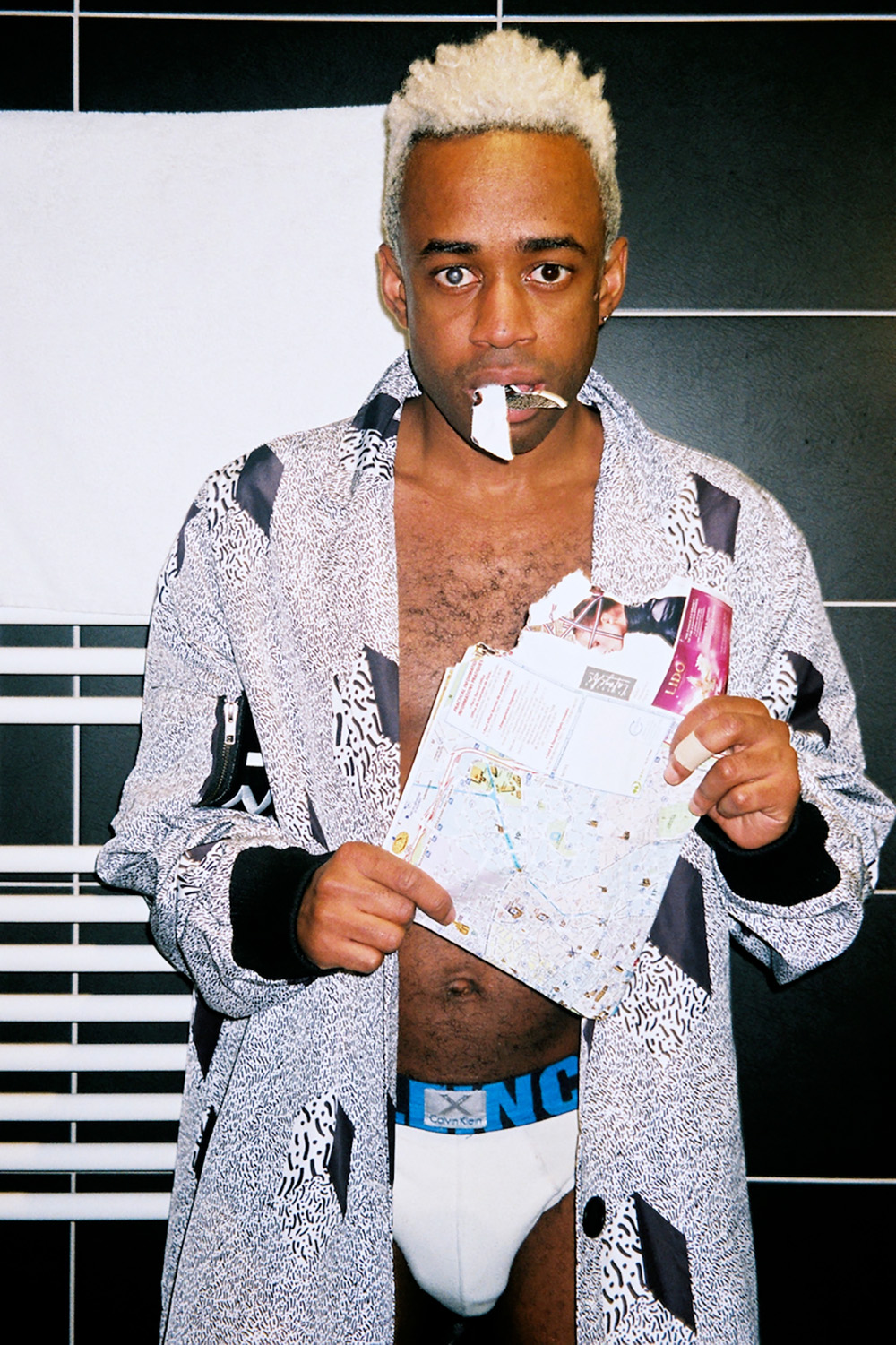 jacket ZLISM at HAPPY SHOP, underwear Calvin Klein
You are clearly into wigs; when did you start wearing one?
Probably in 2001, when I was living in Toronto and becoming tired creatively at school. I started spending a lot of time out at clubs and parties. I randomly decided that I was done with dance school and wanted to start an electro clash group. The first thing I needed was a wig and bought myself a really cheap, shitty black bob and I painted my face. I felt so powerful. I felt like a creature inside of me unleashed itself. It was such a high, and I've never looked back. Wigs make me feel that I'm becoming the person I've always wanted to be. But for a lot of circumstances it's probably not very appropriate to be that person all of the time.
Do you have a favourite wig?
I like the rocker look with long sleek hair and some bangs. Or, a punk short messy wig works too. For me, that's the coolest hair. I like hair that's abrasive and aggressive, or long and laid!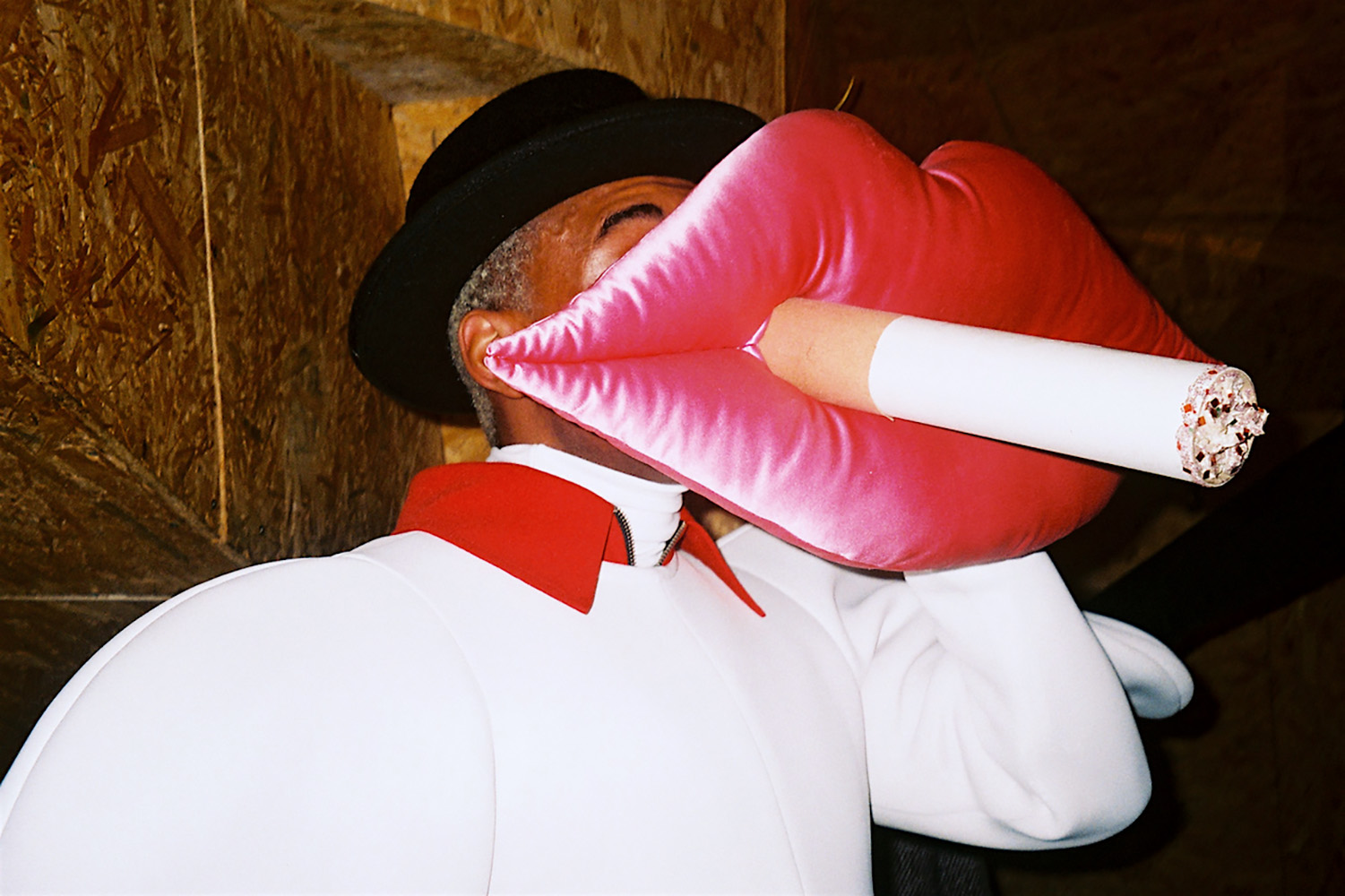 hat STYLIST'S OWN, lip & cigarette ACCESSORY, roll neck and costume ATELIER NOTRE FAÇON, bomber jacket TZUJI at HAPPY SHOP

You recently bleached your hair. Do blondes really have more fun?
No! Blondes have to do a lot of work to stay blonde.
Your Instagram features many inspirational life quotations. What mantra do you live by?
It changes depending on my mood and what I'm going through. For now, just to smile a lot more.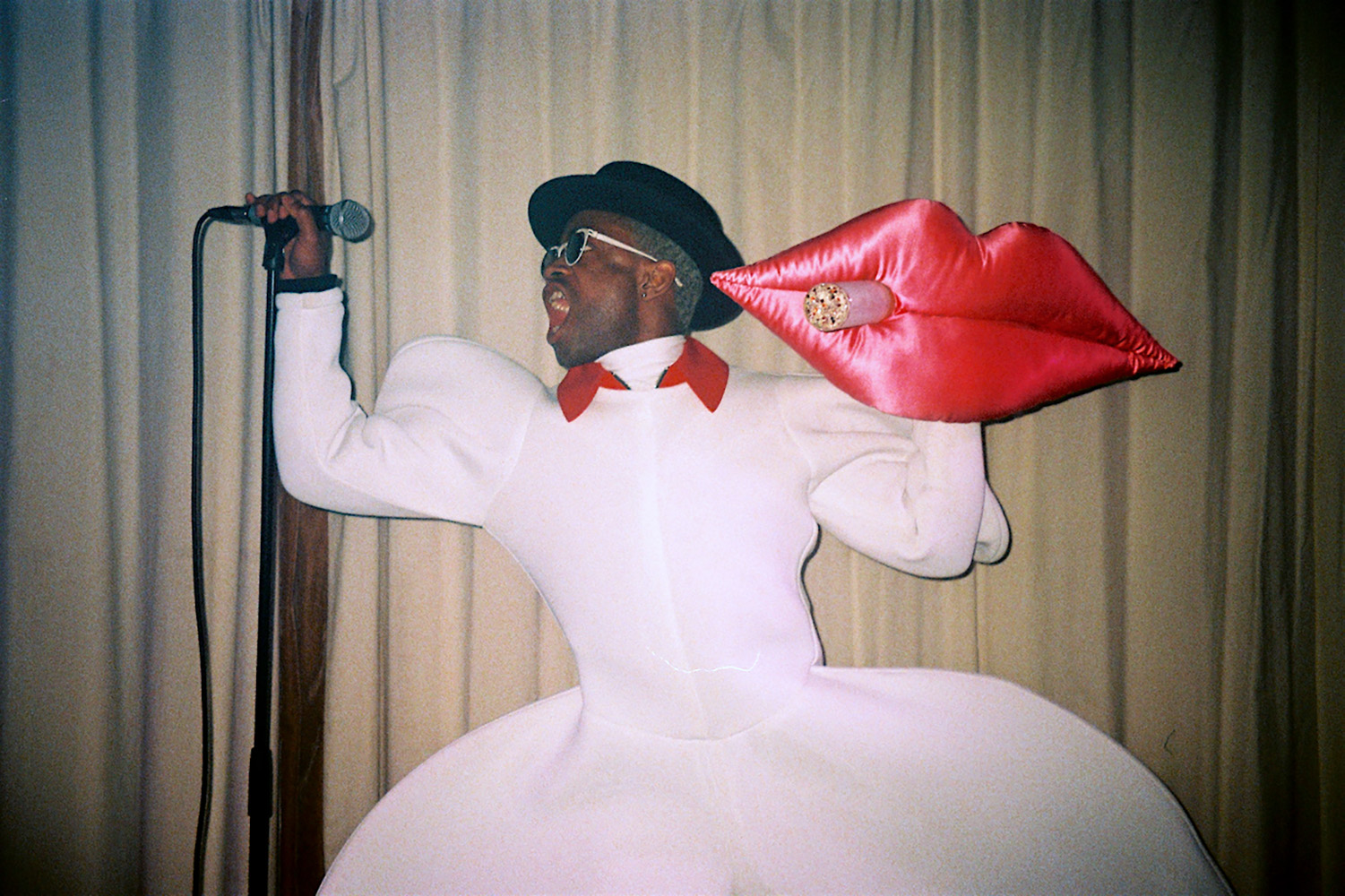 hat STYLIST'S OWN, lip & cigarette ACCESSORY, roll neck and costume ATELIER NOTRE FAÇON, bomber jacket TZUJI at HAPPY SHOP, sunglasses MYKITA

Are you spiritual at all?
I think that it's all about being kind to others and ourselves. Using the energy but then giving it back. I remind myself that we don't own any of this. Performing allows me to tap into that transcendental space. I have an out of body experience when I do a show, and when I get off stage I have no recollection of it. I go somewhere else, somewhere where it's all electric and, in a sense, I feel possessed. It's shamanistic in that way, I just let it happen and I trust myself to keep it together.
What do you like to do when you're not being Fritz the performer?
I'm on Youtube getting lost. Don't ask!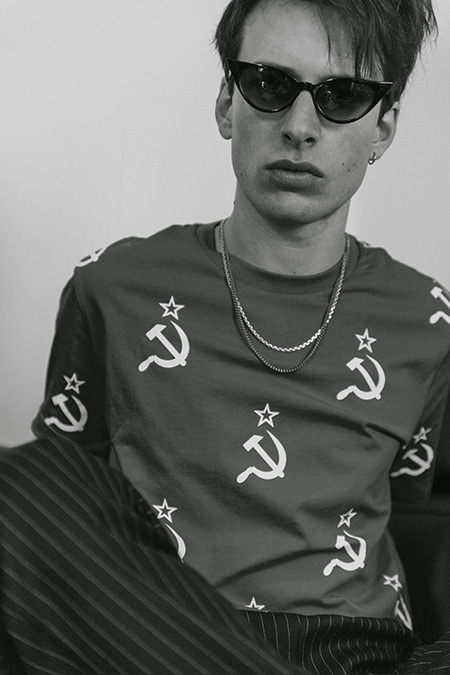 jeans STYLISTS OWN, sunglasses MYKITA, shoes CHEAP MONDAY
Feature Image; hat HOUSE OF MALAKAI, sunglasses MYKITA, dress MO&Co at HAPPY SHOP, socks KAPPA
By Adam Fletcher