Image Sasa Stucin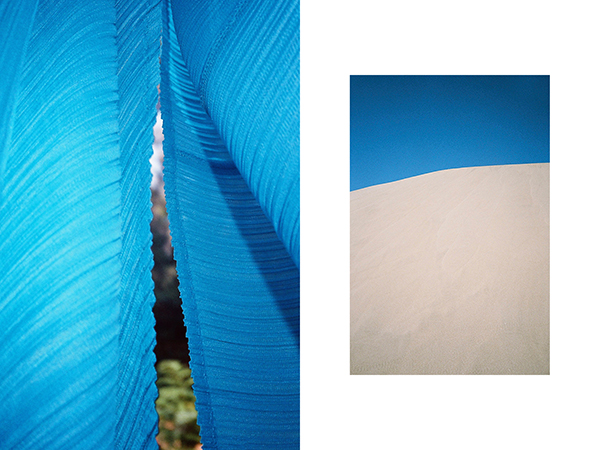 With fashion photography body is usually the main object to photograph, but that's not the case here. Sasa's main attraction are objects while the body is somehow just an extra in her well positioned and so well placed photos.
It's not even fair to call her a fashion photographer as that's just kind of happened by accident, and it only covers maybe a good 10% of her work opus. Sasa Stucin is Royal College of Art graduate who works simultaneously in object design and photography. Together with Nicholas Gardner, Saša founded Soft Baroque, she is Editor at Large at POP Magazine and frequent contributor to Purple Magazine. Her work has been exhibited in the V&A, Christie's in London, MoMA PS1 and Swiss Institute in New York. Her photos are mysterious, fun, beguiling, utterly charming, and populated by enigmatic characters.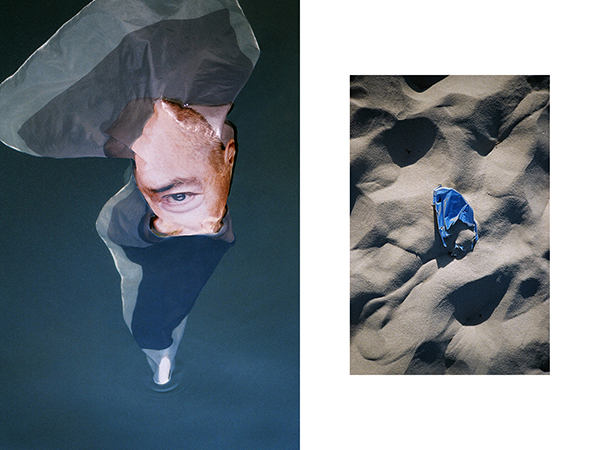 What do you say when people ask you, 'What do you do?'.
Ummm.
What is the opposite of you?
Astronauts and the snake.
Are you where you want to be?
I think it's the matter of how and not where. I like to be on the move and I always dream of far-away places. Volcanic islands, polar landscapes and deserts. But there is also a need to belong. Home is where Skype connects me and my family in resolution of at least 500 pixels. Where flowers on the table are fresh, where there is at least one chocolate bar hidden for emergencies, where my favourite books and friends are. London is where one of my many homes is.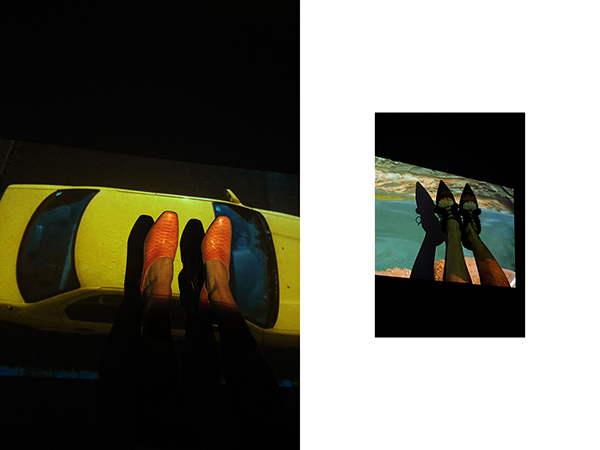 Where do you see yourself in 10 years time?
Closer to the sea. Daydreaming. Flipping through books. Eating cakes. Kissing my husband. Taking photographs.
Who are your heros among photographers?
So many names pops out. Rineke Dijkstra for her new age Venus on the beach. Peter Fischli and David Weiss for their fantastic collaborations and explosions. Cindy Sherman for her celebration of the self. Jeff Wall for his XL cinematic prints. Diane Arbus for her black and white magic. Elad Lassry for his photographic objects.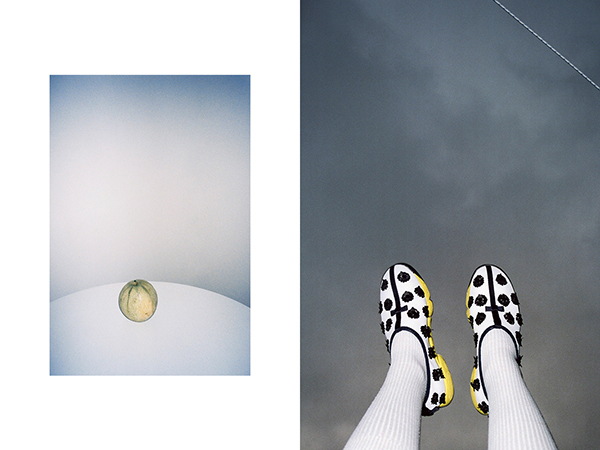 You kind of work in fashion, but you don't…. I just feel like whenever you are shooting fashion, you just adapt everything to your own world, as you see things from a different angle, and its just pure amusement seeing you experiment with shoes and purses….
There are few things.
1. I am the most interested in objects. My photographs are world without people. People in my photos appear as a prop (like a hand or a leg) and an object is the protagonist that takes over persona of some fantastic kind.
2. For me there is no difference between a pair of Prada boots and the rock I picked up from aside the road to photograph it. It's the context of things and poetics of objects I am interested in.
3. I like beautiful things and fashion doesn't lack these.
4. I like to entertain myself and the viewer. Play becomes joy, joy becomes work, work becomes play, as Johannes Itten wisely put it in his Bauhaus manifesto.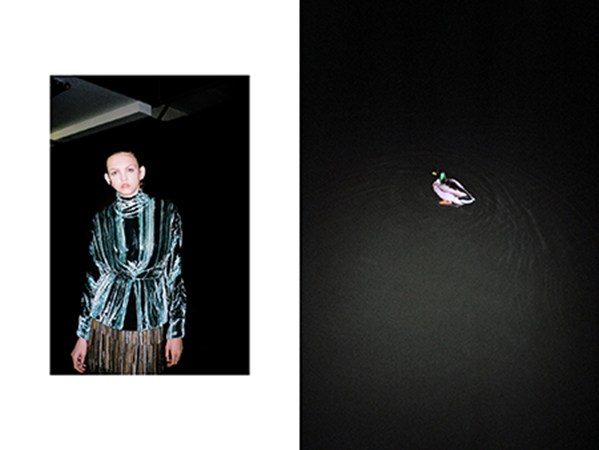 How did you even end up in fashion and do you even think about it – in terms of clothes, consumerism etc? Whats fashion for you?
After I graduated from Royal College of Art my friend and occasional collaborator Ekaterina Skurikhina introduced me to Stephanie Waknine (Senior Editor) and Ashley Heath (Editor in Chief) at POP Magazine. This is when it started. They commissioned me to shoot a small editorial in the Australian desert for their spring summer issue in 2014 (POP vol. 30) and this is how it started. We've become friends and I've been working with them ever since. I respect their work and they support my ideas. Perfect combo <3
I try not to think too much about the politics of fashion, shifting powers, occasional bad manners and hyper consumerism, but more about what I as individual can bring to the table. Past experiences and things we learned make our world look predictable and I want to challenge this with my photographs. I want people to reconsider things that have been around (unchanged) for a very long time and I use my photographs as a tool to do that.


Can you talk us through some of your processes? As mentioned, you don't approach shoots with the most typical fashion mindset, its so much more.
My photographs are abbreviations of objects. However I often furnish these environments with souvenirs of my own conception. Natural growths, atmospheres, tidal forces, smoke bombs and so on. For a long time I used only small, tourist's 35mm camera and produced images of the same style, direct and naive. This changed with demand on faster production of images and unfortunately film photography has in most occasions become too slow for the habits of todays consumerism. I think digital technology is great, but I try to use my digital camera same way I use my film cameras. That is trying to be extremely selective and quantity efficient in pressing the shutter button (I think 36 is a great number). I am not interested in sorting and selecting images on my computer screen, but in taking photos.
I often don't plan what I will do, before I hold an object that I need to photograph in my hands. I think it's good to keep some space for spontaneity and it shows on photos when you do. In this perspective my work is extremely fun! Sometimes it feels there is no definite end point and ideas often merge one into another, so I always have to consciously stop myself, in order to finish things I start. I believe getting things done is very important!
What's on your studio playlist?
I am regularly tuned in the NTS radio, "This American Life" podcast and regulars like Philip Glass, Ryuichi Sakamoto, William Basinski and Chris Watson. My recent obsession on repeat is a track ""‪No Government" by ‪Nicolette ‪(Tocadisco Lazy Days Remix) that my old tutor Jon Wozencroft played last week during one of his Sound Seminars. Great track to dance to during the maybe future revolution.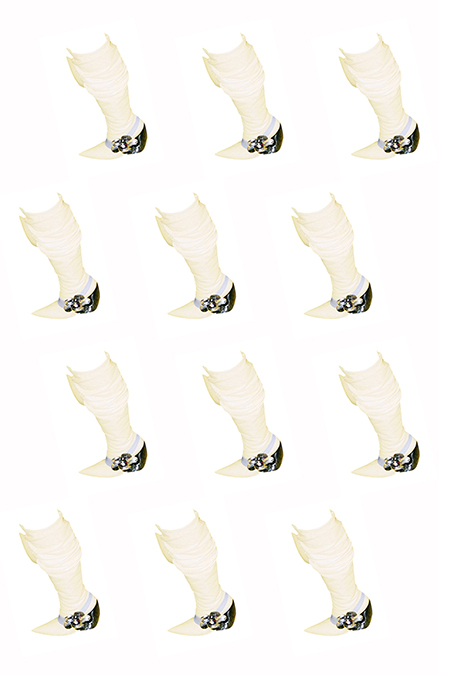 Do you ever envision a chapter of your life that doesn't include photography?
Hardly! I use small and compact camera that I can fit in my pocket. It's very important that I can always have camera with me, since I use it as my sketch book.
Where is your favourite place in the world for inspiration?
It's hard to pin one as a favourite, since preferences can change very quickly. I get excited about things very easily! In that way I am like a child. There's no such place in the world that couldn't be a source of inspiration for me (even the things I hate can be surprisingly great).
Who would be your dream dinner date?
I've thought this one through quite thoroughly. Open the book "Project Japan (Metabolism Talks)" by Rem Koolhaas and Hans Ulrich Obrist on the page 178. Nascent Metabolists, and their mentor Kenzo Tange, gather at Kikutake's housewarming party for his recent completed "Sky House" in 1958. They sit around the charcoal island with the stainless steel barbecue centrepiece, smoke, drink and debate. I kept photocopy of this black and white photograph as a reminder on my fridge for the last 2 and something years, accompanying postcard of active volcano from Stromboli, photo of the blue Subaru car taken by Jamie Hawkesworth and a portrait of Woody Allen hold up by a tamago nigiri magnet.
Ok back to the dinner rendezvous. It's definately reiteration of the metabolist babeque, using the photograph from a book as the sketch. It's a meeting of 9, but I am still working on the final seating plan. These are the future present in random order: Cindy Sherman, Rem Koolhaas, Tomaz Brejc, Miuccia Prada, Quentin Tarantino, Nicholas Cage, Kate Moss and Elmgreen and Dragset and me. Imagine, ha!
What are you working on next?
I am working on ongoing POP's online platform that we just recently relaunched, on future fall '16 editorials, planning short and long distance travels that will most likely appear on Purple.fr, working on a new personal project, thinking about publishing a book later in this year and dreaming.
By Katja Horvat