Photography Jack Strify
Hair Dominic Keller
Make-up Marvin Macnificent
All outfits BAND'S OWN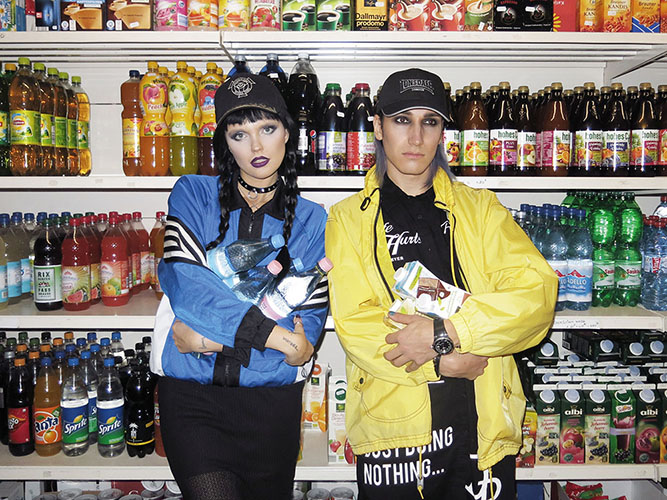 While Alice in Wonderland needs a dirty tree pit, to plunge into her trippy parallel world, for us we only need to push open this club door in Berlin where GROSSRAUM IN DIE FRESSE plays.
The newest music project of model, social media queen and tv-show-host Bonnie Strange, and her Austrian friend Thomas Supersynthesized released their first single "Richtig Nice" in August 2015, an ode to partying. "Du lebst nur fürs Wochenende, wartest nur aufs Arbeitsende, keine Lust mehr aufs Studieren, du willst nur noch eskalieren!" – You only live for the weekend, just waiting for work to end, not feeling like studying, you just want to escalate – sings, bawls and raps the fashion chameleon Bonnie.
The whole is accompanied by a proper amount of glitter trash, nineties-affectations and trance-synthie-sound. Because both of them aren't really into the classical Berlin rave excesses in real life, they rather turn to the Super Nintendo console in their debut video and navigate Youtube stars and celebrity Big Brother winner Aaron Troschke through a virtual booze night. For our INDIE shoot the noisy couch potatoes dared to go outside for a Späti & dive bar-trip at it's best.