Raw, natural and unadapted: work and aesthetics of from-time-to-time-working-duo and creative individuals, Rafaela Kaćunić and Rita Lino, are dealing with body image, sex and nudity. Their stylistic device: Irritation, distraction and astonishment. The Croatian art director, creative consultant and set designer based in Berlin, Rafaela, directly comes from the fashion business, whereas Portuguese photographer Rita primarily pursues the approach of fine arts by performing and photographing. Mostly chosen object of her work: Herself. By building a creative couple art, fashion and self reflection coalesce in on-and-behind-camera-shoots, exploring limits and wonderfully personal campaigns and editorials.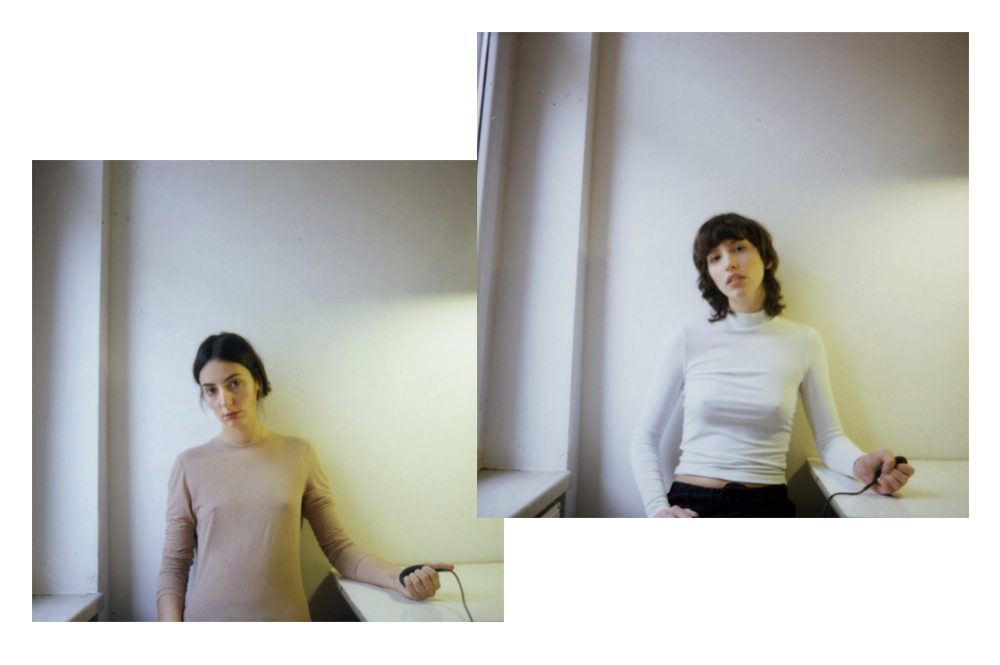 What is your dynamic like? Who takes care of which tasks?
RR: We think freely and split the tasks depending on the project. We are always open to new ways of doing things.
You are teaming up right now. What can we expect?
RR: We wouldn't say teaming up, because it feels like we are getting married or something. It's more about encouraging each other and being part of each other's lives. Over the past months we ended up working together a lot, so we feel like going with the flow and look forward to continuing our collaboration on certain projects.
Why working together?
RR: Because it never really feels like work.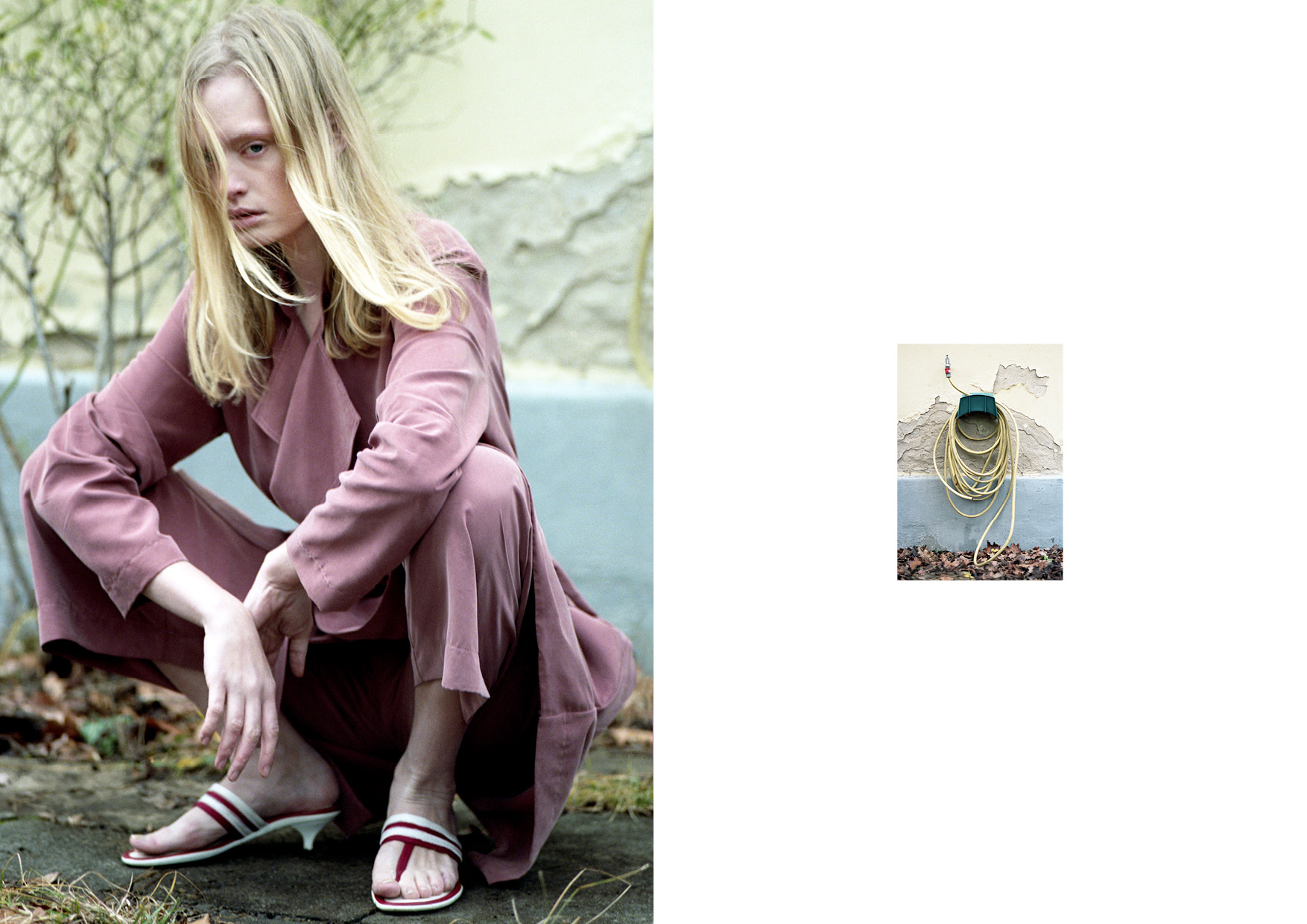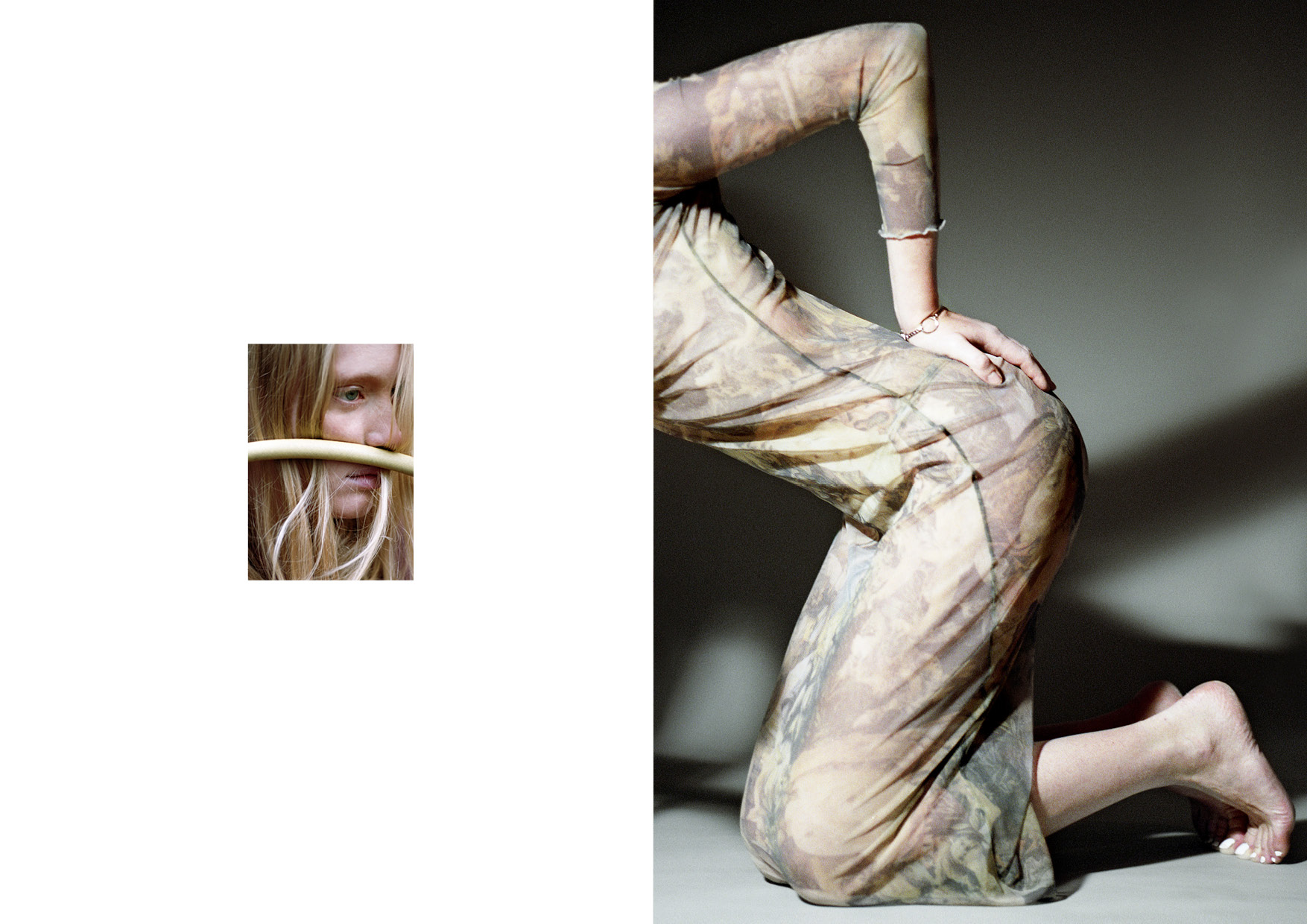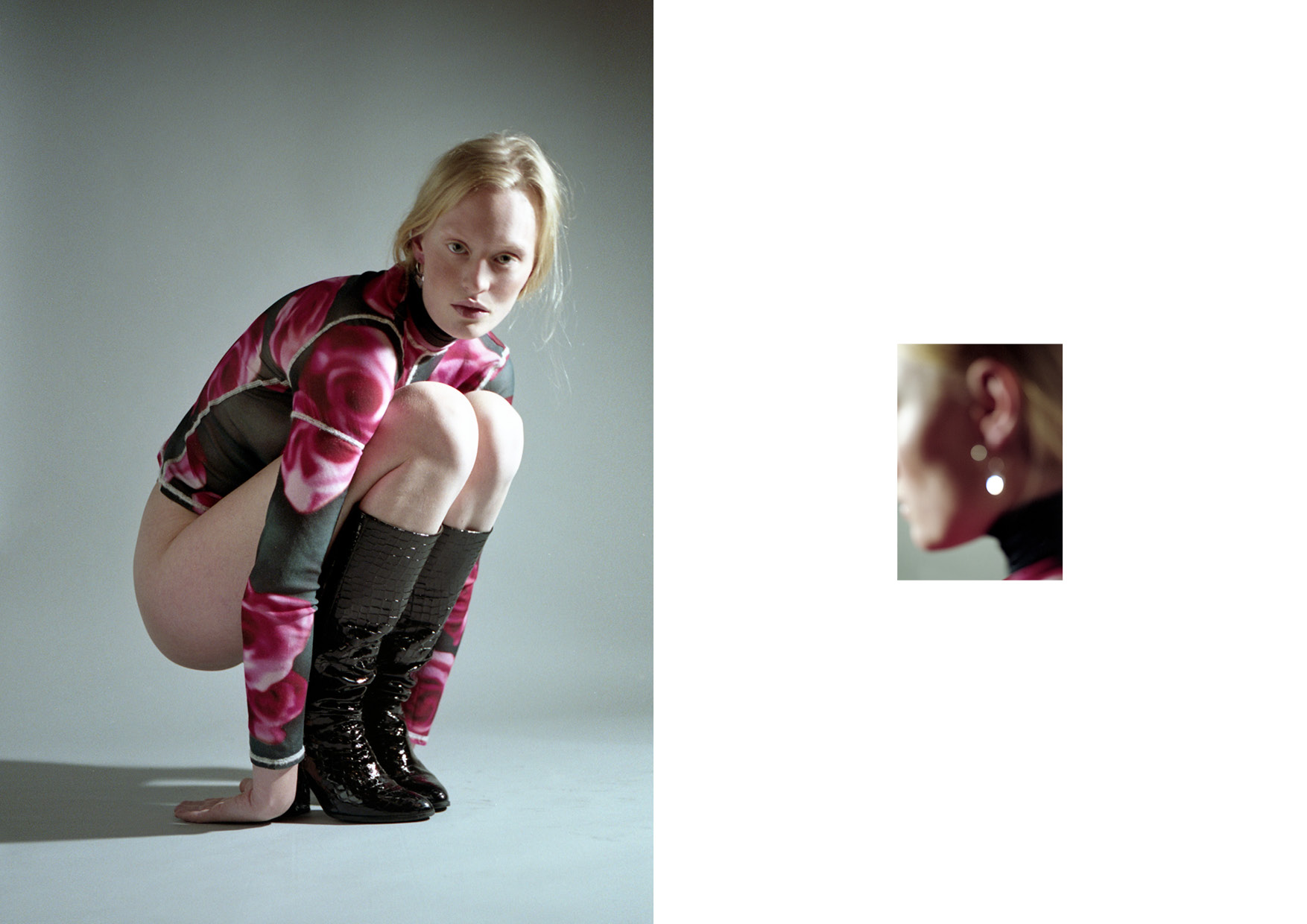 You are both modeling for your own projects. Why? Is there a certain kind of control?
RR: It's rather about freedom than control. It's all about doing things without barriers. Since we are both used to working on and behind camera, why not experimenting with it, exploring our limits and see what's good? It's very liberating. However, it doesn't imply that it will be like this forever, but it feels right at the moment.
What does nudity mean for you?
RK: I find nudity is the purest, vulnerable and desirable state of a human. It's a feeling of owning and celebrating your body.
RL: I like nudity. I find a certain beauty in the relation between a shirt and the skin and it's nice not having any tabus or restrictions. Nudity is the cleanest cut of who we are and we should embrace it.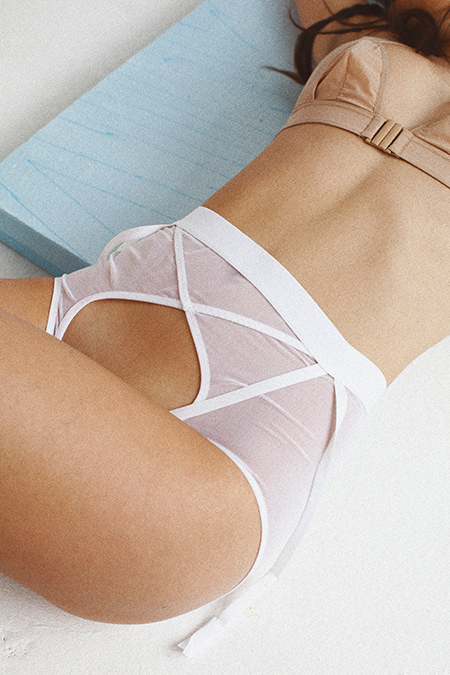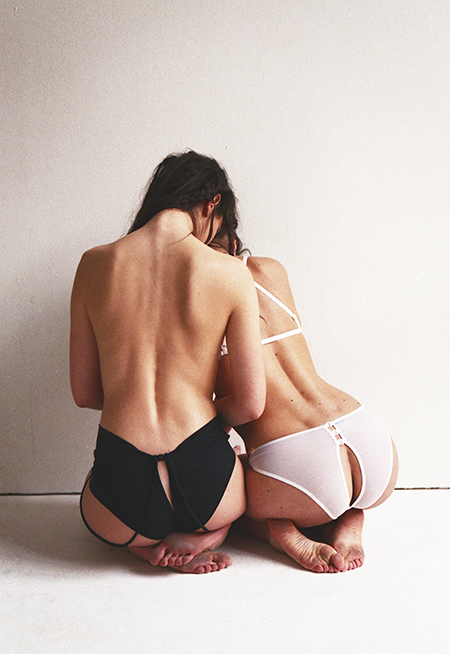 Both your aesthetics are really natural and raw but at the same time staged. What do you want to impart with this?
RK: To be honest I don't think about my aesthetics too much, it happens intuitively. It depends on my mood and the idea I have, but generally I'd say my aesthetics are inspired by absurdities and real life. I like to distract and surprise with what I do.
RL: I've been working on my aesthetics the past years, which I see as a work in progress. It's always a question of how to do it better or more exiting the next time. But in the end I like rawness because of it's beauty of the natural state, which is essential for my personal work. I always try to avoid trendiness by staying true to my aesthetics.
Rafaela you are originally from Croatia, studied in France and Rita you were raised in Portugal and studied in Barcelona. Is your work influenced by these places?
RK: I believe every place, situation and living being I encounter influences me in a way. But of course Croatia and it's landscape inspires me because it feels like home. In Paris the struggle was real, which kept me moving and taught me how to improvise though. I love the vibe of the city and it's charm, and thanks to my studies I had the chance to work with great creatives who broadened my creative vision.
RL: Each city I've lived in the past years after university (Barcelona, Porto and now Berlin) always affected my work and my mood, either by the people, or by it's vibe, or by what my personal struggle was, or even by the weather. I get inspired and influenced by every little detail of my surrouding.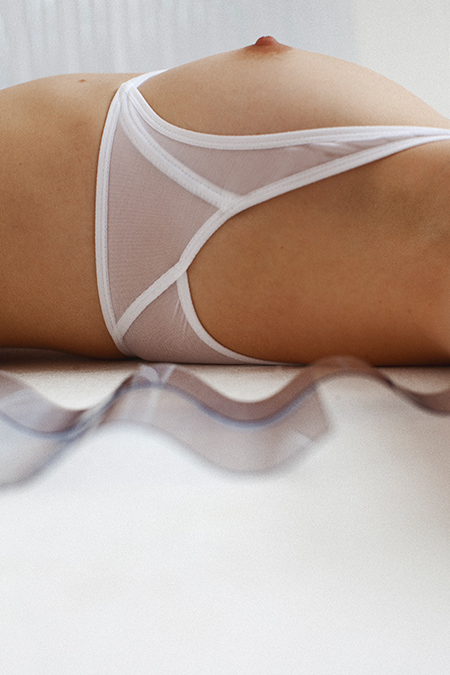 Why Berlin?
RK: There is space to create and the work-life balance is one of a kind. Besides that Berlin's creative scene is quite accessable and it allows time for thought and travel. It feels like not chasing after anything. I like that it's a contrast to Paris and not as charming at first sight, because you discover new, odd places everyday and the random mix of styles (fashion, architecture, music…) holds something trashy and inspiring.
RL: Because the city has been really good to me… Berlin is being great for living: relaxed, working for paying bills, having time for travel and friends and still getting some nice cultural input. I can control my time better in this city and I'm actually able to really feel and create things.
What's your favourite thing to do in Berlin?
RK: Eating chilli Wan-Tan at my favourite Taiwanese, endless summerdays and raving.
RL: In winter: clubbing, concerts… In summer: being outside, parks, beers, lakes… We obviously can't choose just one.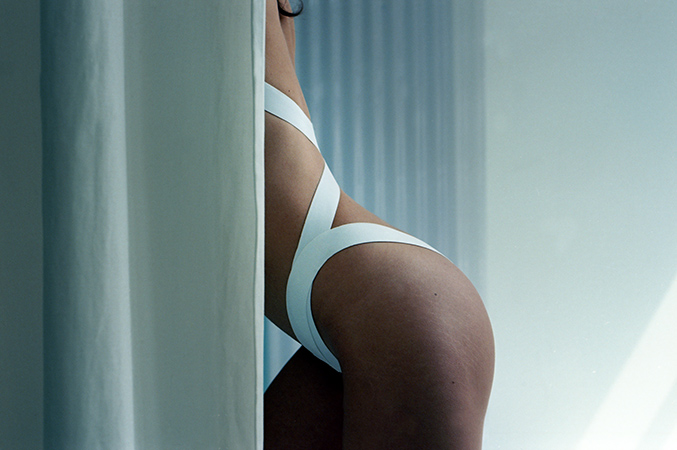 What kind of impact does fashion have on you?
RK: I've been working in fashion for a while now and it's fascinating to see what impact it has on the idea of sex and body image, as well as how it connects to social identities. I've experienced that the industry is filled with people who are passionate and dedicated to their job, which I find inspiring. You shouldn't take it too seriously though. It's fun experimenting with it. Sometimes an idea or even a whole story pops up just by stumbling over an ordinary (or excentric) piece of clothing or style.
RL: Fashion has become part of my life by chance for the past 8 years… and instead of getting bored, I get more exited each year, also because I'm able to work with nice brands and creatives. So I would say unexpectedly fashion is having a good impact on me and my work, because it allows me to search and develop the imaginary (more than just narrative) in colours, materials and shapes.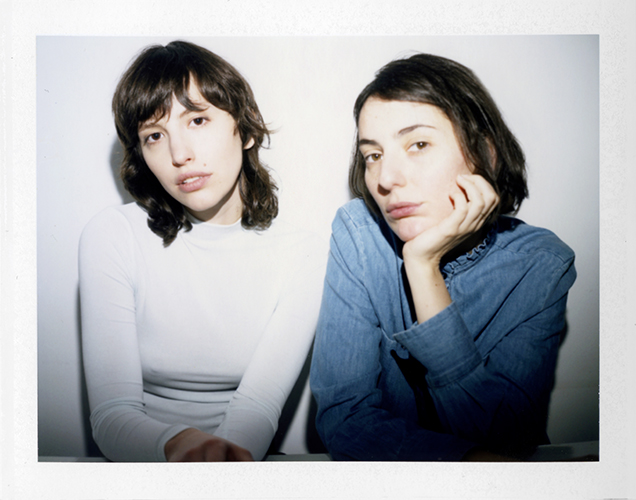 Listen to their personal "RR mix tape" here:
By Nele Tüch