Photography Francois Berthier
Simon Buret and Olivier Coursier, the french duo behind the band AaRON, create a distinctive and extraordinary sound. Soon their new album "We Cut The Night" is going to be released – a synthesis of the past and future. John Malkovich already is a huge fan of the band and also plays a role in their latest music video 'Blouson Noir'. Well deserved, as their music is something you should definitely watch out for. We've talked about their relation and their upcoming album.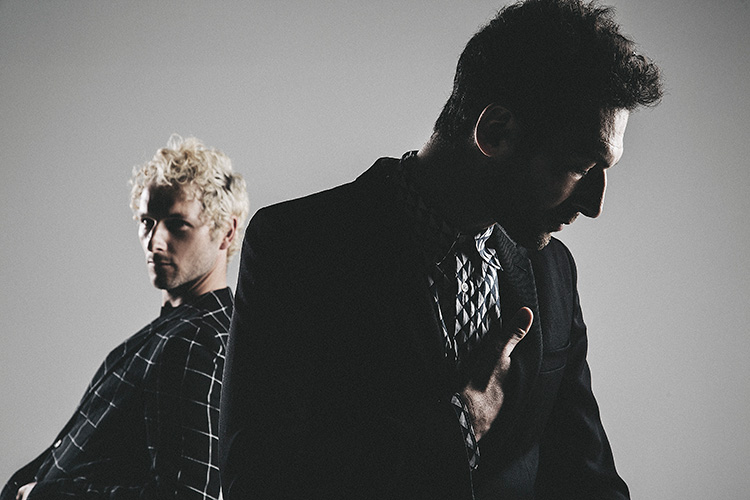 What's the story behind your extraordinary band name AaRON (Artificial animals Riding on Neverland)?
We're both very fond of Jean Michel Basquiat's work; we find a connection between his paintings, the way he created his paintings, how he turned himself into a "vector" of emotions, by gathering information around his daily environment. Taking what would hook visually his spirit, and how he would transpose on different materials of expression. What was there, a burst of life, in the streets, waiting to be taken and to be shown. AaRON is a name that we saw written on several of his paintings; we took it as a crown, a link, symbol to start the band. Then we opened it and transformed it into our own band anthem. We'd like to think we try to make music the way he'd create paintings. These raw metaphors of life itself, wrapped in bright colours .
How did you meet?
Through a common friend, Vanessa Filho, an artist that is also a photographer and film maker. Simon had written some lyrics in english for her musical project, and came to one of their studio sessions at Olivier's home studio.
When did you know that you wanna start a band together?
On the first day! We tried to create a song together and at the end of the day, we had the first song of the first album , "Endless Song"; it was exciting enough to see that a whole new world of expression was opening wide his arms towards us: We were like a trigger to the creativity of the other. Maybe we had at that time many things to say on different personal fields, and our reunion just made it possible .
You're both working in the movie branche as well. Do you see that as an advantage?
Not really, it's different ways of expressions and creating music. The only link could be that, again, our inspiration is very visual, much more than musical .
John Malkovich is a huge fan of your music and is also playing a role in your newest music video 'Blouson Noir'. What does that mean to you?
That music connects the souls, maybe? That we have a common sensibility? And that John is as brilliant and fun to work with as one can imagine.
What's your upcoming album "We Cut The Night" about?
We've tried to create an album for the feet and for the soul. To build a "wrapping" sound in which you could loose yourself; that talks about letting go, about finding your position, your center in the masse. We like to think that life is a permanent movement and music, songs, are here, as any form of art, for seize emotions, feelings, and create others .. like invisible, musical polaroids of suspended moments.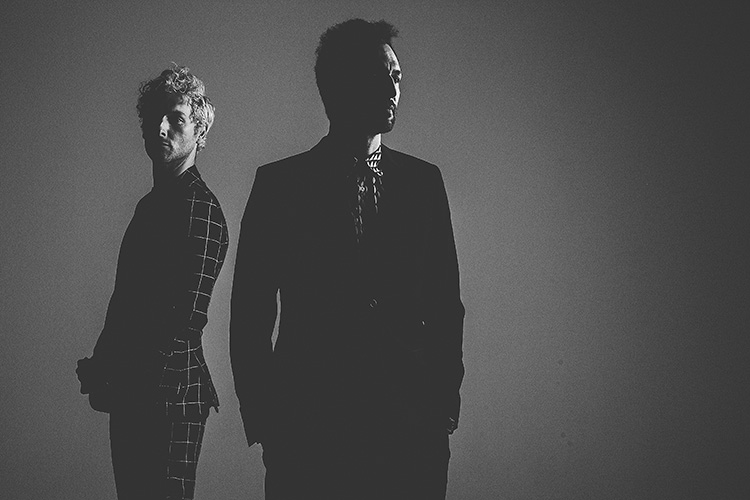 Where do you find inspiration for your songs?
In our daily life, and mostly visual . And the greatness of nature, too . During the recording , we were moved by a few artists , like Bill Viola, Gregory Crewdson, or Jim Jarmusch's "Only Lovers Left Alive" . Also , the work of Tomas Tranströmer and Walt Whitman made a mark on Simon's writing .
One thing (beside family or friends) you couldn't live without?
Simon: Coffee? And the sea.
Olivier: A pen & headphones.
Your favorite French food?
Simon: Coffee? At a terrasse of course.
Olivier: Cheese!!
By Anna Carina Roth