Text Thomas Clausen
Photography Stephanie Pfaender
Styling Viviane Hausstein
All outfits Herr von Eden
"Berlin, Berlin, Du bist ein heisses Pflaster, Wer Dich nicht kennt, verbrüht sich leicht den Fuß. Wo die Moral wohnt, wohnt auch gleich das Laster und der Verriss blüht neben süssem Schmus." (Marlene Dietrich)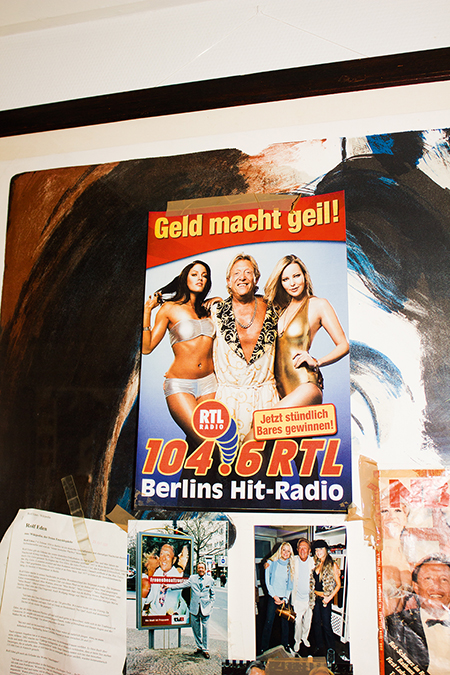 In his clubs at Kurfürstendamm he celebrated the wildest parties with the richest and especially the most beautiful people from all over the world. Not uncommonly these parties were extended at his home in a personal round for a few more and even wilder days: Since almost six decades Rolf Eden is on the road as the probably most famous and iridescent professional juvenile and goes through excitements and risks of nightlife. In February the West Berlin original turns 86 – a home visit at Germans last playboy.
Berlin yields, as well known, a few crazy guys all along. Before the turnaround it actually has been more than after the fall of the Berlin Wall. Musicians, actors, writers, painters and every imaginable kind of miscellaneous (survival) artist. One of the first and also the most bizarre: Rolf Eden. Ex-restaurateur, entrepreneur, bon viveur, gentleman of the old school. And "Germany's most famous playboy", as he himself always claims to be in the most modest way. The first real womanizer, long before George Clooney, Leonardo DiCaprio, Till Brönner or Matthias Schweighöfer were in the pipeline. One who loves the flashlights. The Posing. Even today. Gladly with a glas of champagne in his hand at an advanced hour, always surrounded by very young models. They are his third biggest passion: the girls. Exactly like his big role model Hugh Hefner; also a playboy. "Either you get born as a playboy, or not. You can't learn it", says Eden and smiles. His exciting life is carved on his face. Cold days, hot nights. Long nights, dissolute nights. A twosome. A threesome. A foursome. Rarely alone. Today, with 85, the jamborees got fewer. The last one took place ten days ago, he adds with a glance at the wall draped with images. Framed memories of the golden days. Party-memorabilia. Of his bungalow in the posh, Berlin mansion district Dahlem one could easily make an Eden museum, when he eventually is no more.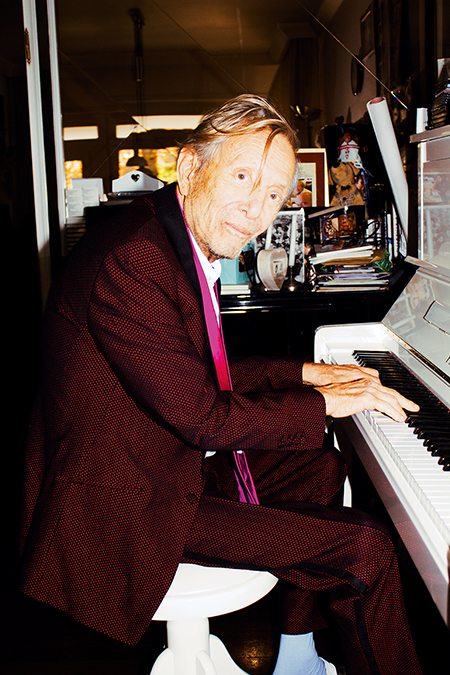 Born in February 1930 in Berlin, Rolf Eden today is father of seven children from seven women; the youngest son is in the width of his twenties. As far back as his early years he and his jewish family flew to Palestine from the Nazis, afterwards he fought in the first arabic-israeli war as an elite soldier and finally emigrated to Paris in 1950. For Eden this was the beginning of his selfmade-career as a professional party-host: By day temporary taxi driver, after sunset waiter and bar-pianist, he got inspired by the notorious cabaret-theaters as the Moulin Rouge or Crazy Horse to create what he created when he got back to his native postwar Berlin. From the end of the amuse-hooked 50s Rolf developed to the probably most popular nightlife-icon of Western Germany, who ran the hottest nightclubs in the recently parted Berlin: Everyone assembled, who was fame and owned the appropriate amount of change at the VIP lounges of Eden-Salon, Old Eden, New Eden, Eden-Playboy-Club and the legendary Big Eden. Eden attracted all of them with his five in-clubs at the party mile, Ku'Damm: James Brown, Frank Sinatra, Tom Jones, Ella Fitzgerald, Klaus Kinski, the Rolling Stones, Harald Juhnke and thousands of other celebrities clinked glasses with fashion-drink "Eden-Cocktail". However his eponym can't remember the ingredients of his signature-drink anymore. He only knows: it was high-proof. Rolf Eden was the embodiment of luxury, entertainment and a little bit of glamorous dirtiness, one lingered for after the consolidation period. Economic miracle, babe. Literally.
"Everyone wanted to party after the war and finally forget all these bad years.", Eden remembers. "In retrospective the 50s have been the wildest party-years, everyone has their flings. Some of them at my place. Even then I had the reputation of being Germany's playboy number one. People were interested in getting to know what a playboy is, what a playboy does and why and how I did it." On the side he tried to be an actor in various TV and cinema productions, such as the cult-crime series "Dr. Mabuse", in the dirty-show "Josefine, das liebestolle Kätzchen" or the doctor-filmstrip "Richy Guitar". His favorite outfit: The white suit, which is the trademark of the man, who invented the term "abschleppen" (to hustle) sometime within the last 60 years. By special request he still sits down at his white piano to seduce the ladies with his "Abschlepper-Twist", which he released in the 70s. If they are pretty.  "Geld ist nicht wichtig, aber geil muss sie sein. Schön muss sie sein, schön muss sie sein…" ("Money is not important, but she has to be wanton. Beautiful she has to be, beautiful she has to be.."). One of his many favorite songs.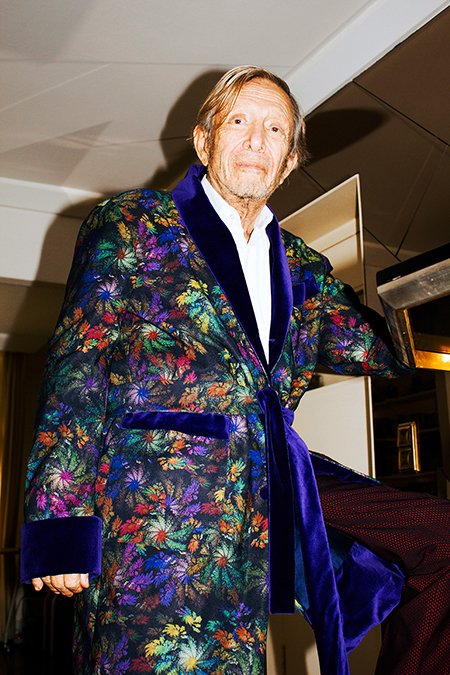 Eden does not have any well-intentioned advices for prospective up-and-coming playboys. Except sleeping as long as possible after exhausting nights to prevent hangovers. Eden looks tired. Today he likes best to go to the bohemian Paris Bar in Charlottenburg, although the Berlin nightlife isn't this exciting anymore compared to the 80s, he says. Many things have changed after the turnaround, only the flood of party invitations won't stop. But he's fine with that. Is there rough plan on how long he will bat around his nightly territory as a party-lion? Anyway the notorious self-exposer with disarming suger-daddy-charme and a mere inexhaustible Viagra-supply in his bedside cabinet regularly hikes up the so called "Todesstoß-Prämie" ("deathblow-bonus") as a reward, which is a six-digit sum for the woman, Eden does his last breath on whilst having sex. How long I will be around? A very good question. I think as long as people want to see me. Rolf Eden, the last showman and playboy.