It's that time of year again guys and the winter season is upon us! Between Christmas, New Year's Eve and our favourite skiing holiday there are unlimited options! Much to our delight, there are a few trends from the best music ever (cough.. hip hop … cough) so we had the idea to put a list of our favourite things toghether and take a trip down the music lane.
Music makes us lose control 
Hands down, we're so glad the original street style trend has finally returned. We're dishing you on what's hot in the coldest season of the year and give you some inspiration on what to wear to all of your hip hop parties this winter! We want to reveal what we consider 5 of the most must-have fashion items that will help you survive the snowy months fiercely.
Graphic black and white
They come in zebra prints, mixed graphic, stripes or in checks, the black and white classic combo has a moment in fashion. For this year's winter season we saw the drastic color game at Valentino, Saint Laurent and Emilio Pucci. But way before we noticed the black and white style in Lauryn Hill's "Doo Wop" music video. We're ready for this trend to be reflected on the streets! To really make an impression at a hip hop party, we chose a look from KTZ. Are they the masters of black and white combinations or what?
Fringe with me
Anna Dello Russo is rockin this year's summer trend and brings it to the snowy season of the year, wearing this lather statement stunner. So did SWV, who pulled off this trend years ago. If you got some hip hop moves going on, you'd look on fleek hitting the dancefloor with some fringe action.
Slick vinyl
Margiela sees the winter as a liberated, darker and sexually expressive season. What Missy Elliott already knew back in 1999 in the legendary video to "She's a B****" hit the Parisian runways for this year's winter. We also saw these hooker-esque vinyl trenches at Loewe, Burberry, Chloe and Etro. Be careful with adding too much jewellery to your vinyl trench look though so that you don't look hoochie.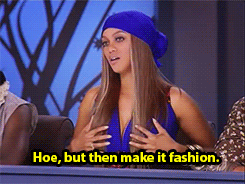 Gif via here
Folk patchwork  

With the right styling you can even include bohemian prints into your hip hop outfit. Get inspired by Hanne Gaby Odiele who added a hoodie to her hippy feel coat. We saw those seventies-influenced coats at  Burberry, Chloe and Etro. Even back in the days TLC were rocking the bohemian chic in good old hip hop manner.
White in winter
Yo, talking about trends, big white fake fur winter coats are coming back R. Kelly style and are winning over this season. We never understood why people wear so much black in winter, do you?? And who wouldn't want to wear a soft and warm white coat in the snowy months?
First GIF via here
by Kemara Pol