Perera Elsewhere is – like her name suggests – everywhere and nowhere at the same time. Her musical work isn't bound to a place or genre and it liberates itself from everything already heard. The super woman travels the world as a DJane, front woman of Jahcoozi, as a solo artist and with several social projects. Her physical home is Berlin whereas her music lives between Electronica, Jungle and abstract Pop. Perera raises her voice to sing and against injustice – and translates it to a visual parallel language in her psychedelic clips.
Do you sometimes wish you would've grown up differently?
Yeah sure, I wished I was a white ballerina called Nina when I was a kid. It took me a while to get over that…   Jungle music exploded and I went to Notting Hill carnival – things got better after that. We are all victims of our surroundings. We are all in someway brainwashed into being who we are by various things at various times.
What's your definition of home? Do you think you've found your home in Berlin?
Yes I think I've found my home in Berlin. I guess I've lived most of my adult life there and it's pretty culturally mixed there and liberal. Aaaand I speak German fluently and can thus diss people on the street in full on Berlin Zicke bitch german (if the need be) without sounding like some awkward expat. I have multigenerational multigender multicultural multitalented multivisionary homies there – they make me feel at home. Some are born there or have been there for a long time so it doesn't feel like they are just there just for the interim.
Do you have to be in a certain mood when making new songs?
As much as I love club music, I tend to wanna write on unsequenced beats this days. Stuff with looser timing, it has more depth to me somehow. I think I react to atmosphere's when I'm writing so it's not so much my mood.  It's more the mood of the music I make to start writing that helps me create a song.
Which app do you use for editing/modifying pictures/videos?
There is quite a funny app called Delta from Berlin. Just makes some psychedelic collages – kinda fun.
Perera Elsewhere chose her five favorite songs when she feels wanderlust:
Alice Coltrane  – Journey in Satchidananda
Missy Elliot – Work It (Nicolas Jaar rework)
Muslimgauze – Sikh Out
Molly & Aquafina – Dean Blunt
Joe Meek and The Blue Boys – I Hear A New World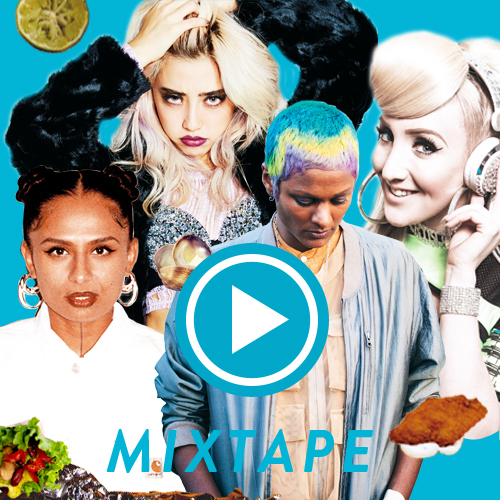 Find the whole shake-your-booty-super-mix by Alexis Knox, Dreea, Alisa Ueno and Perera Elsewhere here.
By Marieke Fischer