Dreea Pavel is a discoverer. Always on the run for the latest and hottest shit around she's showing her finds in her numerous professions as DJane, contributor for the Berlin Community Radio, author and girl gang member Eve Without Adam. She's a hip hop loving globetrotter who always stays down-to-earth even if she's collecting air miles like others collect stamps.
Wenn du nicht gerade selber auflegst, welchen Part nimmst du bei einer Party ein? Was für ein Feiertyp bist du?
Wenn ich nicht auflege, dann feier ich halt. Also Organisation ist nix für mich. Bei unseren eigenen Veranstaltungen buche ich die DJs. Was für Feiertypen gibt es denn? Ich mein, ich schmeiss' mich in Schale, sauf mir einen und geh irgendwann dann auch wieder nach Hause.
Wenn du dich an einen Ort und in ein Zeitalter deiner Wahl beamen könntest, wo würden wir dich wiederfinden?
Irgendwo südlich der Sahara in einer Zeit bevor es europäische Kolonialmächte gab.
Du bist als Autorin, DJ und Contributor beim Berlin Community Radio vielseitig unterwegs. Gibt es auch etwas, dass du gar nicht kannst? 
Ich kann so überhaupt gar nicht Mathe. So richtig gar nicht. Nicht schlimm, brauch ich ja auch nicht. An Details arbeiten kann ich auch nicht. Ich mag eher den Anfang und das Endergebnis. Und Schlagzeug spielen kann ich auch nicht.
Diese fünf Songs motivieren Dreea ihren inneren Schweinehund zu überwinden:
Currensy, Lil Wayne & Remy Ma – Where da Cash at
Whitney Houston – I'm Every Woman
Marvin Gaye & Tammi Terrell – You're All I Need To Get By
R. Kelly – Ignition Remix
Alicia Keys – Unthinkable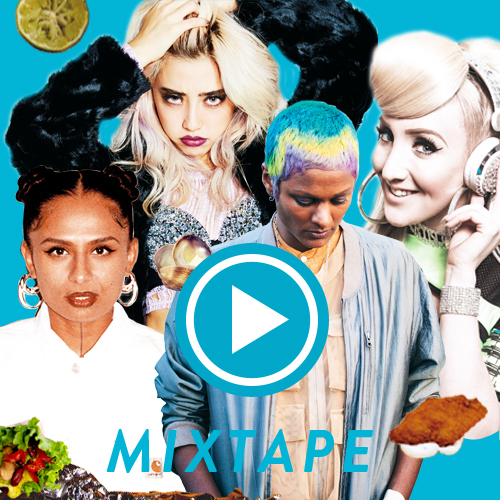 Find the whole shake-your-booty-super-mix by Alexis Knox, Dreea, Alisa Ueno and Perera Elsewhere here.
By Marieke Fischer