Alexis Knox is one of the few people that can make you smile, even if she's not around you. While scrolling through her Instagram feed you become a part of the DJane's neon pink world between her hometown London and all kinds of super beautiful international places. As the creative director of the Notion Magazine and her profession as a-list stylist she's blurring the borders between fashion and music and creates a pop cultural mix that's even trusted by her clients like Rita Ora, M.I.A, Charli XCX and Miley Cyrus.
You're working as a DJane, stylist and as creative director for Notion Magazine – so you're very busy at night and at daytime. Where do you get that power from?
The thing is there are enough hours in the day if you use your time efficiently! and everything I do crosses over between music and fashion so everything compliments each other.
At the moment the Seventies seem to be everywhere in fashion. Why do you think is this certain decade so important/present right now? What's your favorite anti-trend to this movement?
Trends run in 20 year nostalgic waves, so we are also celebrating the 90s, 20 years later in the 2010's. and in the 90s there was also a 70s revival then. Its because those who lived in that generation are old enough to be influential and feel nostalgic about what they loved growing up.
What's the best place in London to discover new trends/labels?
There's a lot of great places from Shoreditch to Soho. But I love to shop in Camden as you find really individual random things that aren't designer!
For what reason would you leave London to move in another city?
I'd love to live between LA and London, I love the happy sunny enthusiasm of LA, I also love driving, something I miss not doing in London, and I love the beach. If London and LA could mash together I'd be the happiest girl ever!
Your last thought before going to bed on a Thursday….
YAY ITS FRIDAY TOMORROW!
Alexis picked her five favorite London tracks:
Charli XCX & Rita Ora – Doing It
FKA twigs – Two Weeks
Invader Girl – Starting Fires
Gorgon City ft. MNEK – Ready For Your Love
Rudimental ft. MNEK & Syron – Spoons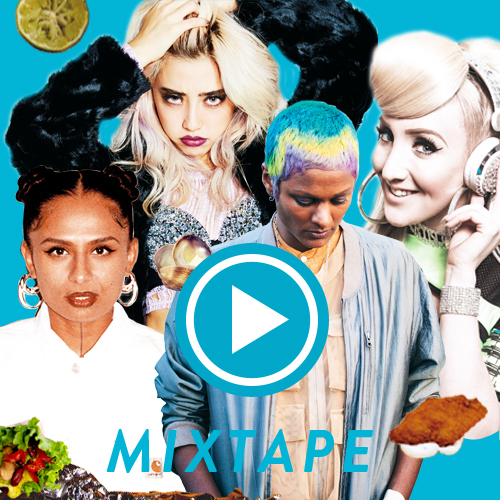 Find the whole shake-your-booty-super-mix by Alexis Knox, Dreea, Alisa Ueno and Perera Elsewhere here.
By Marieke Fischer