When in fashion, art and music female artists are still by far outnumbered by their male colleagues, often reduced to being muses or showing off their fine booties we applaud those that don't let it bring them down but make them stronger and finding ways to get some serious girl power into this misogynistic environment. Even more being aware of the fact that participation is the key to equal rights and opportunities. Also inspired by Boston calling out 9th of April to be the "Riot Grrrl Day" in honor of riot grrrl speciwoman Kathleen Hanna, we put together a selection of girl gangs who show the world that there's a bright future full of amazing women ahead. Enjoy, empower and keep in mind: Don't be rivals, be allies!
The Ardorous
Our all-time favorite girl gang, The Ardorous, is a pretty neat artist platform, for talented females from all over the world. The Ardorous girls' résumés prove this concept is going great guns. Its success is for a large extent thanks to founder, curator, fairy godmother and impersonated awesomeness Petra Collins, who is an artist herself and might own the words GO-GETTER!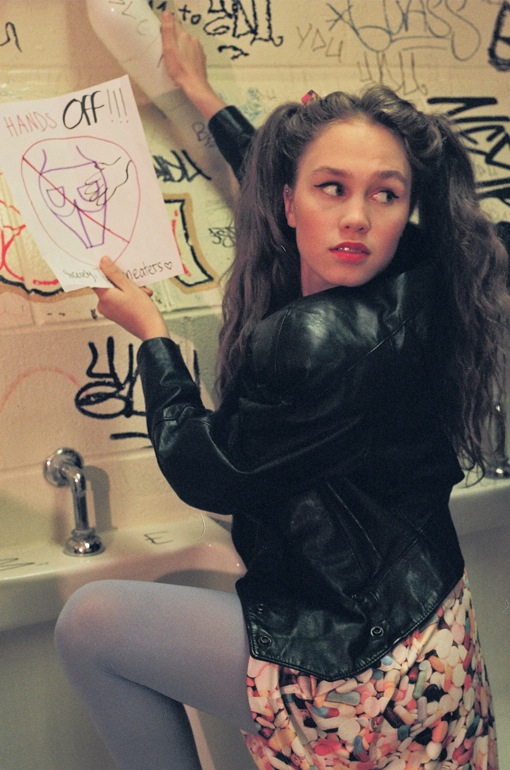 Photo & header by Petra Collins for the series "maneaters".
Source: theardorous.com
Girl Gang TV
What Petra Collins is to art and Tumblr, Kate Nash is to music and YouTube. She started the Girl Gang TV YouTube channel to create a feminist community with her core gang, where it's members can show off their skills and learn from one another, motivating everybody to join, especially girls, to get their hands dirty, try stuff and get active. So far you will find tutorials about "how to foster a dog" and "how to play the guitar" as well as an interview and a ukulele session with Skating Polly (that are actually an awesome band girl gang themselves).
Souce: Girl Gang TV YouTube channel
Sad Girls Y Qué
This girl gang with a love for pop culture brings the Chicana power into the game of sparkling empowerment. The five girls from TJ blog about their discontent with Mexican machismo culture, what is basically the reason for them being sad girls. On photos of their valentines pizza party they do not look too sad though, but when they are they cry glitter tears, fer sure!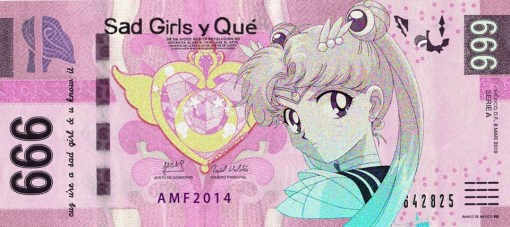 Source: facebook.com/sadgirlsyque
Clandestine Collective
As another female-only art collective you should definitely have an eye on, this seven piece UK girl gang. Only founded about a year ago, they've already had exhibitions showing their art, which is anything from embroidered undies to photographs. All kept in, what appears to be the girl gang color code, lovely pastels.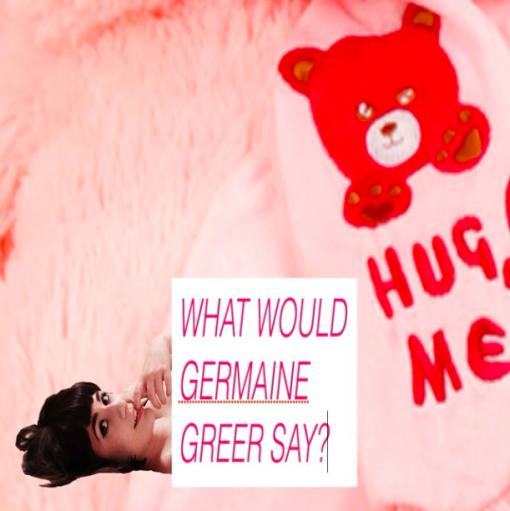 By Robyn Nichol.
Source: @clandestinecollective
Teen Slut
To round it up we've got the Sporty Spice amongst the girl gangs for you. You will see those German girls on the Snowboard or on roller-skates, showing off boobs and tats. They consider themselves an art project, quite rightly, doing zines, partys and general rebellion against what society expects from girls. In case you feel like stalking them, be sure to add "girl gang" to your search though – otherwise: NSFW.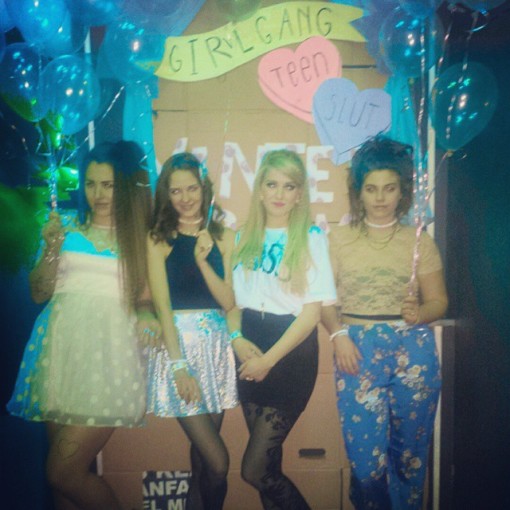 Source: teenslut17.tumblr.com
By Katharina Nöstlinger