VETEMENTS has been on board of the hype train ever since it emerged into fashion's mainstream, and doesn't seem to be leaving it any time soon. The Parisian collective's designs have been known for their mindblowingly simple, yet foward-thinking approach to the business, having us constantly questioning the industry as a whole. At the same time, though, they've also made headlines for their, quite frankly, outrageous prices. However, this is about to change. No longer will the only ones sporting the famed brand be the ones willing and able to pay 500+ Dollars for their clothes. Finally, fashion forward beginners on a budget will have a chance at getting their hands on more affordable VETEMENTS-pieces. What sounds like a dream come true for many of us, is one of the most basic silhouettes, and comes in black and white, for male and female: the label under Demna Gvasalia, who also runs the creative team at French maison BALENCIAGA, just released a new VETEMENTS t-shirt that can be yours for 150 USD via Ssense.
VETEMENTS shared the news on Instagram (above), candidly calling the garment "Entry Level T-Shirt". Both versions of the T read "VETEMENTS" on the back, and "STAFF" on the front, reminding us of the label's recent collab with Hanes.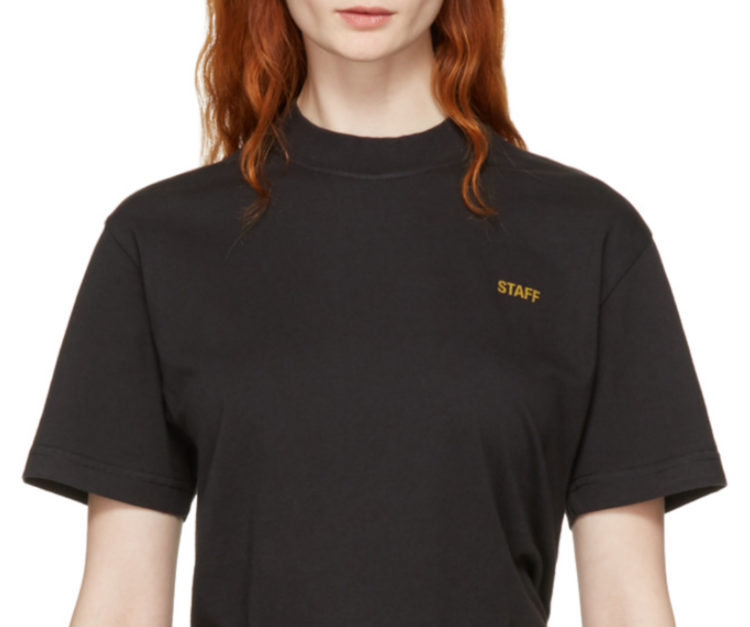 While this is very exciting, we suggest you cop your share of the new VETEMENTS t-shirt a.s.a.p., as we suspect it to be sold out pretty quickly.
Shop the "Black Basic 'Staff' T-Shirt" here.
All Images via Ssense and Instagram.