A historical moment in the art world happened Thursday night in New York: Jean-Michel Basquiat, art world's favorite underdog, just outranked his mentor Andy Warhol. His painting "Untitled" (1982) showing a characteristically colorful and impressive skull, was sold by Sotheby's for $110.5 million – $6 million more than "Silver Car Crash (Double Disaster)" by Warhol was sold for. When he was only 21 years old he finalized "Untitled" – a painting that took seven years of work.
Several records were just broken by the selling of the masterpiece: it is the most anyone has ever paid for an art piece by an American artist, moreover by an Afro-American artist. The evening auction was dedicated to post-war paintings and included works by the likes of Robert Rauschenberg, Roy Lichtenstein and Andy Warhol. It's also the first time an artwork created after 1980 has reached over $100 million. Only ten others have reached the same price ever! Sotheby's had estimated it would sell for at least $60 million. The Basquiat is now one of the six most expensive artworks sold at auction – the same level as Pablo Picasso or Francis Bacon artworks.
This morning on Instagram the buyer revealed himself as being the Japanese billionaire Yusaku Maezawa. In the caption you can read: "When I first encountered this painting I was struck with so much excitement and gratitude for my love of art. I want to share that experience with as many people as possible."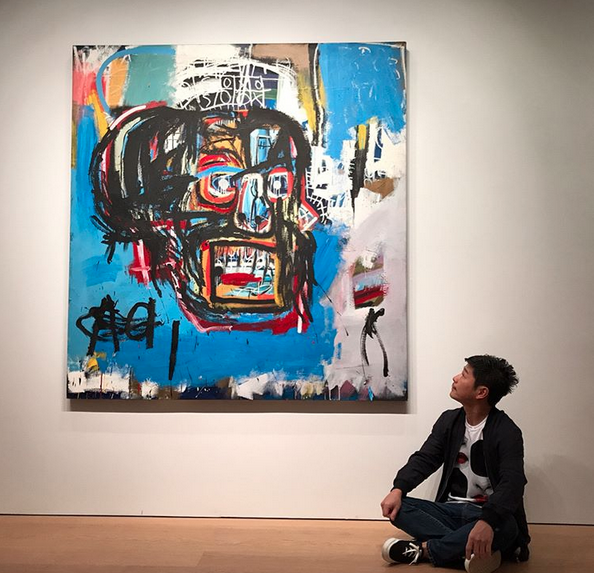 Founder of Contemporary Art Foundation and Zozotown, one of Japan's most successful online fashion malls, Maezawa has already purchased some Basquiat art pieces. He plans on displaying the painting in a museum in his hometown of Chiba in Japan. However, as the museum is only at the stage of a project for now, the Japanese collector will lend it to international exhibitions and institutions: "I hope it brings as much joy to others as it does to me, and that this masterpiece by the 21-year-old Basquiat inspires our future generations."
Picture taken from the Instagram account basquiatart.